A different little twist on Trout which is not usually a fish to be breaded but it works beautifully. It is a lean and simple dinner full of flavours.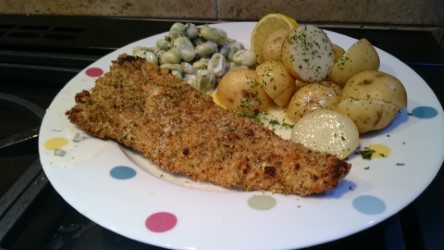 Breaded Trout with Minted Broad Beans and Boiled Baby New Potatoes
Preptime: 30 mins
Cooktime: 15 mins
Servings: 2
2 Trout fillets, skinless
For the breadcrumbs mix:
100g Wholemeal Breadcrumbs
50g Golden Breadcrumbs
zest of one lemon
crushed Black Peppercorn and Rock Sea Salt to your own taste ( I used 1tsp of black pepper & 1/2 a tsp of salt which is my personal taste)
50g of Green Olives pitted
1 tsp of Chilli Oil
1tbsp of Coriander Leaves dried or fresh
Before the coating of breadcrumbs:
1 tbsp of Plain Flour, heaped.
1 large free range egg lightly beaten
For the Minty Broad Beans:
200g of Broad Beans (Frozen or Fresh)
3 tbsp of Natural Yogurt (I use Greek Yogurt)
Zest of 1 lemon
1 small bunch of Fresh Mint Leaves, chopped
For the Boiled Potatoes:
250g Baby New Potatoes, sliced in half
25g of melted Salted Butter
1 tbsp of fresh or dried Coriander.
1. In a food processor, whizz all of the Breadcrumbs, Green Olives, Chilli Oil, Lemon Zest, 1 tbsp of Coriander and Seasoning together to a well combined and fine consistency.
2. Preheat the oven to 200C/gas 6.
3. Put two pans of water to boil.:One for the Broad Beans and a bigger one for the Baby New Potatoes. Tip for enhancing the flavour, I put a herb stock pot in the water of my Potatoes. As for the Broad Beans just a pinch of Rock Sea Salt goes in the water.
4. Prepare a space to bread the fillets of Trout. In One shallow bowl put the flour. In a second one lightly beat the egg. In a third bowl pour your Breadcrumbs mix. Taste the mix and adjust the seasoning according to your own taste. Tip to make the process less cloggy on the fingers, I always have an extra little bowl of luck warm water nearby with a couple of kitchen paper sheets at hand. That way I can clean my fingers after each stages of the breading process.
5. If the water is boiling, put the Baby Potatoes in but wait before putting the Broad Beans as they don't take long to cook.
6. Bread the fillets of Trout by dipping them in the flour, covering them thoroughly. Shake off the excess flour before coating the fillets with the beaten egg. Then lay the fish fillet, one at a time, in the Breadcrumbs mixture and coat the fillets with it evenly. Put the breaded Trout fillets on a non-stick baking tray, sprayed with a couple of squirts of rapeseed oil on both sides of the fish, and bake for about 12 minutes until cooked.
7. Now you can cook the Broad Beans in their pan of salted boiling water until tender, about 5 minutes and prepare their sauce. Chop a little bunch of mint (roughly 2-3 tbsp). I usually chop with scissors in a little bowl which I can use to make the sauce. Then add 3 tbsp of yogurt, the zest of a lemon, and 1 and half tbsp of lemon juice. Mix together and put aside.
8.Drain the Broad Beans. Then it is up to you to either slip them out of their skins or not. It is a nowadays currency of the foodie world to rather take the skin off the beans but as the skins doesn't bother me, I tend to leave those babies as they are and just put them in a nice serving dish, and smother them with the minty and lemony sauce.
9. I reuse the small pan which had the boiling water of the Broad Beans in to melt a knob of Butter in (25g), adding a tbsp of Coriander leaves. In the meatime I drain the boiled potatoes before dividing them equally on to two plates. By that time, the herb-y butter is ready to pour upon them and make them extra luscious.
10. Time to put the Breaded Trouts on the plates, serve with lemon halves and the delicious minted Broad Beans.