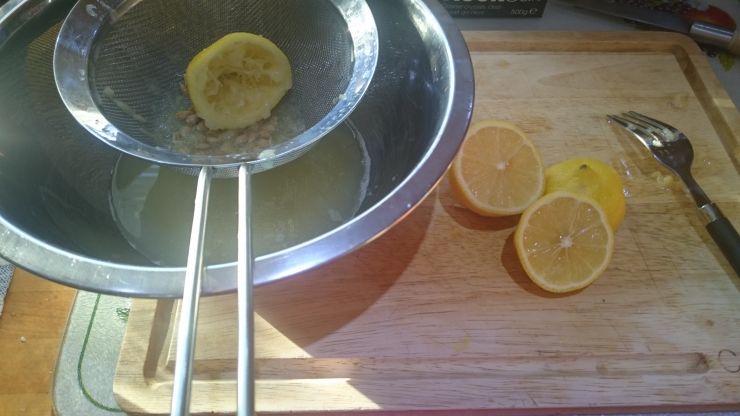 Juicing is a method to squeeze the liquid out of a Fruit or a Veg. For people who have difficulty to swallow it helps to get the right amount of vitamins during a day, I am one of those, I am afraid to say so.
My tendencies is to go very traditional. To get a right balance of Sugar in my body when I can't eat at all, my go to is simply Apple Juice. You have plenty of varieties of Apples to turn towards to make a delicious Juice to drink: the sharp Granny Smith, the Gala Apple, the Golden Delicious, the Pink Lady ones but my favourite is the Braeburn.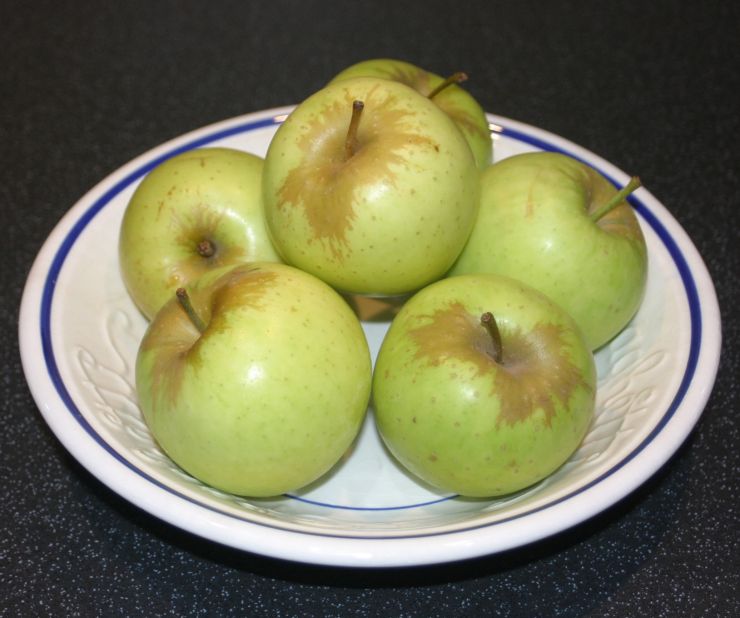 Golden Delicious is one of the favourite Apples in the US but also in 2010 it had its genome decoded and bestowed at that time the most genes for a plant... Check that one out if you are interested in genes.
Now Apple Juice is one of the favourite ones in the entire World. Apple Juice is acidic in nature and does require pasteurisation. Apples do ferment (Warning) but if you want to make a good Apple Cider it is good to know.
A Mulled Apple Juice during the Fall season is very warming especially while watching the fireworks in the parks of London late at night in October and November. It is chilly outside and it warms you up. This is usually the time when you are thinking should I start to wear gloves or keep your hands hot upon a cup or want to hold the Thermos to serve everyone in the party...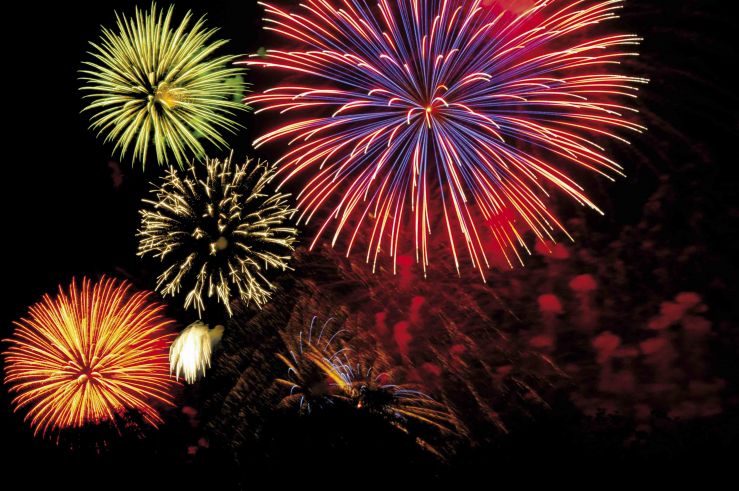 Autumn is the fireworks season in England.
Apple Juice can be applied as well as an ingredient for Cakes. It can flavour as well as keep the Cake moist. An Apple Charlotte Cake for example or a Victoria Sponge one with a little twist can work awesomely well.
Apple Juice can be mixed with other juices or beverage. To add more sweetness maybe with a Carrot Juice. It is a health booster. For another one of those but a tart one, you can do part Apple Juice and part Cranberry Juice.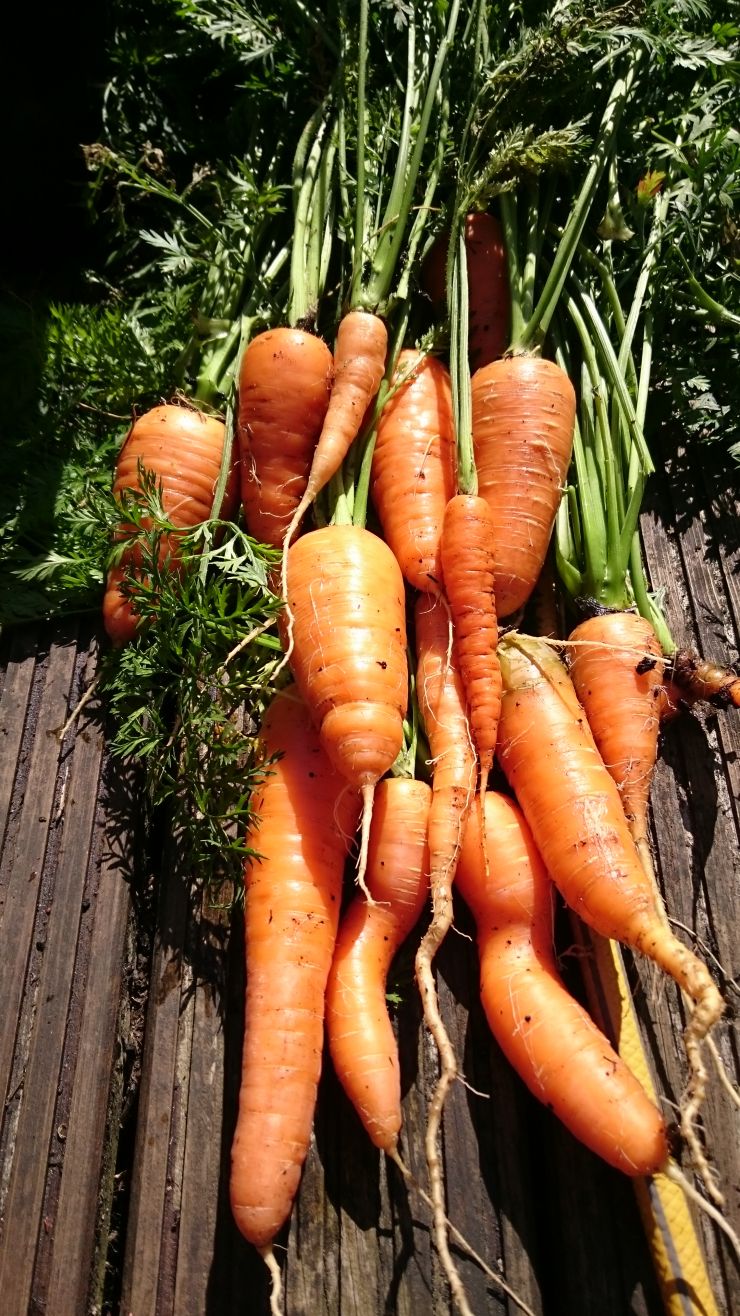 Carrots from my Garden. They can make in their own right a nice Juice or be paired with a fruit like Apple.
I do enjoy a good Carrot Juice, it is pack full of vitamins A, B and one called Folate. Carrot Juice has to be filtered to be created but it will remain an opaque Juice. Sweet as a pie on its own, this Veg Juice when paired with Apple Juice makes you think of:
And when you combine that Juice with Apple, you get the good old saying: An Apple a Day keeps the Doctor at Bay...
Switching from Apple and Carrots to Cranberry Juice. That is a Tang-Tang-Tango upon your tongue Juice. It is deliciously tart. The sharpness of the Juice coming from Cranberries if it can not help UTI as it was first thought, due to its acidity it can damage the enamel of your teeth. However I must admit to love Cranberry Juice...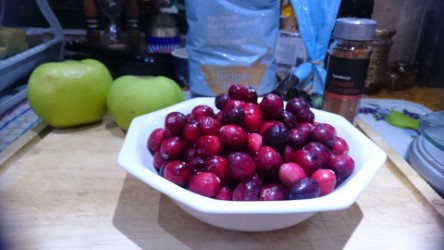 Cranberry, the Berry with the mighty might. I enjoy their tartness.
Another acidic Juice or Juices come from Citrus Fruits: Orange, Mandarin Lemon, Grapefruit... Who doesn't like a fresh Orange Juice? Full of vitamin C... It is easy to do by yourself as well. You have lots of gadgets and juicers around available to create your own Juices. However I do both either everything manually or use a bit of a wizz to speed things up.
Citrus Fruits are so useful in a kitchen.
Let us start with Lemons... First they are lots of method to juice a Lemon but I will remind you one thing the pips in them. You don't have to swallow one of course so the easiest way is to use the palm of your hand as a sieve: then the Juice goes through the fingers but not the pips. Those can be collected as much as the Juice below that you want to use. I have a twenty something year old Lemon Tree in my garden from one pip of a Lemon. There is a big story attached to it.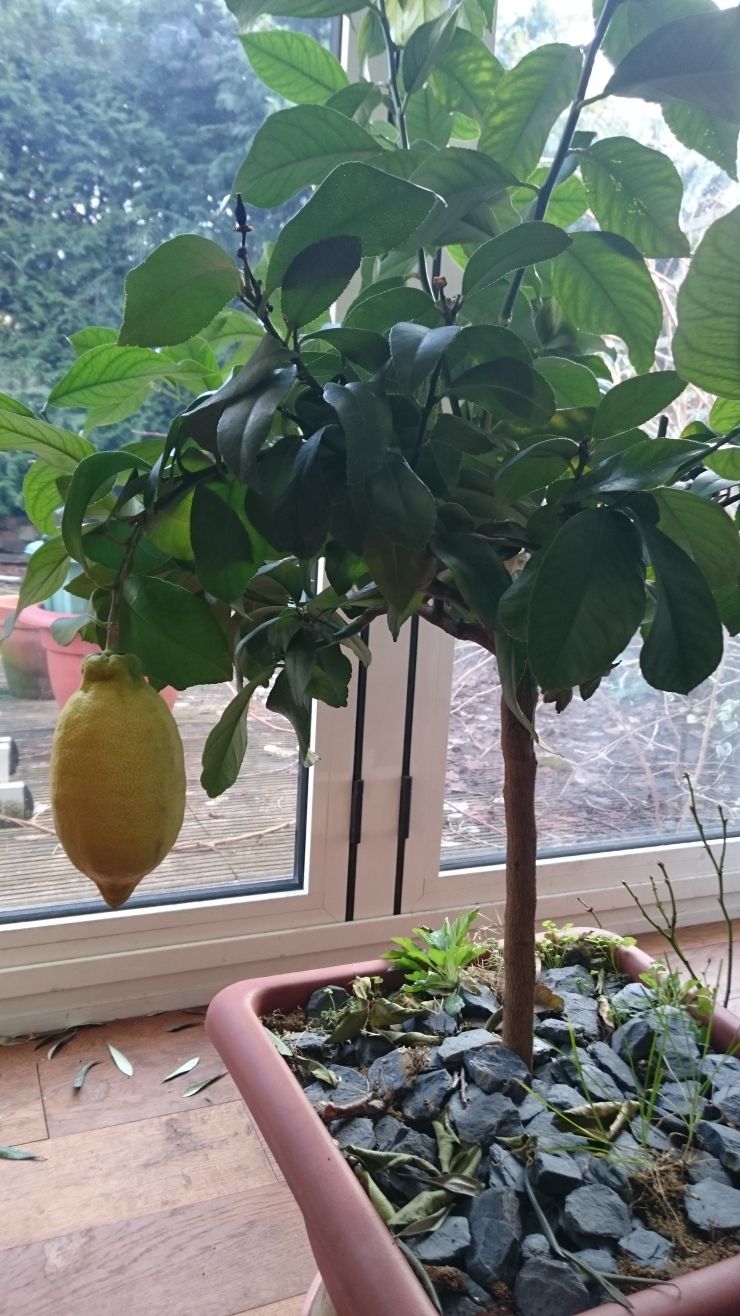 This was the year my Lemon Tree produced one Lemon, 2013. The year I became a published Author.
Now, every year I get plenty of Lemons from my tree I grew from a pip. I was about Twenty One when I decided to stay in London, it was about 1997. My Mum disapproved of my decision harshly. I moved to London originally in 1996 as an Au Pair to help a family with two children whose Mum had Cancer. First I made the move to better my English but I remained out of loyalty to that family but also I absolutly loved London. Now my very own Mum denigrated my decision to stay in England by mentionning that the weather was awful there and I would not be able to eat properly and so on and so on and not be able to grow a Lemon Tree.
Lemon Tree Song from Fool's Garden
Hence I gave up arguing with my Mum, instead I kept to my decision and to prove her wrong I planted the pip of a Lemon which I nutured and that became a Lemon Tree in England just as a proof that my Ma was totally wrong. I created my own Publications Company and became a published Author the year my Lemon Tree produce its very first Lemon. Ta Ta Ta, La La La! I wonder why, I wonder why I was working so hard all those years to just be 'Very Happy'. For I am. Now, I matured just like my Lemon Tree did during my adult life. I will say one thing: Hug on to a Tree, Hang on to a Tree, Make it your Cup of Tea. I did choose the Lemon Tree as a challenge which I won: Zest of Life!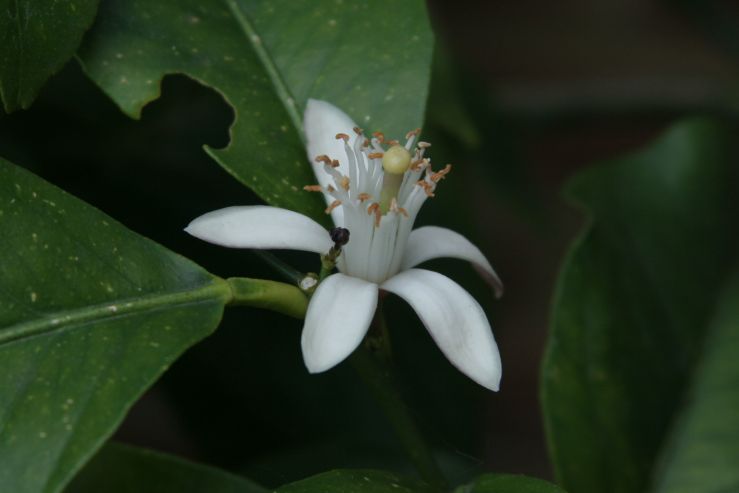 Zest of Life, Zest for Life, a Blossom upon my Lemon Tree 2019.
To remain in the realm of Lemons and the crowning glory that Zest is, if you can grow a pip out of a Lemon to have your Tree you can also keep the Zest of a Lemon and freeze it up to six months which is very handy. This is just a little Tip. Zest is very useful for Baking but also for Infusions, and Savoury meals. It is a keep. And for the Tip of the Iceberg, it does contain lots of Flavour. You can put it upon Cakes, or inside the dough, upon or inside Fish, and even Meat...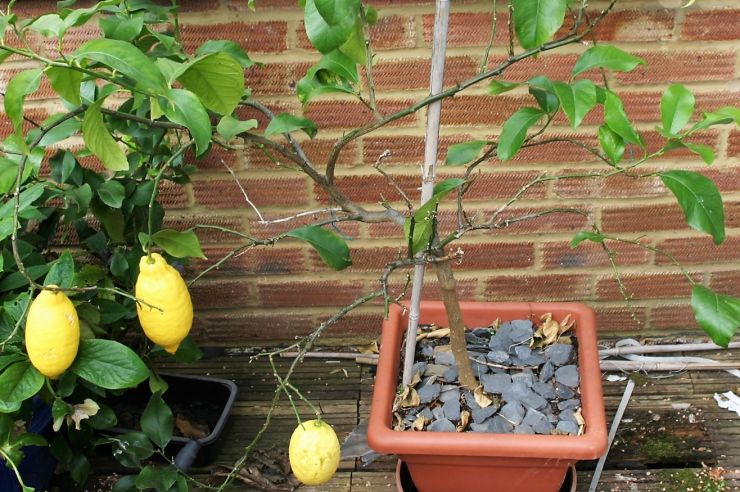 Tango à Trois, Tree, Juice and Zest. Make the most of it.
Now, the Juice of a Lemon does tenderise Meat, I ought to know this since I do not swallow very well everything so it is a trick of the trade which I picked up along the way. Lemon Juice softens the fibres within the Meat but also because of the Lemon Juice acidity it imparts flavour to the Meat. Easier to chew and great to eat a bit off.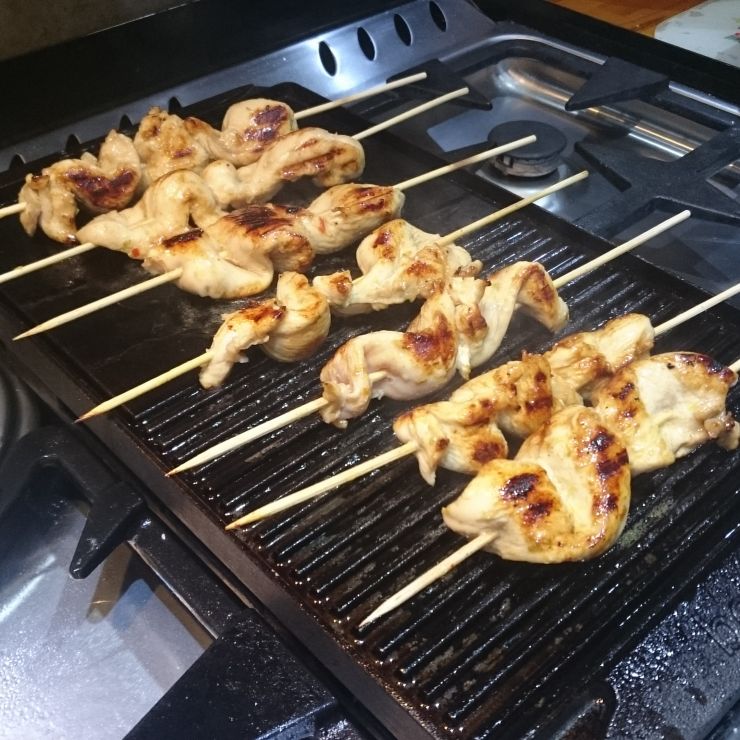 Chicken Breast Skewers, griddled, Lemon juice to tenderise them, then serve them with a Satay Sauce.
Another use of the acidity of Lemon Juice is to keep a fruit or a vegetable from spoiling or browning or wasting in front of your eyes. A squeeze of Lemon Juice can do the trick. An Avocado will stay an Avocado, a Pear will stay a Pear, an Apple will remain an Apple just because of the acidity of Lemon Juice.
Could it be Magic. Take That Song
Then there is the Lemonade... A Fizzy Drink which can give a ray of sunshine to a hot day. Lemonade is zesty and refeshing. It is a booster. Whenever you can do a home made one do so.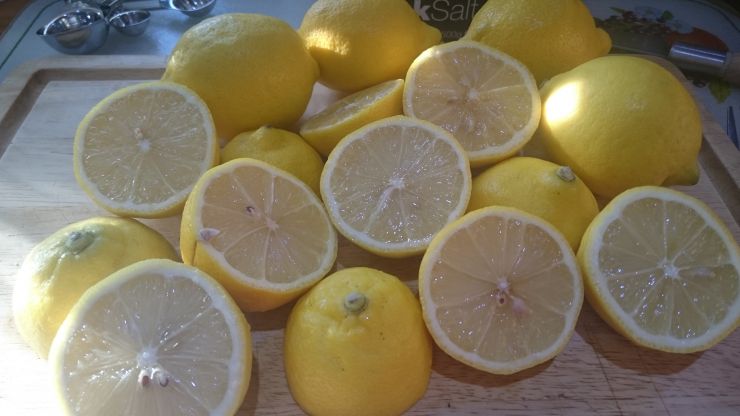 I heard that to have a good Lemonade you needed an equivalent amount of Lemon Juice, Sugar and Fizzy Water. Mine is slightly different.
I do put slices of Lemons in mine, but also Mint which gives it a refreshing element as well. This is most welcomed for the hot days of the year.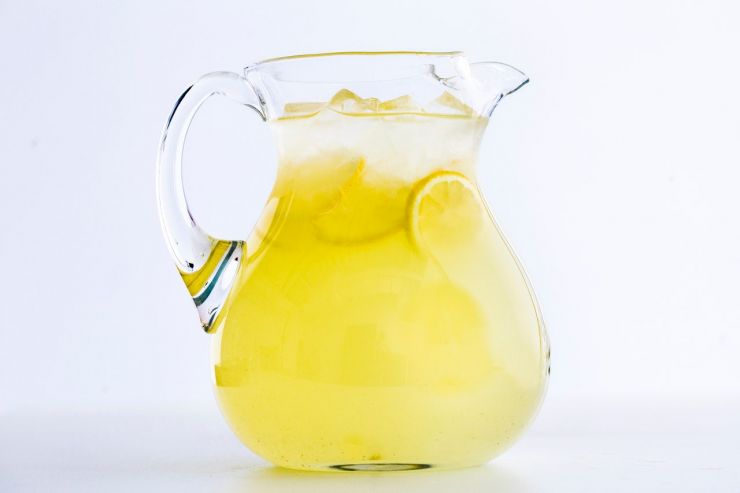 A Jug of Lemonade during the Summer is always good for you.
As for Mint if you grow it in your Garden like I do make sure it is pot bound otherwise you will have a minted Garden. I do grow two varieties, one of them is a Chocolate Mint with Darker leaves which goes very well with desserts.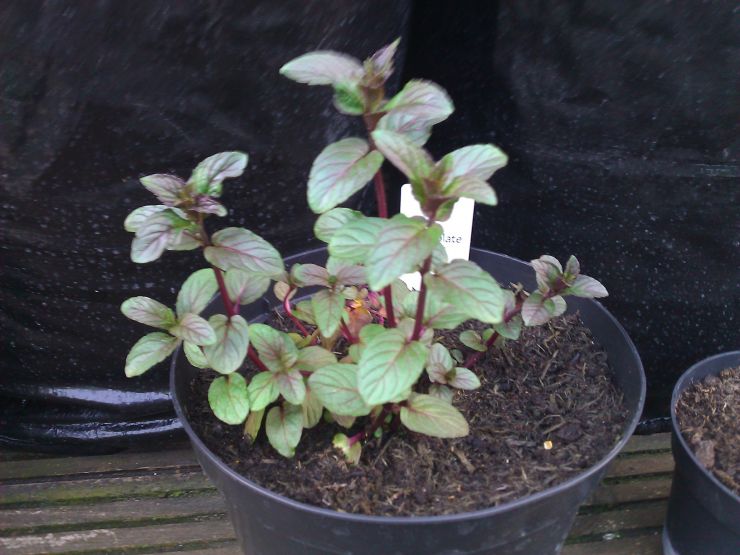 Chocolate Mint is easy to grow and that little Chocolate and Minty Flavours like an After Eight...
A last note upon Lemon Juice, it feels wrong to me to have Fish without a Lime or a Lemon upon the dish or next to it. It is a must be there somehow. It flavours the Fish and gives it that lift.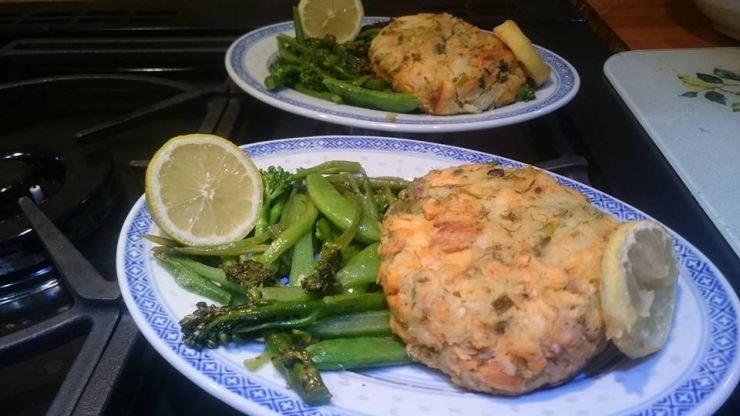 Trout and Dill Fishcakes with Sugar Snap Pea and Tenderstem Broccoli side and Lemon for the Sharp Note.
This brings me to Lime Juice, very similar to Lemon Juice. But handling a Lime is slightly more toxic than a Lemon. It can give you a case of Photodermatitis or Lime disease. It is not caused by ingestion but by handling the Citrus fruit itself. Wearing some gloves could be advised when dealing with Citrus Fruits on a very regular basis. However Limes enhance a dish by its flavour and decorum.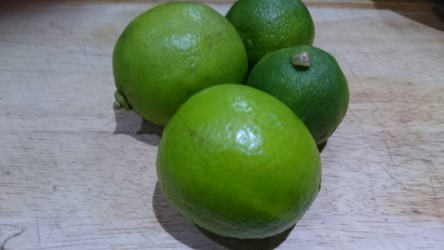 Limes are green and smaller than Lemons.
It is mainly paired to Fish dishes just like Lemon is. However a Lime gives a little Asian style cachet to the meal as well as the acidity needed upon a piece Fish with its Juice.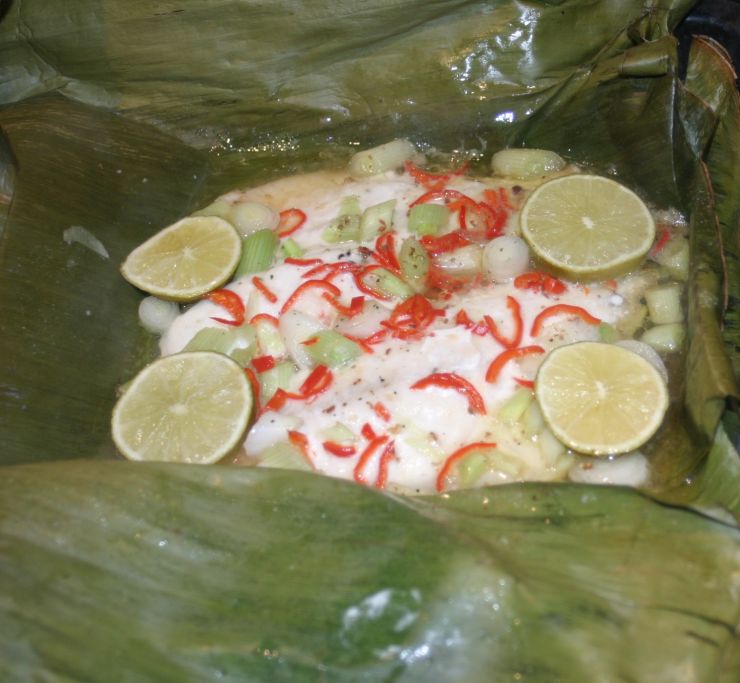 Asian style Sea Bream cooked within a Banana Leaf, with Chilli, Spring Onions and Limes.
So Slices of Limes are decorative, make a dish attractive and do impart flavour. In the dish above the juice of one Lime was within the Banana Leaf parcel. The acidity of the Juice partly tenderise the fish, but the Steam from the Lime Juice cooked the Fish.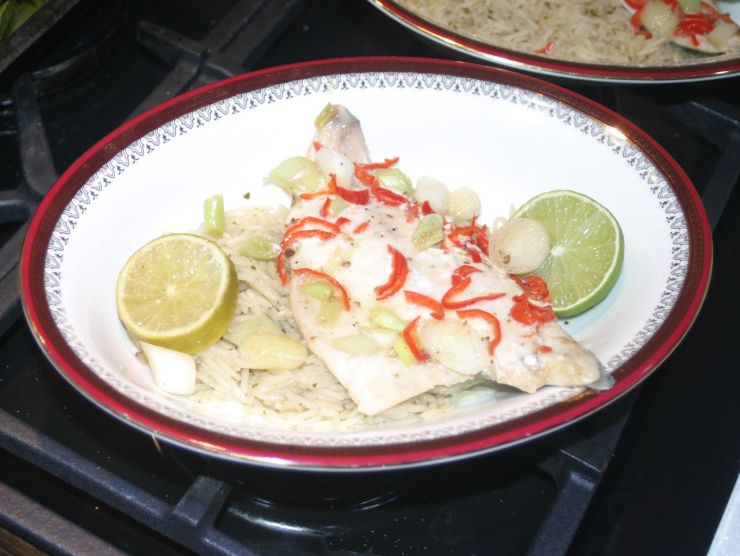 The Sea Bream served on a bed of Jasmine Rice.
In the same breath I will say that Lime Juice like Lemon Juice do bring a nice taste to Meat as well: Lamb, Pork, Chicken and Beef. The acidity is such in Citrus Fruits that it can render fresh raw Meat edible in some cases like with thinly sliced Beef Carppaccio. But I would promote rather to cook the Meat for health safety reasons.
For example Chicken Thighs: you can brown them first in butter within a frying pan (with a little drop of Rapeseed Oil for not burning the butter). Baste the Chicken Thighs then you can prepare an Oven deep tray with Minced Garlic, large Spring Onions, Szechuan Pepper for Seasoning, long pointed Red Sweet Peppers deseeded and halved lenghways, Ginger peeled and cut in batons, a little Rice Wine, place your browned Chicken in the tray, pour in the Lime Juice and Roast. Serve with Rice and finish off with Chopped Coriander and half a Lime per plate along with Lime Zest. Keep some light Soya Sauce at hand.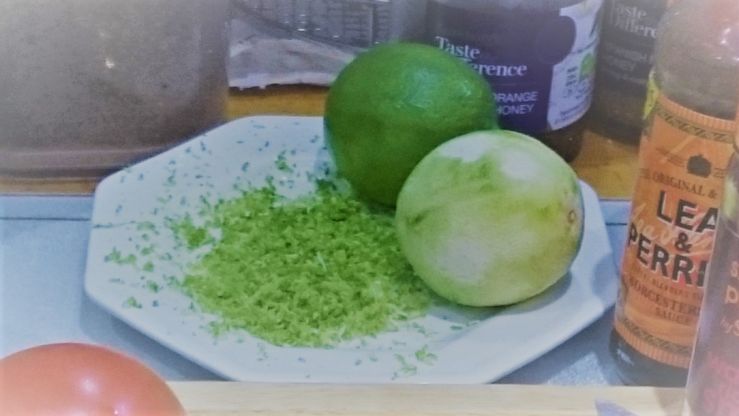 Lime Zest does add flavour but also colours to a dish.
Now of course, you can also do a 'Limeade' with the Juice of Limes. It works almost like doing a Lemonade and it is refreshing just as well. Add Ice Cubes, Mint and nice slices of Limes, then you will end up with a very sharp and boosting drink to revatilise yourself. It is a very summery Juice by all means.
Another idea with Lime Juice is to jazz up a good plain Greek Yogurt (500ml of Yogurt). Using the 3 Ts (Test, Taste and Trial) you can know how much Lime Juice you want in your Yogurt because it depends upon your own palate. I think half a squeezed Lime is more than enough in that balanced by the sweetness of Demerara Sugar and a handful of fresh Blueberries. This can consist as a zingy get up and go Breakfast served in a bowl, or a decent little dessert served in a glass with addition of Granola on top for texture and a little Blueberry Jam on the bottom of the glass. You can prepare in cocktail glasses and decorate with a slice of Lime wedged on the rim of the glass. Yummy.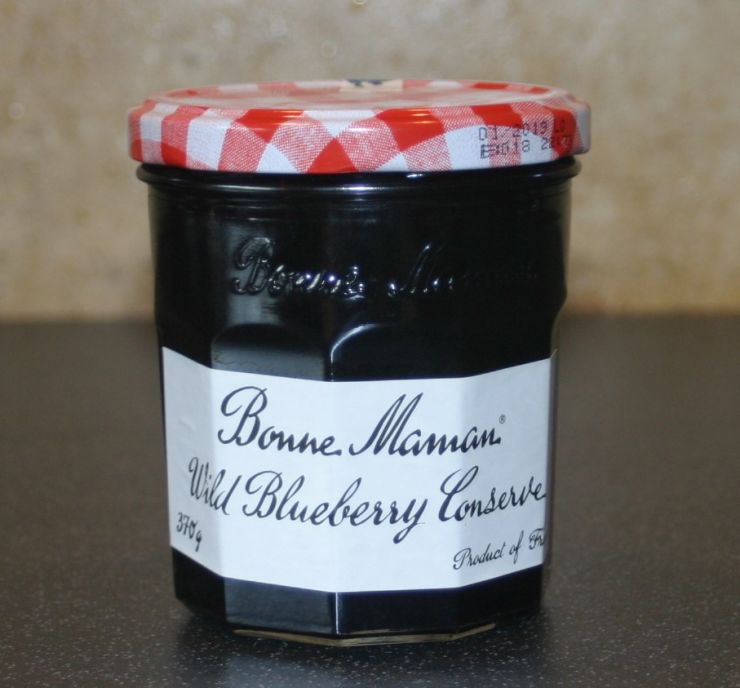 Blueberries do pair well with Lime Juice for some reason.
Finally remaining in the realm of Lime Juice it will not be complete without mentioning the famous Key Lime Pie. Again many version does exist of it but it does uses a fair amount of Lime Juice which makes it a zingy pleasure to eat.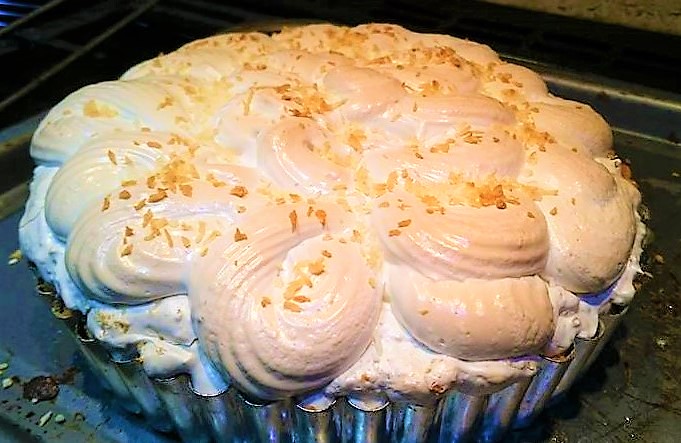 Key Lime Meringue Pie straight out of the oven. I can tell you that the Man didn't leave that one alone for very long. The following day it was totally gone-gone.