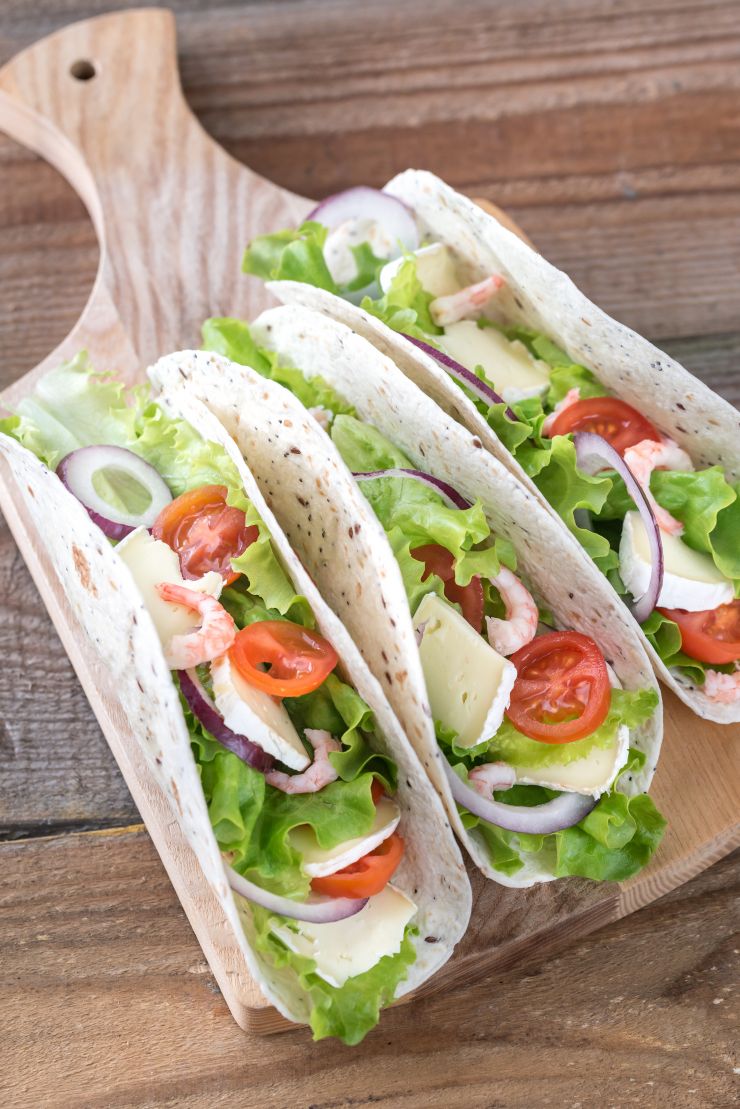 Tacos with Prawns, Butterhead Lettuce, Brie, Tomatoes and Red Onions.
To be honest I do not have Lunch very often but I do enjoy it nonetheless. It is half way through to day therefore of course you need a little pick me up. It is a bit like a mid morning Brunch cutting through the morning and Tea Time to cut through the afternoon. It is a re-fuel zone, the hour if we have a hour for it to recharge one's battery as per say.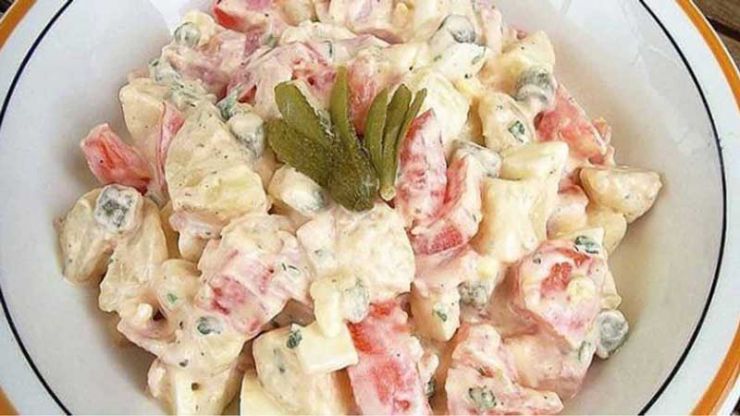 Piémontaise Salad. Simple yet delicious and lush.
Lunch doesn't have to be overly complicated like a Dinner. It doesn't have to be a three courses affair like in the old days. Even Dinner does mostly consist of a Main Course nowadays apart when you want to remain on top of it all and do succeed to manage an ectic and busy life but also to feed yourself properly. However Food on the go did become a habit for many like Sandwiches for exemple at Lunch Time or Break.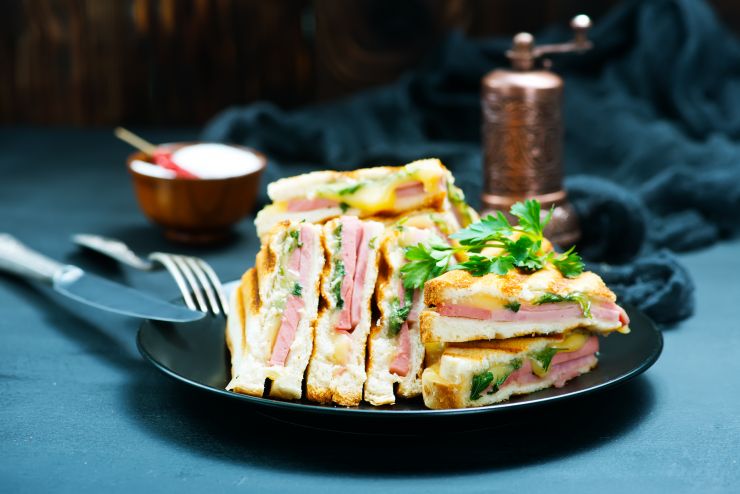 Sandwiches for Lunch are a convenience when one is on the go.
But Sandwiches can pack a lots of humpf and lots of flavours beside giving you energy for the rest of the day. Therefore they shouldn't be knocked out off the quick Lunch pedestal. I have good memories of eating the good Ham, Cheese, Lettuce and Tomatoes Baguette Sandwiches in my Childhood during road trips: No complaint there.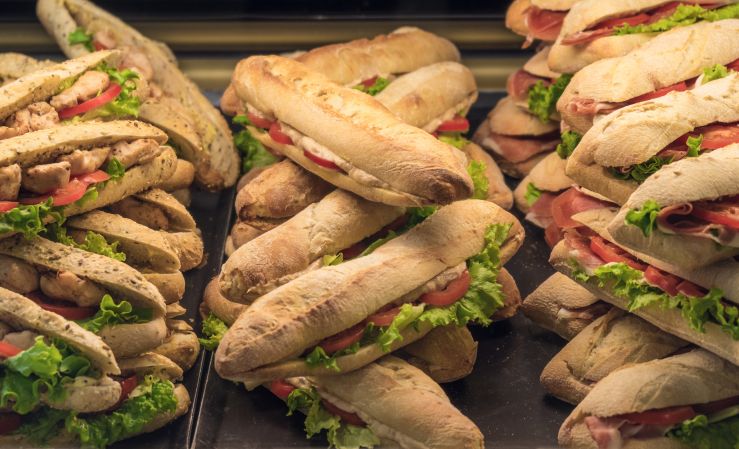 Baguettes Sandwiches: a fulfilling Lunch.
Speaking of Sandwiches, all the Ingredients are important from the Bread to the filling passing by the Sauce, Cheese or Butter being used. Sandwiches we do have on Shops and Supermarkets shelves are not despirited but they are usually the same range of types: Eggs and Cress, BLT, Ham and Cheese, Cheese and Branston Pickle... The choice can become same-ish. This is when a home made Sandwich to put in a Lunch Box or not, can be a little bit more creative.
When you can indulge yourself into a Home Made Sandwich. Between slices of Wholemeal seeded Bread, you can have layers of Butterhead Lettuce, Emmental Cheese slices, Beefheart Tomatoes (The Largest one, also called Beefsteak Tomatoes, one variety is called the Marmande), Honey rasted Ham slices, and Red Onions. This is a double decker Sandwich that will see you through the day up until Dinner time.
However for me Lunch doesn't mean automatically Sandwiches, it can also mean Burgers and Bagels. When I had to rush around during my University years, I did relish upon a Big Mac on occasion or a good Bagel full of Cream Cheese and Smoked Salmon: Food on the go. However beeing an Author now and working from home, I have the possibility to make my own Burgers and Bagels for Lunch. It gives you the scope to experiment with flavours, Ingredients and Breads.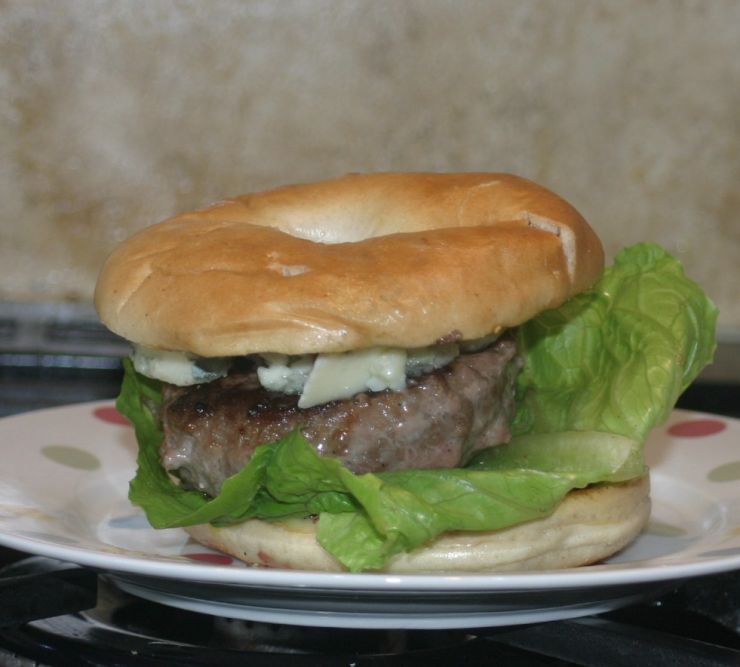 Venison Home Made Bagel Burger, with Blue Cheese and Baby Gem Lettuce.
When the warm and hot days are upon us, I prefer for Lunch to have a Salad, it can be Classic ones like the Caesar Salad, the Waldorf, the Piémontaise or the Salade Niçoise. But it can also be just some random creation of mine coming from what I did grow in my Garden or what I do have at hand. Simple or complicated a Salad can be so very satifying for a Lunch.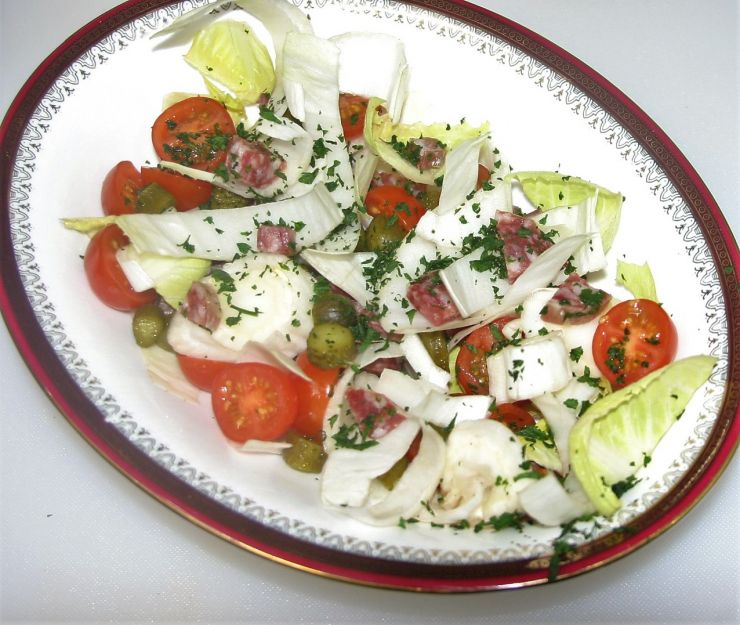 Home Made Salad of White Chicory, Baby Gem Lettuce (Chopped), Saucisson Sec, Gherkins, Cherry Tomatoes, Parsley with a French Vinaigrette.
The matter of fact is that you be ever so creative with your Lunch if you have it at home or away from home. A Lunch box is always a useful thing to have in one's home. You can prepare your Lunch on the go in advance or to deal with leftover of a good meal for the next day. It is a world of possibilities but also of discovery and creation.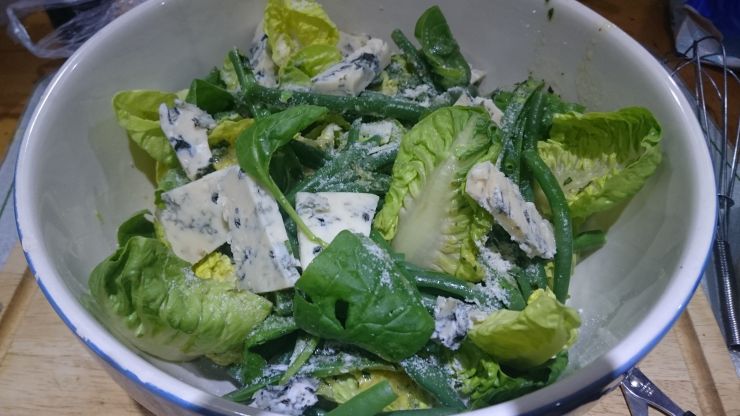 Using leftovers of Gorgonzola Cheese and Green Beans in a simple Salad of Gem Lettuce and Spinach. Add Croutons and a Dressing and you do have a nice little Lunch on the plate.
Now I did say about Lunch being simple and I do prefer it that way, however I come from a time and a culture that closed the shops and schools for a couple of hours for people to have a proper Lunch. It meant to be able to take a seat and have a proper and decent meal. Dare I say it was the slow pace days. You rejoined with either your Friends or Family and take a proper break.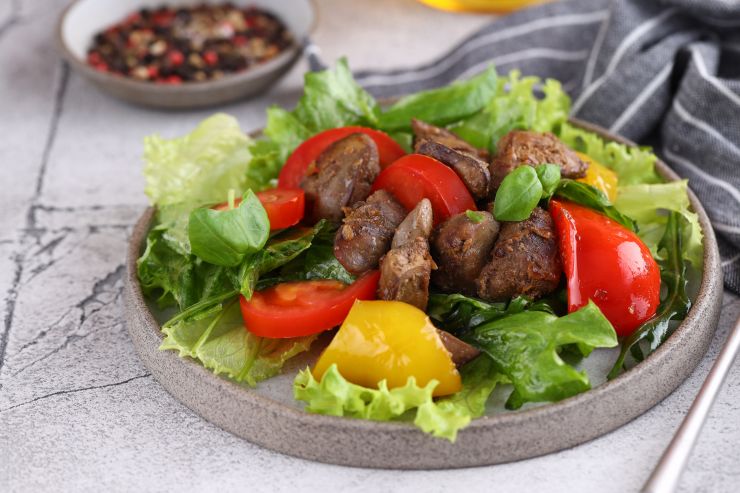 Chicken Liver Salad with Tomatoes, Yellow Sweet Peppers, Butterhead Lettuce, Basil and an Italian Dressing.
Strangely enough, I remember of my School days and Boarding School days Lunches at the canteen being most often than not offals. Like my Man I tend to qualify them as the awful Offals. I have dreadful memories of Hearts and Brains where I refused to eat them and the Dinner Lady refusing to let me go to the playground if I did not finish my plate. I was a very fussy eater and most of the time I would wait patiently in front of my plate not touching it up until the bell rang to call us back to our classes then the Dinner Lady couldn't retain me.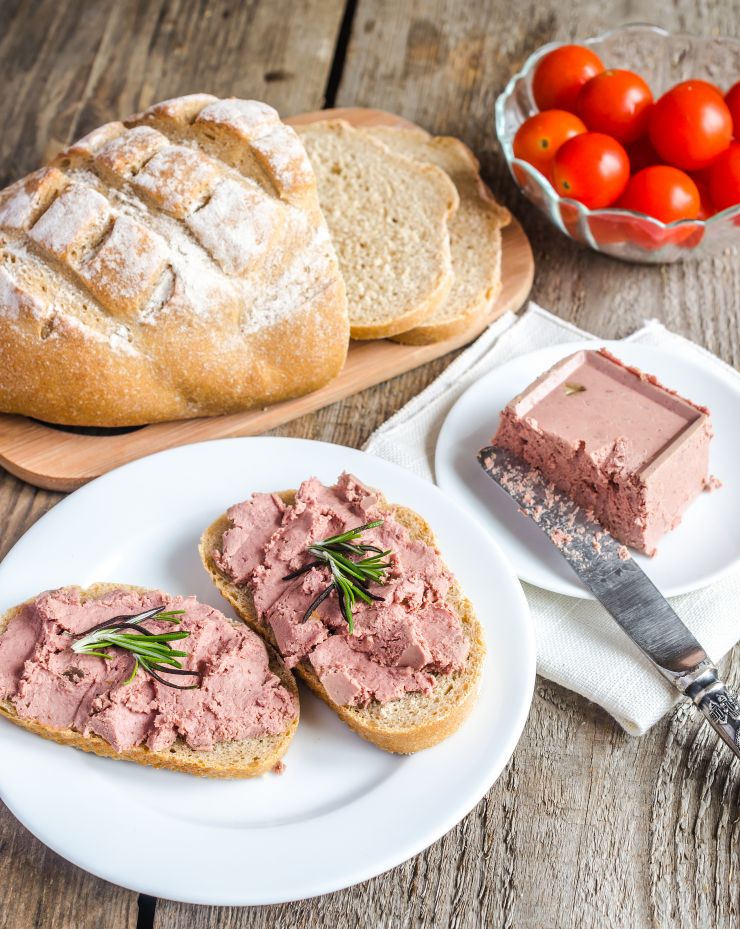 Chicken Liver Paté spreand upon Sourdough Bread.
However I am not adverse to Liver as long as it is not cooked to death like the leather sole of a shoe. Liver, Mash Potatoes and Onion Gravy make a satisfying Lunch. Another way I like Liver is within a Salad. In a Paté, which you can spread upon your Bread of choice is also another way to eat Liver for a quick but substantial Lunch. One Ofal I was adverse to was the Kidney. I didn't like the taste of them in my Chilhood nor the thought of them.
Fried Liver, Mash Potatoes and Onion Gravy.
But I happened, for Lunch in a nice Restaurant in Islington, pushed by my Friend Kay (RIP), to have to try Devilled Kidneys. It was some sort of revelation as per say. I did enjoy them very much. Although the Dish is usually either for Breakfast or Supper, I do think it does make a very decent Lunch. There is an Ofal I never tried but that I am willing to try which is Sweetbread.
In Winter, I do like to Lunch on Soups but also in Summer on cold Soups like a Gazpatcho. A Soup can be made in advance the day before then reheated the following day which is very handy. With a nice Bread to dip within, or Croutons, Soups do make a lovely Lunch. But when it concerns Lunch my tendency is to go for the old classics, tried and tested like a Leek and Potato Soup, Carrot and Coriander, Tomato and Basil, Pea and Ham...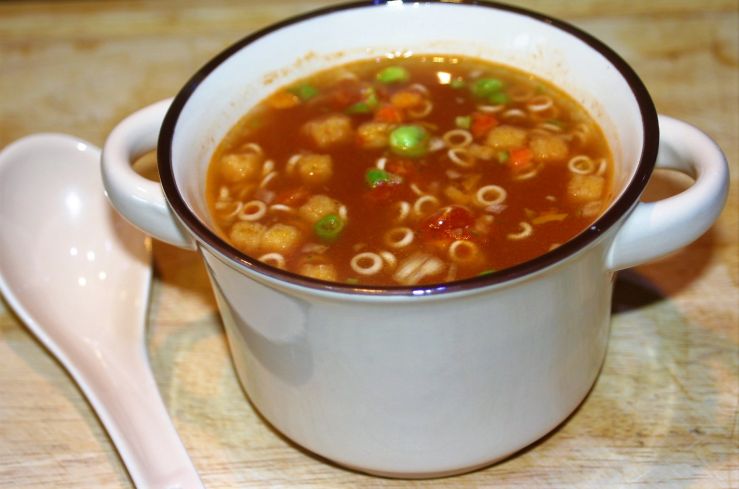 Minestrone Soup for Lunch.
Then there are those Bistro type of Lunch. Coming from the Seaside, I love my Mussels. 'Les Moules Mariniéres were part of my childhood which we ate often. Nowadays I still do eat Mussels for Lunch about once a month but usually they come from Scotland. I do them either in a White Wine and Shallots Sauce or in a Garlic Butter and Chive Sauce. It is simple to do and do not take a long time to make. Mussels are also very satisfying if you are not allergic to Seafood.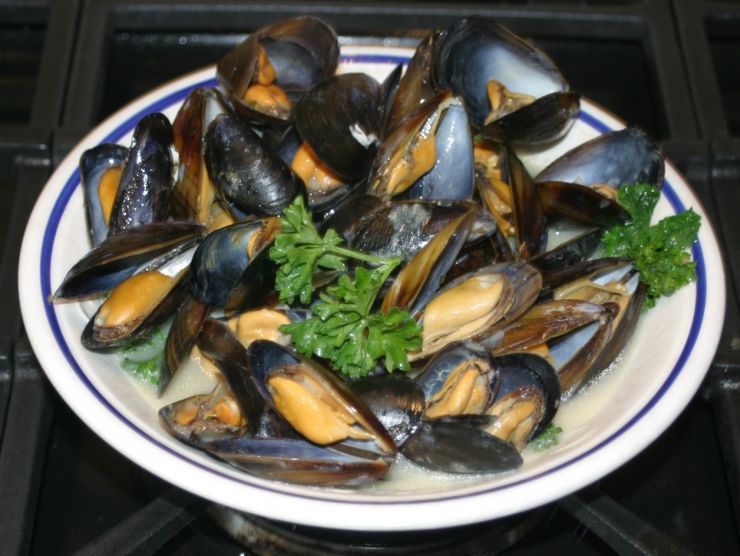 Mussels for Lunch with Curly Parsley. If I remember right this Dish was done with creamy Garlic Butter Sauce.
Of course we can always reproduce Street Food at home Tacos, Enchiladas, Tapas, Skewers, Hot Dogs... There are so many out there to try your hand to recreate in your Kitchen for your Lunch. Most of them are fast but also easy to make which is a big plus.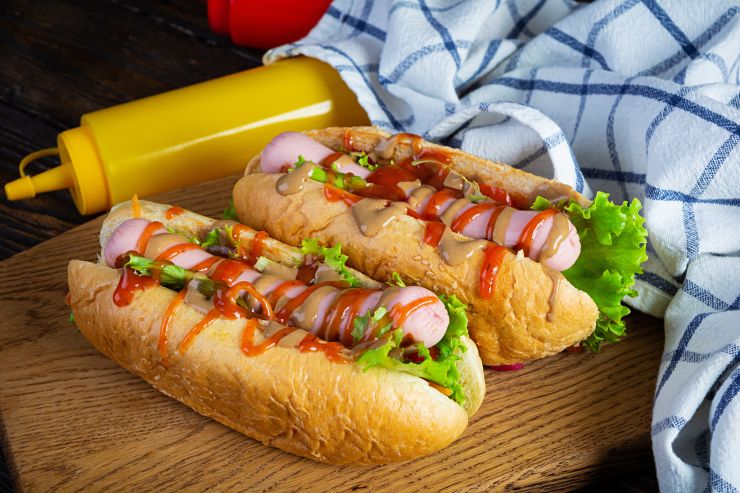 Hot Dogs: Bread, Sausage, Lettuce, Onions, Ketchup and Yellow Mustard. Simple yet satisfying.