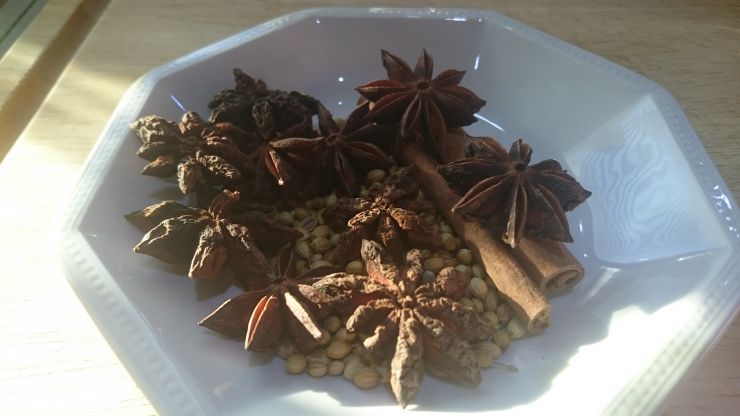 The quest for Spices did change the face of the world in per say. It made people discover it in order to have some sort of monopoly upon the trade of Spices.
Remaining within the frontiers of my kitchen, I must confess that nowadays it is less hard to have some Spices to use that it was throughout history. It will however be much better when B J and his Governement will be out of Downing Street and Westminster so the messing up that they are doing stop and the shelves of the supermarkets will be full again.
Anyhow going to our matter at hands which are Spices, the selection is huge and people did cross Oceans and Continents in order to get a particurlar Spice only found here or there.
The Conquest of Paradise by Vangelis performed by André Rieu.
If I do a top ten of the Spices within my Kitchen realm, it would be very difficult but I will try it nonetheless by order of the most frequent use:
Number One: it will be Peppercorn, Black, White, Pink or Green. I use a grinder or a pestle and mortar to crush the Peppercorns. I use Black Peppercorns to make my creamy Peppercorn Sauce to pour over a nice Steak.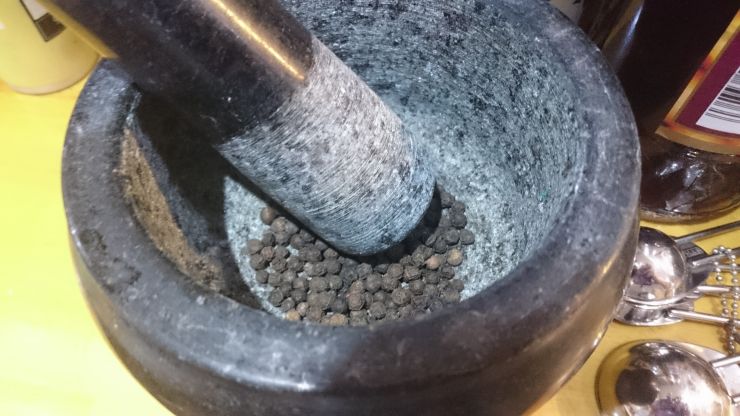 Black Peppercorns in my Pestle and Mortar.
Number Two: Paprika, I use it very often, Smoked or Unsmoked. On a chilly evening, comfort food like a good Goulash can not survive without Paprika...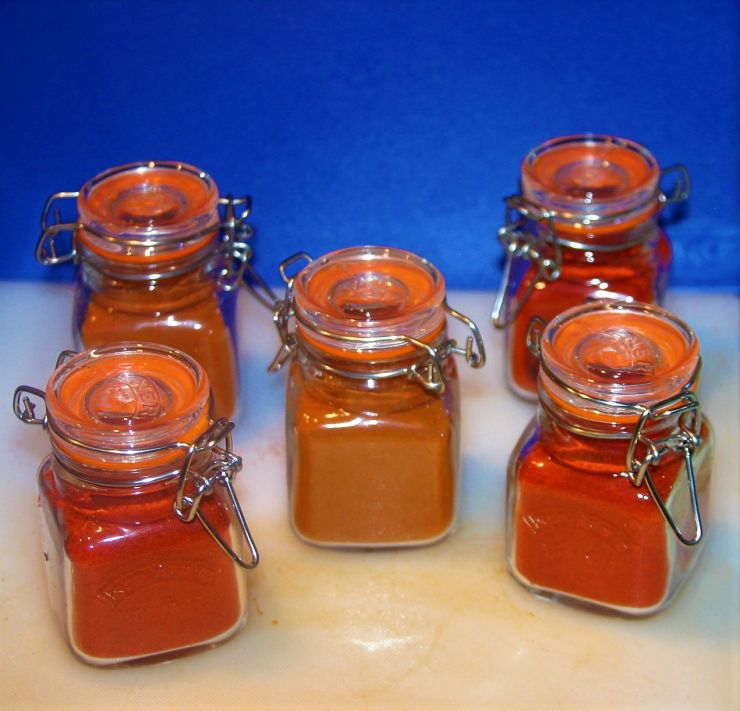 Paprika powder. It gives a gentle heat to a dish.
Number Three: Chilli. I had a Hate and Love relationship with Chillies. Now on a Scolville Scale I can cope with some Heat. I think it is a case of educating your palate. I really didn't like Chillies. But then growing Chillies and cooking with them you learn to appreciate how to deal with them. Beside that I like the good Chilli Con Carne that my partner does.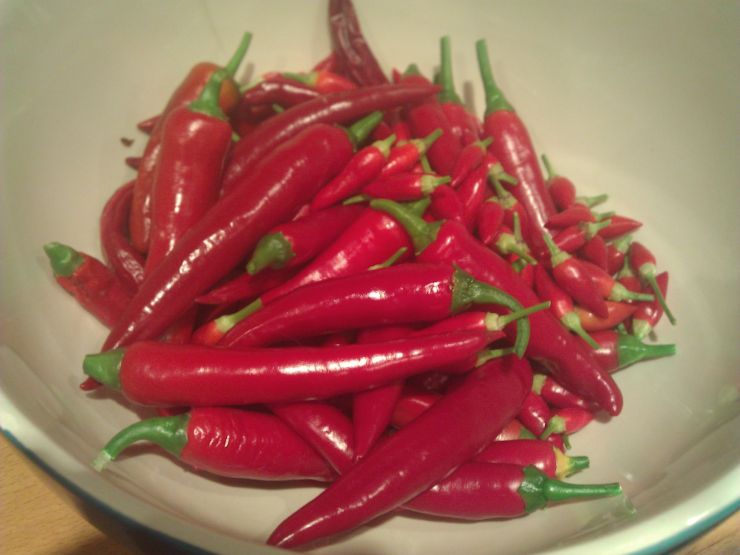 Cayenne Chilli Pepper Harvest.
Number Four: Nutmeg. It can be used for Sweet dishes or Savoury ones. A pinch of it within a Béchamel Sauce gives the Sauce flavour and Character. Therefore you will find it within a Lasagne. But during Festive Season, Nutmeg is within the ingredients of a Christmas Pudding, with a good Eggnog, but also within a Hot Cross Bun.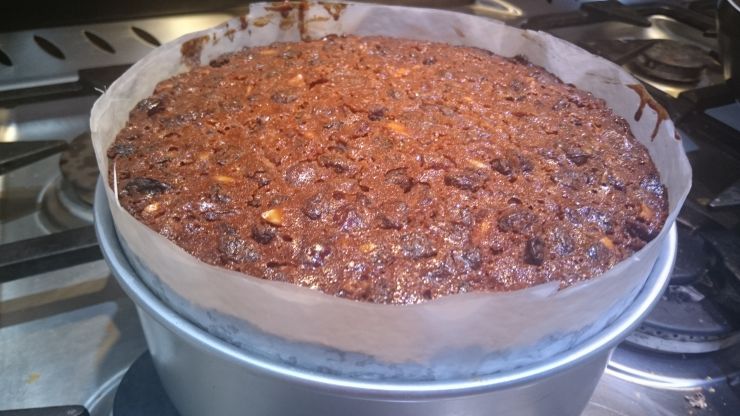 Christmas Cake with lots of Dried Fruits and Spices like Nutmeg.
Number Five: Ginger. I must confess that I never ever run out of Ginger, either fresh roots, either preserved and grated, either in a ground powder. I use it so often for so many dishes either Sweet or Savoury. I will start by mentioning Ginger Biscuits and Ginger Bread: Treats to the palate. Ginger imparts flavour and a very welcoming Warmth to a dish. Then I can't imagine, conceive a good Stir Fry without having Ginger within it...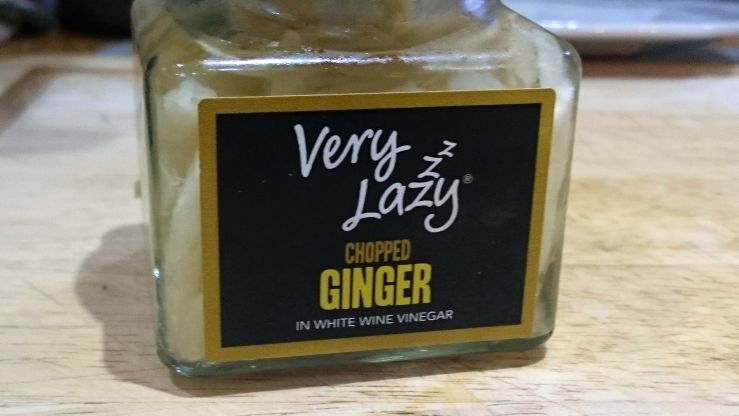 I was very happy the day I came across the Very Lazy Range of products: Everything chopped for you and easy to keep for a long time in the door of a fridge. It is ever so handy. Ginger, Garlic, and Chilli are the three products in their range but very convenient.
Number Six: Cinnamon. This Spice is the Sweet Galore one. Cinnamon Swirls are a treat indeed. The combination of Cinnamon and Apple is delightful. I remember the day when my cousin Isabelle brought to us an Apple Tart where the special ingredient was Cinnamon. It was a none left matter. Cinnamon within Jam or Sauce is a licking fingers one as well...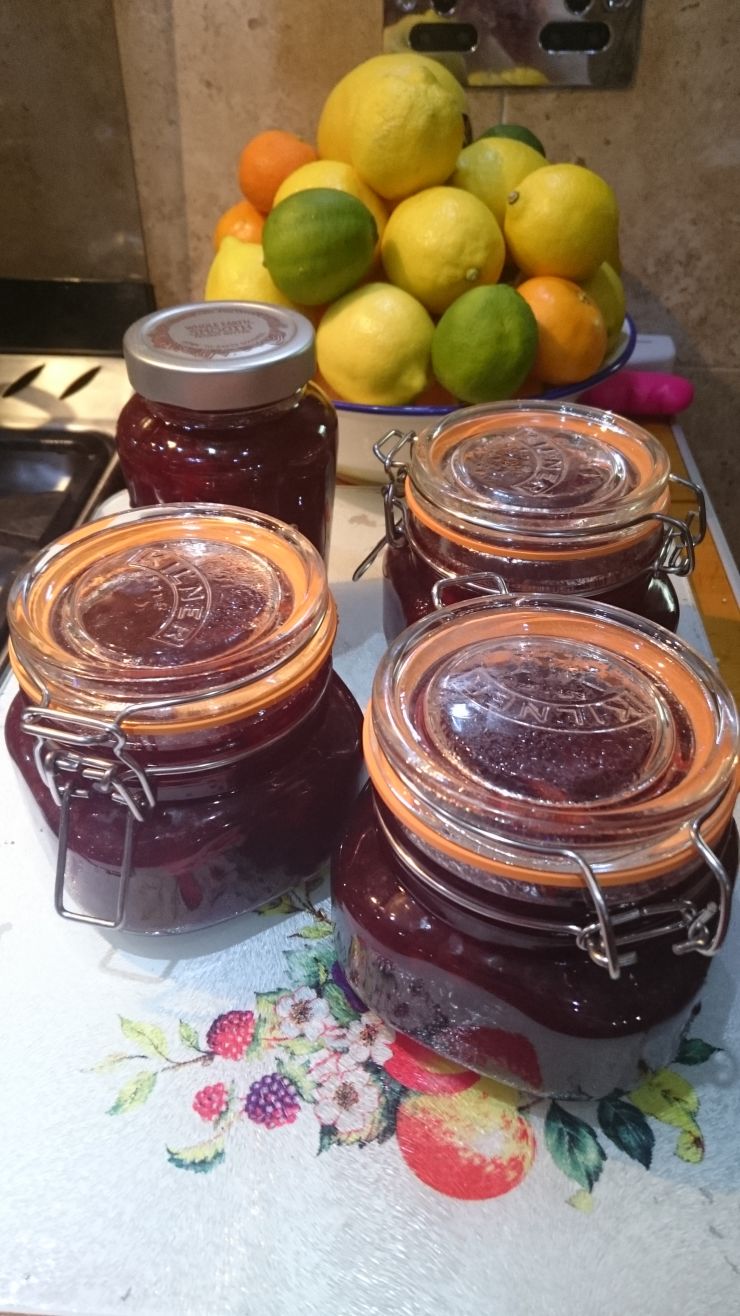 Home Made Plum and Cinnamon Jam. Just Delish... You can spoon it out of the jar in the Autumn.
Number Seven: Saffron, expensive, colourful and tasty. How to smart up a Rice, Potato or Chicken Dish? Use Saffron. I do grow it in my little back garden. It comes from the flower Crocus Sativus. The threads within the flowers are fragile and need to be collected in a very delicate affair. I use a pair of twizzer myself.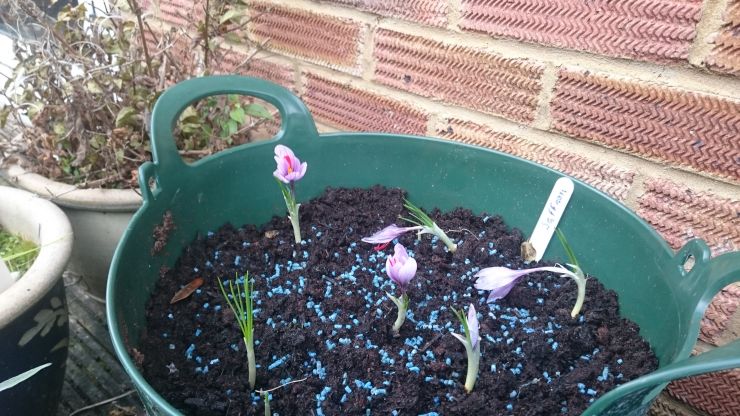 Saffron Crocus are short lived, fragile and it is a must to collect the threads before a rain...
Number Eight: Cloves. This is a Spice more used to infuse rather than anything else. Think of Curries, Stocks, Mulled Wine in Winter time, Soup, and the very Festive Ham. You can also make a DIY Mouth Wash with Cloves apparently...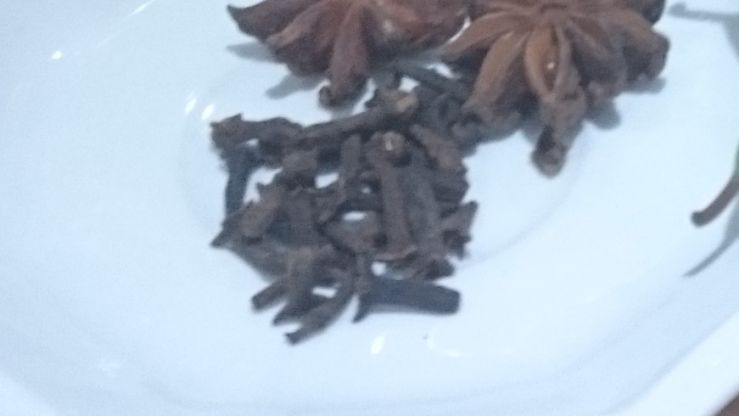 Cloves also called by the French Clou de Giroffles due to their aspect which looks like a nail, hence a 'clou' in French.
Number Nine: Coriander Seeds. The dried fruits of the Coriander plant gives you Citrus taste and nutty warmth to your plate. Now depending on your genetic you can find Coriander, also called Cilantro, to taste a bit too soapy for you. But most like it, in their curries, also to flavour Chicken or Fish. Coriander can be used to infused a Tea or make a Vinaigrette. It is so versatile that you can flavour Cakes with it. I prefer Coriander Seeds Pounded or Crushed to a powder like consistancy.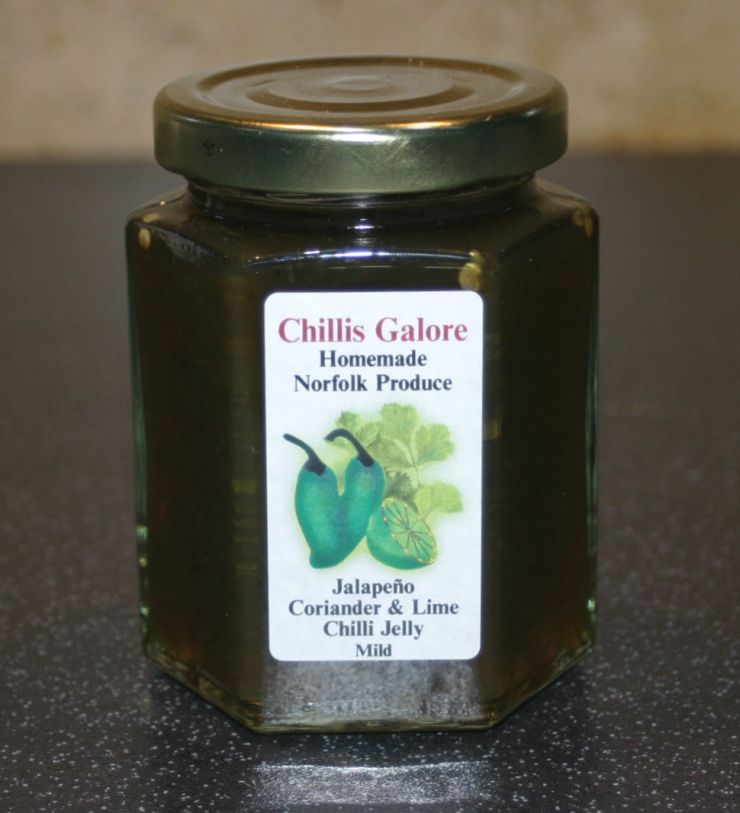 Jelly can be made with Coriander which is nice to go along with Ham but also Smoked Fish.
Number Ten: Cumin. It has to be Cumin just because I absolutely love it. Archeological finds report the use of Cumin Seeds back to 6 thousands BC. Personally I like using Cumin Seeds to give flavour to Veg, especially Carrots and Potatoes. My Carrots, Honey and Cumin Side Recipe was nicked by my Mum who found it far better than her simply Boiled Carrots... I will not argue because sharing is caring.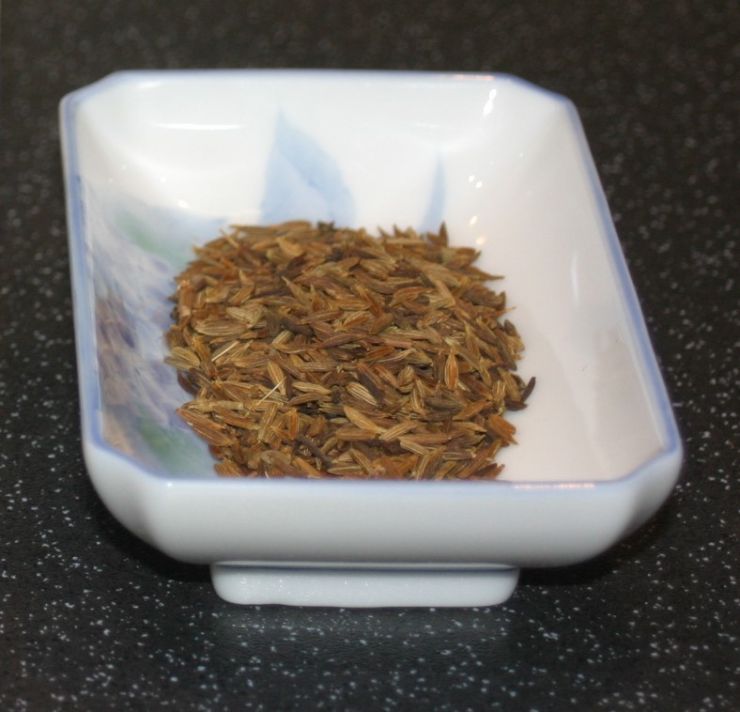 Cumin Seeds can also be mistaken with Caraway Seeds.