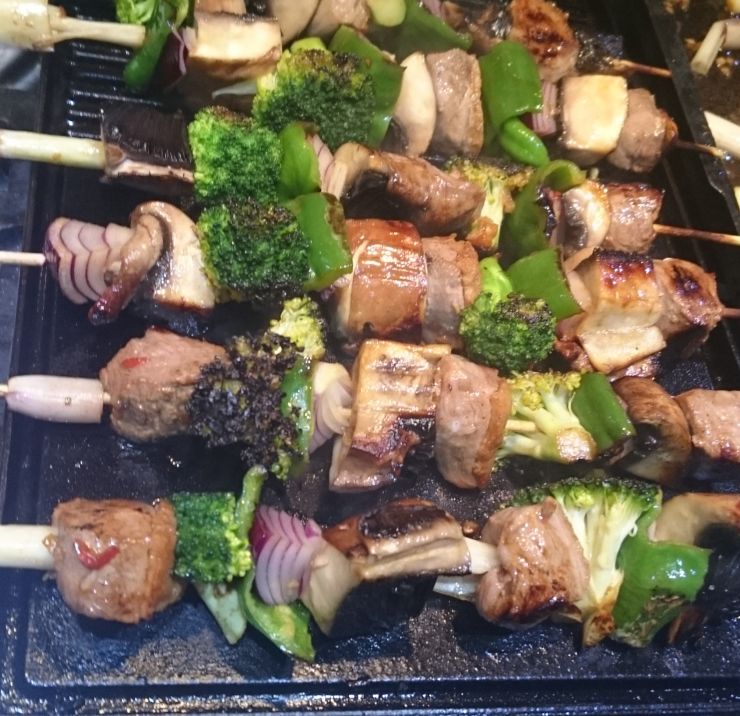 Duck Kebabs.
Who doesn't enjoy Skewers and Kebabs when the first sunny days finally arrive? They are a sort of inauguration of the Summer such as Picnics and BBQs are. We can convivially eat outdoors again. There is less fuss, almost no table manners obliged to be respected, a sort of freedom of eating joyfully. Kebabs are considered as street food in many countries.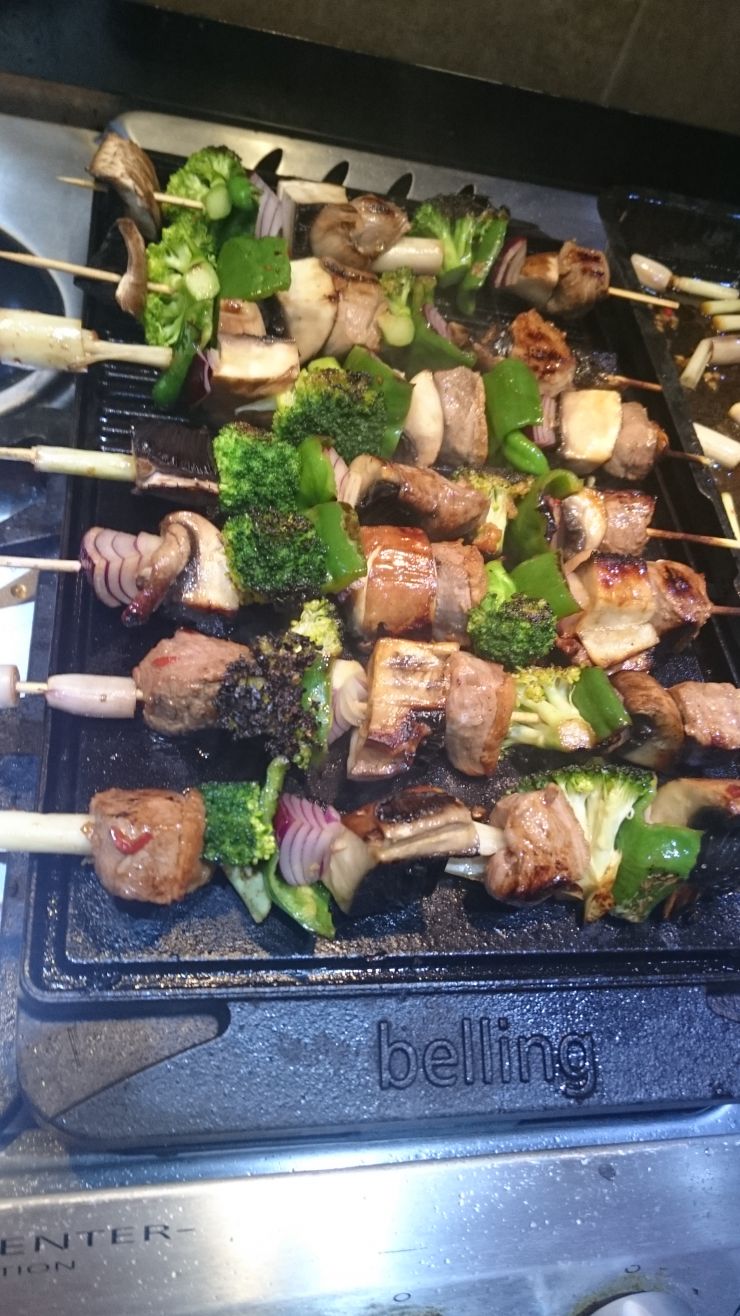 In The Summertime... There was some Skewers which we enjoyed very much...
Now Skewers are really the ustensils used to cook Meat, Fish, Veg, Fruits or Cheeses, Nuts or even Candies. Who can remember Marshmallows over a bonefire at night? Or having a Candy Apple in a Fair? Or being in a party with pretty cocktail appetisers served upon sticks? So despite being an ustensil the sight of a skewer triggers the thought of fun and happy times.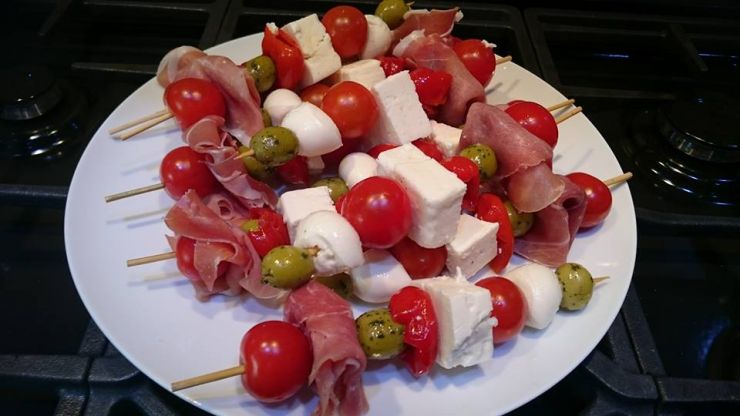 Appetisers Coctail Skewers.
Skewers can be made of metal like stainless steel, but also of wood, hard wood which should be wet before being put over the fire of a Grill, Bone fire or Barbecue. Bamboo is used as well commonly but also Lemongrass stalks which is less usual and Rosemary woody stalks lend themselves a place as potential and aromatic skewers.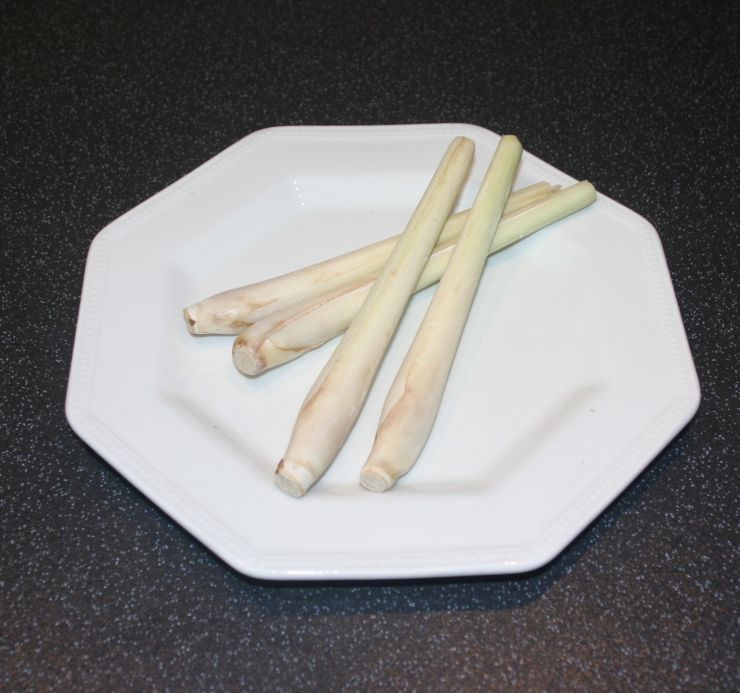 Lemongrass can be used as Skewers. Their strength and woodiness help but also the aroma they can impart.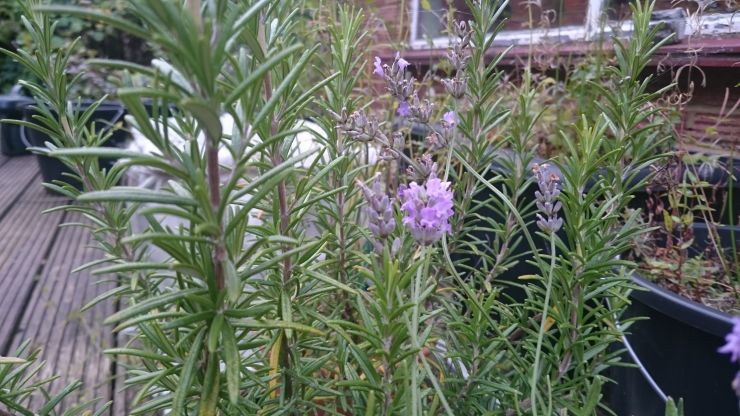 Rosemary Stalks can also be used as very fragrant Skewers. You can imagine little cherry Tomatoes, Feta Cheese or little Mozzarella balls and Green Olives bursting with the Med flavours upon them.
Skewers are considered also as Kebabs in the Western part of the world. The French call them Brochettes and do make a partial distinctions between the two. Because a stick must be used: 'La Broche' to make 'Une Brochette'. Therefore a Kebab is more considered as something else.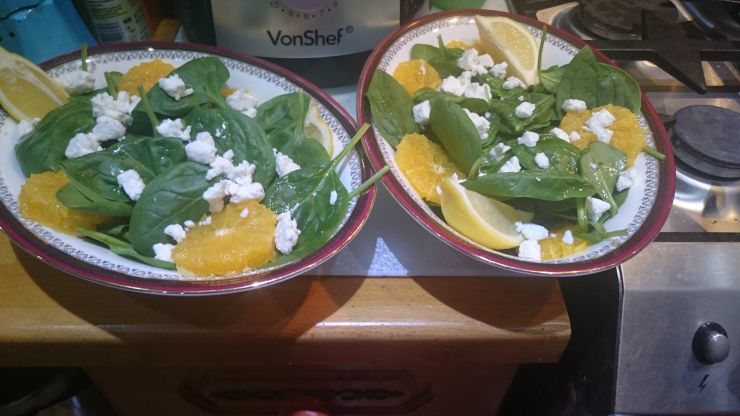 The 'Else' might be where the Skewers, Kebabs or Brochettes might be served with or within. Here is a little Citrus Salad made with Feta Cheese crumbled upon Spinach leaves.
So if we keep it simple and just say Skewers for the time being. It implies that it is done upon a stick of some sort. The beauty of it is that simplicity of it all. Then you can serve it how you want it: upon a Salad, eat it as it is or put in a flat bread. You are free to eat it how you want it. And I will go all Flower Power on you on that one because it is the time to let go and put your hair down with the good old Skewers and Kebabs. It is a time to Chillax and enjoy.
https://www.youtube.com/watch?v=Cb8luHdpR84
To build a Skewer isn't difficult whatsoever. First you must think of what you really, really want to eat. The pleasure of the palate, what trip do you want your taste buds to take. I am partial to cubes of meat, usually Beef, which I alternate with Veg, and there I aim for colours, flavours and textures. Green Bell Pepper, squared, or Sliced Courgette for a splash of green, then the juicyness of Cherry Tomatoes, and the tangyness of Halloumi Cheese then to finish off the sweet sharpness of Chopped Red Onions. A delish nice combination if you ask me.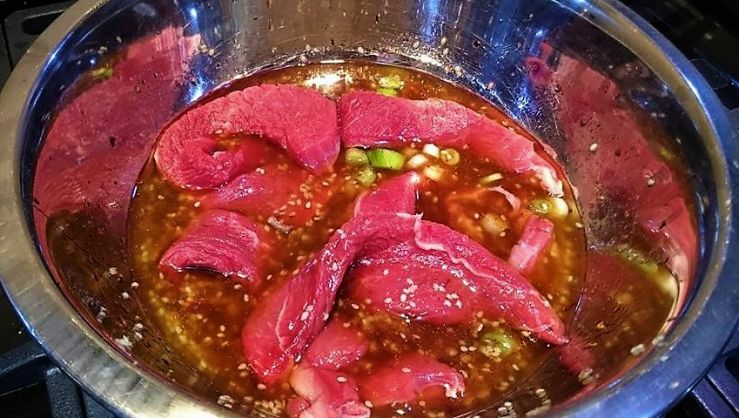 Marinating strips of Beef for Asian Style Skewers.
But combo for combo you can try plenty and find the one you like the best. For cubed Meat, my preferences go for Beef, or Lamb or Chicken. From a recipe of Tom Kerridge, I tried Duck which I would never have thought about to use for Skewers but it was delicious, let me tell you that.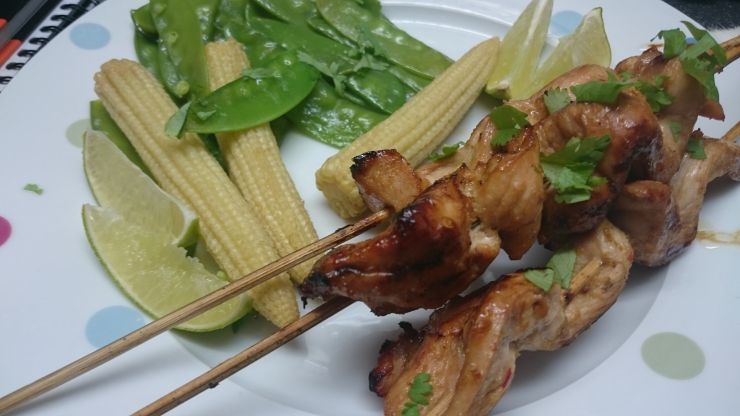 Honeyed Chicken Skewers with Babycorn and Mangetout served with quartered Limes. An easy fixed meal just done under the grill on a busy night.
As for Fish, a meaty Fish rather than a flaky one can hold still on a Skewer. Salmon, Tuna, Swordfish, Cod, Monkfish are all the stong ones to hold on to the stick. However an entire Sardine, fresh Anchovies are all goodies in my book. Speaking of Summer flavours, get in there babies, with Tomatoes, Olives, even grilled Lemons...
Then we have the Shellfish, the Prawns, the Langoustines, the Gambas and all the tutti quanti that are delicious to eat on a skewer. Going all Med' style works wonder with those, Tomatoes, Shallots, Sicilian Lemons, Basil, even Aubergines. Or you can go all the way pure and simple just the Gambas Skewers and quartered lemon to serve them with a little Salsa verde to drizzle them with.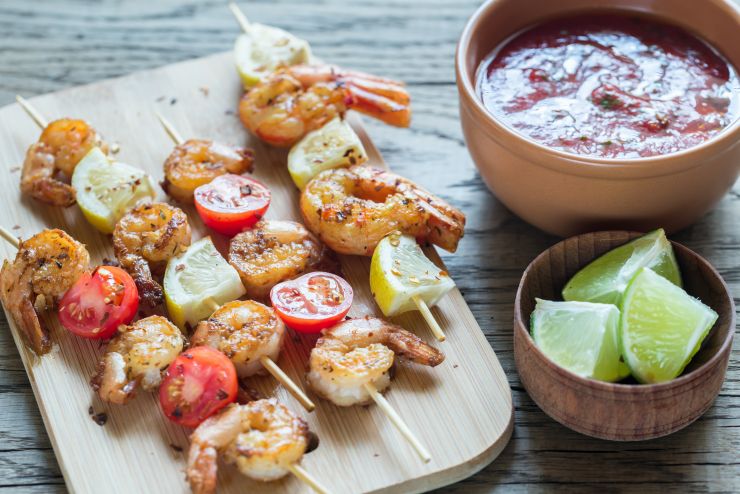 Prawn Skewers are ever so enjoyable in the Summer.
Last but not least you can give your Prawns an Asian twist. Marinate them a little in a bit of soya sauce and rice wine. Skewer them, just on their own with sliced chillies and quartered limes. Make a little dip with Thai Fish Sauce, a squeeze of lime, a splash of Rice Wine Vinegar, a drizzle of Sesame Oil. You can also use a pinch of Sesame Seeds, grated Ginger and sliced Spring Onions.
You also have a beautiful if slightly decadant option of creating an original Fish course served in an informal way where all guests can help themselves to their own skewers. The selection is offered to them on the middle of the table upon large dishes or boards. Grilled Lobster tails skewers, Scallops and Tiger Prawns skewers, the quirky Razor Clams and large Clams skewers, the dainty Mussels (without their shells), Cockles, and small Prawns or Grey Shrimps skewers. Lastly you can have the killer skewers that will raise all eyebrows and some guests will be brave enough to go for it: Oysters of course just the flesh of it, alternated with decent firm Crab big Claws meat.
Now you can add a little luxury in the reminiscence of Antic Roman ways: Think of a large pretty bowl full of Lemons and Limes, another one full of Grapes of different varieties, and a Salad Dish of Raw sliced Tomatoes, grilled Courgettes, sliced Cucumbers, covered with some Capers and Peppery Watercress, seasoned of course with crushed Peppercorn, and Sea Salt. Lastly you can complete your feast with two little things, for sea worthy sailors that seen it all, crispy Sea Weeds, mixed with lightly marinated Nori Sheets ( in Soya sauce or preferably Rice Wine Vinegar) accompnied with Samphire gently stirred fried in lime juice and a soyabean oil. You can also add a bowl of cooked and shelled out Winkles in parsley and chives Butter to be eaten with Toothpicks or Cocktail ones. Wink to whoever who dares to try those tiny treats.
The beauty of Skewers is if you have fussy eaters in the house who complain about eating Vegetables or their five a day or whatever it is now, ten a day... is that if you put a Veg on a Skewer or in a Kebab, it has more chances to be eaten than not. My assumption, valid or not, is that because it is a Skewer, it is psychologicaly thought as a fun thing to eat, hence, the Veg don't sound so dreary any longer.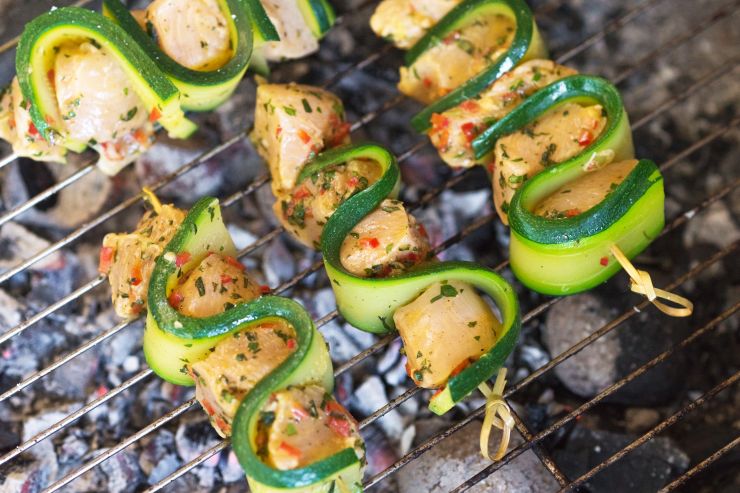 Chicken and Courgettes Skewers: Fun and appetizing.
Vegetables lend themselves perfectly on a Skewer to give it variety, colour and taste. The alternative ways to place them like a ready pantomine for the palate to enjoy is a delight for the sight. It can be Harlequin on a stick or Guignol to give you a pretty little kick on the taste buds.
Personal recommendation of Veg to use in that way, I will say Sweet Bell Pepper first of any colours. They are colourfully sturdy and tasty. In my top three will be Tomatoes because not only they add the juicyness needed, they do give that sweet texture which could be missing from a Skewer. Then I do rate equally a Courgette or an Aubergine. Both impart flavours and colours.
Those are my top three/four. But during Skewer time, there are always some unsang heroes, for me they are any of the Onion family ( Red Onion, Spring Onion...), a good old Carrot, and the humble Potatoes, smaller the better on a Skewer, parsley buttered with a little charcoal burnt smell about which says I am done baby, I am done...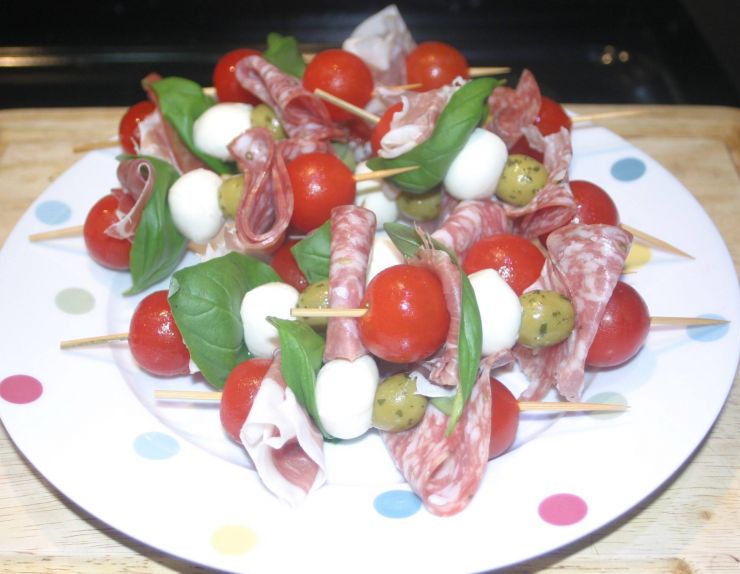 To make Skewers colourful is a fairly easy thing. It is a play on ingredients that works together taste wise but also provide contrast with one another.
Then there is of course the Marshmallows Skewers over a bonefire in the middle of the night... 'Scout Toujours'.
You also have the very famous Doner Kebab which is a favourite one of my Partner. It consists of sliced Meat stuffed into a pocket type of bread like the Pitta. It can be spicy but it is Street Food at is best.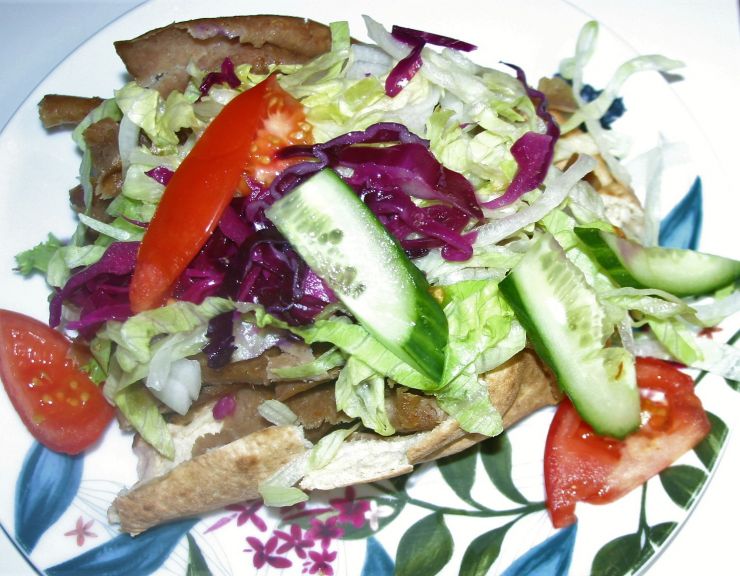 Lamb Doner Kebab, lots of veg but also satisfying spice Meat.