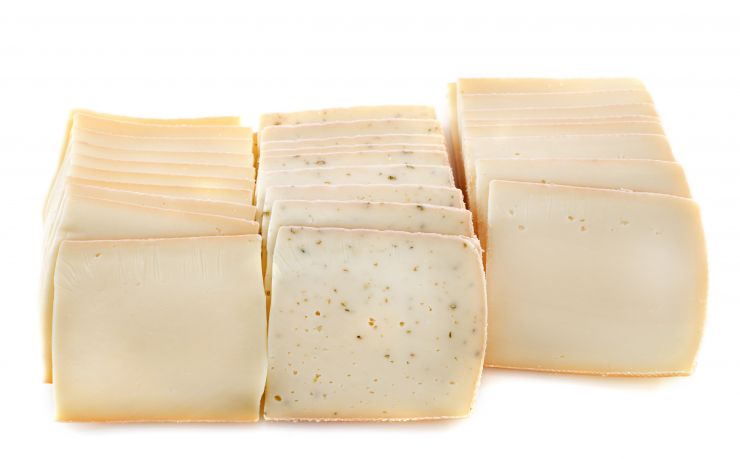 Raclette Cheese.
La Raclette is a very convivial dish which is usually enjoyed by many around a table. But if we turn back the clock and do a time trip to the Medieval ages, it would have been eaten by Shepherds and Cow Herders by a camp fire. Later it was consumed by the warmth of a chimney. But one thing is sure is that you are rarely alone when you do share a Raclette, it is rather a cosy party time.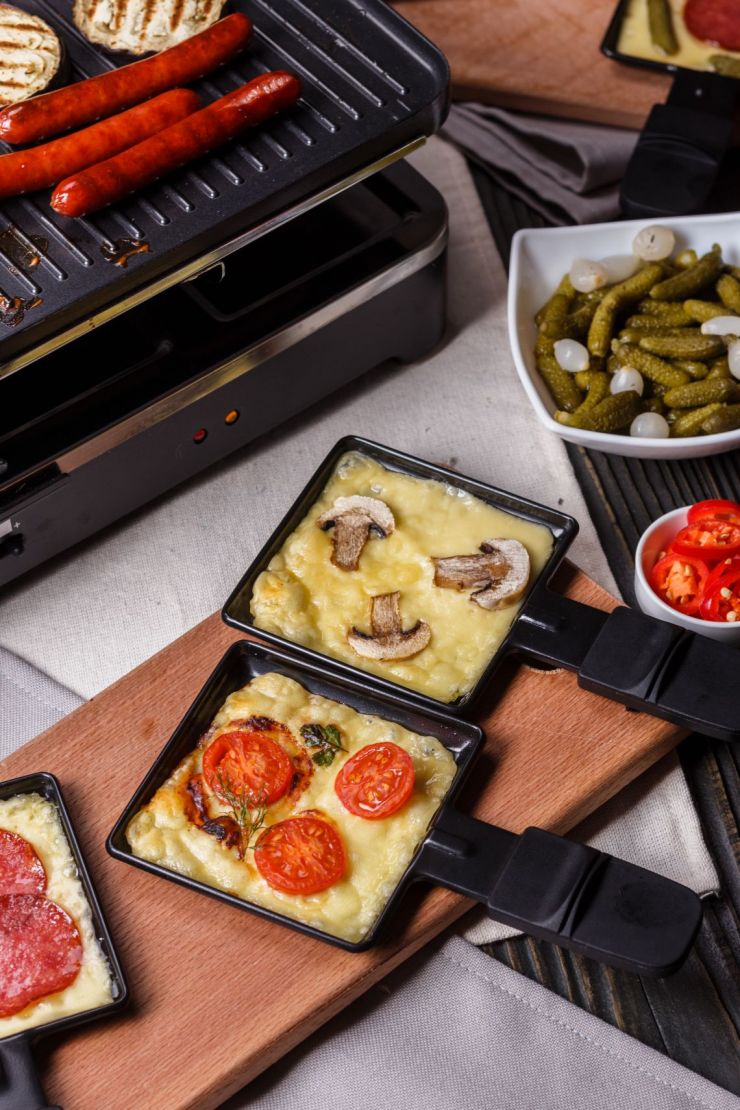 La Raclette.
The Raclette can be accompanied by numerous elements to enhance it or to make it even more fun. Traditionally it was with Potatoes, usually small ones where you pour upon the melted Cheese. Gherkins and Pickled Onions are as well quite classic accompaniements for a Raclette. The more unusual could be Pepperoni, Tomatoes, Chillies, Mushrooms, Cubetti di Pancetta, sliced Frankfurter Sausages... The list is long for creativity can drive you to find different combination that do work well.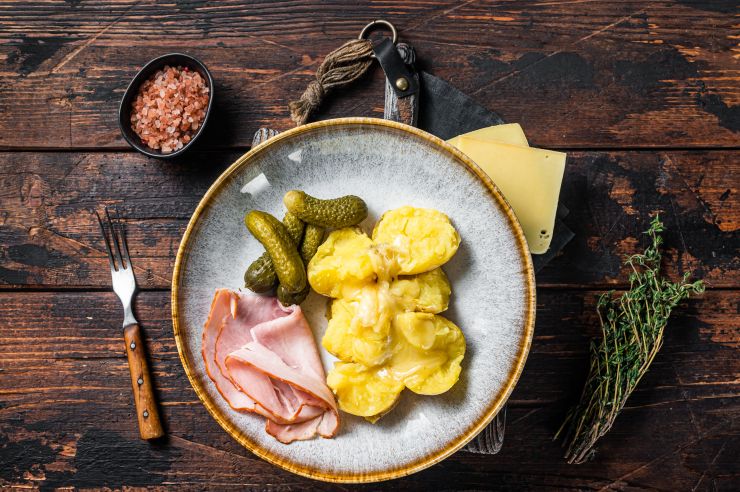 Traditional Raclette Sides: Ham, Potatoes and Gherkins.
As for the Cheese itself there is the Raclette Cheese AOC, mainly use for the Raclette Dish. It comes from the Valais area, dare we just say the Mountains, Switzerland. The Valais is one of the largest Canton in Switzerland sharing a border with France and one with Northern Italy.
Extremelly popular and convivial Raclette devices to make that Dish is often found to be a must have in the Northern hemisphere. It is perfect to have joyous Meals within a Family. However you can find different sizes for those devices from two to twelve or more little pans to be put under the heating element. You can also get some which have a griddle on top or a heating stone to cook other Ingredients which you will pour the melted Cheese upon on your plates.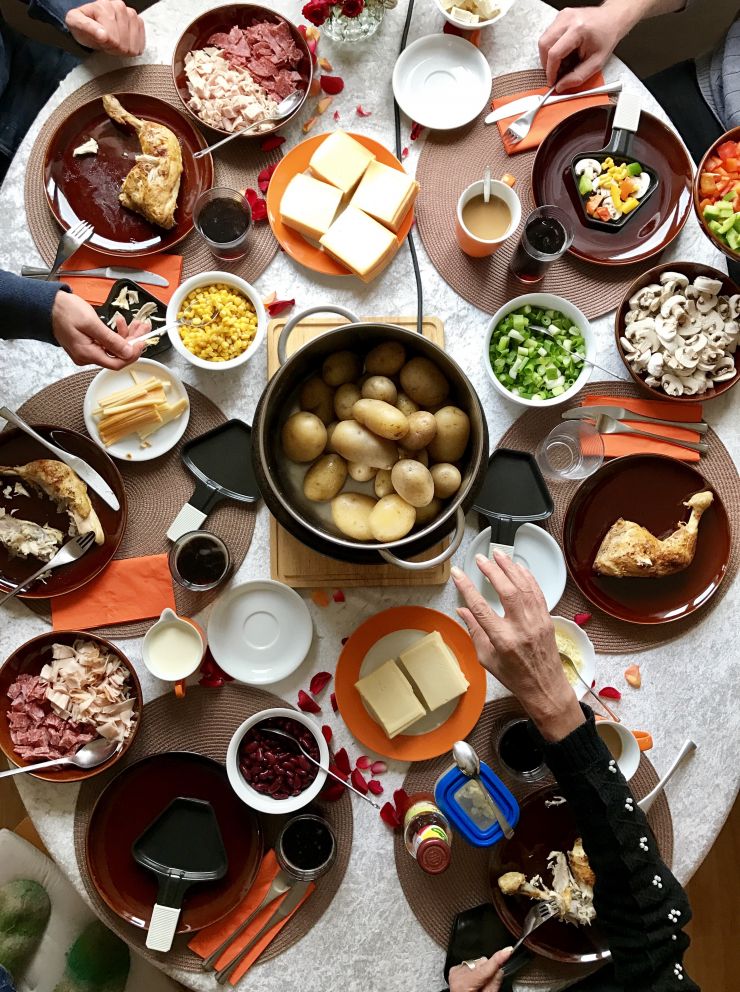 A Raclette Party with a Round Raclette Device and a heating Plate to cook Potatoes on top.
Now Raclette as a special Cheese itself can not be found everywhere. So you may have the device to prepare the Dish but not the specific Cheese itself. However, it has been tried and tested with lots of different Cheeses which were more readily available. The important factor here is the melting point of the Cheese being tried. For exemple I like Emmental Cheese but also Leerdamer. Reblochon works beautifully as well as Taleggio. For something a tiny bit more quirky Semi Hard Blue Cheeses tend to hold their own, the Saint Agur, the Stilton, the Roquefort, Gorgonzola and Dolcelatte. Morbier Cheese gives a fantastic taste. Goat Cheeses do work but the creamier ones rather than the crumbly ones. I will also add to the list the Red Leicester.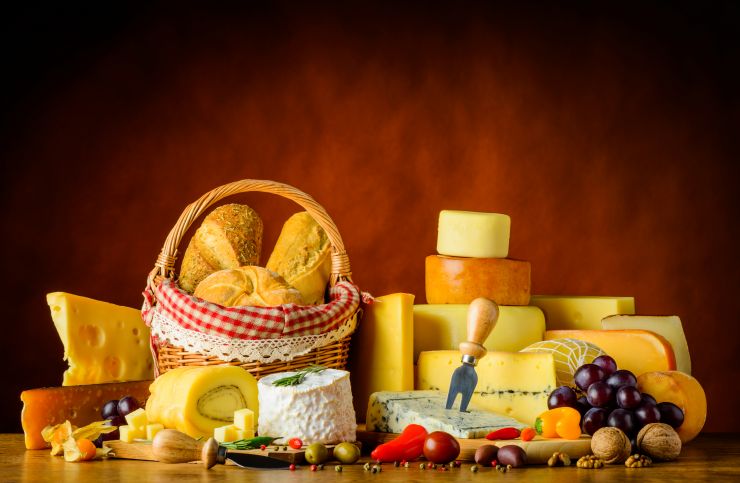 The World of Cheeses is at your doorsteps when it concern a Raclette Dish, it is all about the Three Ts: Test, Taste and Trial.