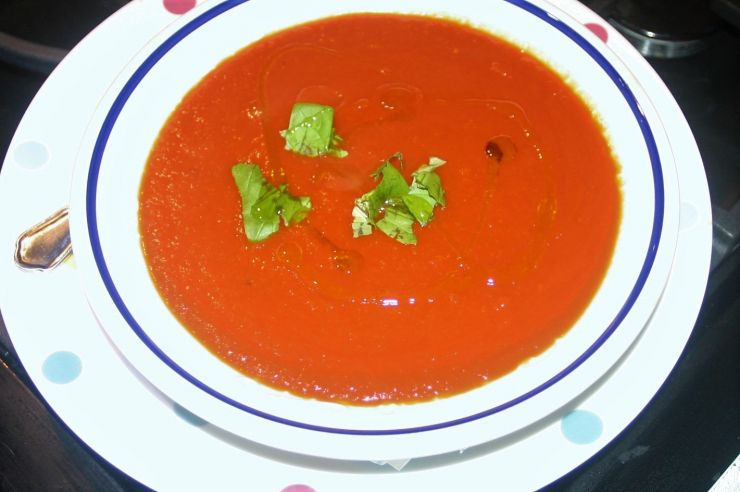 Tomato and Red Pepper Soup.
Soups and Broths are in my view very comforting for multiple reasons. There are times in your life and you never know where and when, but only a good Soup or a Broth will make you have something substantial in your belly.
There are plenty of examples to explain many situations, many. I will name a fair few and you may fit or not in whichever categories. But don't dismiss any for it can arise whenever it comes and to know the recipes to a fair few Soups or Broths may help.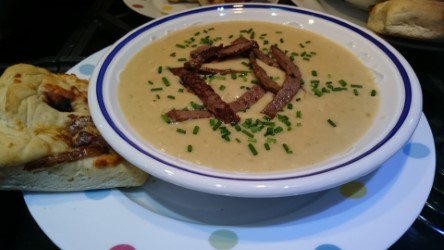 Never dismiss a good Soup when you see one in front of you.
The first I will mention is illness. The comfort of a good Soup is when you can not have the feel or will to eat anything else. It is when all of a sudden the sight of food is disgraceful because you will feel sick after consuming it. Liquid food, hence Soups or Broths are the old wife's tall tale that it will make you feel better. Well having experienced it during my life, I will say there is a lot to it that rings so true. It is not a tall Tale it is a true One.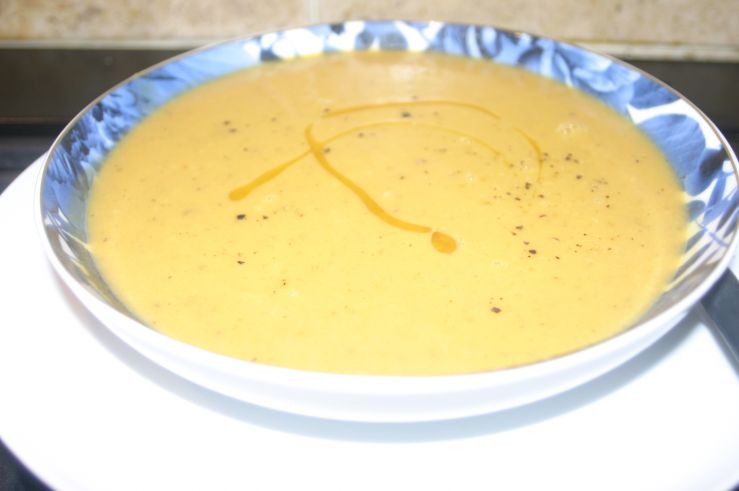 Butternut Squash Soup with a dash of Paprika and a drizzle of Chilli Oil. Heart Warming when the days are getting colder.
Let's just say first that it is easy to absorb which is an A+ in my books. Nutrition: it is an intake that you do need when unwell. There I will recommend maybe rightly or wrongly a Broth or a light Soup. But something you can take in and keep in. It is a build your strength back from the inside: Small steps can get you to bigger steps. Or like one can say to you: One step at a time and then you can walk.
These Soups are made for Walking.
I will always advise for people to have a Home made Stock or shop bought Stock at home. It helps in case of emergency when you have a big case of flu and find it so hard to eat anything at all. Because, anyhow, somehow, you have to keep going. A Stock is what the word says a Stock. It is like a building block for your body to try to get better. I will refer you to my Stocks cooking page in that instance.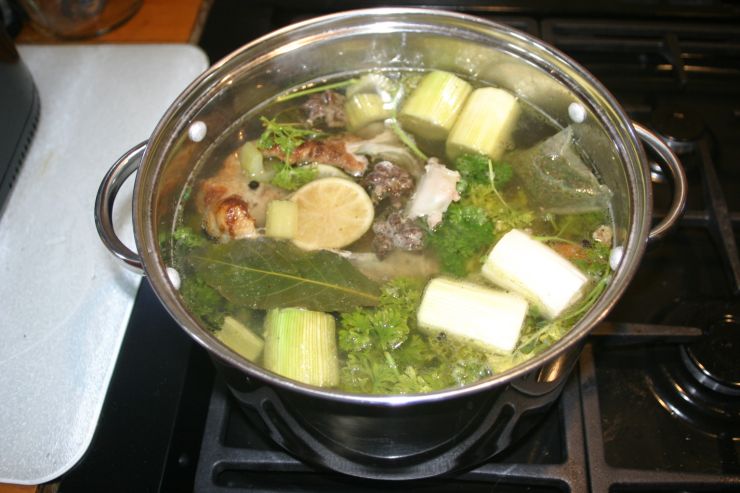 Having a Good Home Made Stock is always useful to prepare a decent Soup.
I will go myself when unwell for a little Chicken and Noodles Broth or a Chicken Soup, just for the proteins. It is light and depending on the way you are making it, it can give you plenty of Veg as well: I am thinking of Carrots, Leeks and Celery there. It is my go to of choice.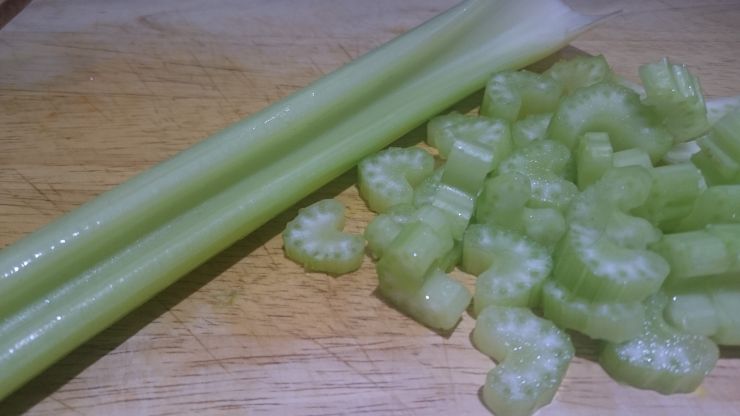 Celery is a wonderful ingredient to impart flavour to a Stock or even be the Star of the Show for a Soup.
Celery Soup. Keep the Celery leaves to decorate the Soup they are full of flavour and finish everything off with a drizzle of Double Cream.
Secondly, but by pure pleasure is the good old Tomato Soup which is one of my go to. I tweak it, yes, adore it, yes, adorn it like a glorious beauty, yes. It is just the Tomato taste which I absolutely enjoy and this is also why I taught myself to grow my own Tomatoes. Call it a hobby or a passion but there it is. I love my Tomatoes.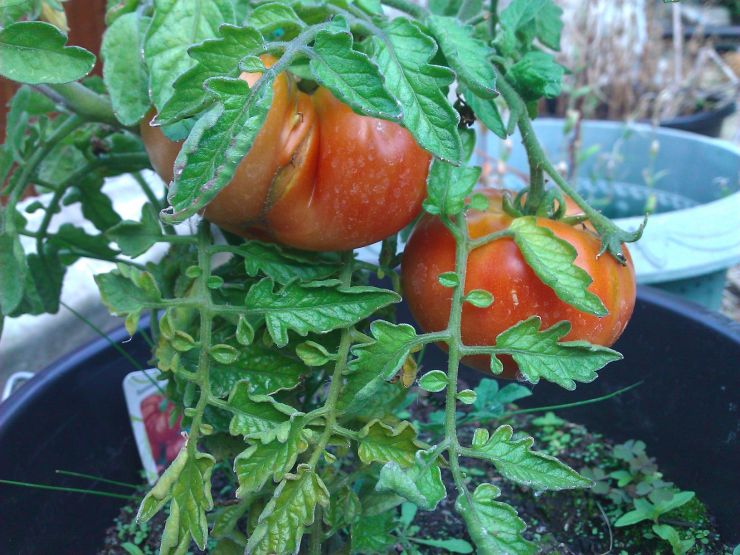 Beef Heart Tomatoes from the Garden. Flavoursome and versatile.
I tend to go for fancy Tomatoes most of the times to grow but, and there is a big but in the way, not all Tomatoes will suit perfectly all purposes. There again I will say learn by your mistakes. A Beef Tomato is perfect for doing stuffed Tomatoes and Soup, and a Piccolo Tomato one is nice for cocktail and entertainment, it is a sweet treat as per say. A nice medium size Tomato is better suited to do a fresh Tomato Soup. From all my little trials I will recommand the Moneymaker Tomato variety. Not only they are easy to grow, they can give you a lot from one seed. Take and Care for them then Love the result they offer.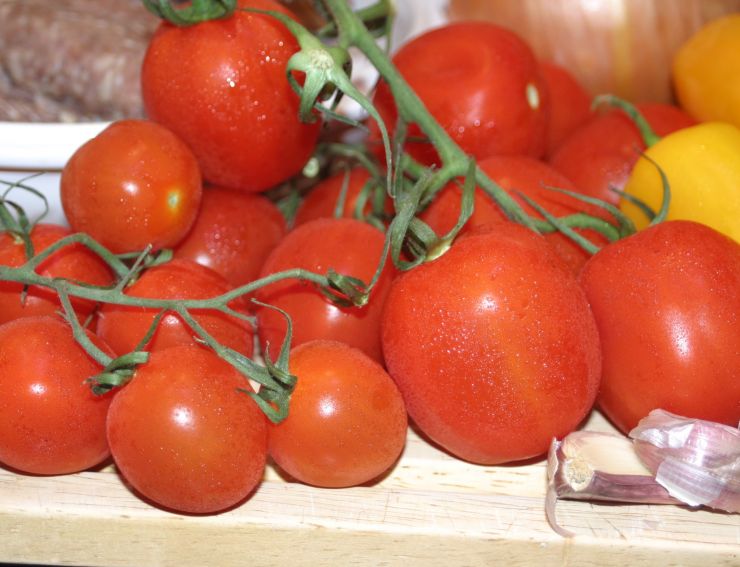 Tomatoes paying off time.
Roasted Tomatoes and Red Pepper Soup. They are a good Combo. The finish/ garnish was only crushed Basil leaves and a drizzle of Olive Oil.
I have three contenders for the third place in my top three Soups and Broths. I can't decide that is all I can say. I will however tell that I do love an Asian style Broth especially with Mushrooms within it. I don't know if it is a speciality but I can only say I love it.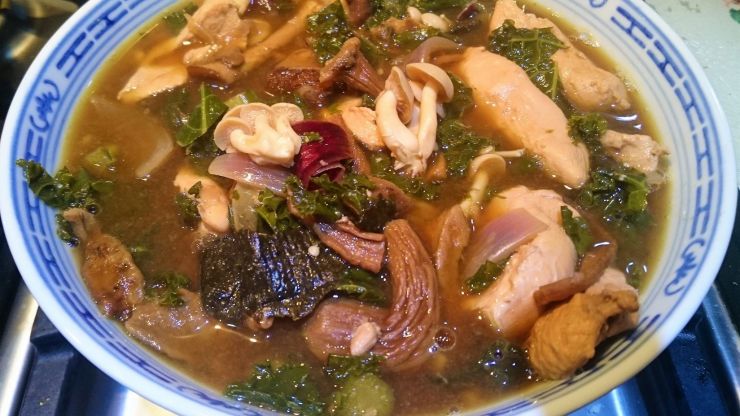 Chicken, Mushrooms and Miso Broth.
Now a Wonton Soup always gets my vote but I must confess not to have learnt how to do one yet. The tricky part are the little dumplings. One could call them little nests of goodness. Chicken are the most favoured ones for many, however I prefer the ones made with Prawns. You can call me a Sea side girl if you want, which I will not deny coming from Cherbourg. But that complicated yet simple broth is one of my favourites. It is a Go To. And I need to know how to make it. It is in my bucket list which I never keep the track of.
For me the bigger the Prawn is not the better, Shrimp or Lobster, and I may raise a fair few eyebrows saying that, I enjoy them all. Especially if I fished for them.
The concept to a Wonton Soup is a little like a Broth is meeting a Soup and there is a marriage made in heaven. Nothing could be done better during a honeymoon. Clearly the high tech elements are the dumplings. They need care and skill and a filling to bring you to some sort of rapture. The Broth firstly has to be rich to reach cloud nine. Secondly both require a ring to make that Soup sing.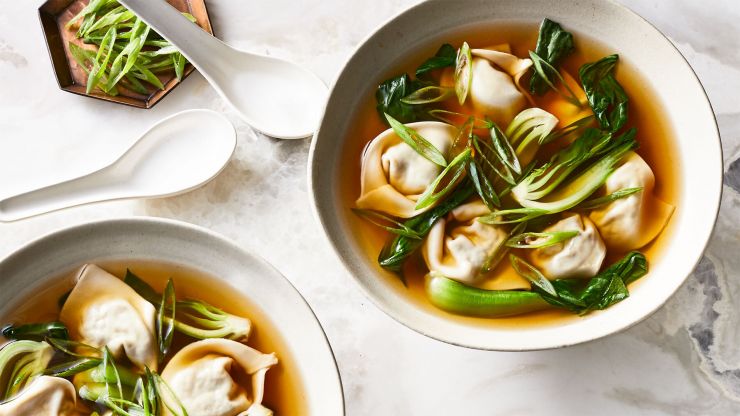 Wonton Soup.
Last but not least I do enjoy a good Potato and Leek Soup. Warm and comforting to the heart and belly, I will not qualify it as a Winter number. I will brand it as an entire year around winner. The fact is you can adapt it to any season or any day's weather. But I will also say it is a very fullfilling Soup. First course or Main course, you will have to be Garguanta to need more to eat after one or be an Ogre...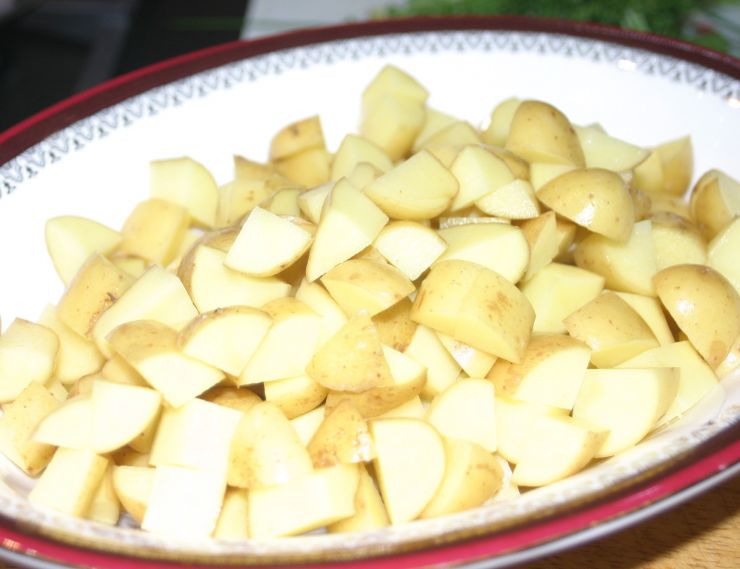 The good old Potatoes make a very comforting base for a Soup.
In the colder part of the year, you can make it thicker because of the starch of the Potatoes. But with a little creativity you can easily add some comforting Cheese like grated Cheddar. Some good Ale can improve the flavours but be careful with the amount you put in. At the end of the day you aim for a Potato and Leek Soup.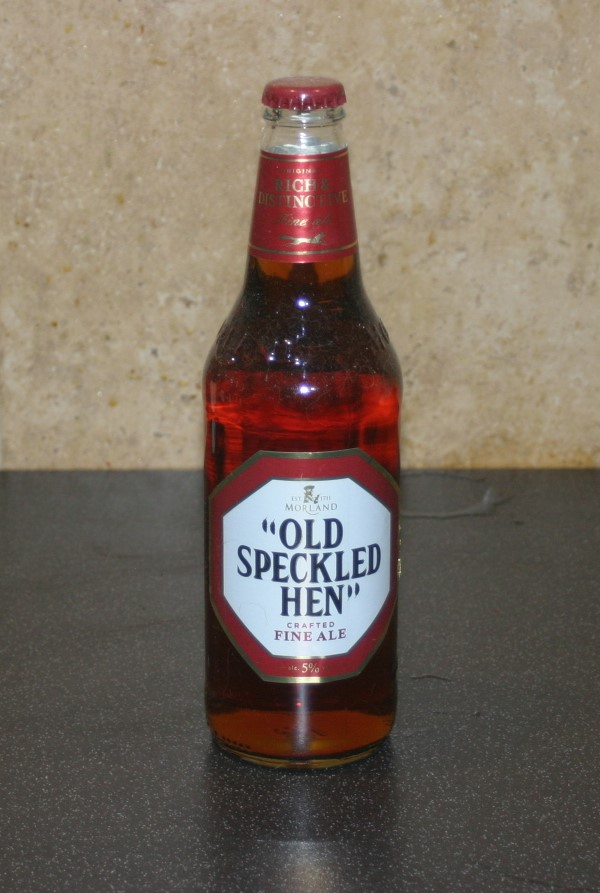 Ale is a good addition to a Potato and Leek Soup but don't be heavy handed, you just want taste and a smoother texture to your Soup. Go for a nice one, Ale, to enhance the profile of that good old classic which is that lovely Soup.
During the warmer months, this Soup can be a little more brothy than starchy. Hence if you don't mind me to refer to a classic generic, you call for Hutch rather than Starky.
One way you can achieve to do that is rather than blend everything to a smooth Soup, you can let it become a Broth with a bit of Breath within it. Dice and peel your Potatoes, the smaller the better to simmer in your Vegetable stock. Don't let them go all mushy because their textures are important. As for the Leeks wash them, slice them and let them sing for themselves. In the Summer days my portions will go 3/4 to 2/4 for the Leeks and the rest for the'Tatoes.
Leeks add this nice Onion-y lift to the Soup. But make sure you wash them well to get rid of all the dirt between the leaves.
This simple Soup is substantial enough by itself but you can garnish it with a little Bling-Bling. I mentionned Cheese earlier on with the Winter smooth version, but Cheese can be applied to the Summer version of it. Just imagine little coated Cheese Croutons, Dolcelatte ones or Gorgonzonla ones floating in the Soup.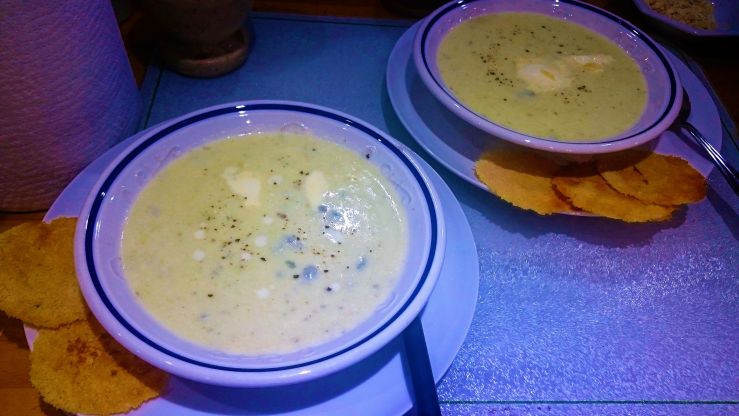 Potatoes, Leeks and Docelatte Soup served with Parmesan Crisps and a dash of Double Cream.
If you need a bit more to chew upon how about adding either Fish or Meat. Cod Flesh does marry well with that Soup, with the addition of Parsley or Chive. As for Meat, I would go for Bacon Rashers fully rendered before being added. Cut or not, this Soup is not about looking lovely it is about wholesomeness.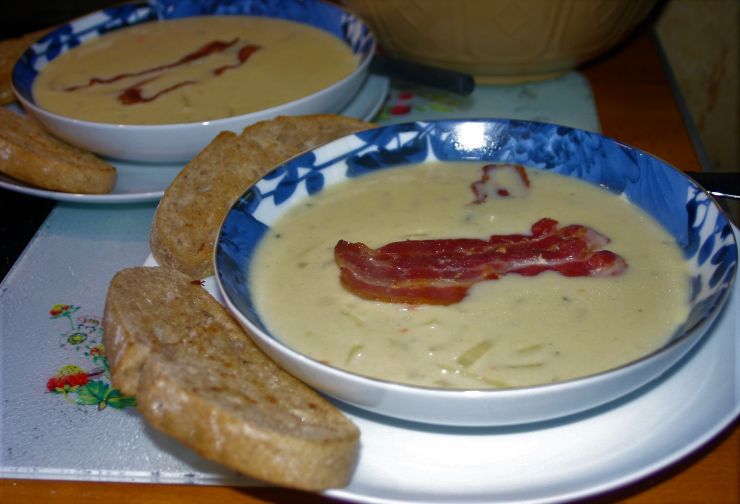 Potatoes and Leeks Soup with Cheddar and Bacon.
But I will say one thing about the Bling-Bling: Accompany that Soup so it does swing in your bowl and could shout out 'Hello Dolly' from Armstrong. Chopped some Chervil, Parsley or Chives. If Spring Onions sliced take your fancy with a nice piece of flaked Fish go away with it and just try! If simmered Bacon Cubes or Rashers rock your boat, I will again say try but always be cautious with food safety. Learn about them before doing anything. Then you can swing.
Hello Dolly From Louis Armstrong
I will just share a little thing with you. I have difficulties eating and swallowing. It has been a challenge to try to find what I can and could eat. So I did try to adapt with my new situation. It is like a shot in the dark because I really do not know so I am sharing what has been working for me a little to keep me going.
Soups and Broths are my go to most of the time when I have difficulty to simply eat. That is all.
Now to keep a variety is important because you just don't want to live on a life supply of Cup a Soup. However they are extremelly handy when it is hard to stand up and walk around the house. It is a Bang Bang it is all done.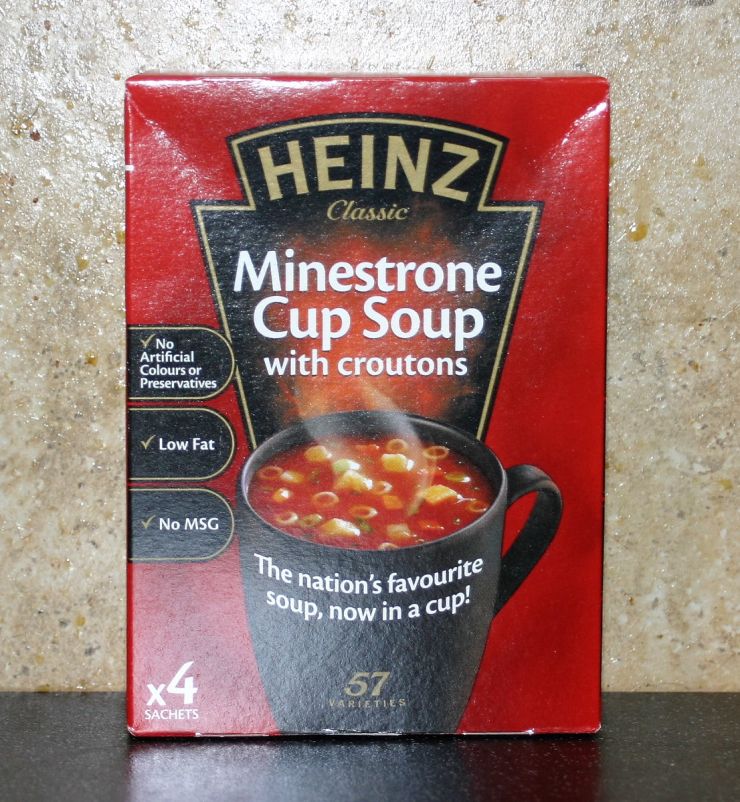 Cup a Soup are helpful whenever you need to eat but too unwell to do it yourself.
Desperate times go hand in hand with desperate measures. So I will change the Bang Bang my Baby shot me down to Hang on My Baby helped me there. My partner, my brother and my mother helped me there. I was gifted books about Soups and my mother did cut anything in her weekly mags with a soup recipe. They were my S-O-S rescue team for me to learn fast to feed myself at this moment in time. Soup-O-Soup.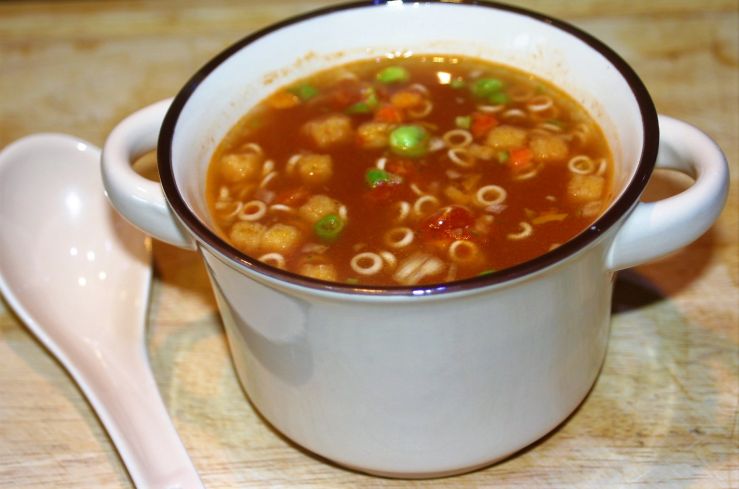 Soup to the rescue... Dehydrated Soups can be a go to when you are very unwell.
To go back to an important point about variety, I can only say seasonality. Do use ingredients which are in season whenever you can. It helps to keep your spirit up. Because you are not eating the same thing all the time.
If we follow the season, in Spring for my Soups and Broths, I enjoy using Spring Onions in my Broths and Asparagus in my Soups. I can only advise to also try Celery, Broccoli and Spinach.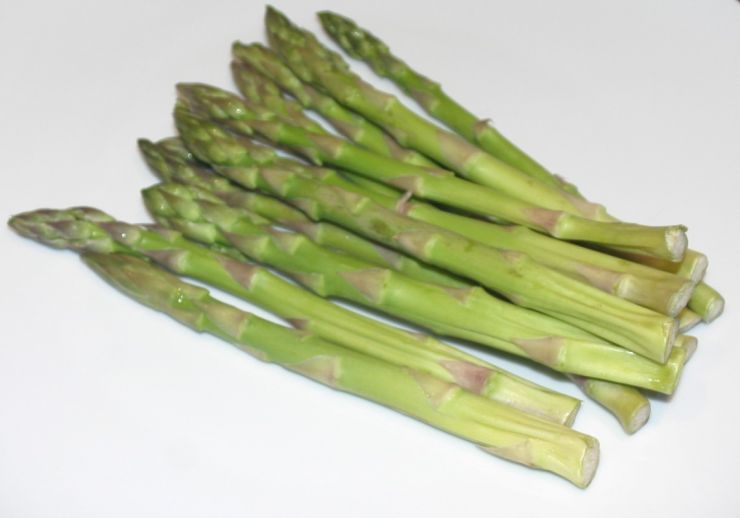 Spring Bunch of Joy: Asparagus... It is not the Spear of Spartacus, but add a well seasoned home made slice of toasted bread upon that Soup, and a gorgeous poached Egg on your oversized Crouton and you are in heaven for a few minutes.
In Summer I tend to go all Tomatoey: A good Minestrone, a Gazpatcho or a Tomato Soup with Red Pepper.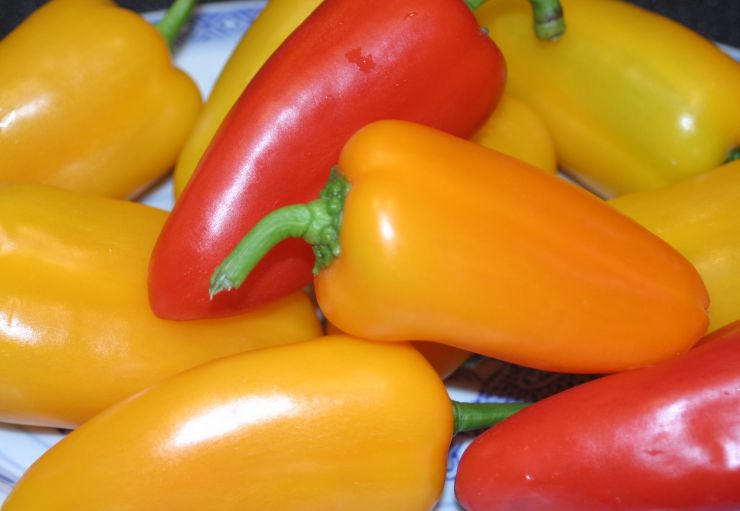 Sweet Peppers, they are going so well with Tomatoes.
In Autumn, I am loving French Onion Soup, Squash Soup or Chicken Soup. We mustn't forget that it is an excellent season for Mushrooms. They can do excellent Broths but also a Cream of Mushrooms Soup velvety and silky. Unctuosity in the mouth I would say.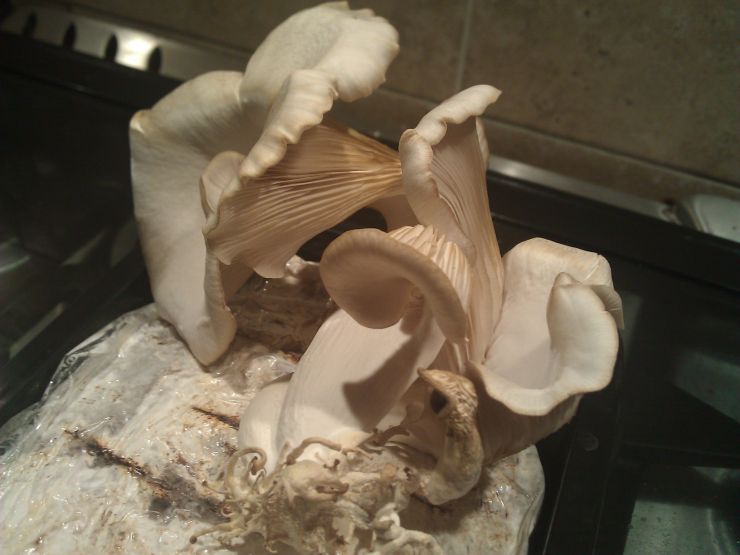 Home grown Oyster Mushrooms. They are perfect for Broths.
Then when Winter comes, give me an Oxtail Soup, a Beef Broth, a Potato and Leek Soup or a good Cauliflower one with Cheese in it. To the list of ingredients to try in Soups or Broths I will add the good old Carrot, Parsnips, Celeriac and the trendy Sweet Potatoes.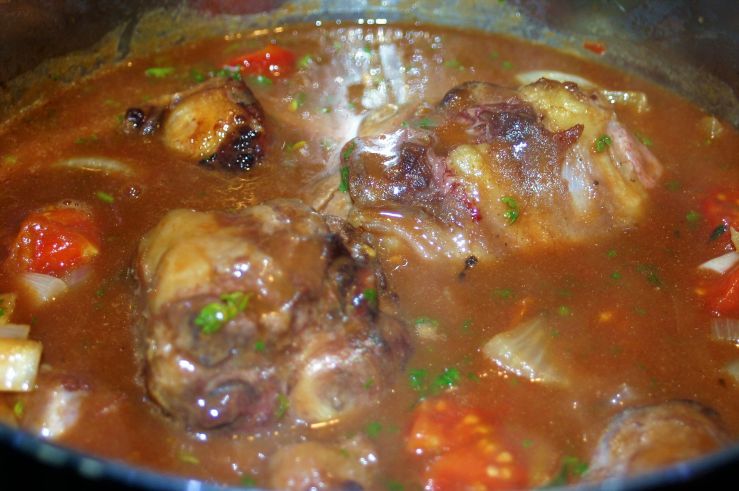 Oxtail Soup on the way. Hearty.
With Soups and Broths there are so many combinations to try that you will not let boredom sets in your life. You will fight back yourself to health because the 'Force' is with you... or within you afterwards when your glowing wooden Spoon stirred your Soup from within.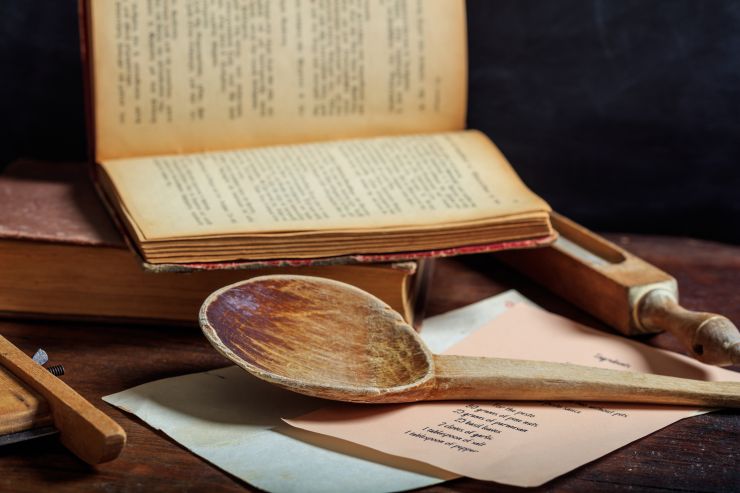 The trustworthy wooden Spoon.
Anyhow as for reaching for the Stars do not forget to add the magic powder that can make your palate fly. You can reach your 'I can fly, I can fly' moment with adding Seasoning and herbs. If you are a tiny bit like me, I tend to collect any Salts, Peppers, Spices in the 'lets lift this dish up' cupboard. It is plenty full and over stocked up, I can confess about it. It can fire up one's belly, but there are lots of goodness in there too: The little Lift. I go for the good old Salt and Peppers, the usual culprits of seasoning. Then I must confess to like Paprika, Ginger, minced Garlic, Cumin, and ground Coriander. Of course you don't put everything together, you pick and choose to get the right balance.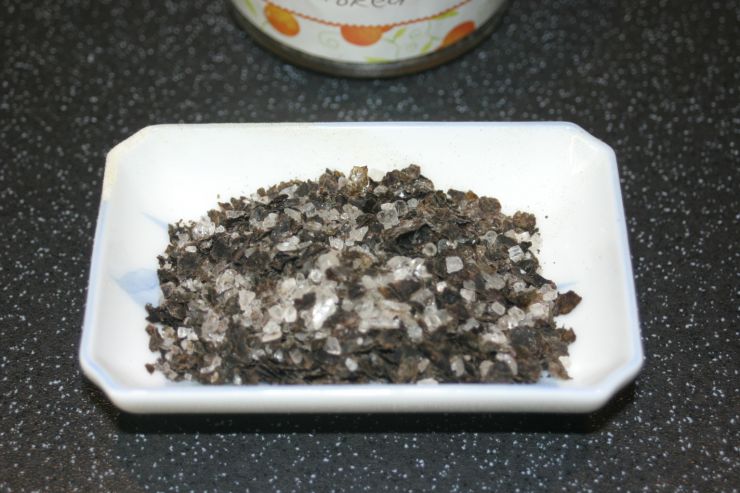 Sea Salt and sea Weed, this work well in a Asian style kind of Broth.
I will add a little mention for Chilli, either sliced, a paste or seeds. Don't put it everywhere, be gentle with those, and avoid rubbing your eyes... But it can warm a Soup or Broth up or kill it. You just need to have a little measure with those and know your Scoville scale of Spicyness. But let's say as well the level of Spice, you can handle is the most important. We grow Chillies so we got to know a little as we went along. Personaly I can recommand the use of Chilli in Asian type of Broths, but also to give a little kick to Squash Soups or Sweet potatoes Soups. It just works wonders. But always be careful when handling those babies. A little Fish Broth (Sea Bass), Lemon Drop Chillies slices, Pack Choi, Spring Onions, Purple Sprout Broccoli was a joy to enjoy. Add a little spice in your life can be very rewarding.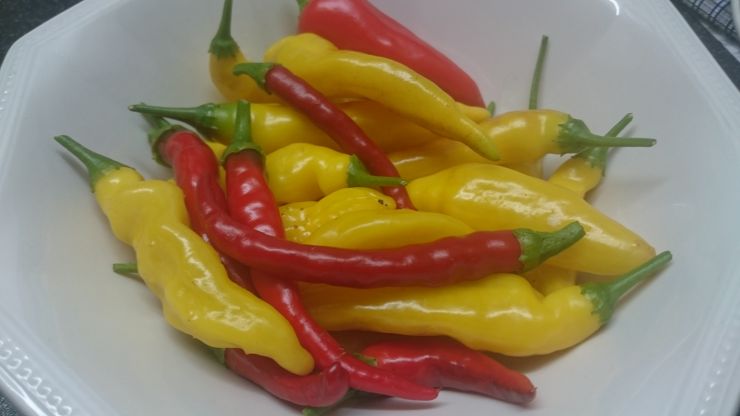 Lemon Drop Chillies are the yellow ones, they are medium to mild. They are perfect for a Chicken dish or a Fish one in my opinion. The red ones are Cayenne Chillies which are a little bit more fierce on the tongue. But Chillies do make nice looking plants in a home.
Then we have to mention Herbs: Why do you think we have Soups called Carrot & Coriander or some called Tomato and Basil... It is all because those combinations do work so they do stay with us. I don't have the infuse science about how to do what with what, at 45 I am still learning. But I do grow Herbs. From my own taste I will say Chives goes well with Potatoes Soup and Fish Soups or Broths. Parsley, versatile almost around the block of Soups and Broths, it is a nice good add. Coriander, a little limited for the use because some find it tastes soapy and one can't change his or her own palate overnight. Funny enough I scarcely use Mint in my Soups and the same goes with Basil. However I find Greek Basil as good as a decoration as for taste in a Summery Soup.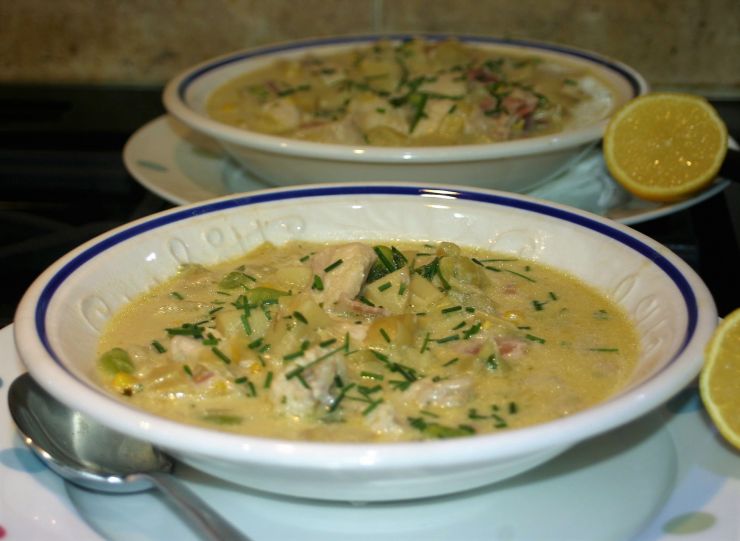 Monk Fish Tail Chowder with chopped Chives.
Last but not least we have to speak about the decoration or the little something on the side to dip in the pool of goodness. A Bread, small, big, whatever, Croutons, Dashes of either Cream or Oil, they all add to help make the meal a step better. Cream=Calcium, Parsley=Iron, Croutons may means Fibres. Find your little glutten free bread or a normal bread to serve your Soup with, so you can try to finish it to get healthier. Decoration may be a way, a small way to solution. Resolution: I aim to get better and a Soup and a Broth doesn't have to look dreary. Think of it like a Yellow brick road to recovery. If you have to deal with it then you need to make the best ot it.
Post Scriptum: A cold soup can be as good as a hot one. But learn your stuff before you do it. The Three T's: Test, Taste and Trial. One awesome baby coming out of the kitchen was a cold Beetroot Soup... would you believe it? I didn't until I tried it.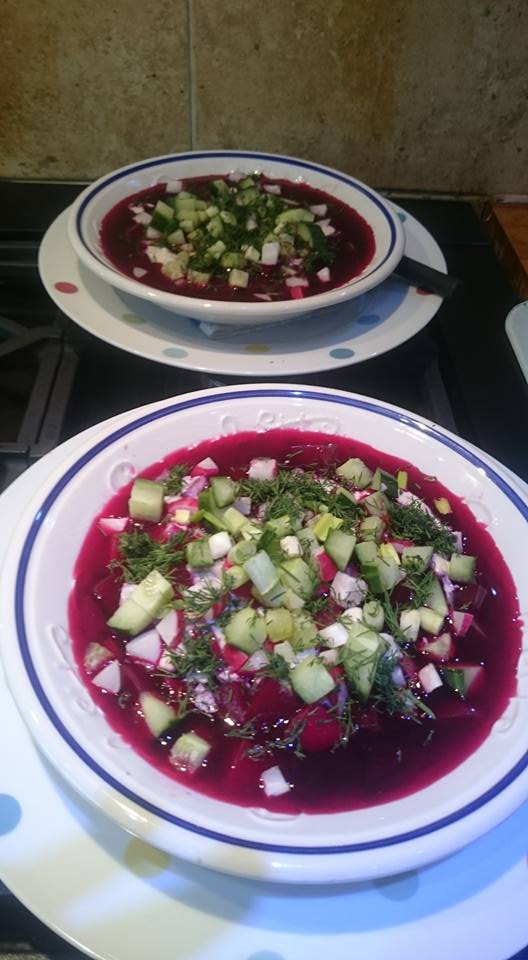 Beetroot and Horseradish Soup. Cold one yes but very nice indeed. It was a try and a keep to get better.