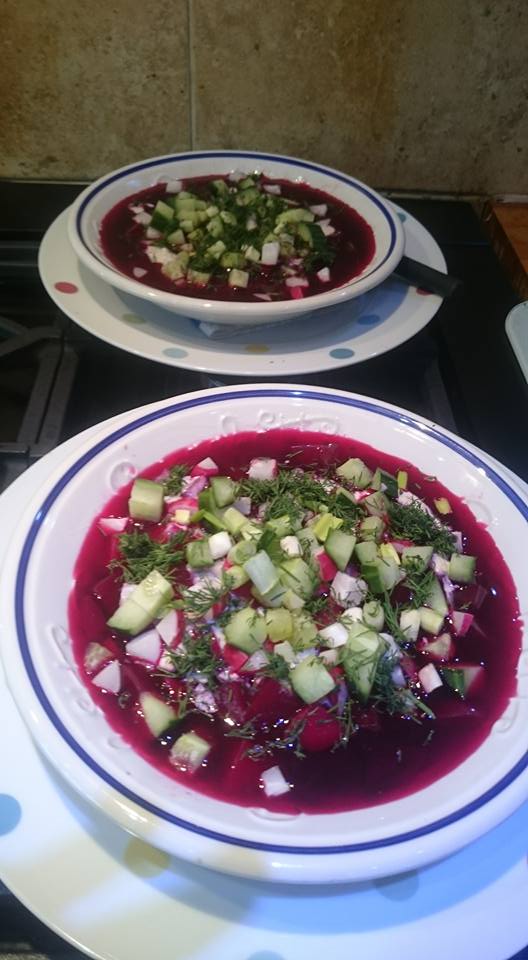 Cold Beetroot and Horseradish Soup.
This section is dedicated to Soups hot or cold. If I could describe Soups in two words I would say 'Comfort Food'. During the cold days a good Soup warms you up while in the Summer a cold one can be ever so refreshing.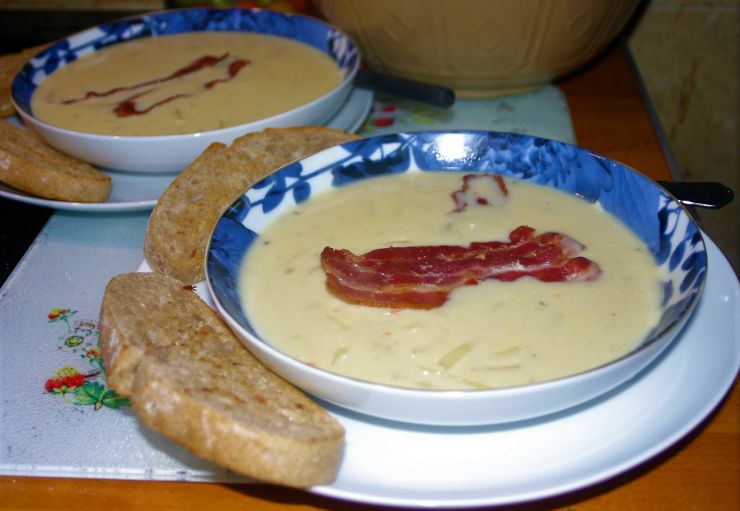 Home Made Stilton and Bacon Soup served with Sourdough Bread slices.
The world of Soups is a vast one to explore but also to enjoy in the comfort of one's home or else. My Brother know what 'La Soupe Populaire' is for having worked for a Charity as a Chef who was feeding people in need during Winter or their times of needs. So soup is definitely 'Comfort'. It symbolises that word, It gives warmth to yourself, your heart and soul, and other when you are giving it or sharing it. Why do you think the expression 'Chicken Soup for the Soul' comes from? I have many assumptions for what could be the answer. Below a link to enjoy, a song of Nina Simone which is heart warming.
Here Comes the Sun, by Nina Simone
You can go decade by decade, remembering your life by choosing three soups that you loved back then and one that you certainly didn't like. It is the Game of Soups as I call it and it is a good warmer for people who don't know each other around a Dinner table to open a little with the others. It makes them join in and be comfortable with the rest of the guests.
For example if I start my journey in Soups during that handy game as a warming up for the Dinner, I would answer thus:
For my first decade my most memorable Soups were the Pumpkin Soup for various resons linked to my Father who used to grow them in his allotment. The Chicken Bouillon of Alphabet letters pasta, it is a Soup/Broth which is so useful to make children learn their alphabet but also how to spell. You let the child dig the letters from the bowl of soup where they stick it on the edge of the bowl to form words. Another soup which I liked was another Bouillon/Broth which was made with Beef Stock and Vermicelli pasta (which we also called Angel's Hair in France). Last my least favourite Soup was the dreaded Leek Soup which I did find too stringy.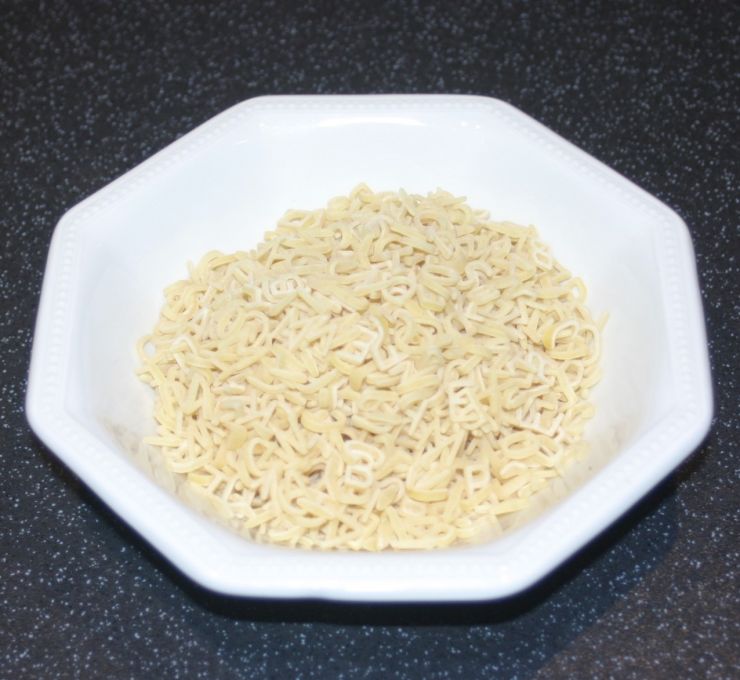 Alphabet Pasta.
For my second decade, the teenage years, when I started to appreciate food a little more, because I was obliged to stop being a fussy eater, I will say without hesitation the Cauliflower and cheese Soup although it did stink all other the house (Mum is overboiling things again...). In my breath I would say that just at the edge of that decade, I met my Great Aunt Jeanne in her vignoble near Macon. It was the first time we encountered each other, but in terrible circumstances because one of my cousins who was a Legionnaire did die when his jeep blew up upon a land mine. So the funeral with the military honour was a time when I met and learnt that I had more than twenty six cousins at that time. (Dare I say I knew just about ten because they lived in Bresse while we lived at the tip of Normandy.) However I digress. The Soup was the heart warming one for many during that sad event, it was the traditional French Onion Soup. The last liked Soup for that decade I will mention is the Fish Soup made of Fish Stock, Shellfish and Fish. For the Soup I still disliked because of the Leeks inside it is the Potato and Leeks Soup. Truly I had a beef against Leeks at that time.
Passing to my third decade upon this Earth, and my twenties, my raving, my studying, my tackling multiple jobs at the same time, this is the time when I learnt to fend for myself, kind of, cooking wise. The first Soup I will mention there is the Tomato Soup. I love Tomato Soup. Of course I learnt to open a tin of it during my busy days however during my quiet ones I taught myself to do a real one from my own hands on some days off. Another Soup I enjoyed very much was the Minestrone, it was in an Italian restaurant of London when I first had one. It was love at the first sight when your heart could sing 'When the Moon hits your eyes like a big Pizza Pie that's Amore'... Now my final Soup which I liked and still do enjoy is a Cream of Mushroom Soup. Of course it all started with an opened tin of one until I found the courage and ability and time to do one myself. Last but not least in a very lavish restaurant with my best friend Kathleen L (RIP), I thought I had the worst Soup in my life. I was encouraged to try the Gazpacho. For me, it was odd to have a cold Soup (First misconception) however the one I had that day was far too spicy for my liking. After huffing and panting like Muppet, I gave the plate back nearly full to the waiter, with a face as red as the Soup and Kathy explaining casually to the waiter: 'She never had Chillies before.' However I finished my raoring twenties with a glass of Bloody Mary in my hand to welcome another decade of my life with some friends.
Fourth decade: The Thirties, in Soup years, I came to like Potato and Leek Soup finally accepting it could be a good base, start for lots of Soups to learn to do. My favourite one has to be a Potato and Leek Soup with Dolcelatte of Mary Berry, a true comforting one in my heart, served with Parmesan Crisps a delight. It is a time where my Kitchen is my haven however small or large or large to small and back to large again it gets. With an amunition of cookbooks and food magazines under my wings and watching a lot of cookery programs to relax from an eight am to six pm job, if it is not six in the morning to nine at night, I could say like Manuel in Fawlty Towers 'I learn! I learn!'. And indeed I did learn and regained confidence doing so. In Soup land story of a life, I, and may be going back a little bit to my Childhood, like a Broth, a Bouillon, a fairly clear Soup with not much in it but pack full of flavours. I must confess with a smile that I like Wonton Soup. I still don't know how to make it, but 'I learn, I learn!'. What I did learn during that decade was to always fall back upon my feet and to go back to my creative roots. At 38, I became my own boss, Director of my own Publishing Company and became a published Author. The third Soup I love is enjoying my creativity with a twist on the French Onion Soup turning it all Red, White Wine becomes Red Wine, White Onions becomes Red Onions, Chicken Stock becomes Beef Stock, the Cheese used on the Slice of Bread which still as to be thick and Toasted can be a combo of Red Leicester and Epoisses Cheese... Trust me it does work. It is quirky but indulgent and different. Last but not least the Soup that I don't like, although I am born in France, is a full on Garlic Soup. If you want to frighten anyone around you... you must try it especially during Halloween, it will get the kids off your doorway in minutes if not seconds, although you bought lots of sweeties for them, but your man is moaning that at this rate he will not have any left for him. So I told him to drink that soup before he answered the door and that his sweeties will stay mainly with him and not be grabbed like normal. It did work...
I am half way through my fifth decade now, eight books published. If I had to resume it into three soups I enjoy and one that I do not like, I will say, I grow Chillies and Tomatoes in my Garden and learnt how to do a Gazpacho to my own taste buds. It took time but I nailed it. So the Gazpacho did become a favourite of mine, now. A pick me up Soup when I am very unwell and I need a strong boost of proteins in my body to withstand any medication is the good old classic: the Oxtail Soup. The one I do fancy a lot for the past years of illness is a Ramen, a Chicken one or a Mushroom one, or both in tune in the Broth preferably. As for the dislike it has to be a Soup made with lots of Anchovies although I am not adverse whatsoever to Anchovies, it is rather the quantity which I am disputing rather than the quality, I think that like a Garlic Soup it could be worked upon to achieve a good and tasty result which would not scare anyone away from you by your bad breath. I don't remember where I picked up that recipe from but it was vile when I tried it.