This Soup is a perfect Winter warmer when it is cold outside. Cheesy and boozy, it transports you at each dip of bread within it to the slopes of the Alps, in a little chalet, up in the mountains of Switzerland, because of its fondue like character.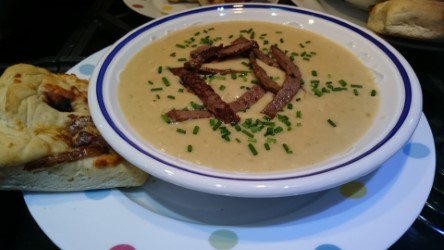 Cheddar Cheese and Ale Soup
Preptime: 30 mins
Cooktime: 40 mins
Servings: 4
100 g unsalted butter
300g of Potatoes, King Edward, peeled and diced
1 large onion, chopped finely
50g of plain flour
300 ml of whole milk
300 ml of Chicken stock
500 ml of pale Ale
350 g of Mature Cheddar, grated.
1 tbsp of Worcestershire Sauce
2 tsp of English Mustard
Either leftover of roast beef cut into strips, or a thin beef frying steak cut into strips
a handfull of chopped chives for decoration
1. In a large pan, melt the butter then add the chopped onion. Let it sweat for five minutes before adding the diced potatoes. Reduced the heat to the lowest, cover for 10 to 15 minutes, giving the onions and the potatoes a good stir every now and then.
2. When everything is nice and soft but not brown, uncover to stir in the flour. (I tend to sieve my in to avoid floury clumps but this is not essential if you have a good whisking wrist about you). Let the flour disolve and cook for about a minute then stir in the chicken stock, the full fat milk and the pale ale. Give a good stir and bring to the boil and then cover and simmer for about 10 to 15 minutes.
3. When the potatoes are meltingly tender, turn of the heat and let the soup cool a little. It is time to add the Worcestershire sauce, the English mustard and then to season the soup to your liking.
4. When the soup is cool enough to handle, blend it smooth, depending on the capacity of your mixer/blender, do a couple of batches if needed. The aim is a soft and velvety texture.
5. Return the blended soup to a clean large pan on a low heat to warm up, nicely and slowly. Stir in a handful of grated Cheddar cheese at a time until it is melted. (Finely grated cheese gives a smoother finish to the soup)
6. Meanwhile, prepare the beef strips decoration for the soup. In a frying pan, fry either strips of leftover roast beef or strips of a thin frying steak. It does add to hearty warm soup. Strips of fried bacon, lardons or Pancetta cubes are all good alternatives. Whatever takes your fancy. Recipes are guidelines to be adapted to your own taste and palate.
7. Once all the cheese is melted, adjust the seasoning with salt and pepper to your liking, then serve into warm bowls. Sprinkle them with chopped chives and decorate them with the beef strips (or the bacon ones, or none at all)
8. I serve this soup with bread as a must. Dipping the bread into that cheesy soup is the ultimate wintery heart warming experience on a cold night. It reminds of cheese fondue during the Winter season in the Alps. I do like a soft foccacia myself, with either red onions, rosemary, thyme, coated and roasted lightly with Gruyére cheese. But simple croutons, home made or not, is a nice and top option for this cheesy soup.