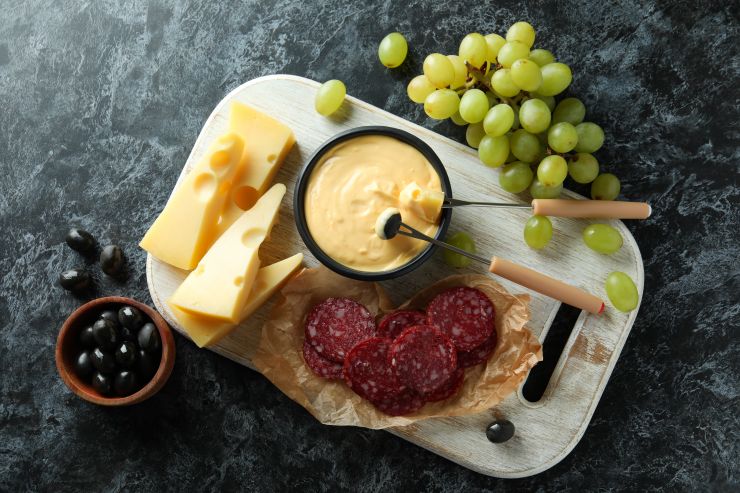 Cheese Fondue à l'émmental.
Fondues and Raclettes are very convivial affairs. Around the table Friends, Guests and/or Family are together enjoying the food presented. It pleases as much adults as children for Fondues and Raclettes are hands on affair which makes people smile like loosing a piece of Bread within a Cheese Fondue and trying to dig it in...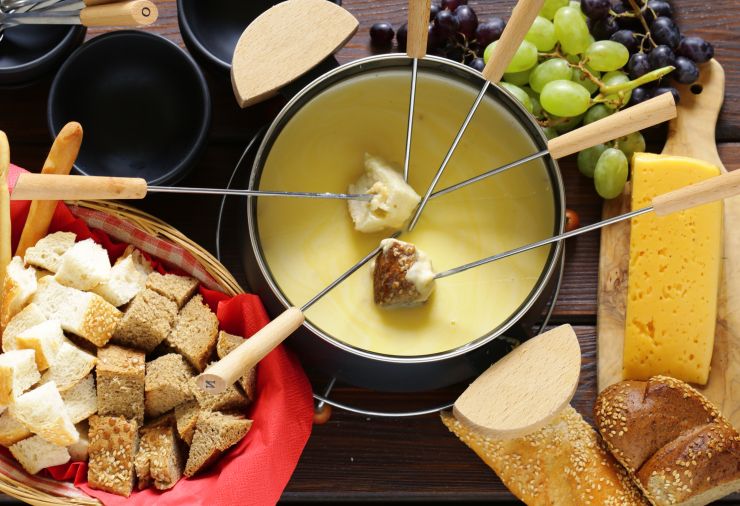 Swiss Cheese Fondue made with Fontina Cheese.
Fondue is a popular dish from Europe to Asia. China, Korea, India, Vietnam, Japan all have differente Fondues in their culinary répertoire. If Swiss Cheese being the national dish of Switzerland is renown worldwide, there are many more Fondues to try out there, from regional areas of different countries.
If we remain for a minute with Cheese Fondues and on the subject of differente regions, or countries the style may be slightly different from one to another. I will name just a few exemples of those Fondues: Savoyarde, Bressane, Fribourgeoise, Genevese, Neufchateloise, Vaudoise, Cantal... The list is long, however they have one thing in common which is the quality of the Cheese selected to do the Fondue.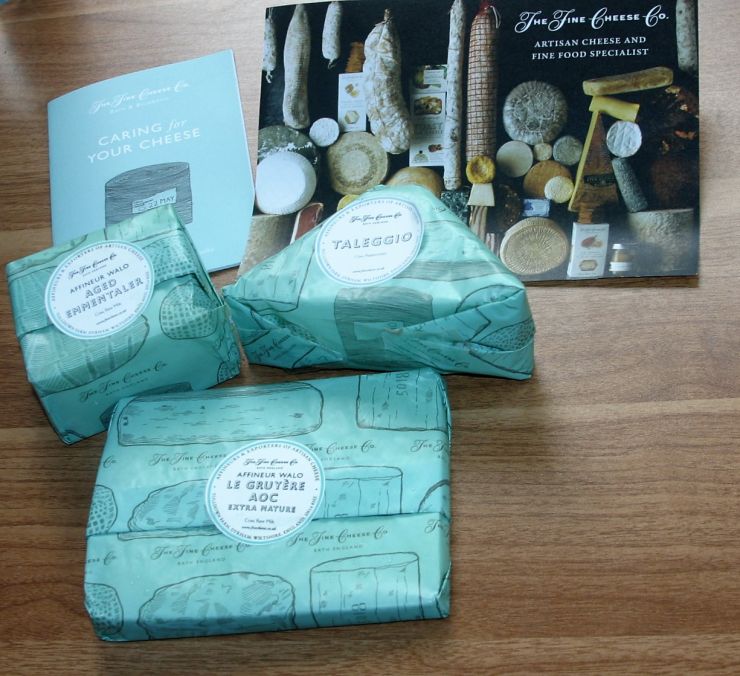 Those are the three Cheeses I usually get for my home Cheese Fondue: Gruyére, Taleggio and Emmental. I must say that the Fine Cheese Co never did let us down on the quality of the Cheeses they get throughout England and the ones they do import.
But as I said Fondues bestow a great diversity which is not just only using Cheeses. The Base of a Fondue could be Oil heated up to a certain specific degree Celsius but it could also be a very hot Bouillon. One of my favourites Fondue is the Fondue Bourguignone with the Beef cubes deeped in Oil until they are cooked yet tender for then dipping them in anarray of Sauces of your choice. It is pure yumminess.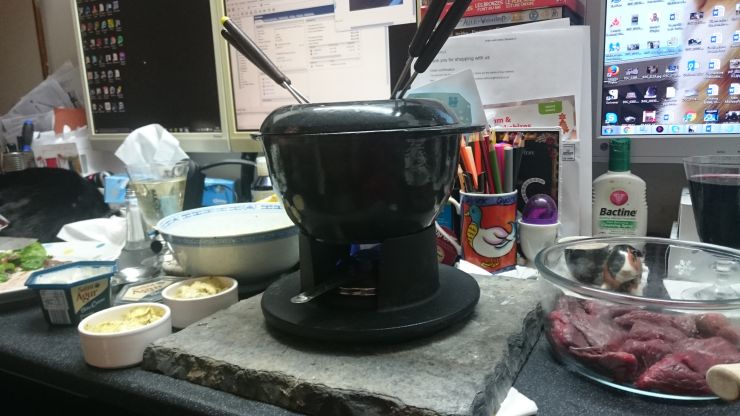 One little non-fuss Fondue Bourguignone for two. I remember we were stuck working all day and we had to work all night but we had that little couple of hours break in between. It was a very joyful respite but also a very tasty one.
In the essential items to do a Fondue is the 'Caquelon' and of course Fondue forks which have the top usually coloured so everyone knows which Fondue Fork the Guest has during that evening. As for the Caquelon, cast Iron ones are best and steady. It is by prevention for no one wants hot oil dropping upon anyone all of a sudden. When dealing with hot Oil caution is always recommended. Especially if Children are enjoying the Fondue with everyone.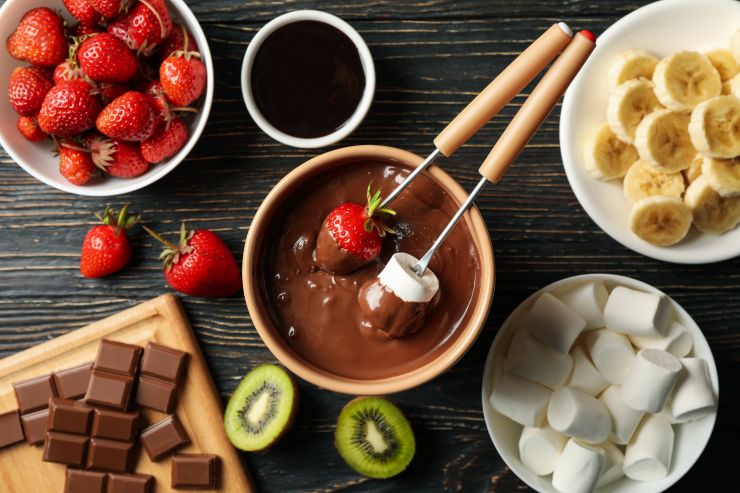 Chocolate Fondue.
However there is a Children and Adult friendly Fondue with less risks than a Hot Oil one which is the Chocolate Fondue. From Savoury to Sweet, Fondues are versatile. In the Chocolate Fondue, you can dip in an array of Fruits like Strawberries, Bananas, Kiwi, Mandarin segments... but also Marshmallows, Nougat, Popcorns... The list is long and ever so enjoyable. It is decadent but good tasty fun.
One of the pleasurable aspects of a Fondue is the dipping: first dipping in the Fondue then dipping in an array of Sauces. The question is what to dip in the Fondue itself? The calssic exemple is a nice Crusty Bread like a Pain de Campagne, Sourdough Bread, Baguette with Cheese Fondue. However you can always add thick Lardons, to dip in, and or Baby Potatoes (Part Boiled beforehand).
For a Meat Fondue, pratically all diced Meat can work, or some cut into thin strips. We mentioned Beef for the Fondue Bourguignone, but Beef can be used in lots of different Fondues, so is Veal, Chicken, Pork, Lamb, Sausages, thick Ham, Lardons, and even Offals like Kidneys and Liver.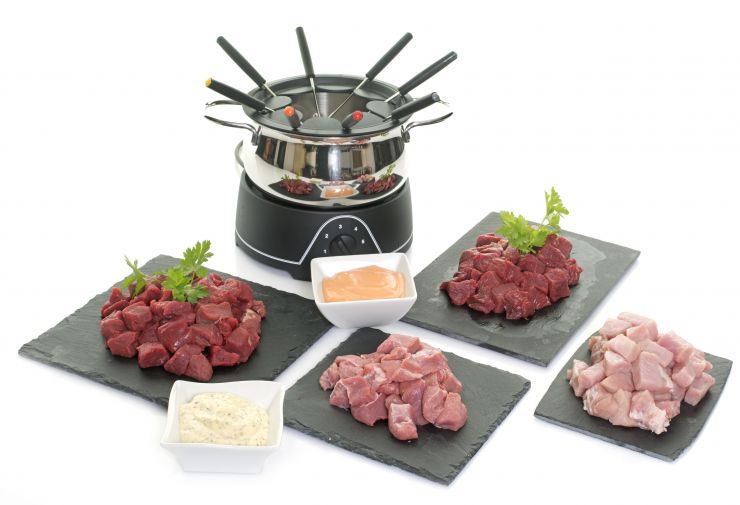 Spread of different Diced Meat to be used. That way the Guest can pick and Choose or stick to their prefered Meat. For exemple not everyone do eat Pork.
Fish can also be used. There is a Fondue called 'La Fondue du Pecheur'. It consists into deeping in hot Oil, Fish in big morcels, Prawns and Langoustines (Peeled). The 'Antillaise Fondue' uses Cod and Gambas but also Potatoes, Okra, Plantain and Chillies, it gives you a spicy sense of being in the Antilles. There is also the 'Big Fish Fondue' which is a little posh on the terms of the Ingredients to dip in the hot Oil: Lobster Tails, Monkfish Tails cut into chunks, Crommer Crab Claws, battered Oysters, Scallops and Langoustines.