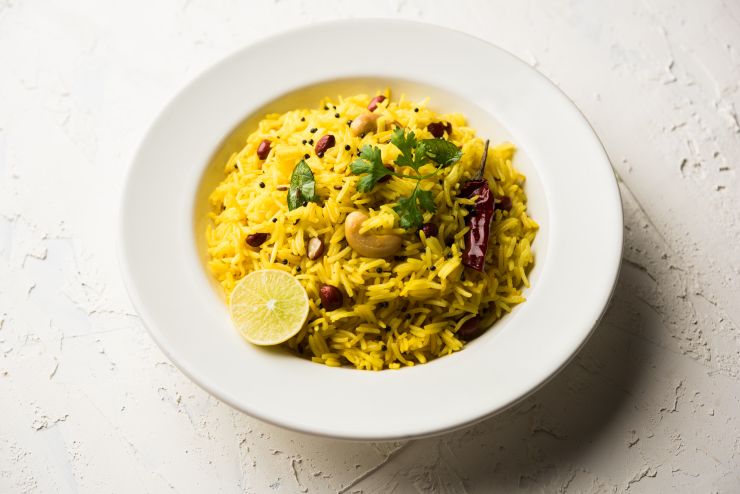 Turmeric, Chilli, Cashew Nuts and chopped Coriander Rice or yellow Rice.
Rice has been part of the human food scene for not just centuries but thousands of years. Must loved by many and regarded as a stapple food like Wheat and Barley are by most.
Confession for confession I absolutely do not remember the first time I ever ate Rice. It is probably in the midst of time. Just like Pasta, Potatoes and Bread, it comes to the table very regurlaly.
However I can speak about a very easy Salad which my Mum used to do on Summer days but only on occasions (Guests or my Birthday). It was served on a large oval glass dish and is so very seventies to eighties retro-classic food. But it is very enjoyable nonetheless. In the centre of the platter you had White Long Grain Rice, in a formation of an oval pile, almost a mountain. Surrounding the Rice Mountain was Tinned Tuna with the Oil seasoning the cooked Rice. The later surrounding was seasoned slices of Tomatoes, placed in a very sergeant major way... The decoration was simply Lemon wedges or slices, and Parsley chopped or not. A good Dash of French Dressing and this was the first course for a crowd. However critical or whimsical I can be of that 'Entrée' today, I really did like it and was looking forward to it whenever my Mum would be doing it again.
But one Rice Dish I never enjoyed was Rice Pudding. I still do not know why it doesn't work for me. My Mum, again, used to do them often with Caramel sauce but it was just a no-no from me while my seeblings were enjoying the 'Pud' of the day. I did find them sickly too sweet.
Saying that I learnt another thing with Rice from my Mother, it was that it was an Ingredient which could be part of a stuffing. She did stuffed large Tomatoes with Rice which were absolutly delicious. To this day I still do stuff some Veg with Rice. May it be like my Mother, Beefheart Tomatoes. Or like I do, applying the concept to many Vegetables: Sweet Bell Peppers, Aubergines, Courgettes, Marrows, Onions, Squashes...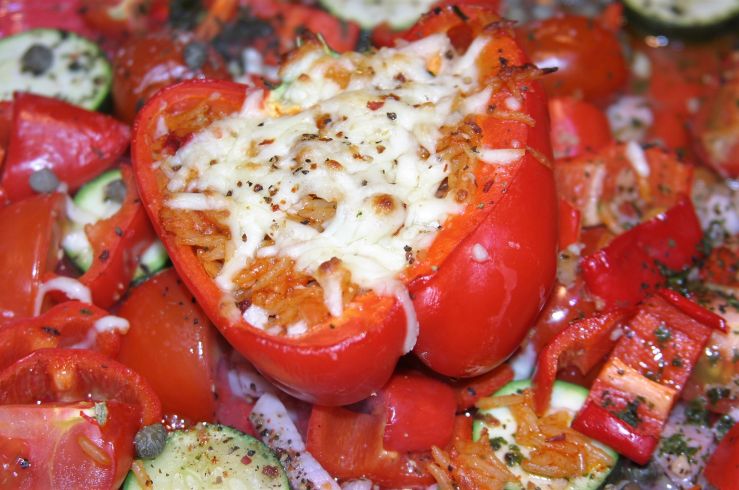 Baked Stuffed Red Bell Peppers with Tomato and Basil Rice, topped with melting Mozzarella and on a bed of Mediterranean Vegetables.
In all honesty it took me longer to cook rice properly than it took me to learn how to cook Pasta. As a student at university (UEL), it was ever so convenient to get those rice portion in a boil in a bag type of way. It was practical and fast enough. Nowadays microwave Rice pouches are an easy fix to any Rice trouble or accident in the Kitchen. Everyone has one of those days. However despite the comodity they (Boil in a Bag, and Microwave Pouches) offer it is better and cheaper to cook your Rice the good old way from scratch.
One may ask : What is the good old way? And they would be right because as a rule of thumb (especially Rice) there is a different way for different Rice types. Arborio Rice can't be cooked just like Basmati Rice. As a rule of thumb of thumb I will say may be wisely just follow the packet's instructions, or/and if you had a Gran, a Grandpa, a Parent that knew how to cook one sort of Rice a certain and it did work, stick to it for that Rice.
Give or take of all the different methods of cooking Rice, the one I do the most of is feeding the Rice little by little with Stock when I am doing a Risotto. The matter of fact is as I love Risottos of course it was a technique I was meant to learn faster than the others.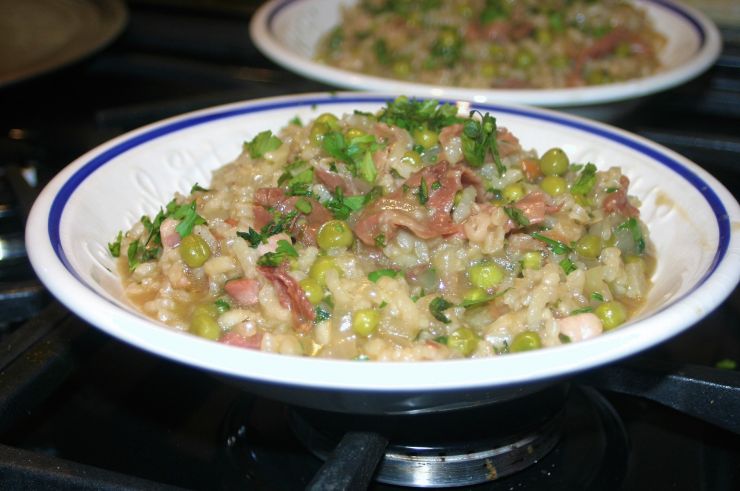 Parma Ham and Pea Risotto, home made. One of my favourites Risottos, simple, relaxing to do and effective.
I would say that there is a Risotto for every season if not more. In Spring, I conjure up a Risotto which turns around Ingredients like Ham or Bacon or Lardons (for the Meat Ingredient) with the rest being Peas, Broad Beans, or/and Asparagus. Goat's Cheese or Feta Cheese come into the mix to make it more creamy.
In Summer the combinations turn around Aubergines, Sweet Bell Peppers, Tomatoes and Courgettes, Pesto, Mozzarella and Parmesan but also a playful handful of Capers and/or fresh Anchovies/ Sardines/ Salmon/ Trout which would make a very decent Risotto.
Autumn can bring its flavours to Risottos, in terms of adding Squashes, Mushrooms or shredded Cabbages to them while in Winter a good Risotto can be made out of leftovers, like Turkey and Brussels Sprouts.
One thing I do like about Risottos is that they are one pot wonders. They make a very convenient Meal. Other Rice Dishes can also claim that aspect of being done in one pan. They are usually considered as Culinary Classic as well: like the Paella, the Jambolaya, Chilli Con Carne, Beef Strogonoff... All are hearty Meals.
Also one can not mention Rice without stating its great importance in Asian Culture. As an Ingredient Rice can morph into many others like the Soy Bean. To mention a few by products: Rice Wine, Rice Vinegar, Mirin, Rice Paper, Rice Noodles, Rice Cakes...
My Food Cupboard would feel empty without most of those mentioned above. I use Rice Vinegar in Stir Fry likewise for Rice Noodles.
Back in the days coming to London was quite an adventure. Coming from a Port like Cherbourg, we do know what Cosmopolitan means however when you live in a Capital, you finally feel part of the whole wide world, you do become whole again as per say as a human being. The vibrancy is there, the sharing of Culture. It is brewing with life. Not that we didn't have any Chinese Restaurants in Cherbourg prior to 1996, on the contrary but we didn't have a Chinatown. So it was so exciting to immerse and discover the celebration of the Chinese New Year for exemple.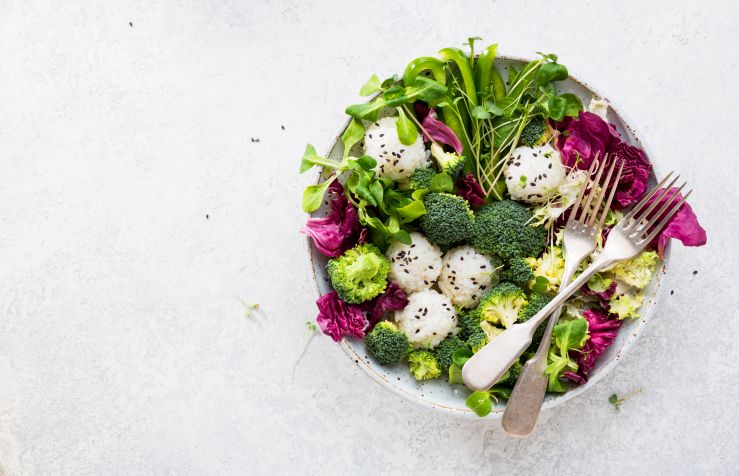 Rice Black Sesame Balls Salad with Broccoli and Radicchio.
Pilau Rice, Egg Fried Rice have been sides to many Dishes. Too many, so I can not mention all of them. However I can say that I do enjoy a good Duck fried Rice, it is ever so yummy.
Now loving Sea Food one must utter the word Sushi. Vegetable ones, Meaty ones, Fishy ones, a platter of Sushis for Lunch is ever so nice and delicious. Sushis are delicately flavoursome. Wrapped in Nori Leaf, Sushi Rice, Cucumber, Carrots, Spring Onions, Wasabi Sauce, and maybe some little bit of cold Wagu Beef... The combinations for Sushis are almost endless and mainly delightful.
One Rice dish which I learnt to do is Biryani. It is mainly Lamb Biryani or Chicken Biryani for me. Fragrant with Spices it is heavenly.
From one Rice dish to another we could go around the world almost in 80 wonderful Rice Dishes.