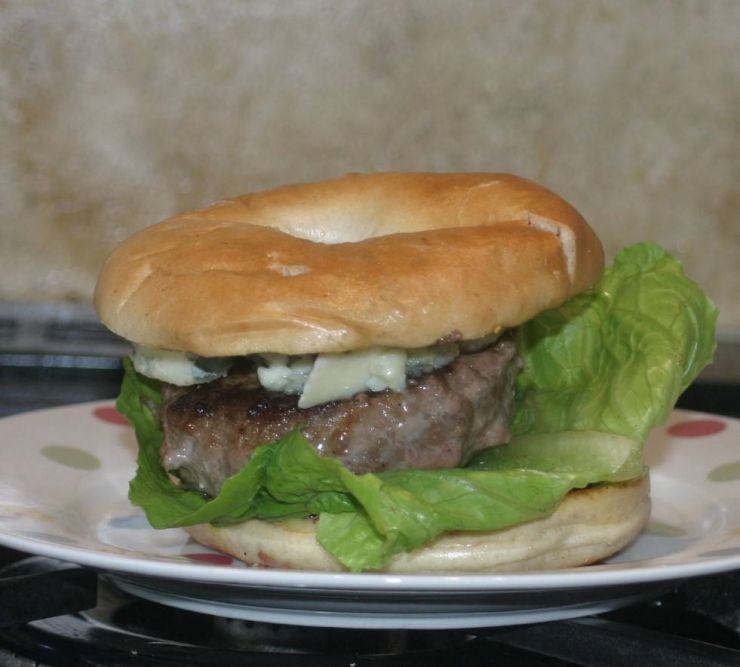 Venison Bagel Burger.
Burgers and 'Balls' are rather informal but are so enjoyable to eat. However the fashion for the past decade has been to enhance or elevate the Burgers to Gastro Pubs and Restaurants level standards.
I was born in 1976 in Cherbourg and growing up of course we did eat what we called minced Beef Steaks which in facts were Burger Patties, but the arrival in France of Mc Donald's lots of outlets throughout the country did create a lot of chaos with mixed feelings.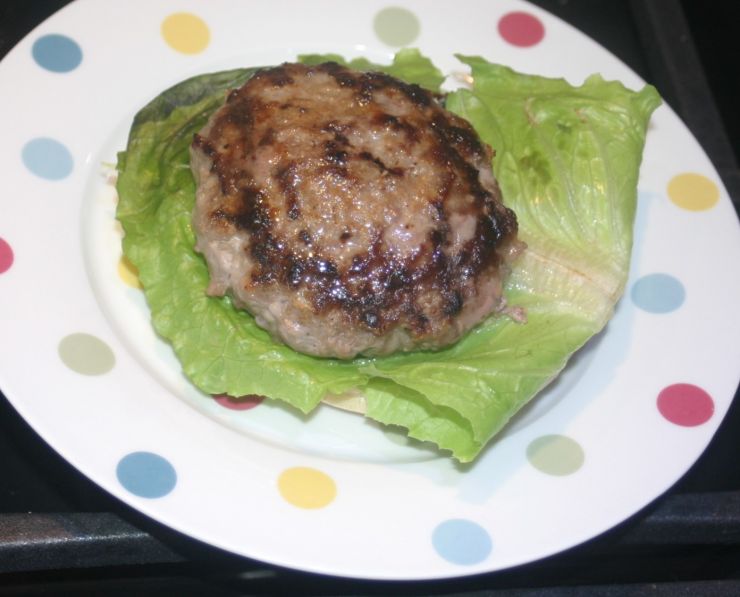 Mince Burger Patties.
However the popularity of the Mc Donald's Burgers did win over all the younger generations with the parents finding it convenient to feed their Children at Mc Donald's. A lot of people also do have their favourite Burger from the menu. The one I like the most is the Bic Mac, however I am also partial to Filet'o' Fish.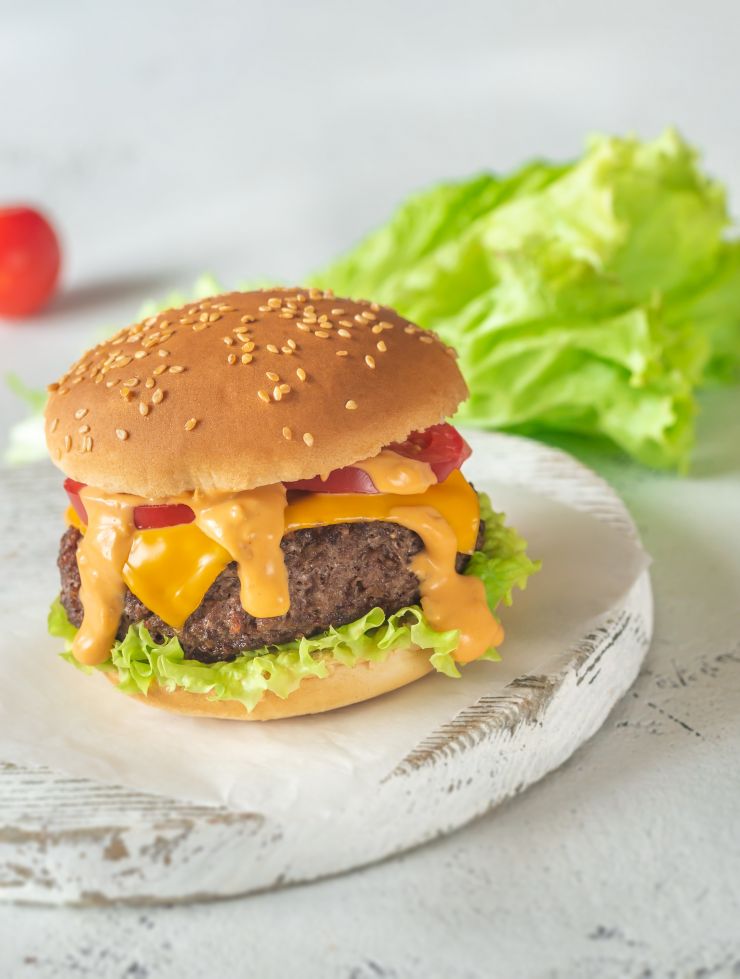 Home Made imitation of the Big Mac by Alexa9500: Pretty good I will say.
Nowadays there are countless Burgers Joints/ Restaurants/Bistro almost in any towns. It is easy to order one and get it delivered as well. However if I enjoy a good Takeway here and there, I also do like preparing my own Burgers from scratch, it does give a very homely feel to them. It gives also a flexibilty, a variety of ingredients of your choice which is enjoyable. You can try different combinations and get to see what works.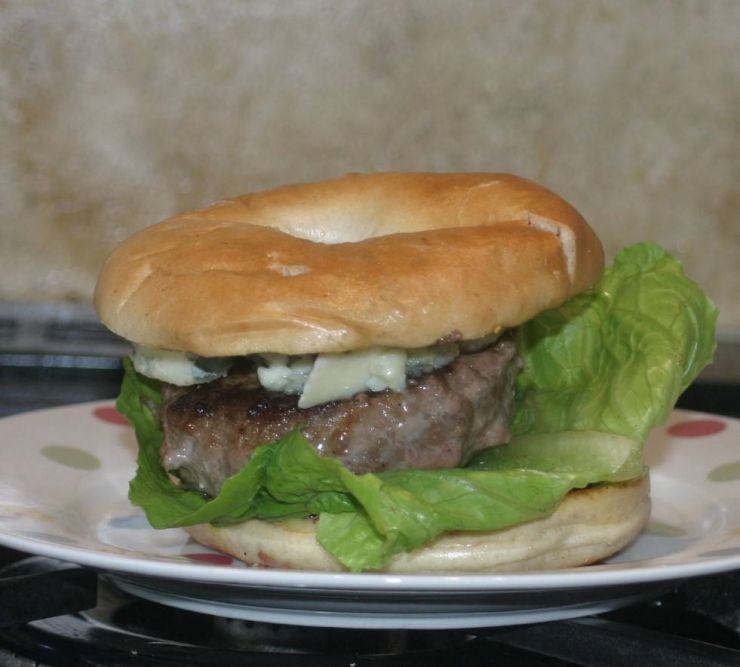 Home Made Venison Bagel Burgers, with melted Roquefort, Gem Lettuce and Caramelised Sautéed chopped Shallots.
The possibilities are endless or almost, it is all depending on your own taste buds. There are a variety of Buns out there to use from Brioche Buns to Sesame Seeds ones, passing by Bagels and I miss to mention many more. But also if you love your Bread you can make it yourself in an artisanal Home Made way.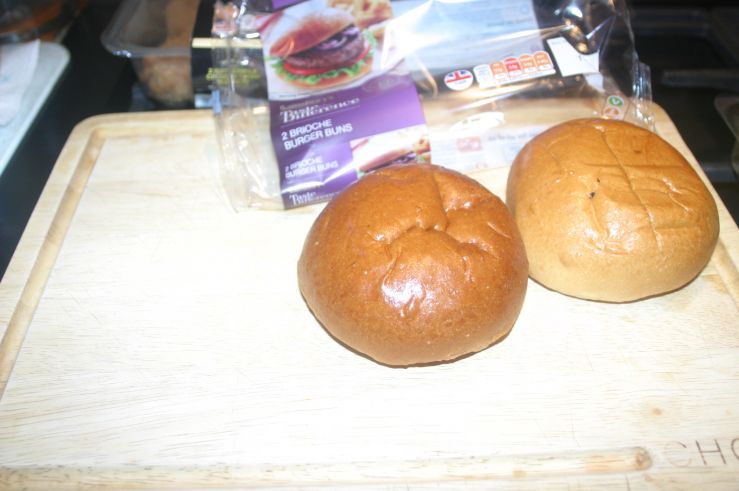 However if you do have the time, the know how, or the energy, there are good shop bought out there like the Brioche Buns above which have a buttery and flavoursome texture.
Another thing to consider is the Patty Burger. It doesn't have to be necessarely a Minced Meat of some sort like Minced Beef, Minced Lamb, Minced Turkey, Minced Chicken and or Venison. It can also be Fish, or a Veggie Burger made with either Portobello Mushrooms, Tofu, Minced Soya Beans or a Veg Burger of your confection.
Home Made Buttermilk Panéed Chicken Burger with Brioche Buns, Tomatoes, Iceberg Lettuce, Chive and Sour Cream, and melted Leerdamer Cheese.
With Home Made Burgers prepred with your own hands you can add Seasonings of your own choice which is a plus: Minced Lamb goes well with Mint and Tarragon for example, or you can be inspired by the Tagines of Morroco and North Africa and do a Minced Turkey Pattie with inclusions of well chopped dried Apricots and Dates with a good spoonful of Rasa al Hanout. Minced Beef can do with inserted grated Cheddar Cheese, some cracked Black Peppercorns and Caramelised Sautéed Shallots. So the World is your Oyster when you do your Patties to your liking.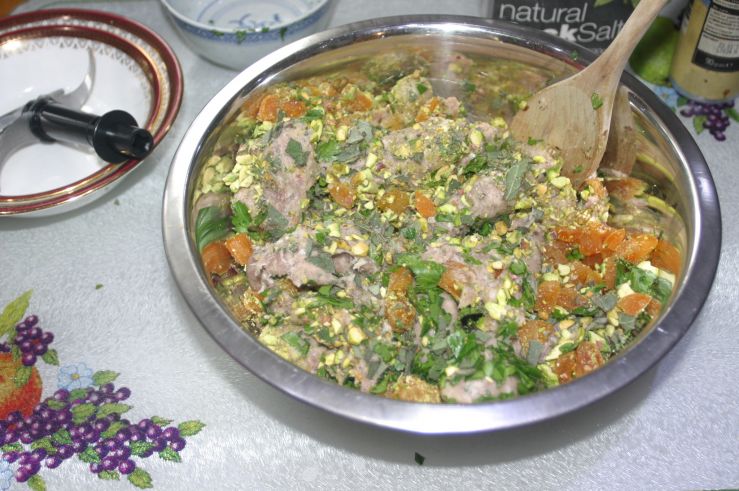 Preparation for Pork Patties using the Sausage Meat of Toulouse Sausages who aldeary have a decisious and Herby Pepperiness to them. You just remove the Meat from their casings and release it within a mixing bowl then add your other ingredients. Above I used chopped and shelled Pistachios, dried Apricots, chopped but also some Coriander and the zest of a Lemon. The Burger Pattie flattened can be used within two Moroccan Breads called Khobz. This is rather delicious served with a large Salad Bowl (as this meal is meant for sharing with Friends in a convivial manner) as an accompaniement. My Salad was simply composed of Spinach and Rocket Leaves, with Olives Green and Black within it, and Feta Cheese cubes, you can also use like I did for the zing to them one or two quartered pikled Lemons. Finish with drizzle of a Dressing of Lemon juice and Olive Oil. This is a very nice side to the main meal. It should be served with Harrissa spiked Yoghurt.
Using Fish, Tuna lands itself beautifully as an entire Steak to be used as a Burger between two part of a Bun/ Bread of your choosing. Marinating the Steak depending to its thickness (2 minutes and a half for both side should do the trick for a thinner Steak but increase it a little for a thicker Tuna Steak) will impart more flavour to it. If I go with a Med Style kind of Burger using a Tuna Steak I will tend to go for a Lemon and Greek Olive Oil Marinade, with a good springle of Red Peppercorns and Sea Salt, along with grated Garlic.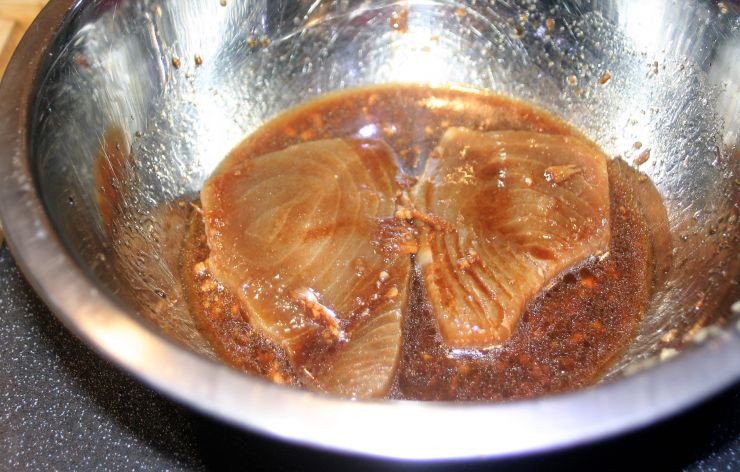 Marination is a process which impart flavour to Fish, Meat and Veg products like Tofu. Above it is marinating Tuna Steacks but this time it was for an Asian style Dish. To Marinate in Milk, Yogurt or Buttermilk is also called Silking.
So when I do a Burger with an entire Tuna Steak after the Marinade I finish the Steaking cooking under the grill. With all elements prepared in advance and already chopped everything becomes easy to assemble together. For my Med style Burger, the Bread I use is Ciabatta cut alongside in half then again but the other so you do end up with four sizeable Burger Buns to toast which can hold the size of a Tuna Steak. Brush then with either Basil Olive Oil or Garlic Olive Oil or you can use your leftover Marinade to do so. It is tasty but you also reduce waste and are economical.
Ciabatta Rolls can be found already made in shops which be time savy.
Although some say that Cheese doesn't work with Fish I care to disagree. For that particular Tuna Burger I always slice lenghtway a Greek Halloumi Cheese to griddle and brush it beforehand with the Marinade. I like using Rocket Salad to cover the bottom of the Burger, some sliced Santorange Tomatoes from the Garden then place my Tuna then on top comes the sliced Halloumi then you cover with any leftover Tomatoes before putting as a lid the other Ciabatta Bun toasted slice. This is delish and rather fast and simple to do. It is lovely accompanied with a Greek Salad.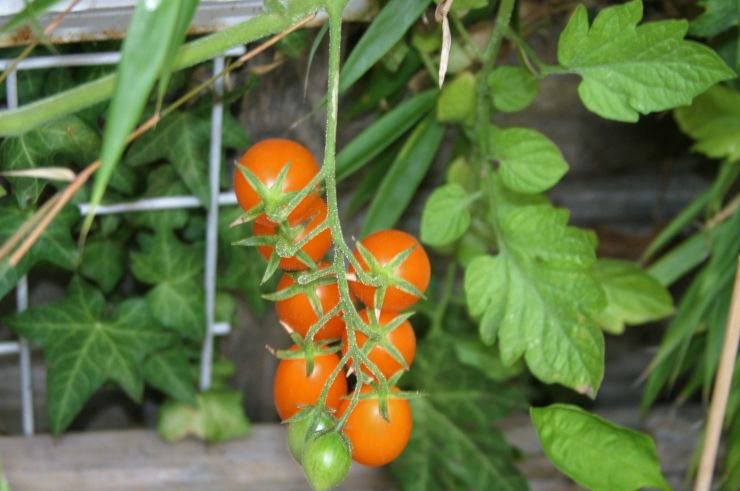 Santorange Tomato Plant of 2019. It produced excelent sweet, small to medium size tomatoes and orange as the name indicates it.
To remain in the world of Tuna or Salmon, both are strong in flavour and rather Meaty to make very decent Burgers. You can use an entire Steak of them (Fillet for the Salmon skinless and boneless to make life easier), however after a Marinade you can also flake them. Flakes are easier to eat in general. With Asian style flavours you can make a little Marinade with Fish Sauce, a Little Soya Sauce, chopped Garlic, chopped Ginger, Lime Zest and chopped Chillies or Chilli flakes. Then you can render the Fish flakes in a quick flash under the grill to release the exess moisture. Mix into a bowl with the binding agent of your choice which will hold everything together (Egg, Corn Starch, a thick Oyster Sauce). You can cook you Fish Burgers under the grill or steam them.
A nice way to serve them is under the fold of steamed Bao Buns, along within their pockets, Beansprouts, Edamame Beans, slivers of Carrots and Spring Onions, a powedered or shredded Nori sheet for more saltiness along with sliced Chilli for more spiciness.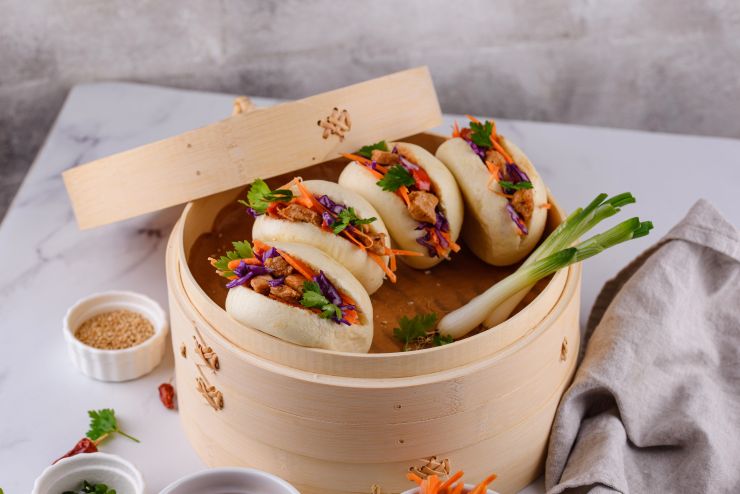 Bao Buns can be made mini or maxi but steamed and if packed full of Fish and Veg definitely a healty option.
Another Fish which can make delicious Burger Patties is the Trout. Again a Trout is in the realm in the Oceans and Rivers what we call an Oily Fish, full of Omega 3 Oil. Their flesh is usually pink. Trouts have a rather more delicate taste than Salmons. You can find quite easily in Fishmongers and shops deboned and skinned fillets of Trout to use for the Fish Pattie. You can always steam the fillet gently but quicky before preparing it to make the Trout Burger.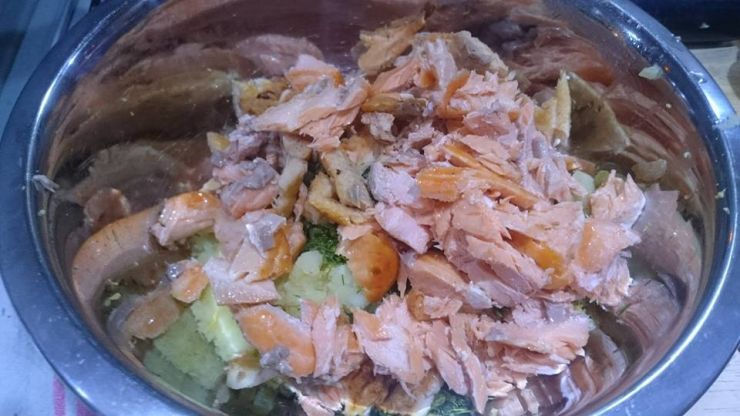 Preparation in the mixing bowl of a Trout, Cucumber and Dill Burger Pattie, with a dash of Lemon Juice and a Tea spoon full of creamy Horseradish Sauce. The binding agent here was a lovely light creamy seasoned Mashed Potatoes. When I say creamy it is silky smooth but not the point that it can't be a binding agent any longer.
If you cover the result Pattie Burgers with a Panko Crumbs Pané you will know they will be holding together as you cook them (baking for no longer than between ten and twenty minutes, same as for pan frying them but you will acheive more colour upon them in a frying pan with a little neutral Oil).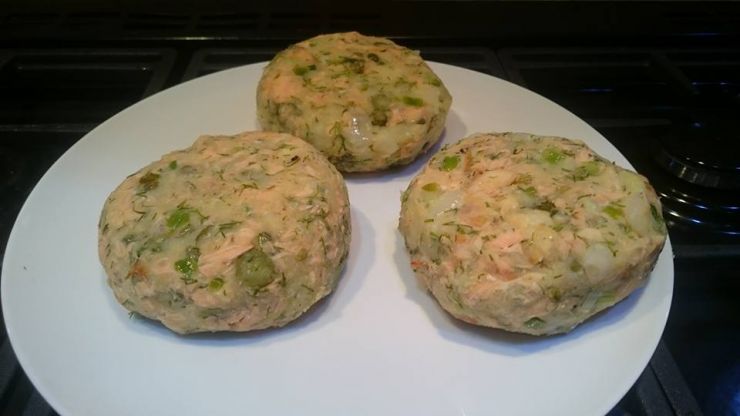 The Trout and Dill Patties ready to be panko crumbed and cooked.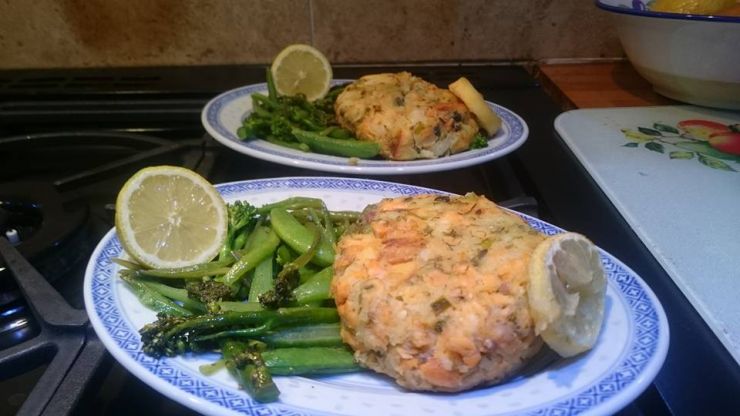 Trout and Dill Patties on a plate ready to eat served with Spring Greens only (Tenderstem Broccolis, Sugar Snap Peas and Asparagus). Of course with Fish: Lemon or Limes to decor and for a zesty zing. A Burger Pattie doesn't have to be always served with Bread and Buns. You can always think outside of the box. This was a nice summery Dinner.