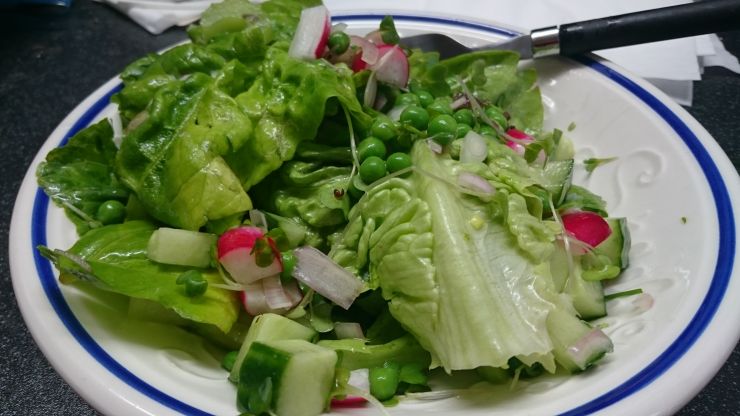 Summery Salad.
Spring, Summer, Autumn, Winter, Salads are always welcomed as a Starter, as a Side or even as a Main. For a little bit of nostalgia I remember vividly a Salad that my Mother used to do in Summer: It was a Cold Rice Salad served with tinned Tuna and sliced Tomatoes. The Vinaigrette was also an essential element, the seasoning as well and the chopped Herbs as much for taste as for decoration.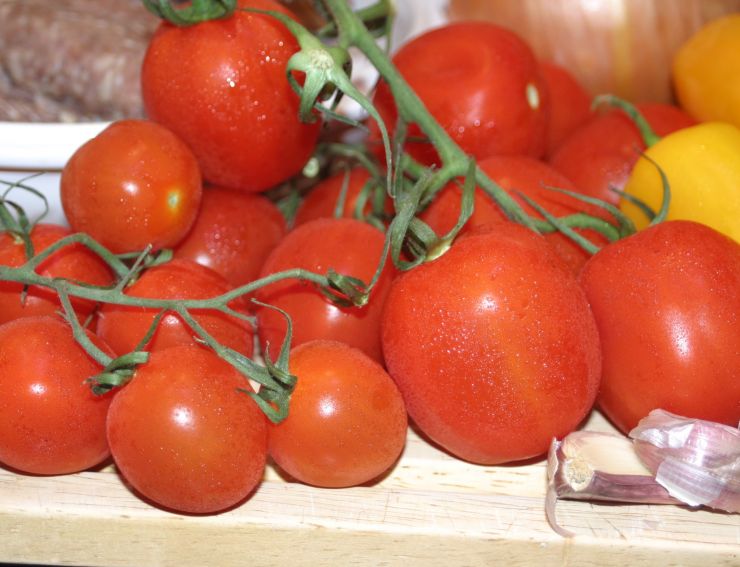 Fresh Tomatoes from the Garden.
A Salad does not have to be overly complicated, it just takes a few well matched ingredients to make it sing and work. But I will also add for the presentation, yes it could add for the effect of it all but the taste of good ingredients is more important. My Mum used to prepare her Tuna, Rice and Tomato Salad with great care upon an oval dish. The Rice was mixed with the Tuna in the middle with sliced Tomatoes all around so it looked like a dashing dish.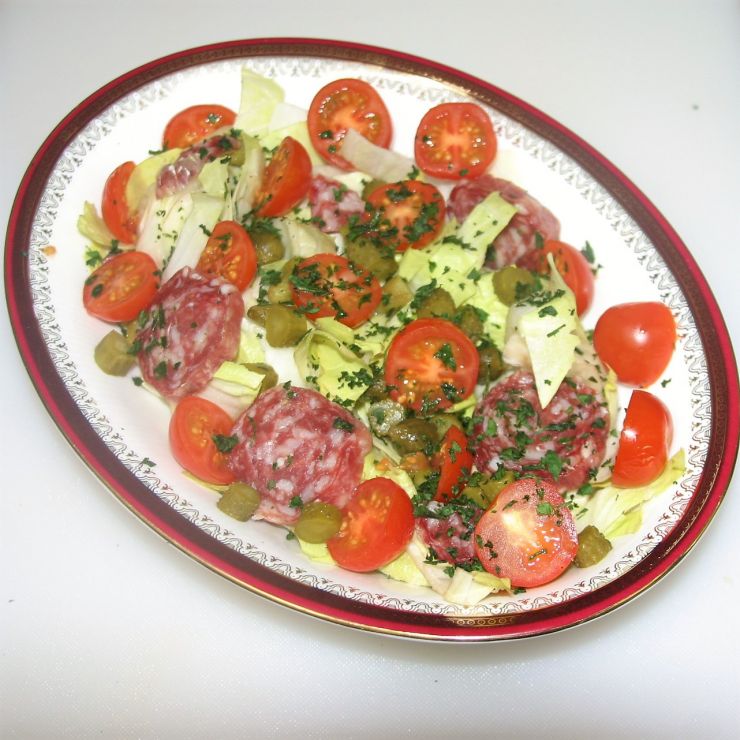 Chicory Salad with Saussisson Sec, Cherry Tomatoes and Gherkins.
The above picture is a little Salad of mine which I like a lot. The bitterness of White Chicory cuts through the Meat element on the plate, the Saussisson Sec which is a dry cured Sausage from France which has a fat content of roughly 30%. Then you have the acidic ingredients with the Gherkins and the fruity acidity of the Tomatoes. The Salad dressed with a simple Balsamic Vinegar and Virgin Olive Oil Vinaigrette is decorated with chopped Parsley. I tend to do it at the end of the Summer.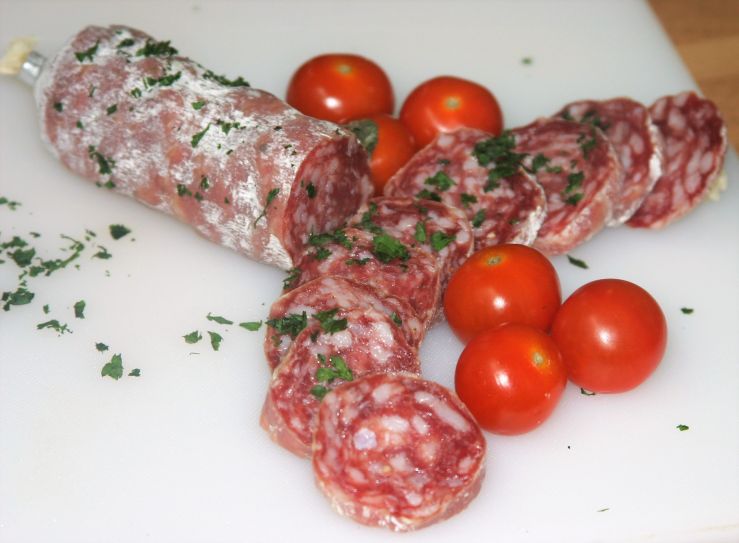 This French Dried Cured Sausage is delicious.
Another matter to consider in term of a Salad is the seasonality of the ingredients or may we say the components. I will not say here use this or use that because it is up to you at the end of the day to create YOUR Salad. Also depending on the area in the world you live seasonality is totally different and accessability to ingredients is important. All I can share is what I do in my patch of the wood.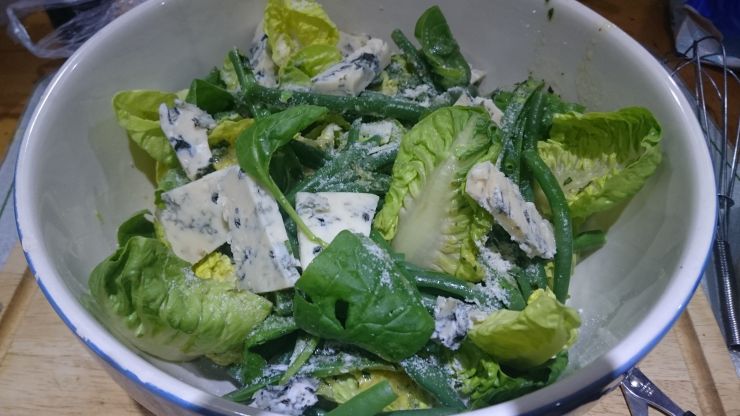 Roquefort, Baby Gem Lettuce, Green Beans and Spinach Salad with a melted Blue Cheese Dressing.
This Salad above is certainly not a looker but it is tasty and goes well with Chicken Breast wrapped in Prosciutto Ham. It makes a lovely side: Simple but effective flavour wise.
If we follow the Seasons in a temperate climate that is, according to Joel Robuchon, Spring would means ingredients like Asparagus, Artichokes, Morels, Crab, Broad Beans, Chanterelles, Carrots. Summer is all packfull of ingredients from the Sea, Lobster, Tuna, Mussels, but also Beans, Tomatoes, Aubergines, Melon. Autumn brings up a lot of Mushrooms: Truffle, Ceps. To mention the sea delivery it will be Oysters, Scallops and Herrings. To mention the wood it will be Hare, Pheasant, Partridge but also Walnuts. Going into Winter, the Sea gives us Caviar, Cod and Salmon. The land gives us Lentils, Potatoes, Cabbages, Turnips and the wood Chestnuts. If I may say it is a very good selection.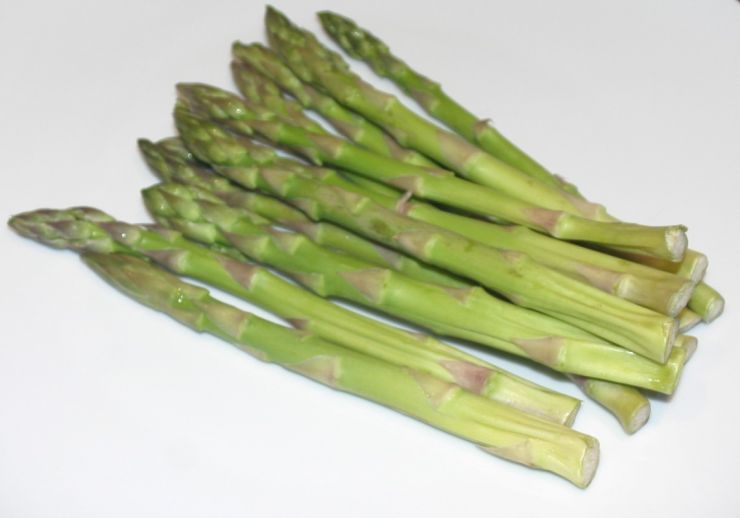 Asparagus Spears almost an emblematic Veg for Spring.
You can part boil Asparagus and serve their tips in a cup made of a Raddichio leaf containing a Dip of Hollandaise Sauce. A third ingredient could be a soft boiled Egg and a topping of chopped Chives and shavings of Truffle. This is a Starter served in a crunchy Salad which is dainty but luscious.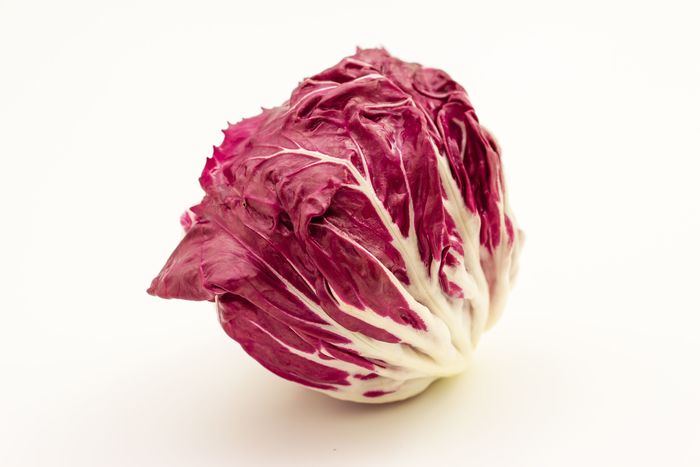 Red Raddichio has leaves large enough to be used as recipient.
As for Artichokes their hearts are more prized than their leaves but on that one for having grazed on boiled Artichokes leaves in my childhood dipping them casually in a Vinaigrette, and sucking the fleshy part of the leaf thereafter, I would say it was a very simple pleasure to enjoy. This was a Salad of some sort but delicious moments of my life.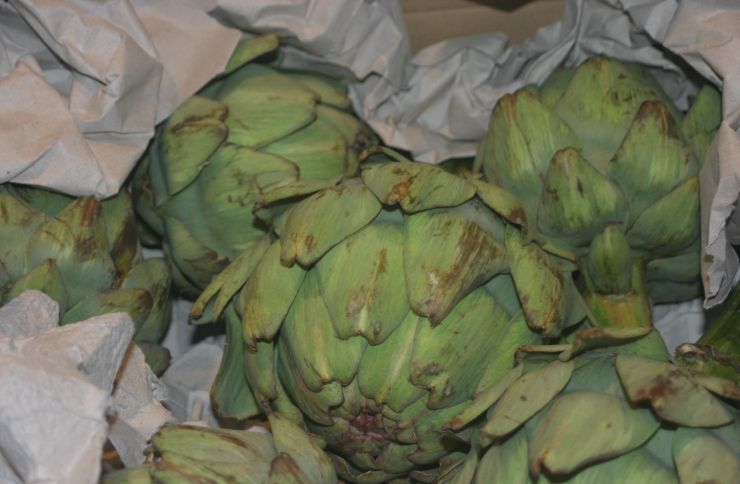 Artichokes received from Scotland: Thank you Christopher Vincent!
If you assemble Pea Shoots with Frisée Lettuce, blanched Petit Pois and Asparagus tips, add some marinated in Red Wine Vinegar Morels, you will have a very decent Salad to tuck into. But prior to that if you soft boiled little Quail Eggs, half them to decorate the Salad, prepare a Red Wine Vinaigrette or even a velvety Port one, then add some chopped Chives, you will have a finished Salad.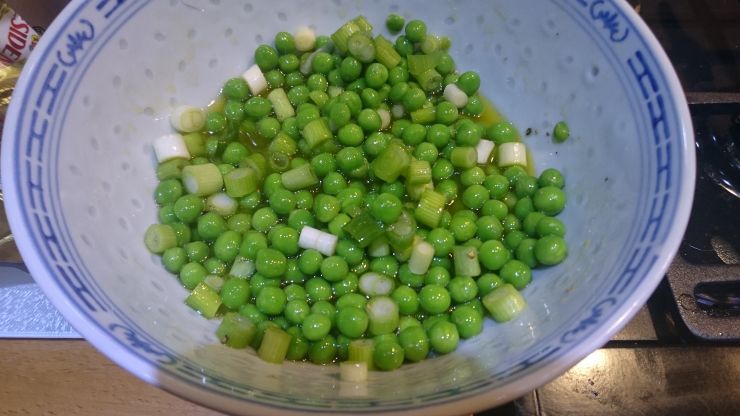 Petit Pois in Spring make a delicious addition to a Salad. Accompnied with Pea Shoots and Spring Onions is a plus not negligeable.
Crab Meat is a fabulous ingredient for a Salad. You can go the Asiatic way with it. Serve it upon marinated Daikon, Bamboo Shoots, Cucumber ribbons, shreds of Nori leaf, a sliced red Chilli, micro Watercress leaves. Finish with a Coriander and Thai Fish Sauce Dressing.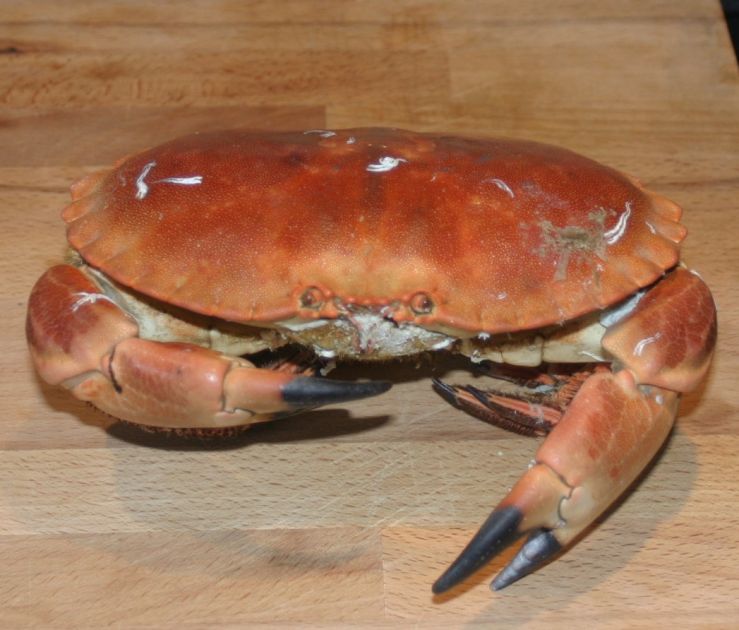 The Crab, either dressed or its Meat used for a Salad is a light yet quirky ingredient to use for a Salad.
We can't talk about Salad without mentioning the Coleslaw. My partner absolutely adores Coleslaw. The good thing is that you can adapt the Coleslaw to the season. For example in Autumn you can add Walnuts, Apple, dried Raisins. But I will say that a Cabbage of some sort is always a must.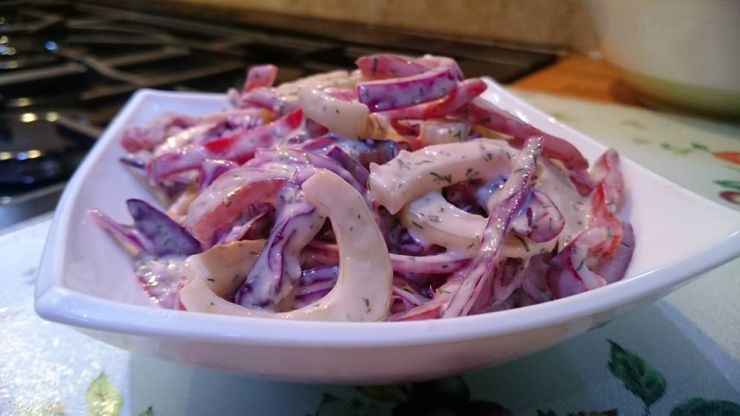 Home Made Coleslaw, with Fennel, Red Cabbage, Red Pepper and Dill. I would qualify this one as a late Summer one.
With a Salad of any kind you must expect washing some elements, cooking some of the ingredients, marinating or pickling some to get that boost of acidity, doing a good Vinaigrette or Dressing (No one wants a bland Salad), but there is also lots of chopping and cutting to make it all special. It is a trim around the edges if I may say.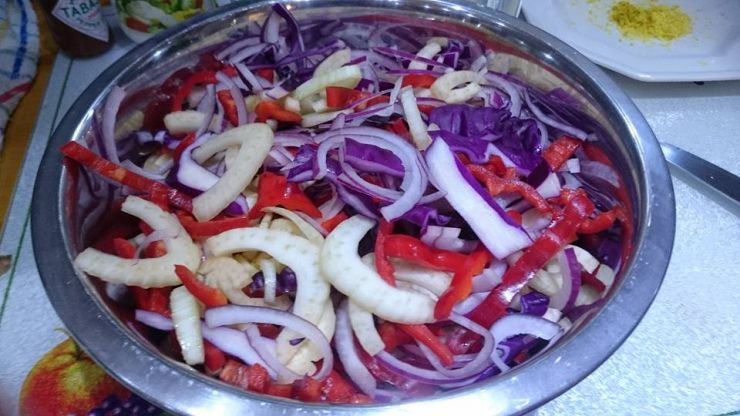 Lots of chopping, but it is all worth it.
Another thing that does matter a lot is to choose your ingredients and pair them well. It is a crucial part of the culinary art, but as I said it really comes with the 3Ts: Test, Taste and Trial. Building a plan of your meal before you make it does help but don't let it rule out your creativity or your guts instinct.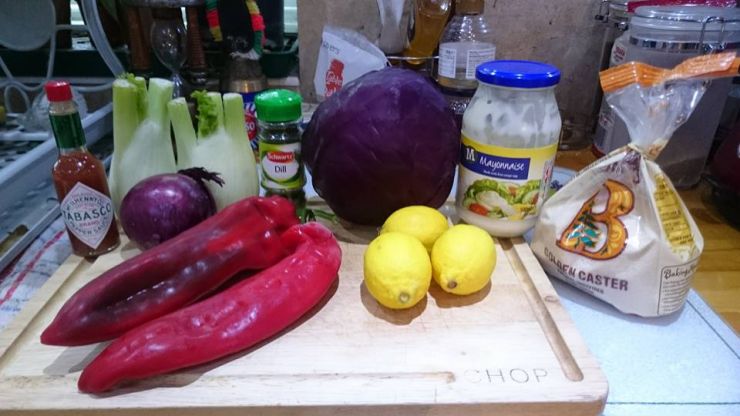 Ingredients for the Coleslaw.
So a Salad can turn out to be a classic like the Waldorf Salad, the Ceasar Salad or the Prawn Cocktail. Salads are relatively easy to do, however one must always think of the ingredients, their quality and how they do pair with one another. Another consideration to have is the texture of a Salad.
It is a matter of a soft leaf meeting a crispy or crunchy textured ingredient. It is a matter of a Sauce or a Vinaigrette, or a Dressing combining everything together being the magic link.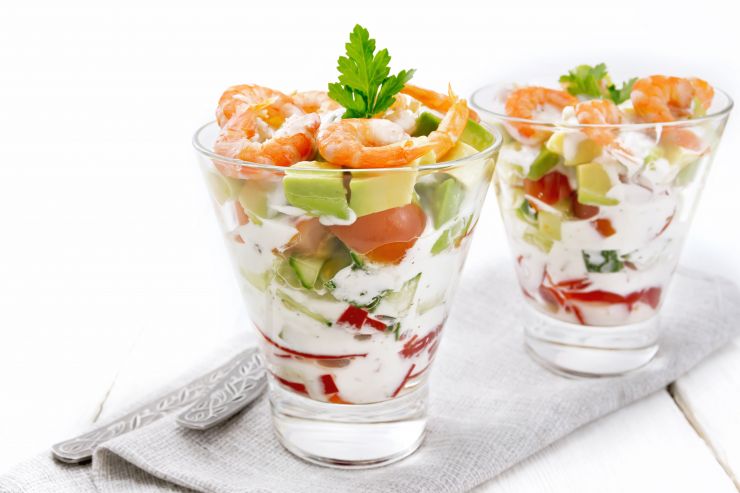 Another colourful take upon a Prawn Cocktail with crunchy Cucumber, soft Avocadoes, Red Pepper, smooth Creme Fraiche, juicy Cherry Tomatoes and the sweet Prawns.