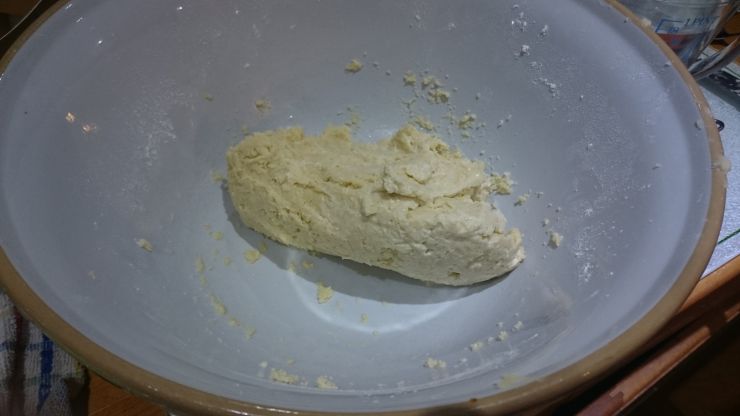 One of the first things I learned to do to cook apart from frying an Egg was to do a Batter for Pancakes and Short Crust Pastry to do an Apple Pie. I can not say I am a good Pastry cook nor a good Batter one. It is a bit of a hit and miss for me I am afraid to say. However I do a decent job most of the time rather than not.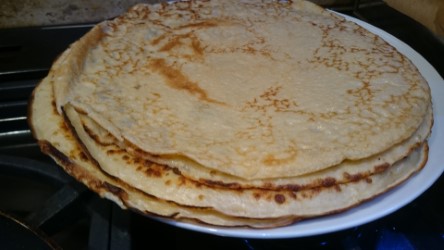 My Pancakes... Pancake day is a big thing in this home.
I will not reveal my Family recipe for Pancakes, but I can tell you they do not last long... I will give you a clue in the link below for a Song. The fact is that I descend from a lot of sailors, a light house guard born at sea from a British woman named Helen Flynt, and his descendants were the first Safe Sea Coast Guards in the French part of the Channel rescuing people. A Museum to their names is in Barfleur, Normandy.
Being ever so nostalgic I will say that we were playing outside as children on Wednesday afternoon but that the scent of the Pancakes my Mum used to make for us brought us back home for tea time. Right in time to watch the Capitaine Flam Cartoon and make us stay indoors to be ready for school the following day.
Capitaine Flam, French Generic
I dare say I love Pancakes the sweet ones of course but also the savoury ones usually made with buckwheat inside the Batter which are called Galettes. They are usually slightly thicker. You can play with the combination of their fillings to render them a lovely Brunch, the Starter of a Dinner or a nice little Supper. The filling I do enjoy a lot is Spinach, Poached Egg, Lardons, a little Creme Fraiche, a pinch of Nutmeg and a little Seasoning. The other filling that I enjoy is what we called à La Forestiére which is made of Mushrooms, Lardons, Creme Fraiche, Seasoning and a little Thyme, and a little chopped Shallots. It is delish.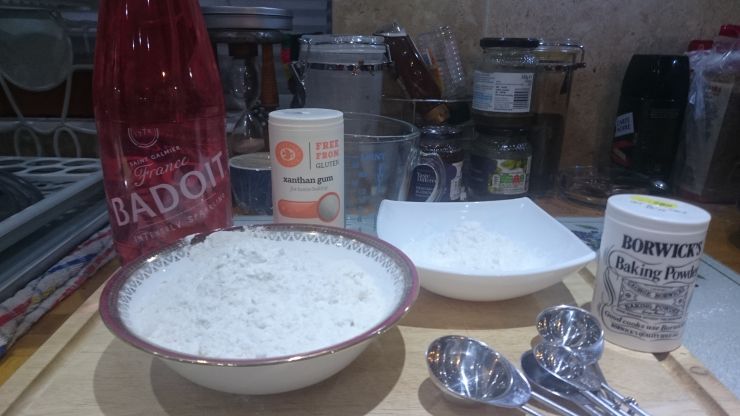 Ingredients for a Batter of a different kind.
The above is to make a light Batter, hence Sparkling Water being used, in order to cover chunks of Monkfish to be Deep Fried.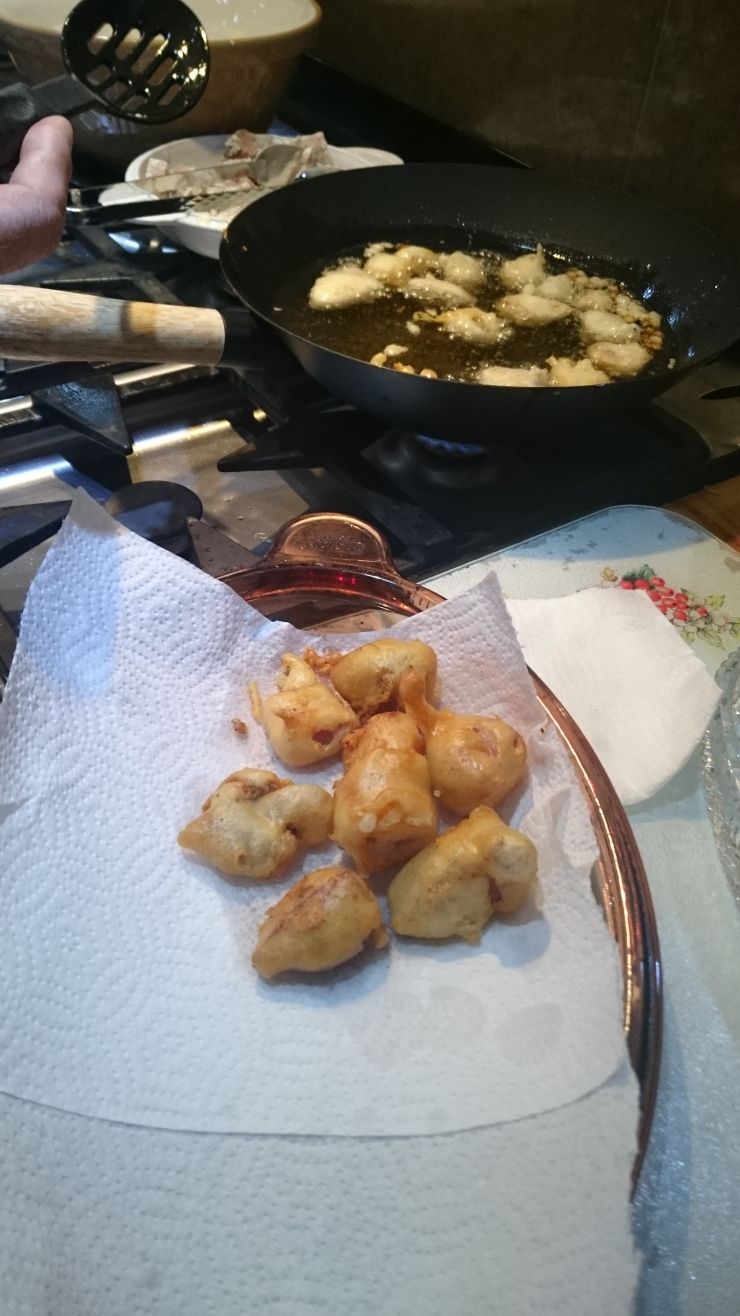 Deep Fried Monkfish Tail Nuggets.
Now the Sparkling Water could be replaced by Beer or a nice Ale. But for a Friday night Home Made Fish and Chips, a good Batter is the way to go. However unsure that you dispose of your frying Oil responsibly.
After talking about Batter we must speak about Pastry. I tend to be very lazy in that departement because I am always scared to mess it up so my Pastries are most of the time Shop bought. The best Pastry I do with my own hands is the Shortcrust one for Pies, Sweet or Savoury.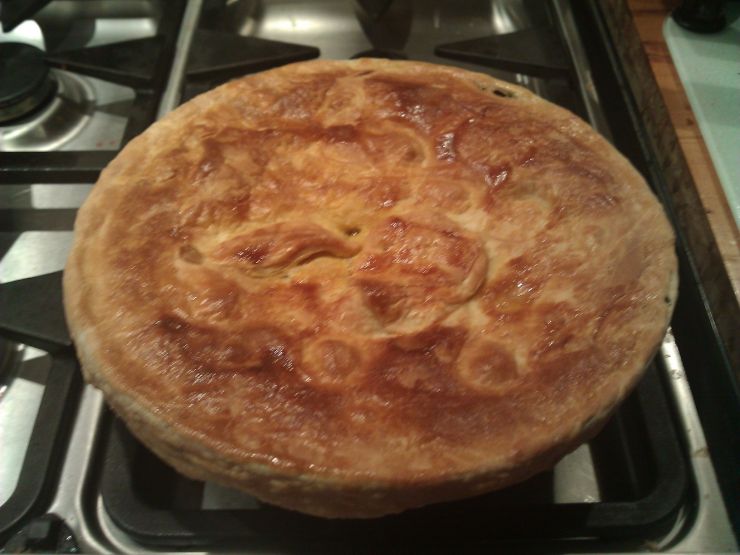 Home Made Chicken, Creamy Leeks and Button Mushrooms Pie: a very comforting Dinner number.
Another Pastry I like using is the Filo Pastry one. If I do not do it myself nonetheless it requires a little TLC to use it, give it colour and of course to not break it. But it is a very useful light Pastry which can bring a lovely crispy finish to a Pie, or Cockail Appetisers.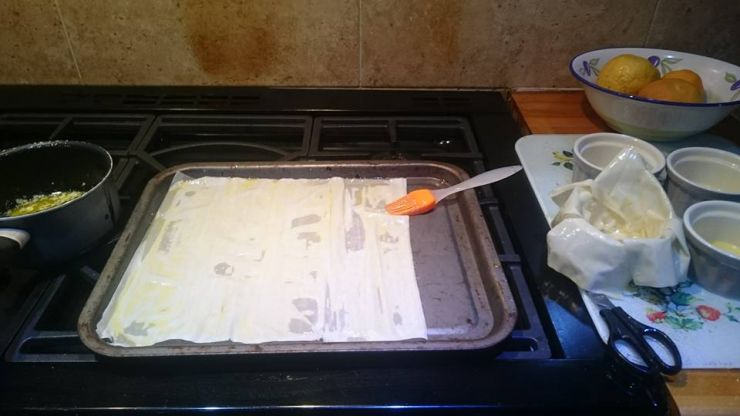 Filo Pastry Sheet are very thin and needs careful handling.
To achieve the golden colour you want in the end, it is useful to melt some Butter and brush it gently over the Filo Pastry Sheet. It also helps to build layers of the Pastry to give it a consistency which can carry a content without breaking. Think of the Butter like the glue that bring everything together. In addition to the Golden Glow it gives, and to make every Sheets sticking nicely to one another, Butter delivers a welcomed flavour to a sweet or savoury dish.
Layering the Filo Pastry Sheets to create little Pot Pies inside Ramequins.
Creating little Pot Pies is rather easy but extremelly enjoyable to make and eat. The combinations are endless. I rather like savoury ones myself: Ham Hock, Asparagus and Chive is my favourite one to do. The next one I enjoy is Smoked Salmon, Lumpfish and Chervil. To stay with a combo involving Fish, Smoked Mackerel, Shrimps and Samphire is unusual but nice. Lardons, Leeks and Parsley make a decent Pot Pie. So all you would need to create some is just a good Quiche Mix which actually looks like a Batter to hold everything together.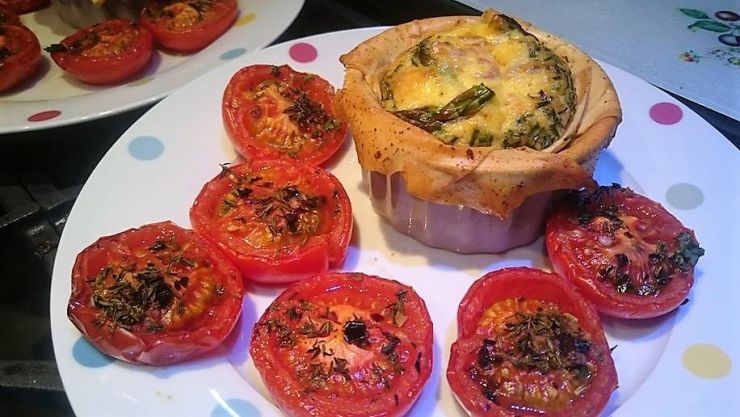 Ham Hock and Asparagus Quiche Pot Pie on a plate ready to be enjoyed.
If Filo Pastry can be a container, it also can be a lid for a Pie worth considering. It add a very welcomed crispiness which is not negligible but also a certain unusual look that is rather attractive. I did a savoury Pie with unusual flavours a little inspired by North Africa: Chicken, Dried Apricots, Dried Raisins, Diced Potatoes, Chopped White Onions and a Chicken Gravy with Ras el Hanout. It was topped with Filo Pastry.