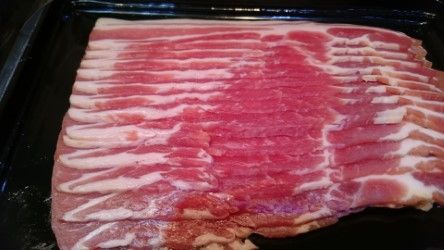 Dry cured Bacon Rashers.
Curing and/or Smoking have been methods of preserving food since prehistoric times so we can label it as a very traditional technique learned through time but which changed as well throughout the ages.
Meat, Fish and Veg can degrade very fast so to have all of them fresh in let us say periods of abundance causes no problems but it is another matter when we are facing a drought, a winter, a storm or if we travel thinking of where would be the next source of alimentation.
Generations of sailors relied on cured food in order to go on their fishing journeys, or their explorations trip around the world. If the next land is far away you need to be able to feed yourself between point A and point B. Taking cured or smoked alimentation with them made them hold on during the unsecurity of a journey.
To preserve Fish using Salt, Sugar, Curing, Smoking, is a tradition. Most wives and family members were and are still involved in the fishing industry. For a lot it is a way of living and surviving or just to feed your family from the youngsters to the elders. I come from a familly mainly of fishermen, sailors, lifeboat crew members (who have a Museum to their names in Barfleur Normandy for their rescuing at sea good deeds), a lighthouse guard, and plenty more... and a fresh Mackerel reaching the table was a source of joy but a smoked one was either a source of living by selling them or eating them.
This beautiful blue tiger of the sea the Mackerel is still my favourite Fish to eat.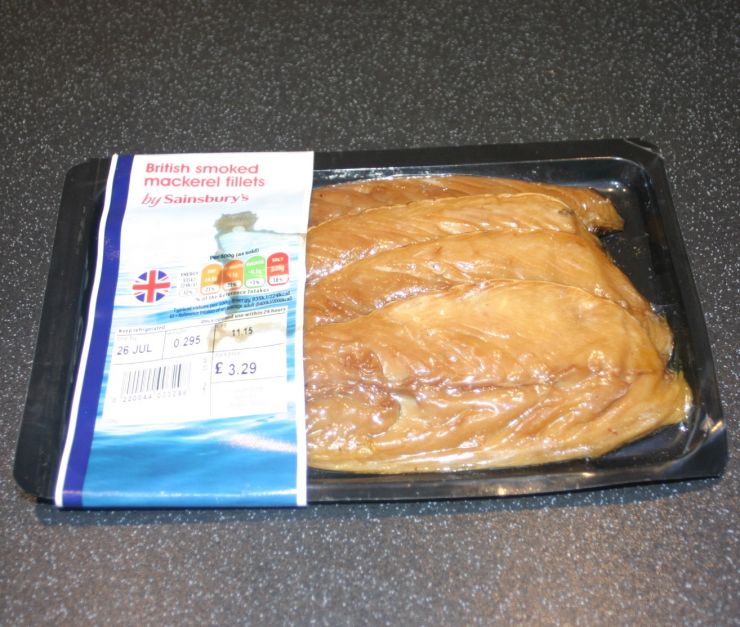 This is Mackerel in its smoked shape. Still full of flavour.
So we established that when a nice little Fish, like this one, is preserved and can last longer it can benefit during the harsh days, months or years we can face. First that Fish is rarely expensive which is a plus if you have to feed a family. Second, it is a very tasty little number. Third there are multiple ways to use smoked or cured Mackerel.
Because it is already cooked, you can use it in a nice summery Salad. I am thinking in plenty of ways here. Just to give you some ideas:
One: Flacking the smoked piece of Fish upon a bed of Pea shoots, Watercress, either fresh or cooked peas, with fresh Lemons or preserved ones, sliced or quartered. Chopped Herbs like Dill or Chervil or Parsley never hurt but compliment the Salad. A little dressing of your choice (which could be a little creamy as well) and Ta-Ta! You have a nice little starter on your hand, or lunch box done in your bag.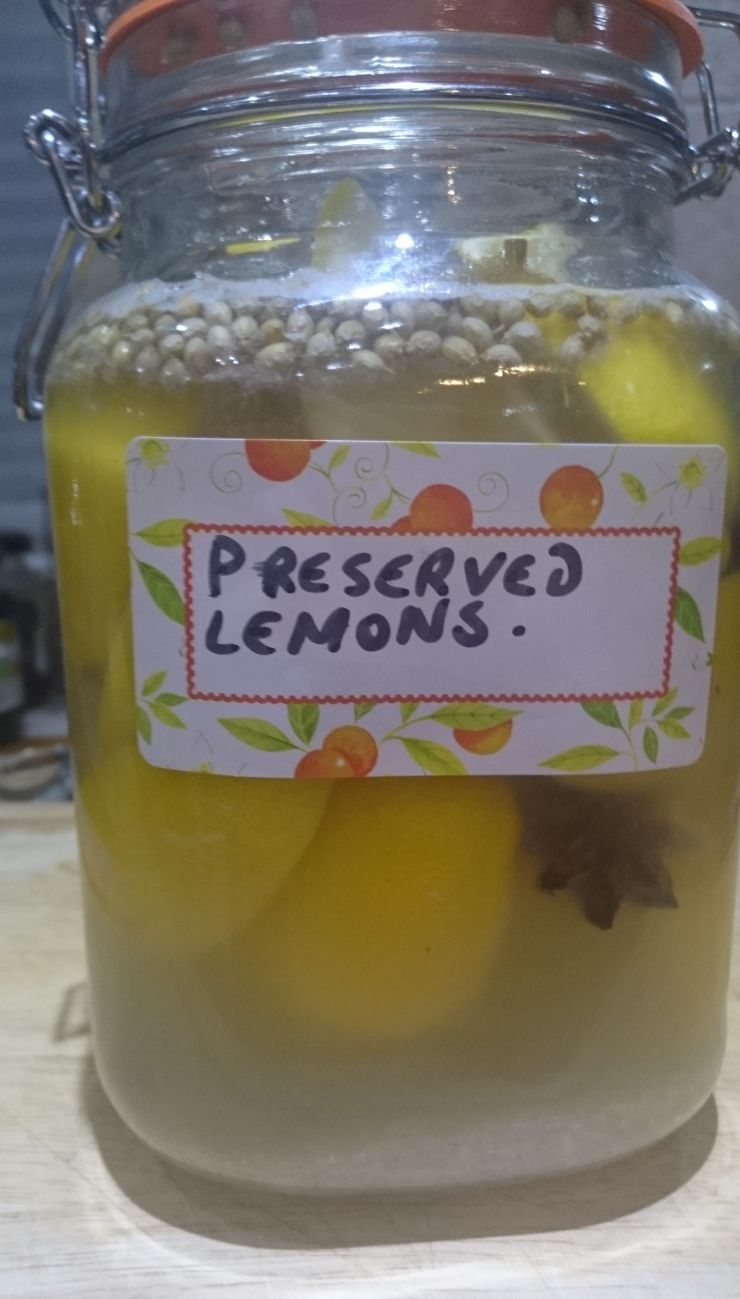 Preserved Lemons
Two: Cut the Fish in large pieces, about four cm to have lovely big chunks and display them upon a bed of Spinach or/ and Rocket leaves, roasted or fresh sliced Tomatoes (it is going the Med way), Capers and Black or green Olives, finish with a Balsmic vinegar dressing. It is a simple yet summery little number.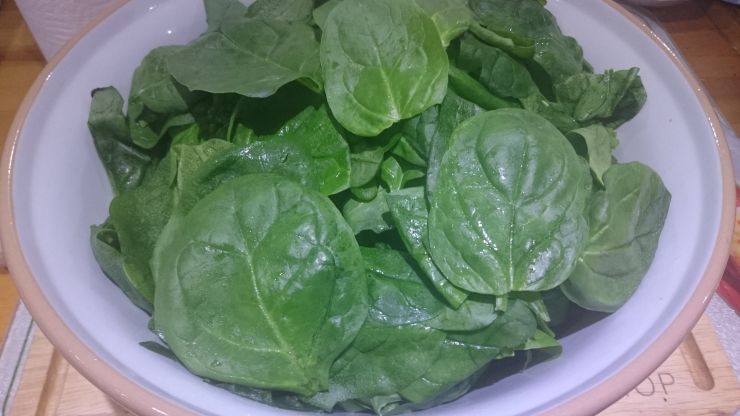 Spinach is a perfect accompaniement to Smoked Fish.
Three: Warm up the fillet of smoked Mackerel. Keep it all. Build a Beetroot Salad in the mean time, either fresh and roasted or pickled or shredded. Beetroot leaves are edible and also nice to consume.Think a little like a potato salad went the Beetroot way. You will just try the purple Beet Root Road. Now, a creamy Dill dressing, with a dash of White Wine vinegar works well with it. If you really want to up the stake on that one, it can work or fall flat. If you add baby new Potatoes with it feels like Del Boy selling tap water as holy water... If you know what I mean... But it is still working okay.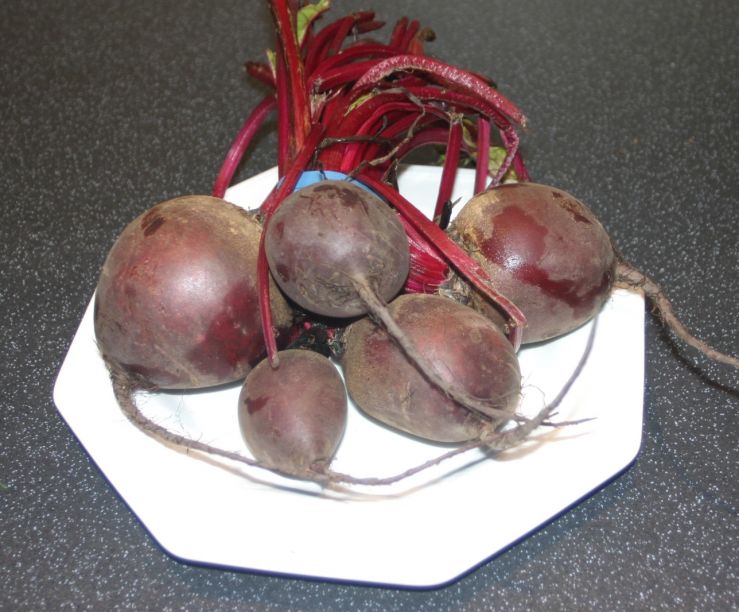 Beetroot makes a perfect partner for Mackerel
Oily Fish especially are delicious Smoked or Cured: Salmon, Tuna, Trout, Anchovies... Cured, Smoked Salmon is such a famous delicacy that it often appears ornating the festive tables either as one of the starters or upon canapés for the guests. The curing process allow the pink flesh to be awsomelly rich and onctuous. Using part Salt and part Sugar as curing agents work well but you must get the balance right. Maple Syrup and Honey can be utilised like Sugar in that case to impart even more flavours to the Salmon.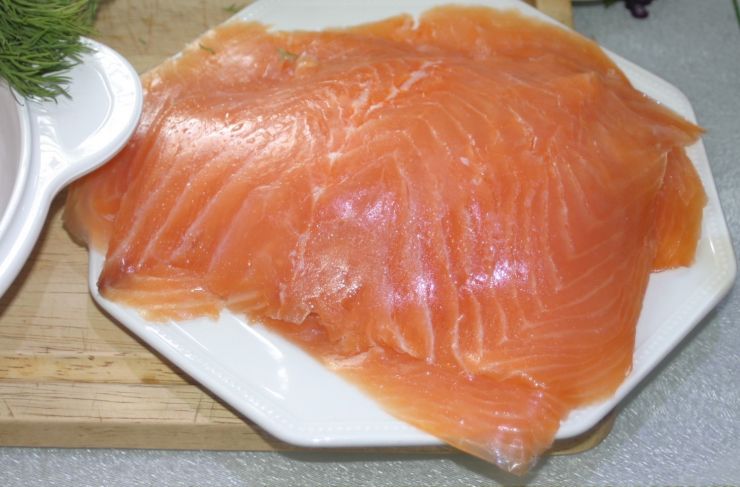 Cured and Smoked Salmon perfect for those special Occasions.
The same goes for curing the delicate Trout. Like Salmon, Trouts are Sea going and River Fish. Their textures in that aspect once cured are very similar. Although Salmon is more notorious and popular than the Trout, the latter holds her own very well on Celebratory occasions. Salmon is also seen as a more luxurious Fish hence is often more expensive a nice Trout. But I must confess to like them equally. You can also make excellent Gravlax with a Trout which you can be served on a slice of Rye Bread ( The slice Toasted or not) or on a crispy Ryvita of your choice ( Those are so handy for a quick Snack). Another option is to serve the Trout Gravlax on its own on a bed of Curly Salad, along with a nice Dill Dressing or Dill Mustard as a decent Starter, or with little boiled Baby New Potatoes added as a main. But this time I will go for the Dill Mustard Sauce insted of the Dressing.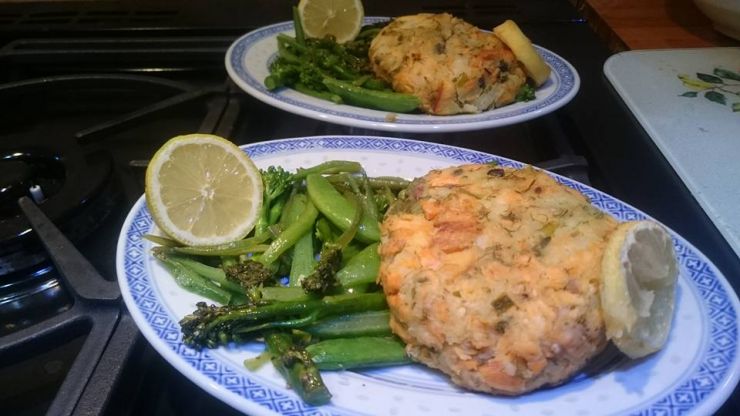 Smoked Trout and Dill Fishcakes served with a side of Sautéed Asparagus, Sugar Snap Peas and Tenderstem Broccoli.
Tuna deserves a mention for its versatility. However for the sport of it or not it has been widely overused. With the Bluefin Tuna having to be stopped to be overfished for their population to recover. It happened in the North Atlantic Ocean and the Med Sea. The WWF did get involve in order to protect that particular kind of Tuna. This means that Bluefin Tuna population is on its way to recovery but not quite there yet. So make sure you decide to choose your Fish responsibly before buying it. Unfortunatly cured Tuna has somehow be made trendy again with lots of versions of recipe going viral like the one creating almost a sort of Beef Jerky out of Tuna. Another one is the fashion to cure Tuna using Kombu (A Sea Weed).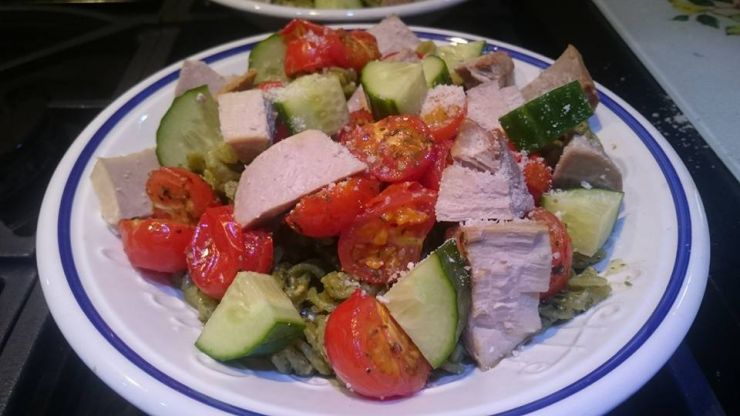 A Summery Tuna Salad.
Another but this time small Fish rather than a Big Fish like Tuna or Salmon, is the little Anchovy. Swimming in scholes in the sea, they do look plentyful like Mackerels are but those little ones need to be treated with respect for they have a lot of predators to deal with hence they do form a school, and herd protection by staying together. Preserving them by curing is a decent solution. Usually it is done mainly with salt and kept in jars. The Roman used a sauce called Garum made with Anchovies during the Antiquity to give a saline flavour to their dishes. Ever since Anchovies have been used in different methods of preservation. Once cured the little Fish can be jarred either in Olive Oil or Vinegar or both, with the addition of other Ingredients on occasion like sliced Garlic, Capers and Herbs and even Truffle...
A leg of Lamb is a perfect device to use Anchovies for flavours and a fussy earter who dislike them or believe they dislike them because they didn't give them a chance from the get go.
Now this little Fish was considered to be an Aphrodisiac but like Oysters they are not the taste of everyone. Sometimes you can find them in their cured form wrapped around Capers berries at coctail parties. The Gentleman's Relish is made with Anchovies. The flavour of an Anchovy is mainly due to the Curing process it had received, therefore it can be too strong for some and a delicacy or a treat for others. But I remember of a leg of Lamb which I roasted spiking it with Anchovies, Garlic and Rosemary which was loved by my Partner one Easter. Now I did hide them well and during the slow cooking process they melted right under the skin of the Meat giving it a nice but gentle saltiness.
I will add one more thing Oily Fish Cured or not contains Omega 3 which are supposed to be good for you. If we are supposed to follow health guidelines 2 portions of Fish should be eaten during a week, 1 which should be a pink fleshed Fish and 1 should be a white Fish. However if you are either Vegan or Vegetarian this can't be done but I am pretty sure they are plenty of solutions out there to compensate a lack of Proteins for I have a Vegetarian for three months during my life in the past and did manage very well indeed.
To come back to White Fish, Curing and Smoking them suit as well. From the top of my head I will just quote a few Cod, Herring, Pollock, Sea Bass and Halibut.
Salted Cod is particurlaly saught after and valued in Portugal and Norway. A Portuguese could be swearing that they are 1001 ways to prepare or dish out a Cod.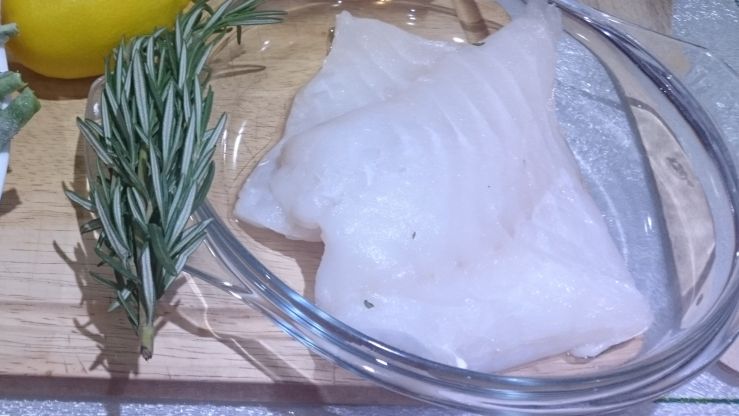 Cod Fillets, since five hundred years Cod has been a very popular Fish even in GB
Herrings also called Kippers have been almost traditional breakfasts or brunches for British people. Opened up, cleaned and cured or and smoked Herrings are the Silver Darlings of the sea and very inexpensive at that. The two way process to preserve them are to cure them with Salt first then to Brine them in a Vinegar mix of your liking. It could involve Peppercorn, sliced Onions, Bay leaves, Mustard Seeds, Dill...
Cured and Smoked Herrings can be very fulfilling on their own, served as a full fillet with an accompaniment of some sort like sliced fried potatoes, Dill Mustard and some fresh Watercress. Another option would be to flake Cured Herring upon a nice Potato Salad. Then if Smoked and Brined or Cured and Brined the Herring could curls around in a very satisfying Rollmop... A treat for many or a nice snack.
If we turned the page to Pollock, that Fish helped to transport our great interest in Cod and Haddock to be a cheaper but nonetheless a very good alternative. It is milder than the others therefore a cured Pollock can do with a bit of a boost when served. I am thinking along the lines of flaking the cured Fish upon a sliced Mooli and Rocket Salad with either a little Wasabi sauce or a creamy Horseradish one. It will lift the palate to the roof. That cured Fish is absolutly fabulous with a little care added to it, and I will go back to my three Ts, Test, Taste and Try. ( Pepperiness works well to enhance that Cured Pollock)
As for Sea Bass which is a more delicate Fish, it could be cured with acidic agents, like Lemons, Limes or Grapefruits or even Oranges. It all depends on the dish you want to create. You can be so artistic on this one to have a little starter that no one tasted before. Be Original. Serve your Lemon Cured Sea Bass on a delicate bed of Pea shoots leaves and Watercress or even lamb lettuce, a little diced preserved Lemon to keep with acidity of the dish, some grilled or sautéed Asparagus tips and even fresh peas straight from the pod to add a little sweetness and crunshiness, or ever slightly rendered by sautéing them with the Asparagus. A dash of virgin olive oil, and Sauvignon white wine vinegar et voilà, you have a Starter to impress your guests.
Citrus Fruits are always a good pairing with Fish in general.
With Limes, a Cured Sea Bass can go in a very Asiatic way, on top of shredded Pak Choi lightly sautéed in a little dash of Sesame Oil, and a small amount of Dark Soy Sauce along with Edamame Beans and a handfull of Beansrprouts (All Wok'ed Along together). Shred the Sea Bass and add to the wok or make it a centre piece as an a complete fillet on top as you dish everything out.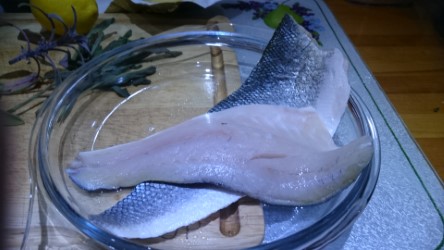 Sea Bass Fillets Cured or Smoked have got subtle flavours.
You can also create a very unusal little coktail Appetiser with a fillet of Cured Sea Bass. First you must cure it with Grapefruit Juice and Sugar (I tend to go for Brown Sugar on this one), a tiny pinch of White Pepper. Wrap it all in cling film and let it be, let it be, let it be in your fridge for two to three days.
When the unwrapping occurs the flesh of the Sea Bass should be still slightly tender, but acidly sweet. You can keep the skin of the fillet or remove it which I say is preferable. As for the Cured Sea Bass flesh cut it in a bowl, chopped some Chervil or Parsley, add some Capers (a little will suffice) and finish off with diced segments of Grapefruit, with a shaving of Grapefruit Zest. Mixed together with a spoon or a spatula very gently. Adjust the balance of the seasoning if needs be, the Tasting part. Then you dish the mixture upon the bitter Chicory leaves and the ones of a Fennel which will act as little boats to present it on a platter.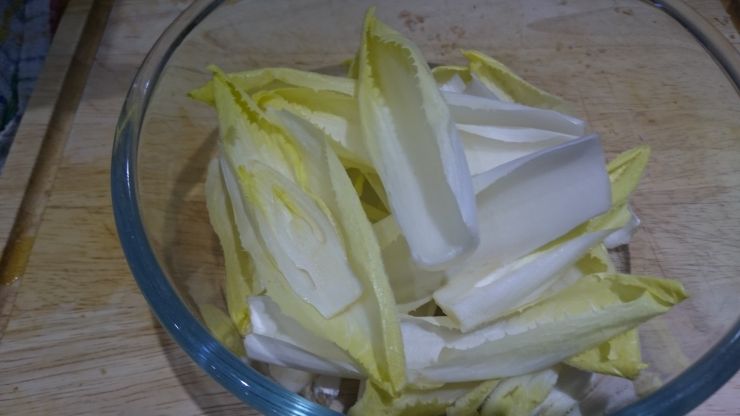 Chicory Leaves also called Endives make nice little boat for chopped or minced Appetisers. You can also find a purple edges variety which works just as well.
To remain on the Cocktail Appetisers side of things Cured Sea Bass can be served on warm little Blinis. You just need to spread the Blinis with Cream Cheese which was whisked with chopped Chives and Chervil, and a little of cracked pink Peppercorns. Place a fine thin slice of Cured Sea Bass upon them then a little dainty zest of Orange, micro Herbs like Cress and finish off with a tea spoonfull of Caviar. This is simple but delish.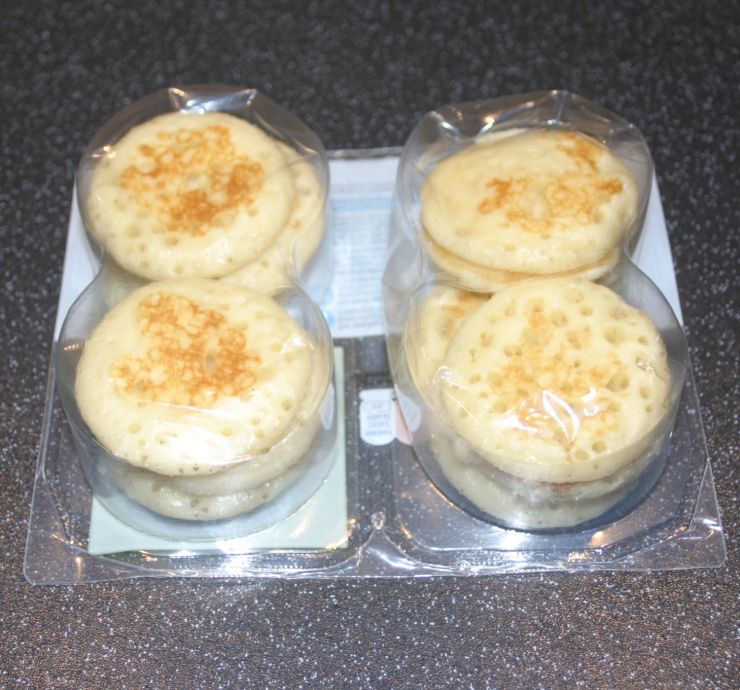 Blinis can be home made or shop bought but they are so handy when running a Cocktail Party.
Then there is Halibut, this very expensive flat Fish which can be very large and is itself a predator of other Fish in the oceans including its own kind. They can be found in the Atlantic and the Pacific usually in the temperate to cold parts of those oceans. They are fished more by sport because a Halibut will put up a fight when it is caught, however commercially that Fish is close to be declared as one of the endangered species. Its flesh is not tender and hard to be smoked. Cured can work but I will not entice you to do so. This is a Fish to be save from extinction. That is all. And for all the restaurateurs and Chefs around the world that make the price very up on their Menu for a Halibut, think twice or thrice. Commercially fishing it is killing an entire specimen of Flat Fish.
Then there is Meat... Cured and Smoked: Could it be another longer chapter... I wonder. From my childhood in France which was relatively modest, my introduction to cured meat was mainly through Ham, the Saucisson Sec and Lardons.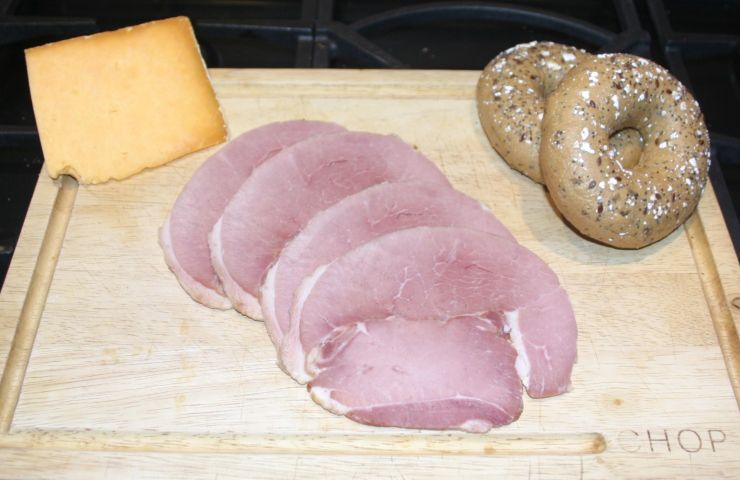 Ham is useful and so convenient for Sandwiches.