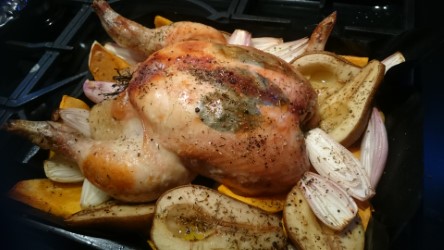 Who doesn't salivate at the idea of a good Sunday Roast, a festive one or a Roast just for the sake of it. First lets just say that roasting is one of the most ancient cooking methods. There was and still has a sense of luxury about it. One can only imagine an entire hog, a mutton, large chicken roasting and turning (spit roasting) in a large oven like fire place with multiple servants turning the meat regurlaly and basting it from the Medieval time onwards. Or just to get closer to the truth just take a trip to visit the large kitchen of Hampton Court Palace to get a feel of the grander of it all that it was to be fed at the court of Henry VIII.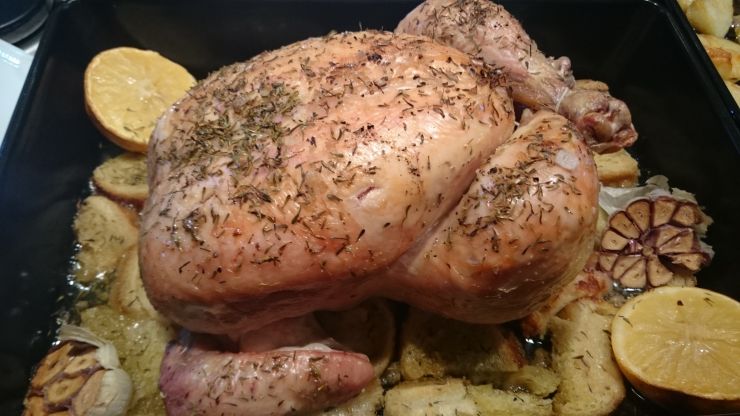 Lemon, Thyme and Garlic Roast Chicken.
Since the 1860's Roasting gradually did hit the masses with the propagation of the oven. The Sunday Roast became soon a tradition within the Western world and elsewhere. A Roast gives a feel of occasion. If we can imagine a hardworking proud father of a family bringing a large piece of meat to his wife to feed his children, without falling into Charles Dickens, and seeing the glimmer of joy in Tiny Tim's eyes seeing a big fat Turkey at the centre of the dinning table... I don't know what I can do to explain the beauty of a Roast.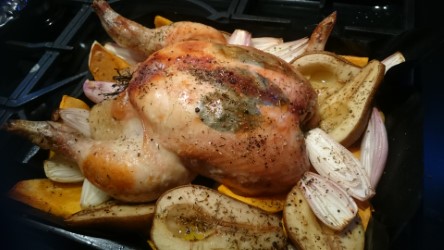 Roasted Duck.
It is convivial sharing of food mainly. There is time, the patience and pinning for the main meal to arrive involve. There is the anxiety that it has to be good to impress. Then there is the what to do about the timing and the impressing. Who created the expression 'With all the trimmings' I wonder?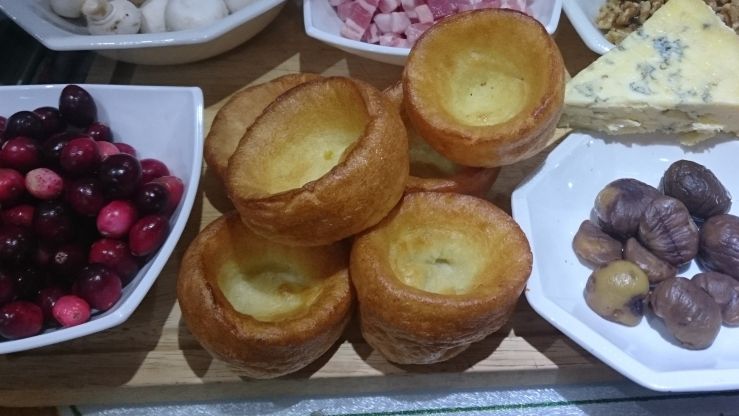 Yorkshire Puddings.
Let's tackle the large pieces of Meat and the smaller ones. Of course depending on the size, the timing is different and I am afraid to say and admit that everything is even more complicated when we involve the parametre of temperature within the equation.
To render the matter of the Meat in more simpler terms, one of my favourite term is the three T's Test, Taste and Trial. First I will say a stupidity which is correct: You can not treat a Beef like a Pork or a Lamb like a Chicken. So you have to test everything and witness what is working best for each. This is Testing time.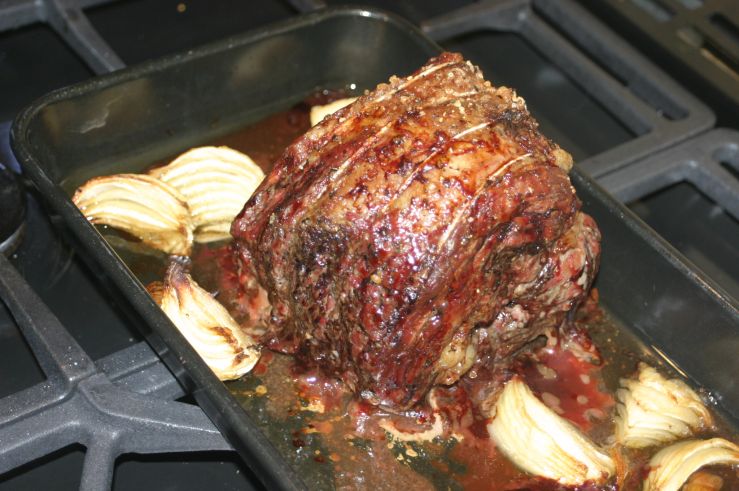 Beef of Ribs Roast.
Then there is the Taste time. It goes around the questions, how do I want my Beef? Slightly pink in the center and certainly not crucified and dry. How do I want my Pork? With a crackling to die for. How do I want my Chicken? With a gorgeous honey looking skin and still moist in the inside. How do I want my lamb? Certainly not dry but with gorgeous oozing juice and fat...
In this house Roast Beef is treated as a Treat. We only have it on occasion. Ribs of Beef is our traditional festive season Meat of choice. A good Brisket for a birthday works like a deal to make us happy. Of course it goes with all the trimmings... Yorkshire Puddings being one of them.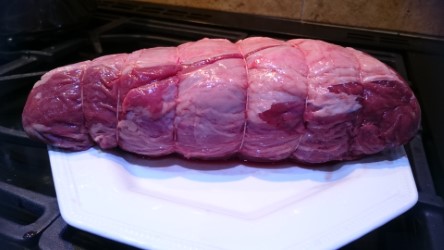 Beef Brisket to Roast.
Roast Pork is mainly one of our favourites. The shoulder or a nice joint is very common on our Sundays. My partner and I have a little on going competition about Crackling and I am afraid I won that war. I tend to make the best Crackling so I am often called then 'Darling' what temperature do I need for this and for how long? How many techniques we tried about our Crackling war is actually quite funny. But I must mention that leftover of Pork can be extremelly useful. Sliced in a sandwish for the following day, Stripped and Stir Fried for another meal, or even added diced to a Chinese or Korean Noodles Broth for a filling late supper, spiced or not.
Roasted Pork Shoulder.
As for Poultry, and there I include, Chicken, Duck, Goose, Turckey, Quails, Poussins, and Partridges, of course the timing and the temperature are crucial and entirely different for all of them. I am only going to quote that roasted Chicken is regurlaly showing up on the table. But I will confess that Lemon and Thyme Roasted Chicken is one of my favourites and often being on the Sunday table. However Poultry and Game Birds are on the red carpet in this home.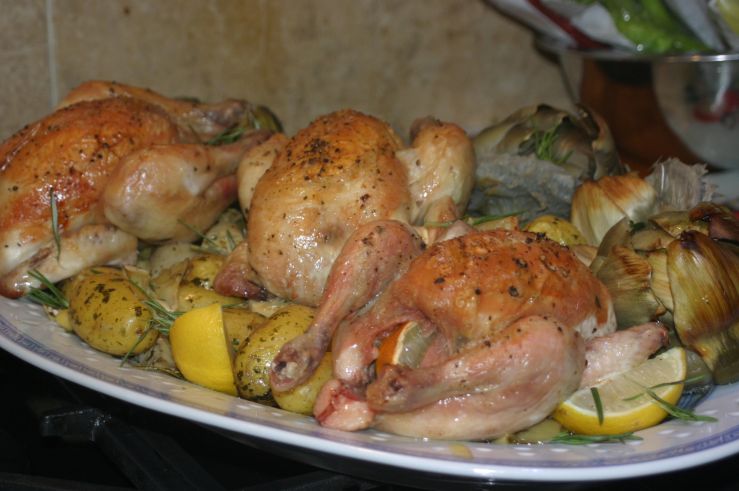 Roasted Partridges, Artichokes, Potatoes and Lemons.
Then there is Lamb, I will not speak about it because it makes me think of my dead Father. His Roasted Shoulder of Lamb were out of this world. Now I do legs of Lamb myself in a classical way with Rosemary and Garlic and sometimes Anchovies.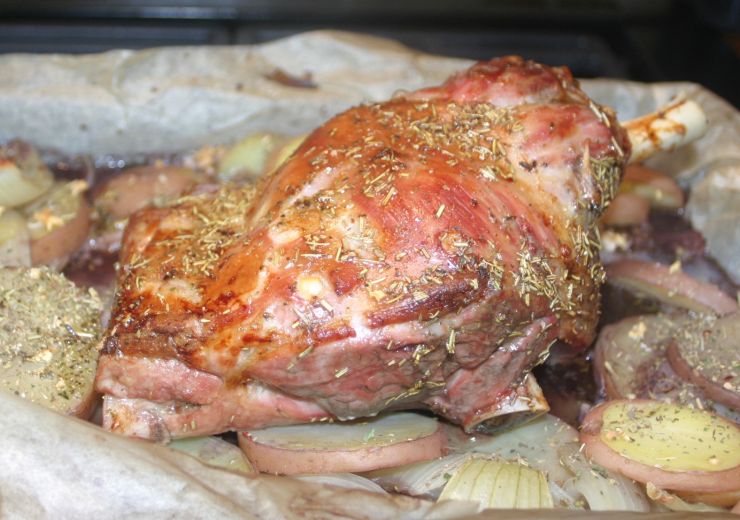 Roasted Lamb Shoulder.
The Beauty of roasting Meat is that it releases a juice from the Meat which can trickle down on the roasting tray or the dish below it: Bags of flavours to do a delicious gravy which will accompany the final dish to great effect. I can 't say how many times in my life I witnessed the battle for the Gravy Boat and the pointing finger claiming: 'She took it all!', and obviousely sometimes the need to appease the war of the Gravy by making some more on the dot so the pouting lips unfold back into a smile.
Personally I love rich and luxurious, glossy gravies with a velvety thickness which whisper without a word I will coat your throat with warmth. Without being pompous my favourite gravy is an Onion one with a little Cider within it. Of course it will have fresh large sliced onions, the best Cider and TLC up until it is served with a Roast shoulder of Pork, or the Roast Belly of one.
Second best has to be a Port or Red wine Gravy to go with Beef or Lamb. It is a delight especially if it has a good consistancy: The velvet blanket in the mouth.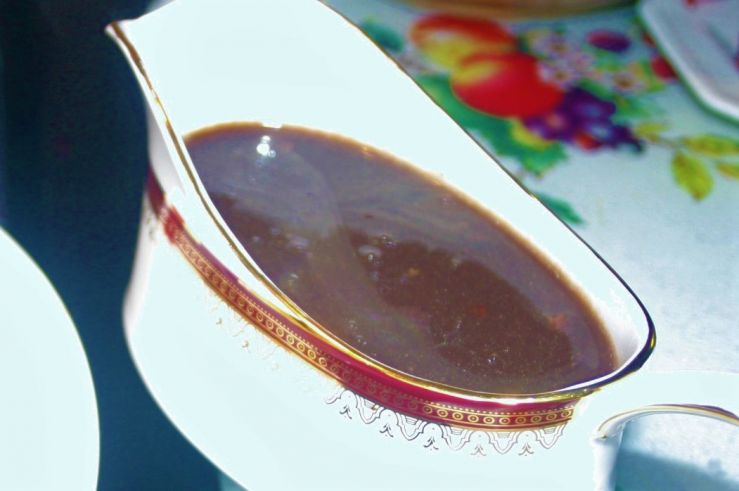 The Gravy Boat.
Passing from Meat to swimming in the sea of Fish, a Roasted Fish can capture the hearts and the palate to reach the palace of your belly. If you follow the waves, Sea Bass is a perfect fish to roast whole. Trout and Salmon swimming up the stream also. A Snapper can also snap the show. Now not everyone can face an entire Fish. It is all about the head, all about the head... There is a trick, which is to use the head of the Fish to make a Fish Gravy. The gills in my point of view should be removed as well. An entire Roasted Fish is a glorious view, but delt with finery, it is a dish to remember.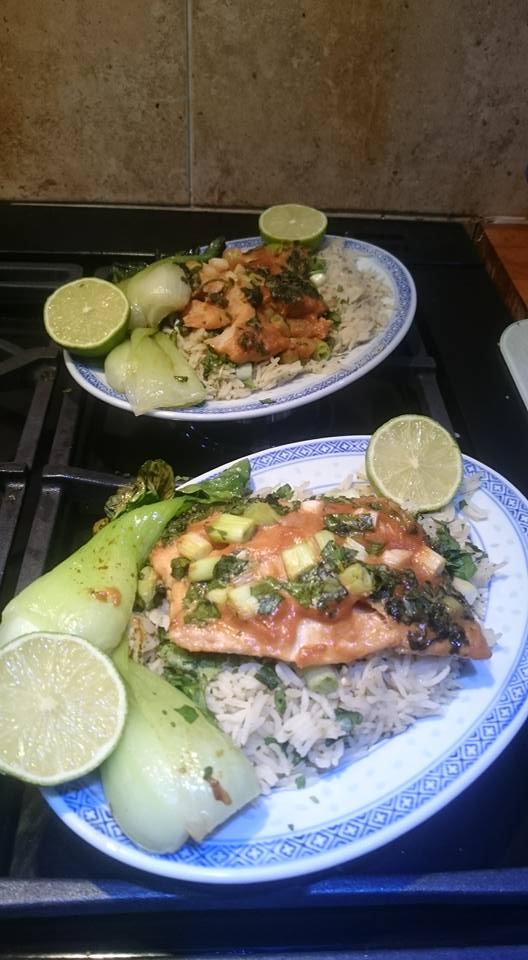 Roasted Miso Cod.
You can't serve a King of the Ocean with only a cloak of scales. You have to dress it. Think of Julius Ceasar making its last stand, so you have to score his skin to let it roast or rest properly. Then you have to make it worth all the while. Stuffing the Fish with lots of goodness enhance it before the altar where it will be enjoyed and eaten. Simple flavours are the best, Lemon slices inside the belly of the sea beast, sliver of sliced Garlic, chopped herbs like Parsley or Chervil, Dill, Cracked black Pepper and Sea Salt. Sea weed for a little Fa La La La note from the mermaids... to make you dream of a sea wave or a sea shore surfing the scale of a beautifully roasted fish.
https://www.youtube.com/watch?v=PsalVNNSNsY
Then you can get to the treasure trove of the Roasted Veg. I can not tell you enough what a pleasure they are in a centre of a plate or on its side. My Favourites are endless. Provencal roasted Tomatoes has to be in the top three. If I have to do a top three. Because I simply can't.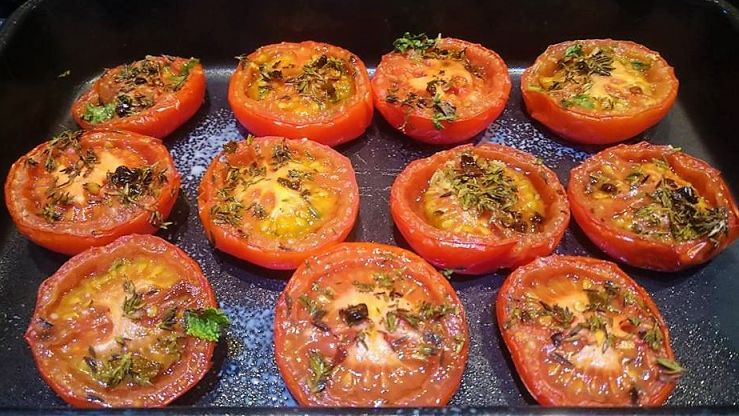 Roasted Tomatoes with Seasoning.
Stuffed Roasted tomatoes are also on the top of my list. It reminds me of my childhood. I will only mention there the Madeleine of Proust. My Mum's name is Madeleine.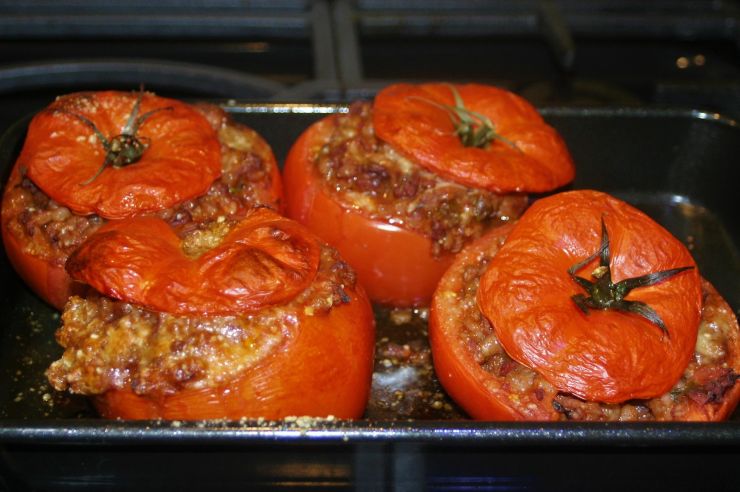 Roasted Stuffed Tomatoes.
You can also impart Flavours into a Soup by roasting its Vegetables prior to do one. To keep with the Tomato Theme, Roasted Tomato and Pepper Soup. Roast the Tomatoes, Peppers and Shallots before making the Soup which will end up deeper in taste for it.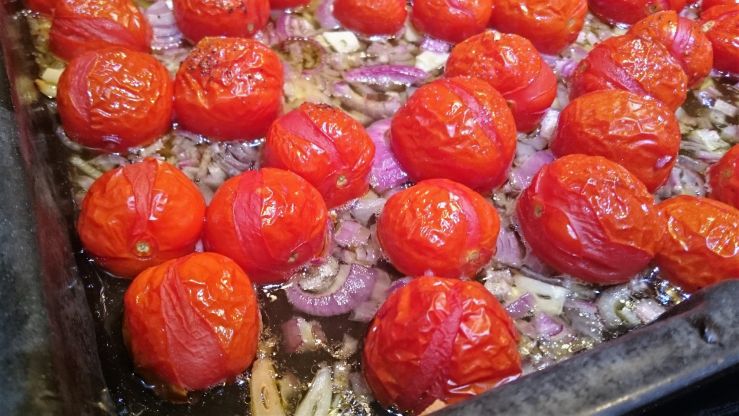 Upside down on a baking trays this time around to release their juices for a good Roastes Tomato Soup.
Roasted stuffed Peppers, Roasted Aubergine, Marrow, Courgettes or the all Tutti Quanti as a lovely side to a dish. Pick your choice, I will say mainly upon the weather. Spring, courgettes call for it.
Summer, Roasted Peppers and Aubergines are treats to be on your plate.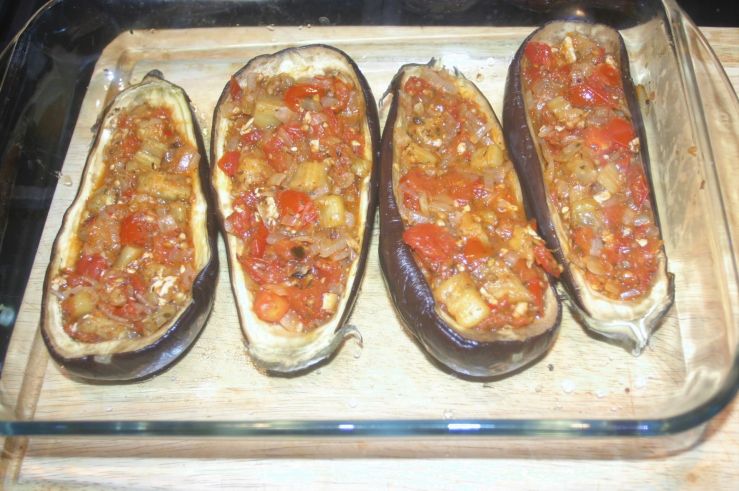 Roasted Stuffed Aubergines.
Autaumn, Marrow, Pumpkin, Butternut Squash.
Winter, Roast a good old Cauliflower or all the Brussels Sprouts with Chesnuts and Lardons.
There is a Roast for all season and all taste. If you can't find it, you have to make it happen, RIP old Grand Ma's saying.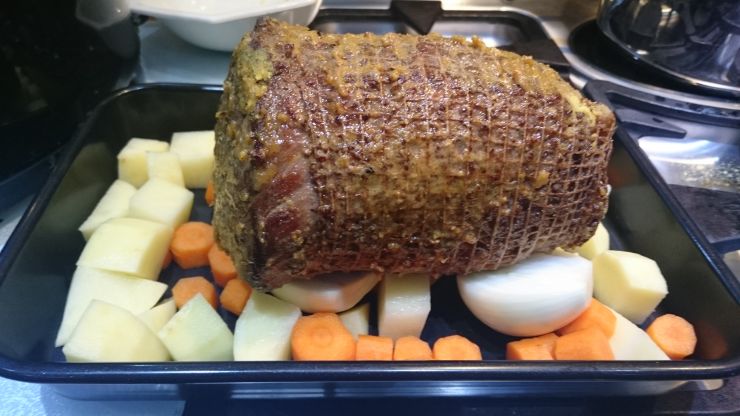 Roast Beef ready for the finishing touches.