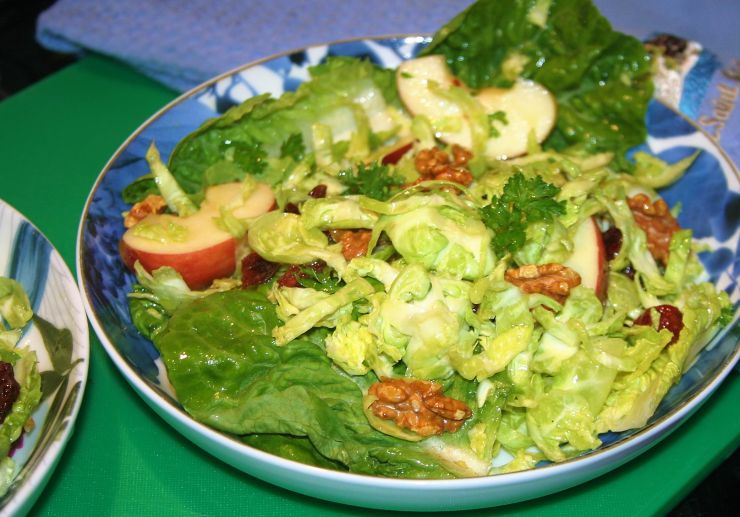 Weird Leftover Salad.
It is almost a fact of life that sometimes you do end up with Leftover. But in my books, if there are Leftovers, they will need to be used in one way or another. Sometimes it is a scratch your brain activity to think of something to do with the leftovers, and sometimes it is not. For exemple with the leftover of Chicken I will save as much leftover Meat as possible the do a Chicken Stock for the Carcass. I also do that with many birds like Duck, Turkey, Partriges and more.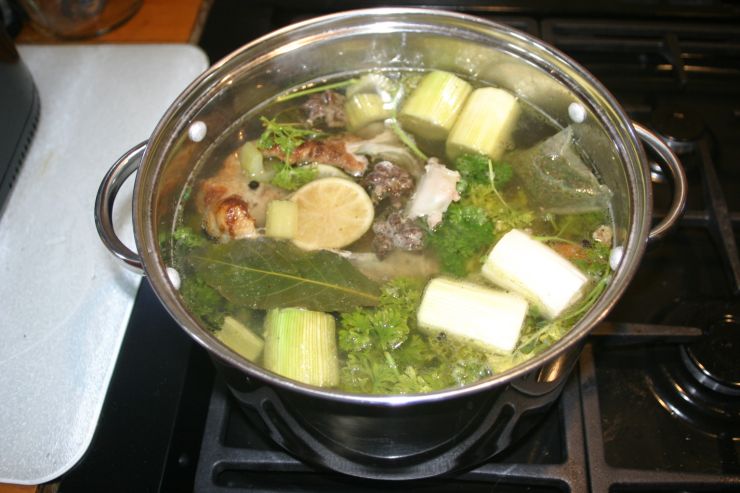 Making a good Duck Stock. This rich Stock makes good Ramen and Asiatic Broth Soups. It is full of Substance and Body.
You can conjure up a good Stock with almost anything, Fish Stock, Shellfish Stock, Veg Stock, Beef Stock, Lamb Stock, Ham Hock Stock, Pork Stock. A lot of Recipes do use Stock so it is very handy to do your Home Made ones. On top of my head I will say it is useful for Soups and Broths of course, but also Stews and Risottos. A Home Made Stock brings a depth of Flavour which is all we need.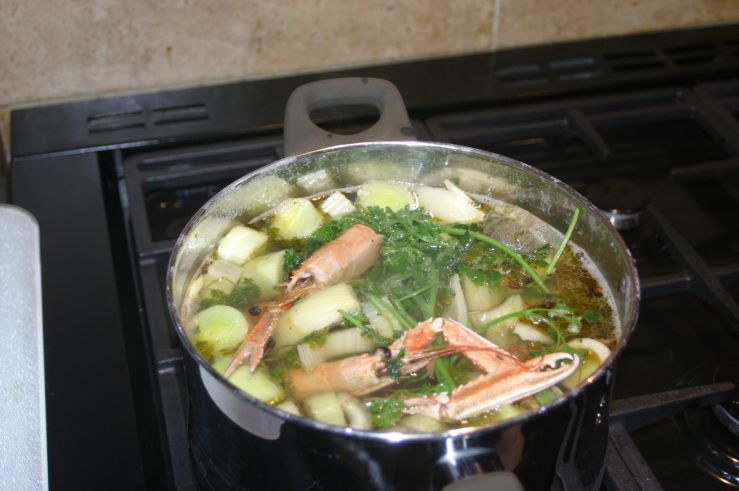 Langoustines Stock.
Leftover Meat can be turned into Sandwiches. With Cold Beef, Horseradish, a little Gherkins and some Rocket Leaves you can have a very decent Sandwich for Lunch. The Fact is that Sandwiches allow you to be very creative therefore they are a good way to use a lot of Leftovers. All you will need is to ensure that you always have a loaf of Bread at home or making one every week.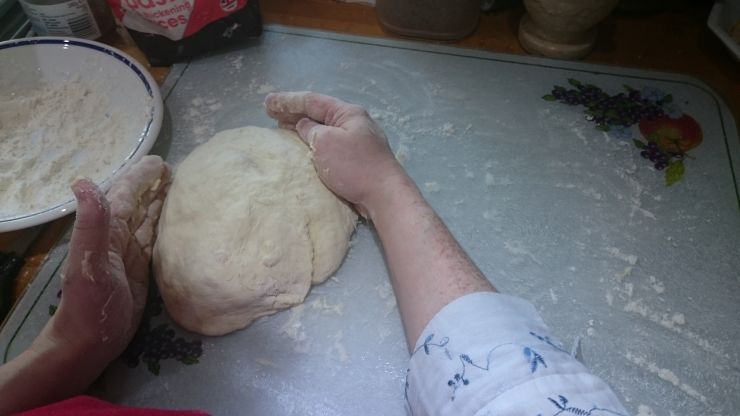 Making Bread.
Now, it also does happen that a Bread turns hard. When I go to Hospital and come back after a couple of days, you think the 'that is it I lost another Loaf of Bread' but in fact you can use what you have in different ways by doing your own Home Made Breadcrumbs and/or by doing some Croutons. For the Breadcrumbs all you need is a mixer and the old hard Bread. Then you can fancy the Breadcrumbs up to your liking by adding for exemple Lemon Zest and Black Peppercorns. Easy to do Home Made Breadcrumbs can be used to Pané a piece of Fish, or adding some crunch to a Bake, Savoury or Sweet.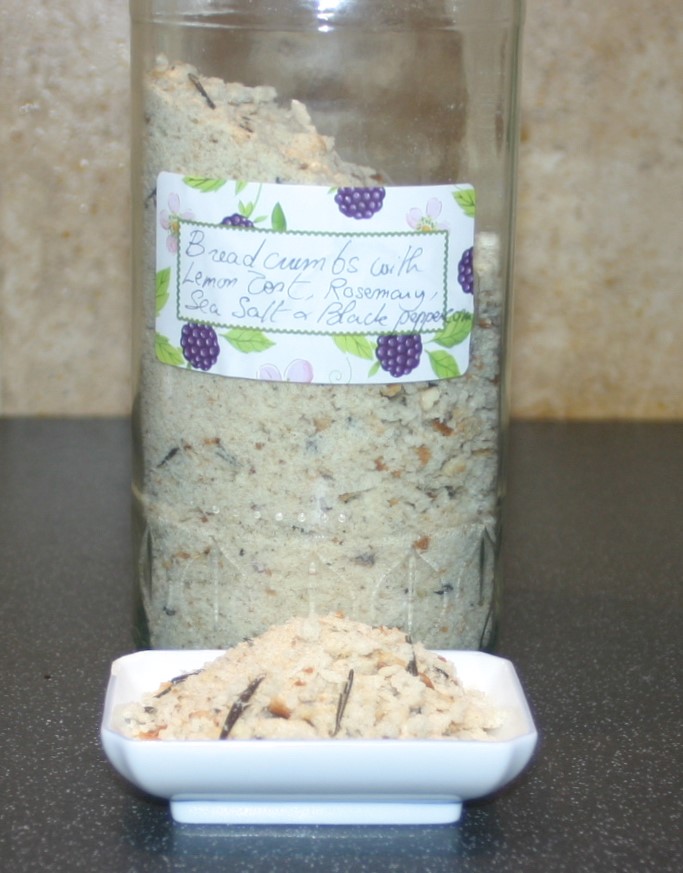 Home Made Breadcrumbs allow you to try different flavours but also not to loose Bread. They are ever so useful in a Kitchen Cupboard.
Another way to make old Bread live longer is to make Croutons out of it. Simple to make and useful, Croutons can enhance a Salad or a Soup. Same as Breadcrumbs you can experiments with flavours and try out the one you like most. It is not rocket science by all means. It just implies a Baking Tray, an oven and a little inspiration to try different combinations for the Flavours.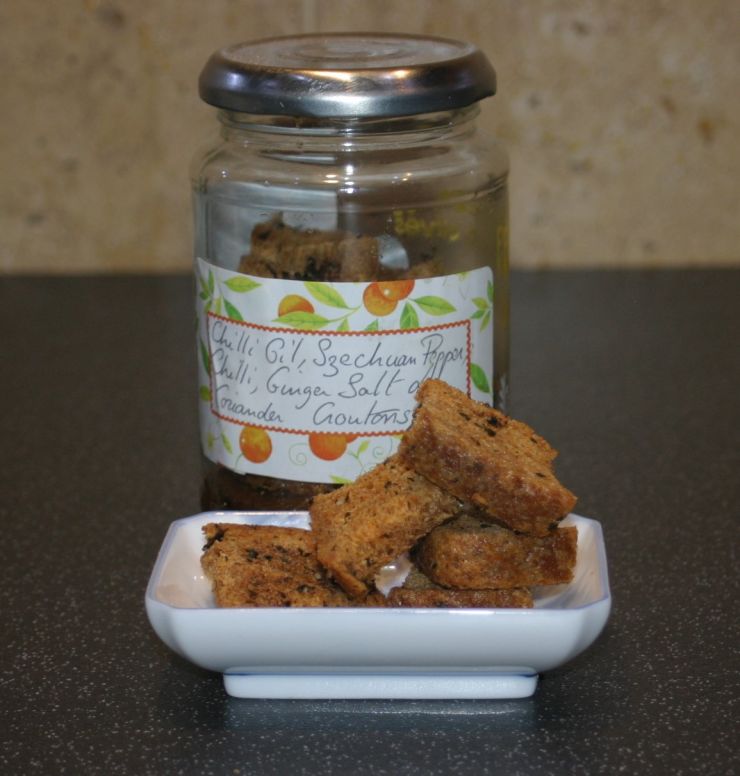 Chilli and Ginger Croutons, Home Made.Those Croutons are perfect for Butternut Squash Soups and Pumpkin Soups. They are also great in Asian style influenced Salads where they provide texture. I did a Tofu Broth with Shitake Mushrooms, Babycorn, Spring Onions and Edamame Beans where the Chilli Croutons were very much part of the show flavour wise.