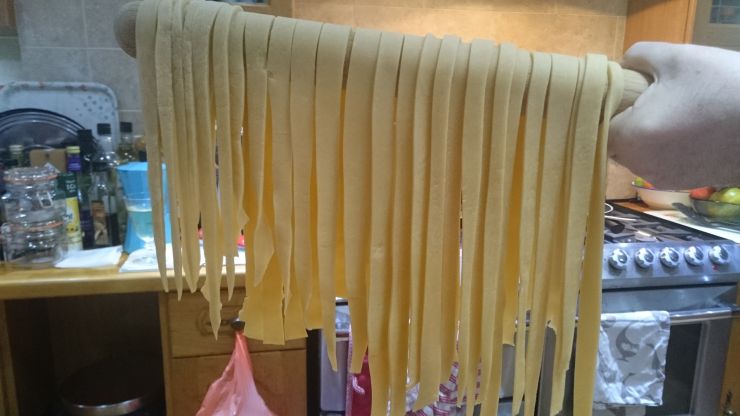 Home Made Parpadelle.
GIf I could say anything first about Pasta is that I could eat them everyday and never be bored with them. La Maison de Cordelia is in fact La Casa de la Mama... in a sense. The truth of the matter is if I was born in France, having done my DNA test and genealogical tree, I am part French, part Italian, part Irish, part English and part Portuguese so as I like to say, I am a Cocktail called a Tutti Frutti, hence a Human.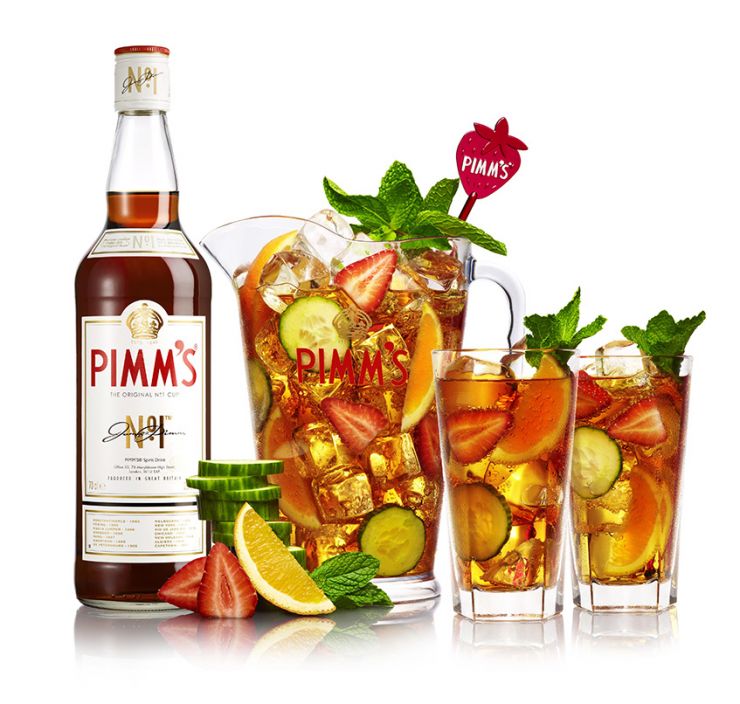 Pimm's Tutti Frutti. Full of Humanity and Flavours.
My love for Pasta started very early on because I was a fussy eater. You know the difficult child which says to you: Nope, I don't like this; No I don't like that; No this is Caca (Shit)... It could drive one's parents nuts to find out what their difficult kid does like. For me it was fairly limited I must confess: Pasta, Pancakes, Peas and Sweetcorn, but also minced Beef and I would not pout on Fish Fingers or any Shellfish either.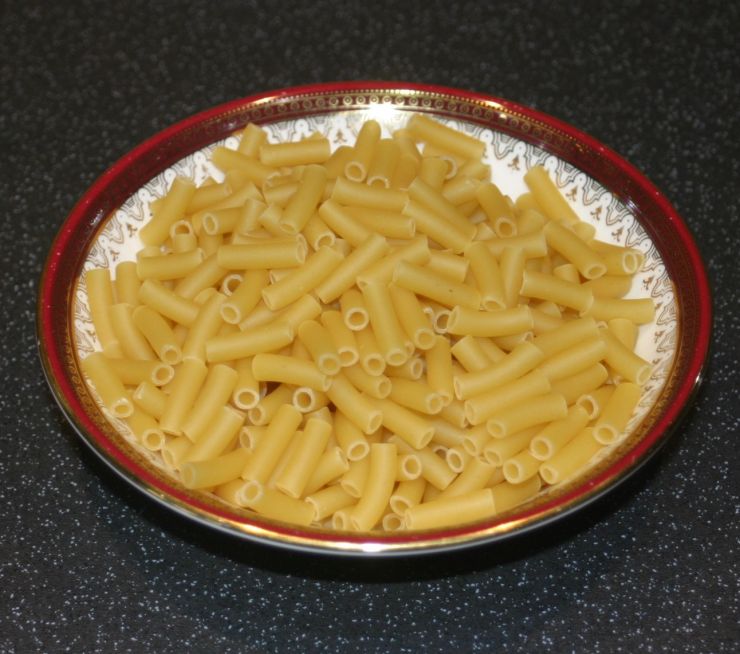 Macaroni. Those Pasta craddled my childhood.
To resume Pasta was on the top of the list of things I stubbornly decided I would eat. Macaroni was my go to and one of the first things I learnt to cook as a teenager. To be fairly honest I always relied on my Mum to feed us, and hardly lifted a little finger to help with cooking, no way José, my little digits of mine were too preoccupied only to lift and turn the pages of books and doing well with my education.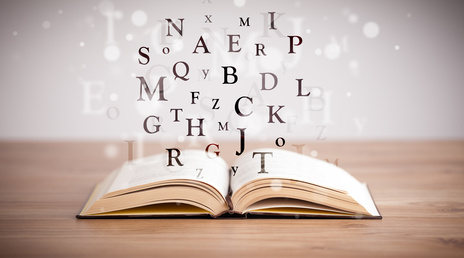 Préoccupation: Education.
But turning the Page, when you grow up and left for good the Parental household, you realise that cooking is a skill you should acquire ASAP. The comforting Macaroni came to my rescue of course. I could do the voice of Homer Simpson with Mac and Cheese instead of Donuts!
https://www.bbcgoodfood.com/recipes/best-ever-macaroni-cheese-recipe
Of course I will offend many pure Italians when I will confide that the next discovery in my Pasta little world was the Spaghetti à la Bolognese. It was converted, distorted throughout history, but I do enjoy making a good Spag' Bowl, shall we say à la Cordelia because the recipe is so twisted in my little hands that it is something totally Human rather than Italian.
Now of course there are plenty of Pasta shapes out there to temptilise your palate. But to come back to Spaghetti, I enjoy the one à la Carbonara. This time back in the days, a Sicilian boyfriend showed me how to do them properly. Bless him. He is also the one which introduced me to know Bottarga that I do like greatly.
https://www.marthastewart.com/315053/bottarga-pasta
Spaghetti alle Vongole of course makes the list being a sea side girl loving her Shellfish. Yummy, Yummy, Yummy.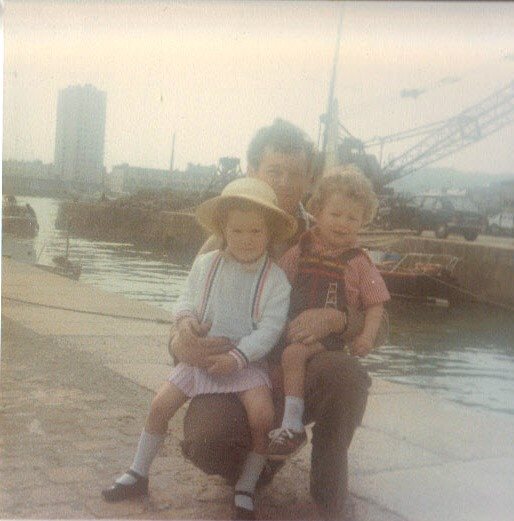 Me, My RIP Dad and My little Bro who is an excellent Cook.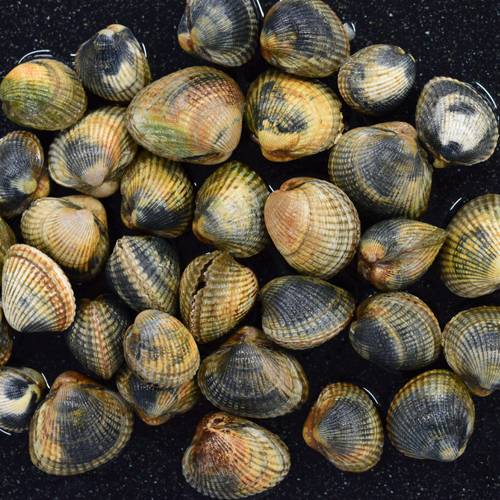 Cockles, a tasty treat from the sea.
As we are growing and preserving our own Chillies, Rigatoni Arrabiata is a fav with us at home but also Pasta alla Puttanesca. My partner and I enjoy a little bit of fiery kick once in a while to tingle the taste buds.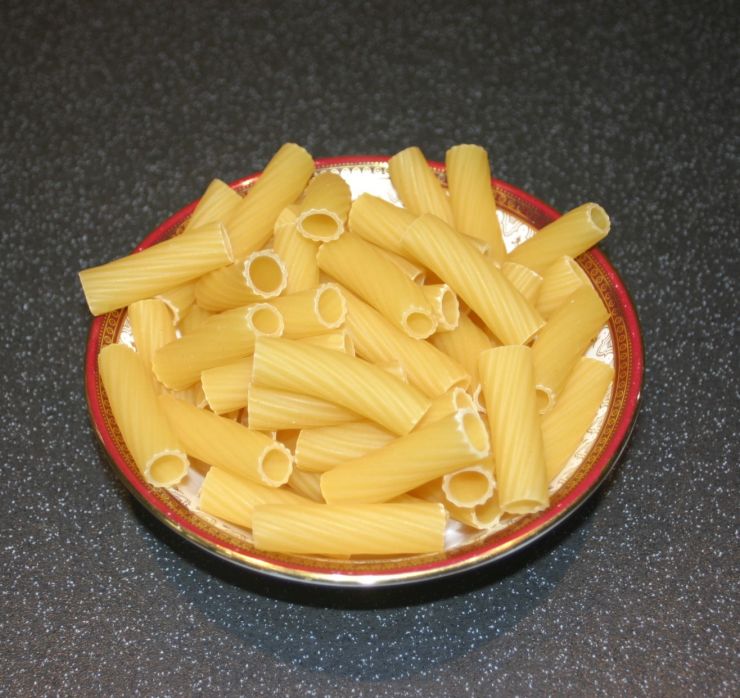 Rigatoni. Excellent to keep a sauce in their ridges hence you will get the flavour of your sauce in the Pasta rather than at the bottom of your bowl or plate.
It isn't true that you go with any Pasta shape with everything, it doesn't work that way however with freedom of choice you always can try and find something that is working very nicely for you or many. I don't believe in purists, I believe in an evolving humanity anyway and the 3 Ts, Test, Taste and Trials.
Conchiglioni Pasta shape suit them well as a recipient for a good Ragu. Tortellini are little parcels of deliciousness in a similar way that Ravioli are. The three can contain a filling of your choice which makes them little parcels of joy in your mouths.
Now I do know I have curly hair but it has nothing to do with loving the look of curly Pasta. Mamma Mia, here we go again... Fusilli, Lunghi, Gemelli, Cavatappi, Radiatori, they are a pleasure to look upon a plate but their ridges tend to hold a sauce very well within them. Wrong or right, I like them with a creamy rich Sauce. I am thinking chopped Mushrooms, Lardons or Cubbetti di Pacetta, Double Cream or Creme Fraiche, a dash of White Wine, chopped Chives, Chervil or Parsley, and even some very nice chopped finely Shallots, and a little minced Garlic clove. It is just pure and simple comfort food with a twist. A little crush of Black peppercorn, gratted Parmesan and just eat your fill.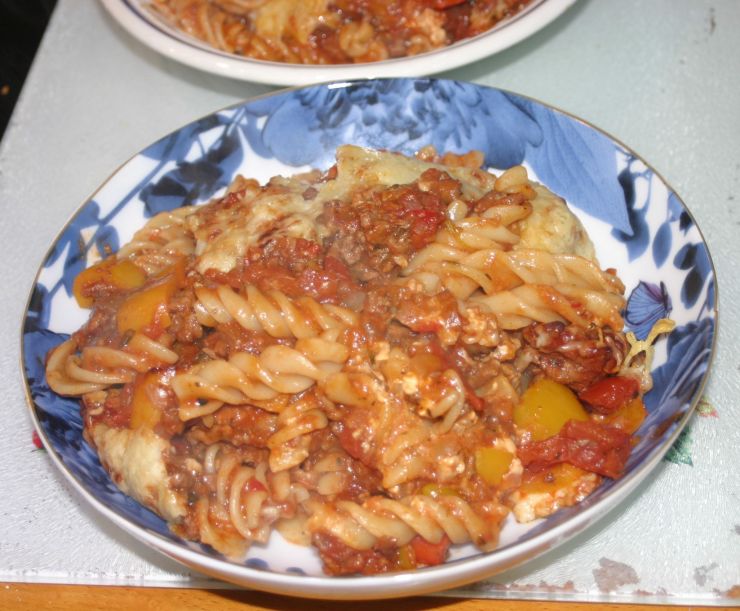 Comfort Food: Fusilli Pasta, with Chorizo, and Tomato and Red Pepper Sauce.
Radiatori have an excellent shape to retain the sauce as well.
A Pasta shape that was very much there within my childhood is Vermicelli also called Angel's hair. In a good Chicken Broth, it can lift your spirit in no time at all. Add some chopped Parsley, maybe left over shredded Chicken Meat and just take a seat in the warmth of your home. Bliss. Of course who could not remember the Alfabeto shapes Pasta? On the side of your Broth you tried to impress your Dad and Mum by spelling your name without a mistake. It was simple fun and educational just as well.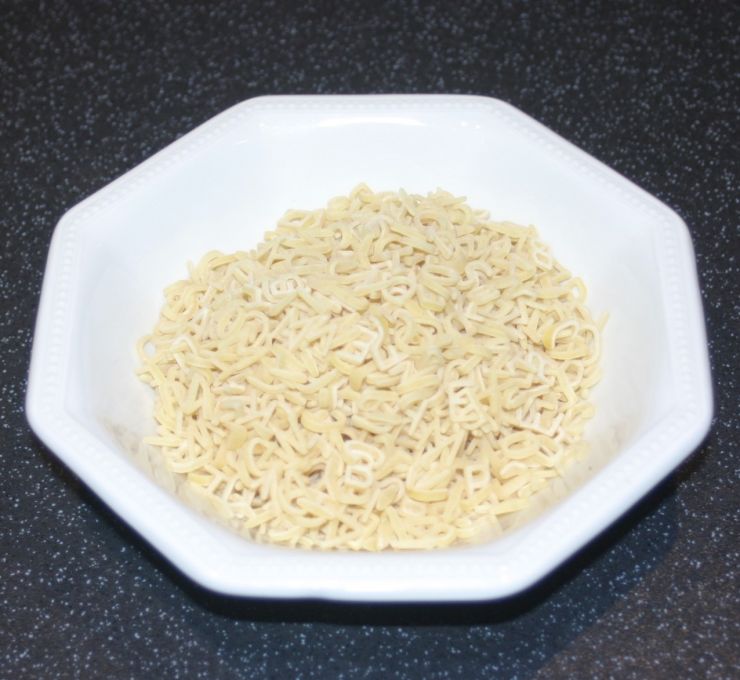 The fun Alphabet Pasta shapes. Giggles especially when your parents learnt when you already know how to spell 'SHIT'...
Then the Pasta shape that is rolling the roll is of course the Canneloni: You can fill your boots with this one. It is fun just to create a filling for them. I find them overly indulgent and lush. I prefer the meaty filling by choice but for my health I am mostly going for a Spinach and Ricotta one... And my man covers his eyes in despair only to ask where is the Meat? I ended up sautéing some Cubetti di Pancetta just to please him a little bit more.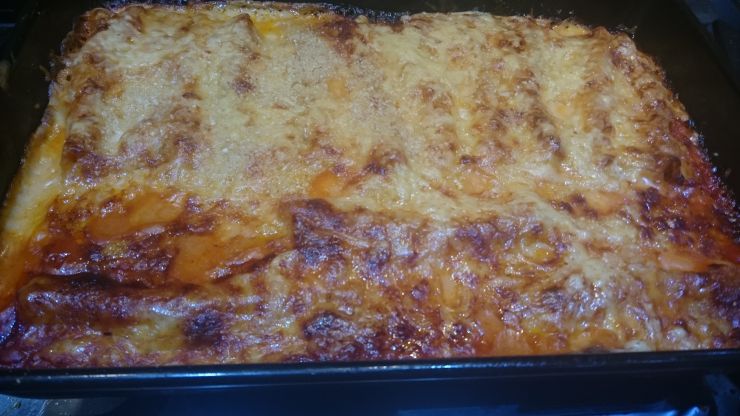 Beef and Double Cheeses Cannelonies: I ended up pleasing the man rather than working on a pretty dish...
Of course we can't speak about Pasta without mentionning the ever loved the world over: The Lasagne. It is adaptable, you can do plenty of versions of it which are awesome. But for a fullfilling dish it is one. I can play a big fat Garfield on you to have that meal at anytime. Who was the creator of the Lasagne? I will give him or her, time travelling like Doctor Who, a French kiss to remember...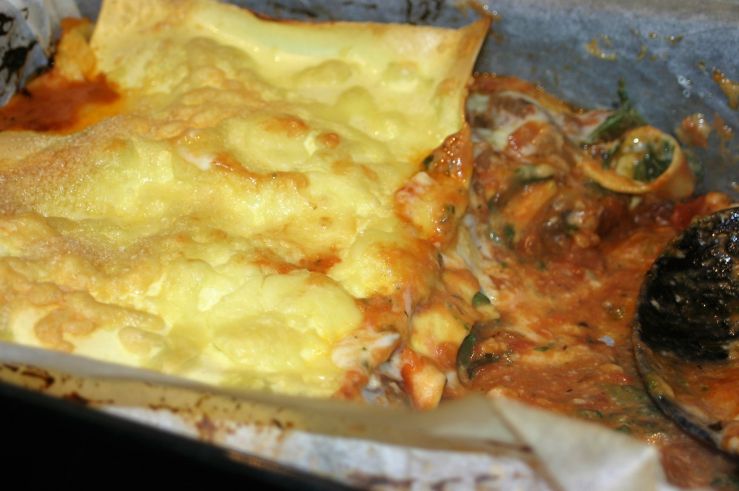 Spinach and Mushroom Lasagne: Delicious. A nice combination especially in Autumn.
Last but not least the accompaniments for Pasta have to be mentionned. They can be simple or complicated, at the end of the day it is what you want to see on your plate. I can only talk about my own taste here: Let us just talk about four, shall we?
First: The Ragu. Simmered and stirred for a long loving time to give it plenty of flavours. It has to be with me like almost a Stock made with Tomatoes. Of course with Onions or Shallots and minced Meat which could be either Beef and/or Pork. The half half hat trick works like a magical treat on a plate. Love your Ragu feed it so it can feed others. Don't be scared to be a little wild with it. Make it seasonal as well... Mushrooms when the leaves are falling from the trees. It is comforting food that we are talking about which was used to be enjoyed by the well to do. But as everyone can have the strength to move up the ladder, we can have a good Ragu in our Pasta dishes. By the way for a little anecdote Ragu comes from the French 'Ragout' and from an upstart boy who became an Emperor: Napoleon, who gathered a lot of fame by invading Italy... and his army imported the Ragout to the Italians. And they did wonders with it.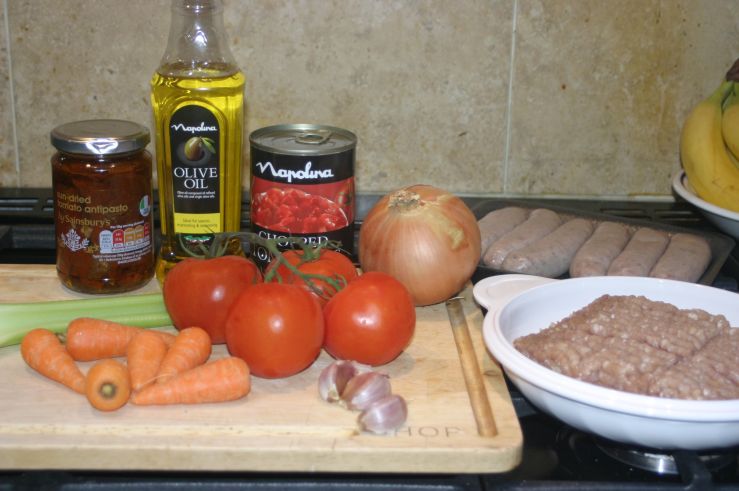 Some Ingredients for one Ragu to go upon Pasta or fill the shells of Conchiglioni: The inside of good quality pork Sausages, nice Beef Mince, Onion and Garlic, Carrots, Celery and Tomatoes. Don't be afraid to try and taste different sort of ingredients to do a Ragu for it is for your pleasure.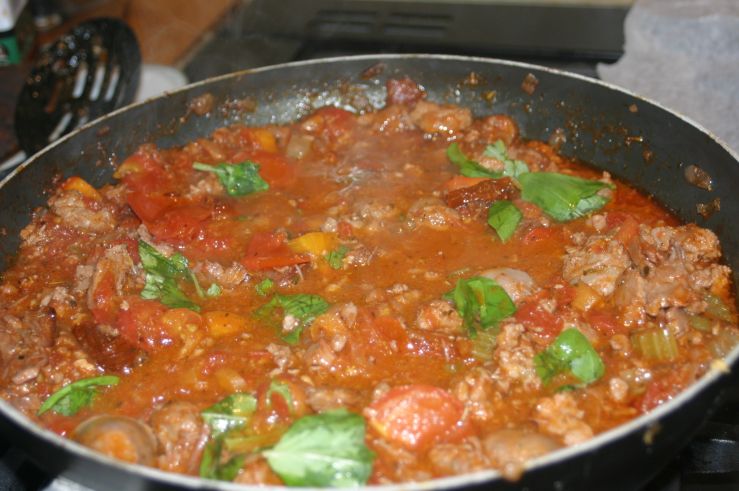 Simmering gently and for a while gives bags of flavours. When it is a Ragu you have to give it tender care in order to have a palate pleaser.
Second: I have to mention Pesto. Swirl a good soup spoon of Pesto to make then the Pasta do the sing song all along. However, with a word of caution it is not for anyone with nut allergy. But I dare to say Pesto is a paste with taste which can grab your dish of Pasta to the next level. Claimed by Italy, it is however around the world a favourite and has been interpretated by many. The origin of the name comes from Pestle and Mortar. Because in fact you crush your Pesto. You release all the goodness of a few ingredients of your choice to enhance your Pasta dish by using helbow grease and your pestle. As I said many versions do exist and are enjoyable. Pine nuts are often used to give Pesto some texture but also some do use Walnuts. Crushed Garlic, Parmesan, a little Sea Salt, Herbs (there the choice is big, Basil, Marjoram, Parsley...), Olive Oil or a little melted Butter. If I prefer the Green or classical version, I do enjoy the Sundried Tomato one which has been claimed by the Sicilians.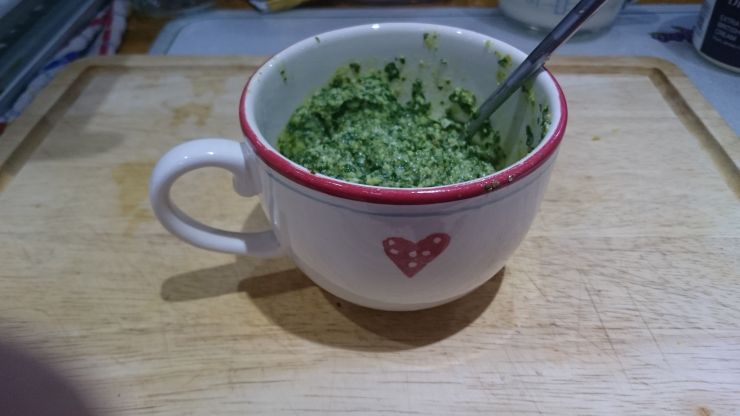 Home Made little Basil and pecorino Pesto.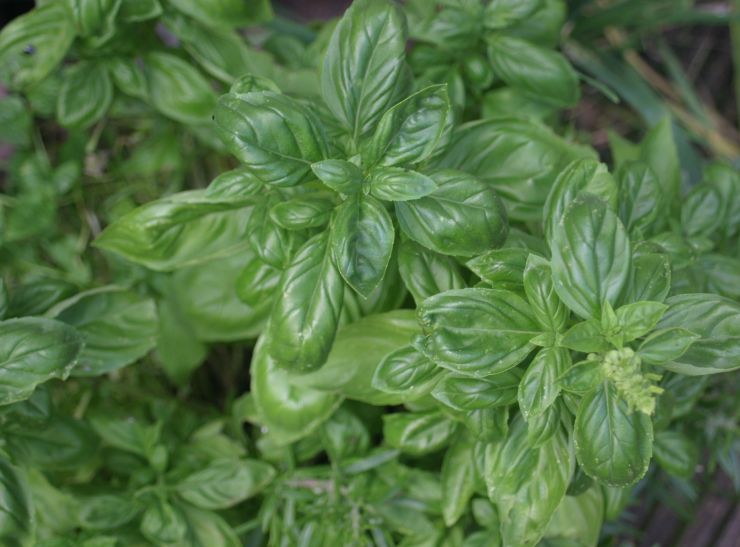 If you can grow your own Basil, do it. I do and it gave me much pleasure over the years.
Third: The Tomato Sauce, Peeps, you can't escape it. Pasta/Tomatoes-Tomatoes/Pasta... Down the aisle at Church with all bells ringing. I will not sing Jingle Bells, Jingle Bells, Jingle all the way on you but what can I say apart they are an array of Tomato Sauces out there. It would be a false assumption that Tomato Sauce was created in Italy. No, Tomatoes made their arrival in Europe after Spain did their first steps in South America. Therefore the first mention of Tomato Sauce was from a Spaniard monk. The art in per say of making a Tomato sing fully is upon the shoulders of the Central part of South America. The first mention of it was during the 1600's in old Europe.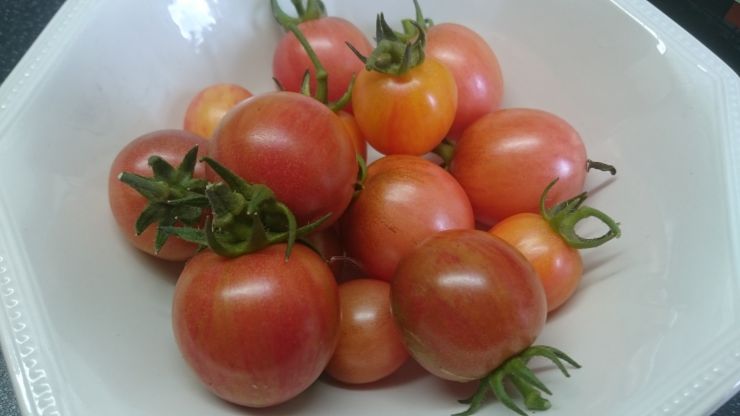 Bumblebee Tomatoes from the Garden.
Tomatoes go hand in hand with either Sweet Peppers or Chillies. But you can create more than just that combination. There are plenty of ways to deal with tomatoes and that combo. You can dice it all in little pieces keep the rich pulp of the tomatoes as a binding agent, keep the seeds of it all or remove them. (I would say there it depends on your digestive system. Less seeds the better for digestion more means more hard work for your tummy to digest, simple as).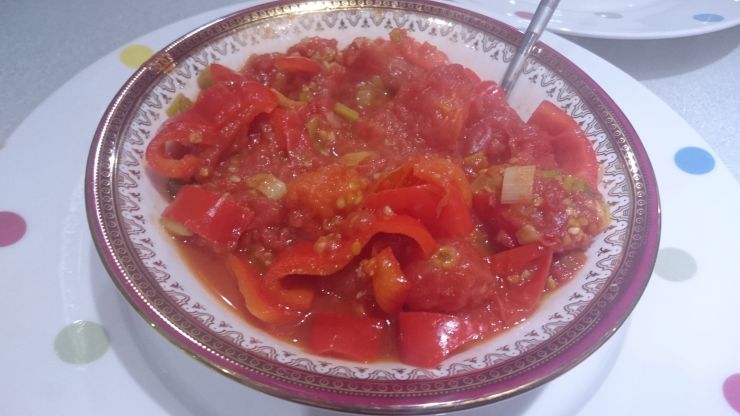 Roasted Tomatoes, Peppers and Shallots Tomato Sauce. Simple but nice upon Pasta.
From one thing to another about the matter of Seeds, don't discard them, keep them especially if you have a garden, a balcony or just a windowsill. I will also say that Chilli plants can make fabulous House plants.
Scotch Bonnet Chillies and their Seeds.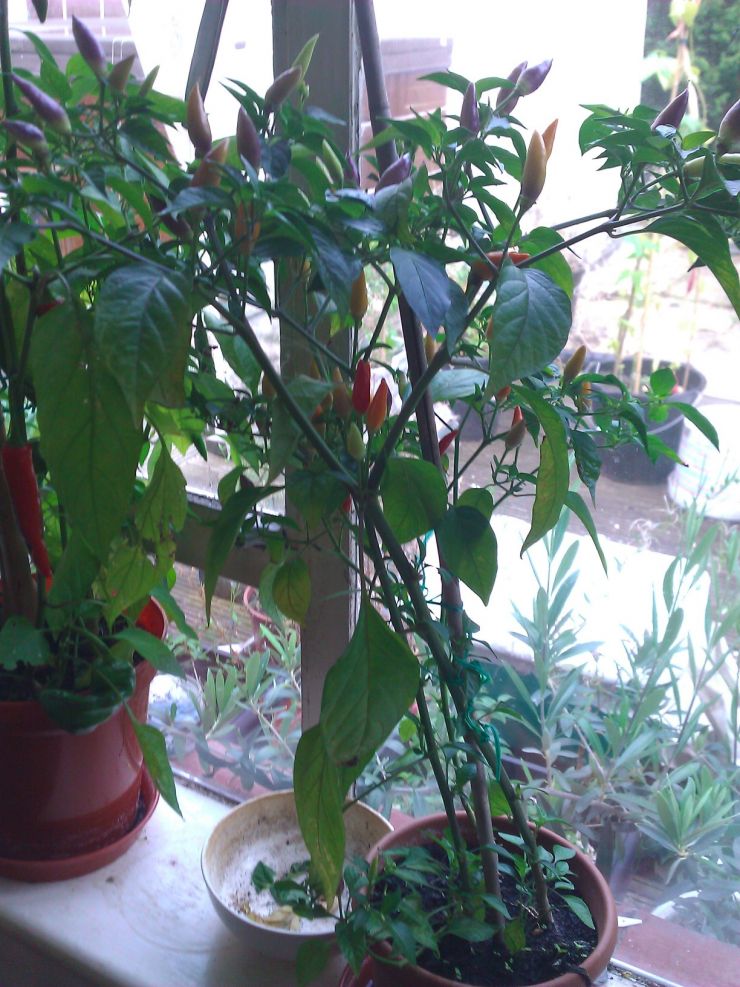 Prairie Fire Chillies are very pretty house plants as well as fiery and edible treats.
Tomato plants are more outdoorsy as per say ( Don't let me sing 'Sunshine, Moonlight, I want a bit of Boogie' because my cats are going to run away from the desk). Tomatoes love the Sun.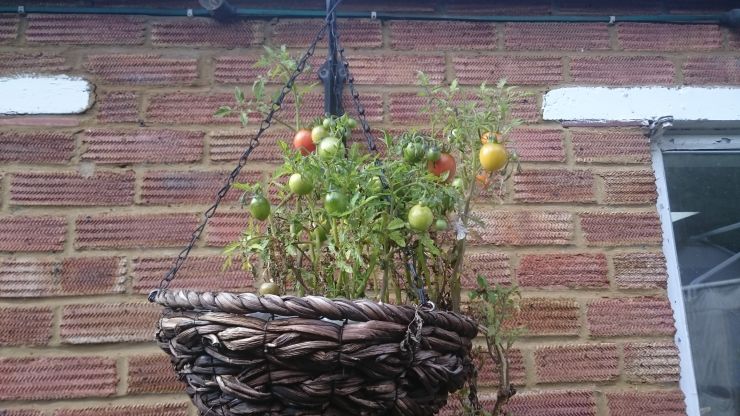 Hanging baskets are perfect for small varieties of Tomatoes and quite decorative. Those were the Bumblebee variety.
Peppers, Sweet Peppers are easy to grow, quite decorative as well like the Chillies, but to get a good harvest from them garden or balcony is better. I do love a stuffed Pepper so the bigger ones fit that bill but the smaller ones stuffed with seasoned creamy Cheese can hold their own during a Cocktail party.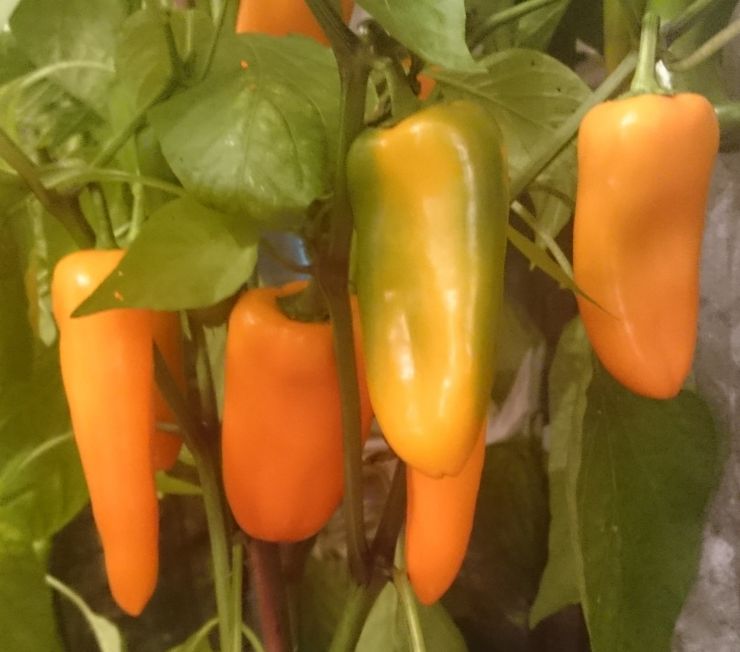 Mini Sweet Orange Peppers. They are perfect to roast and stuffed with soft flavoured cream Cheese.
To go back to Tomato Sauces the other question to ask is the one to blend it, or to let it be partly liquid with parts of the other ingredients you put into it. It can have a very welcoming rustic look. As for the little bits you can add, I must confess chopped Shallots, Garlic and Herbs are my favourite ones. But I am not adverse to Olives, either black or green, to Capers, or even Anchovies to make the Tomato sauce for the Pasta to swing a little.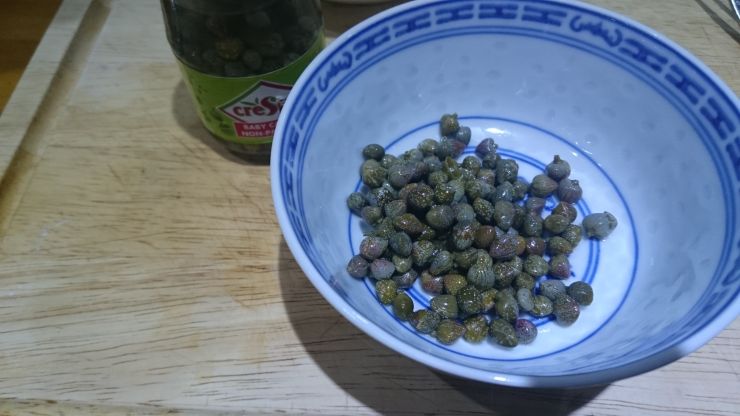 Capers are the small immature berries of the Caper bush, usually pickled which can enhance a dish, a sauce (Tartare Sauce is one them), a Salad, & are very nice with Pasta, and goes well with Fish.
On another subject, you can also resort to the good old Tomato condensed purée. It is far less fancy, does come straight out of a tube or jar. You can make it yourself also. And for intensifying a Tomato Pasta Sauce it is quite useful.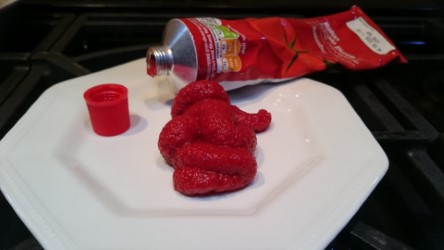 Tomato Purée is a nice way to enhance a Pasta meal. I would say it is always handy to have in a fridge or the pantry. It boosts the flavours.
Fourth: The White Sauce or also known as Béchamel type of sauces are a decent accompaniment for Pasta. The opposite to the good old Tomato sauce: those White Sauces give a heavily comforting and wintery feeling. It doesn't mean that one Sauce cancels the other on the contrary they can compliment each other like in a Lasagne.
The fact is the White Sauce can be the welcoming agent of many added ingredients to give a Pasta meal a lift. I can think of Lardons, Cheese, poached Egg, Walnuts, and Mushrooms to name just a few.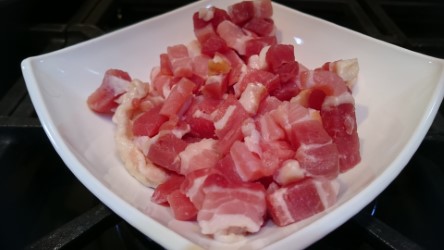 Lardons or some Cubetti di Pancetta are nice addition to some Pasta dishes.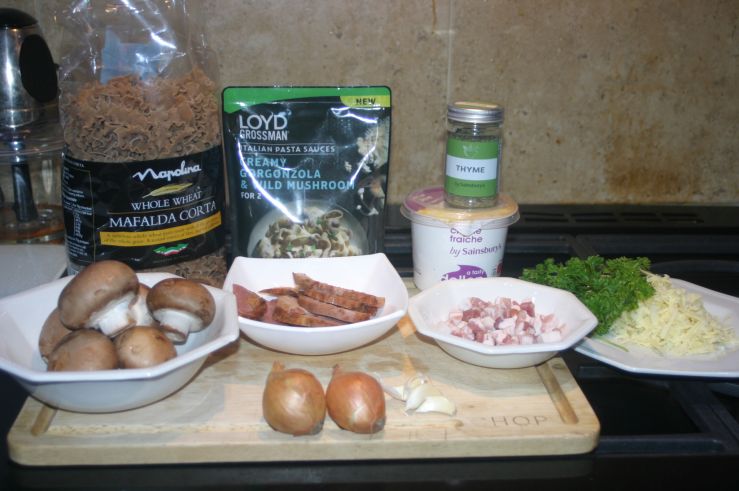 Mafalda Pasta, with all the ingredients to accompany a shop bought white sauce to beef it up a little.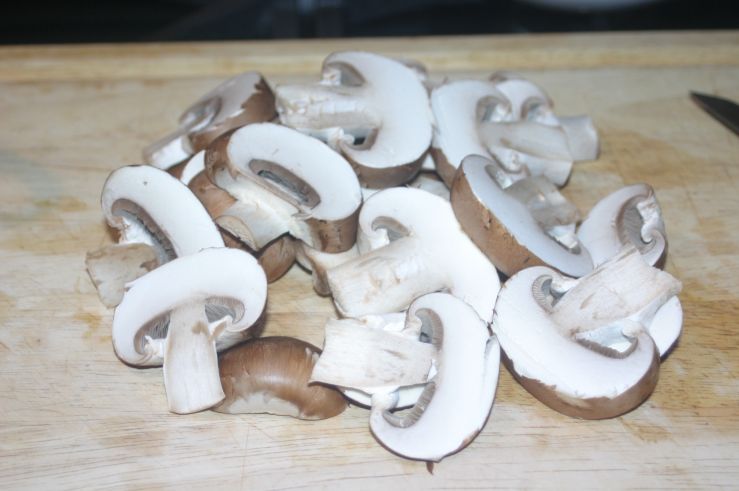 Mushrooms are a good partner for Winter Pasta dishes or Risottos. Above, the highly available Chestnut Mushrooms, sliced.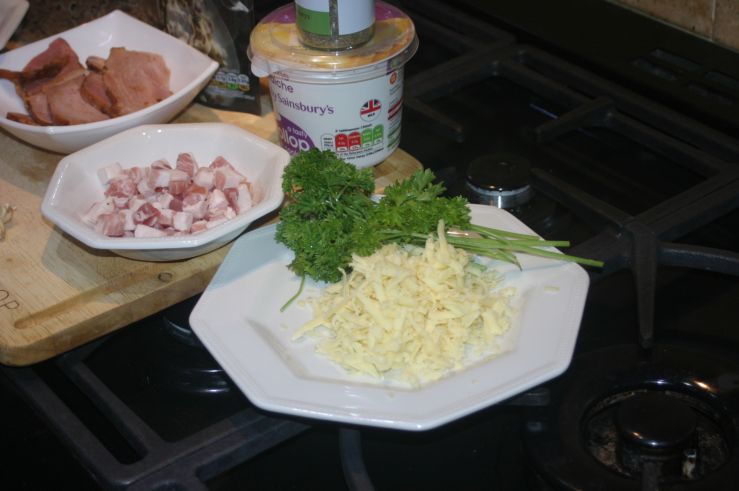 Grated Mozzarella Cheese and Parsley. A little Double Cream does help to enrish the plate of Pasta.