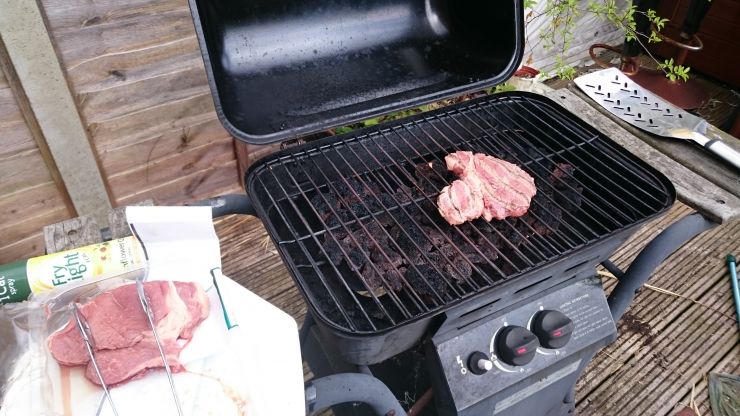 When we speak about outdoor cooking or eating, the good old BBQ springs to mind almost straight away. Pictures of Spring and Summer, a fair weather are also there. It can be glamourous as much as it can be a small affair with a camping gas... But lets not take the green grass under our feet yet.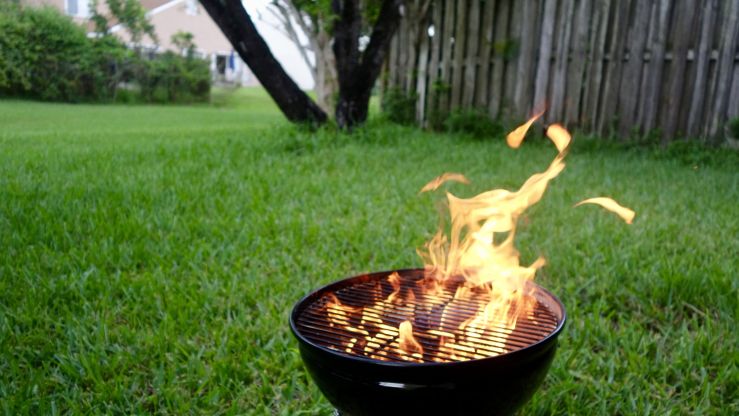 A round BBQ. Our rectangular BBQ needs to be replaced after more than a decade of good use. Somehow I do fancy a round BBQ this time around like the one on the picture above but my partner said that they were not really practical: pretty yes, practical no.
Going on a trip back to memory lane, I will say a couple or more things. First, it is that my Father was a BBQ man through and through. The Nicolas Family often went Camping. From the Great Grand Father down to the rest of the line, we do know how to set up a camp and to light a fire to cook something. To be honest there was also the vibe brought upon by the 1950's recovery after WW2 and the ability for people to go on holiday again. It did touch my Paternal Family a big time, but not the Maternal one.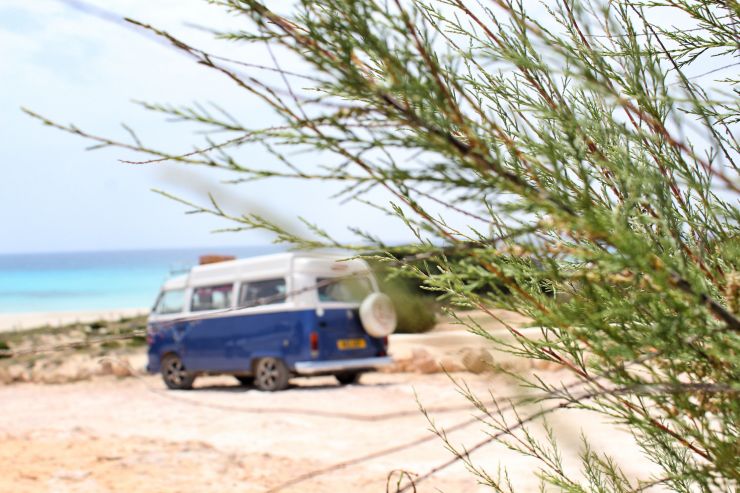 Going Camping by the seaside, owning a Camper Van and or a Caravan, looking forward to Holidays has somewhat been in different shapes or forms a sense of escapism after trial periods like wars or recession.
I could explain that very factor/difference between those two families but it would take a long time to do so or for myself to write another novel which will sound a little like a docu/drama. At the basis internally my Maternal Family did suffer a lot, it was a bit like a rich to rag tale where everyone or almost everyone are estranged from one another or would not cultivate a strong bond amongst themselves. (I would reduce that to what I heard as a child: there were lots of Skeletons in cupboards in that family).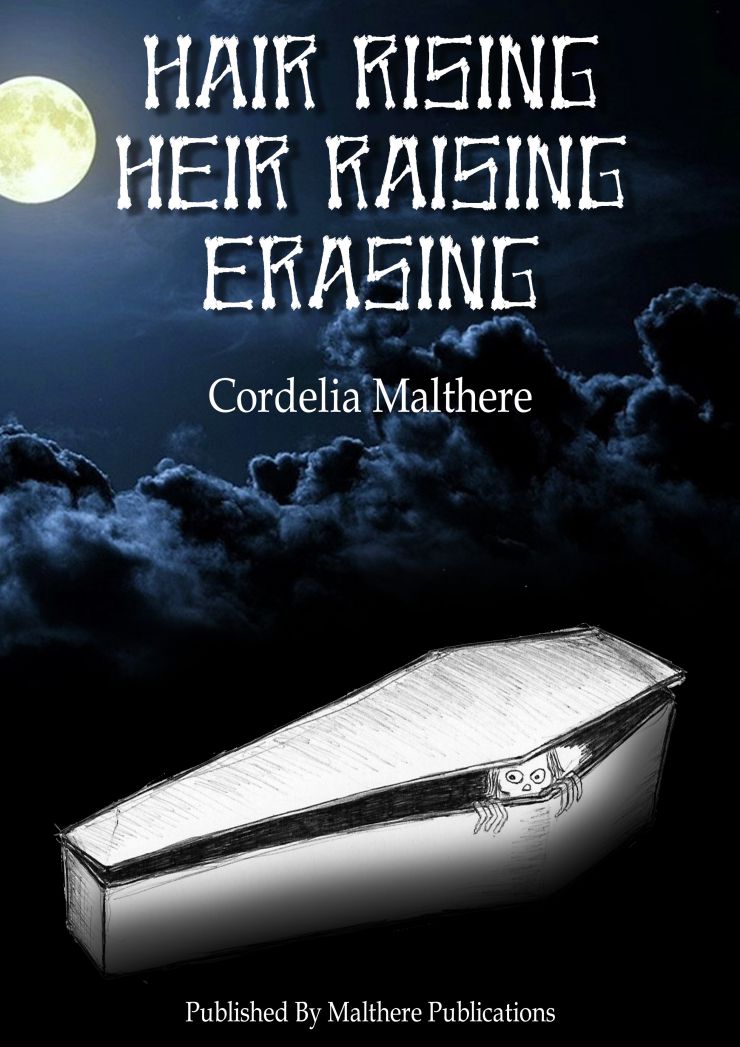 The cover of my very first published short story (drawn by myself). Somehow the story does touch upon the subject of what I witnessed many times: disfunctional families.
As for the Paternal family although large and apart, some living here and some living there, (Normandy, Burgundy, Paris, Bresse...). Efforts were made to meet one another whenever it was possible, mainly during holidays, weekends or breaks. Hence the camping/caravaning became a way of keeping contacts with loved ones and it was very much cherished but also it was looking forward to moments for familial reunions. So eating outdoors spelt out reaching to one another.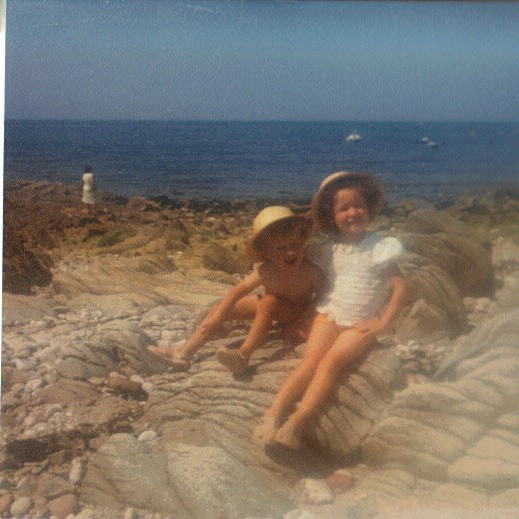 My Brother and me. Summer time usually meant for us (Ziella as well) going to Barfleur, Gatteville, l'Anse du Brick, Macon, Lyon, Bourg en Bresse, Saint Malo, et le Mont Saint Michel mainly. This was a time where we would meet the cousins of the Nicolas Family but also our Aunts and Uncles.
An outdoor Cooking or Eating do, was and is still a gathering mainly. I will return to the good old BBQ later, however I want to speak a little of the importance of gathering outdoors first. In a few days time we will have street parties, here in the UK, June 2022, for the Queen Elizabeth the second's Platinum Jubilee. Eating in the great outdoors can mean the possibility of catering for more, altogether as a community, to celebrate our togetherness or an event. It does also build memory for numerous persons which they will hold very dear/ close to their heart. It is when it makes you feel part of a group, a society or a moment whether it be in history or your personal history.
It is a time of participation but also to make yourself be present. I do intend to go to the street gathering if I am not stuck in hospital for I have two appointments to have on the 30 ( the scary one) and on the 31 st of May 2022. However if all goes well, then I shall go to the street Jubilee party with a Home Made Cake to share at the very least or/and a good batch of Muffins.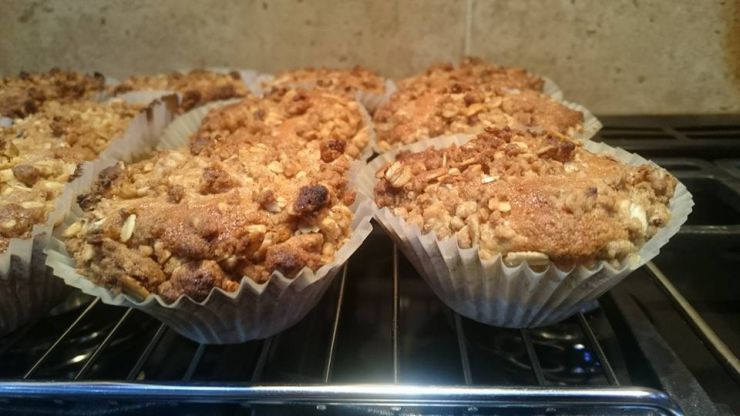 Home Made Rhubarb and Hazelnuts Muffins.
This is the thing about outdoor eating, everyone can participate in their own little way: may it be a Home Made Quiche for a Picnic or a Salad, Coleslaw, Scotch Eggs, Terrine, Piémontaise... Returning to the BBQ and BBQ parties, it is similar, Guests are almost expected to bring something with them whatever it may be for everyone to enjoy.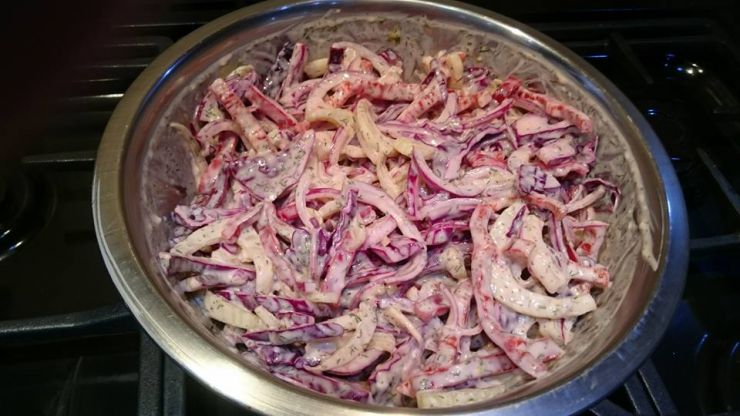 Home Made Red Cabbage, Red Pepper and Fennel Coleslaw. It is very handy to prepare in advance for BBQ Parties and Picnics.
It is the gift of many returns ('The Gift' by Marcel Mauss is a must read to understand the intricacy of exchange within Humans, an Anthropological classic study). (To some extant it could be comparable to Symbiosis which happens in nature).
Anyhow to be most welcomed it is always a good idea to never come empty handed when invited to a gathering where food can be involved may it be indoors or outdoors. As a matter of fact the logistic of cooking outdoors or/and eating outdoors can have its problematic as per say and is usually planned to a certain extent from the equipement necessary to the Food.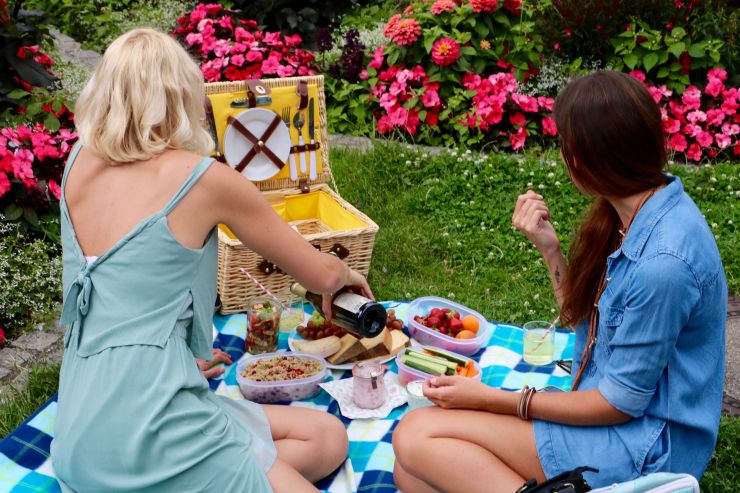 A picnic.
Eating Oudoors is a little bit like a studied 'desinvolture'. Despite not having four walls therefore enjoying the great outdoors or the fresh air, there are always consideration, which are often the What (to eat), Where (to go or set everything up), When (can be a convenient time for most and the weather forecast), How (what are the essential needed in terms of portable accessories and appliences if needed) and with Who (Friends, Family, Neighbours, Partners...). But also the Why does apply, which could be answered simply by: 'Time to chill out'.
However when we think about it in a historical point of view or a prehistorical one, the discovery of fire and the ability to cook Food and to not eat everything raw did put something enormous in humanity's balance. It was cultural evolution in the making. Lets just think of those words for a second: 'Gathering by the fire'. This brings to mind not only warmth but also companionship, and sharing Food.
If Camp Fires when not needed do still exist, it is because of the sharing elements: Friendship, Fire, Family, Food and Safety in Numbers or let us say Security. It is a social bound formed by the ring of fire, a fraternity. I will take an exemple: the Scouts. With a smile I will say that they are learning to be part of a group by gathering the wood for the Camp Fire, by building it together and then by enjoying it together, maybe by toasting Marshmallows upon sticks over the flames.