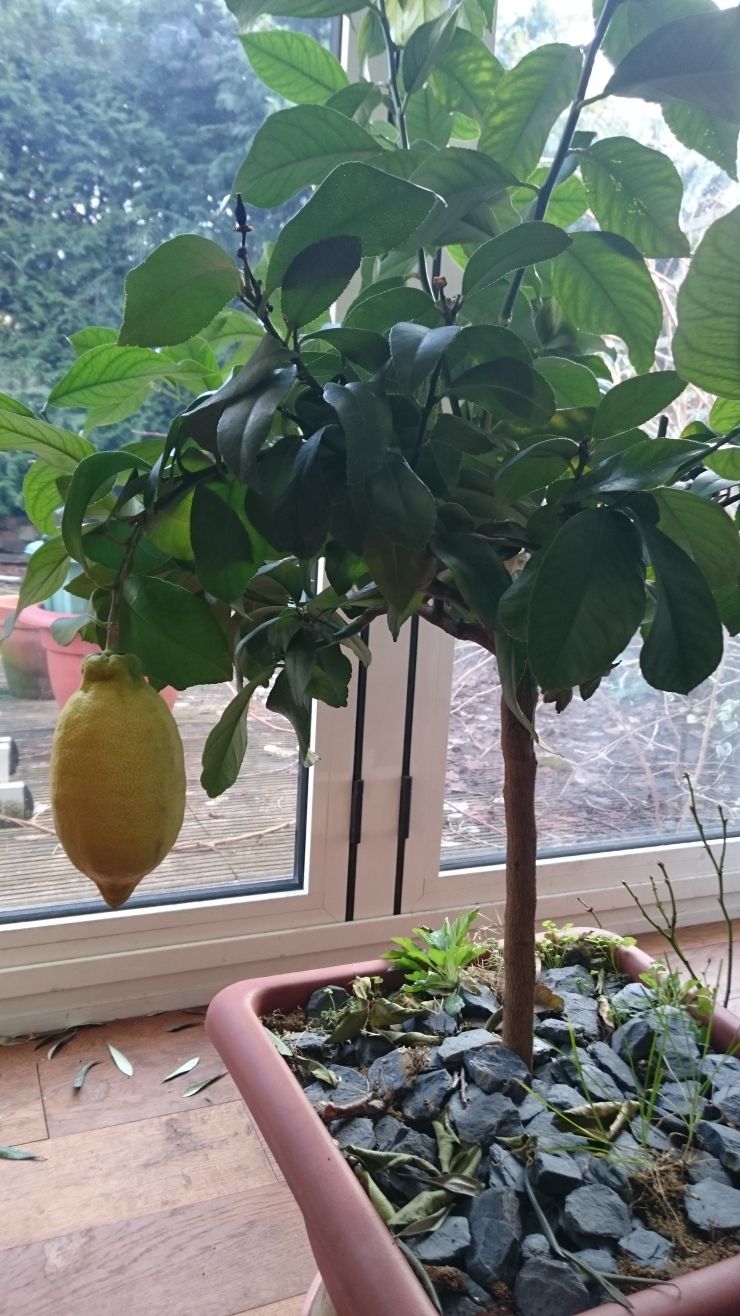 The first Tree I did grow was my Lemon Tree which only started from a pip. It took its time to be tall enough to have its first fruit just like me with my first book. It did happen in the same year. From room to flat to house that plant followed me throughout my life. It did grow up with me as per say.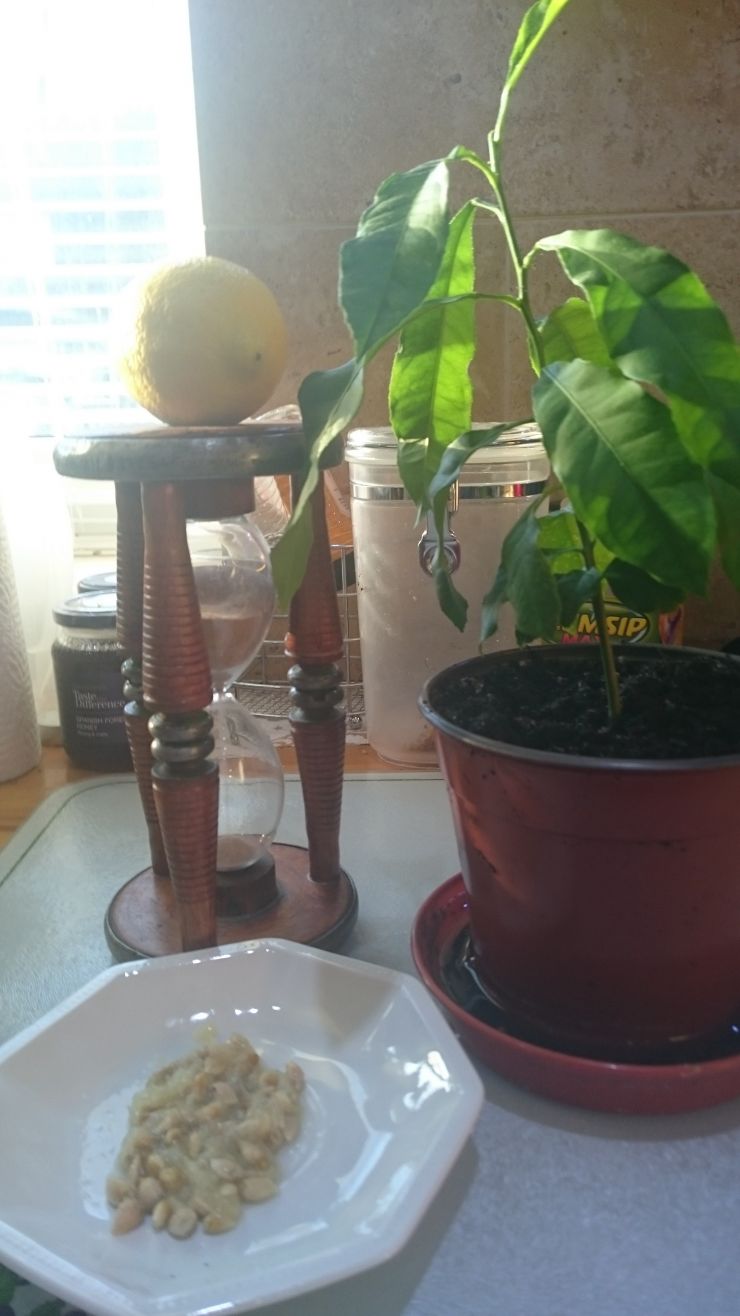 Even nowadays, I still collect Lemon Pips in order to grow them. When the seedlings grow to a decent little size, Iusually keep one behind for my Garden and I give the rest as present to others. If I may say it makes a zesty gift and an unusual one at that.
I did choose to grow a Lemon Tree because of my Mother who was dismissive of my choice to live and remain in England. She blasted that the weather was so crap there that you couldn't grow anything like a Lemon... It gave me the spark to challenge her upon her words. I did put a Lemon pip that week within a pot. Time went on but the proof as we say is in the pudding. The Lemon Tree did gave me a Lemon then many more year after year.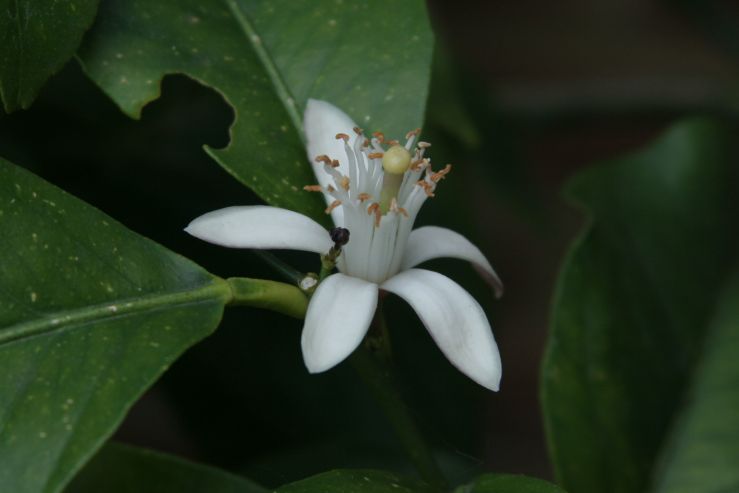 One of my Lemon Tree Flowers.
A tree is a challenging matter because time is the essence. Patience is key. It does take long to get rooted and settled in its ground. Potted or planted right within the ground, a tree can be nurtured to grow. Nature of course can run its course but a little intervention here and there, however not too much can help a Tree to grow stronger and healthier. Using Mulch at the bottom of the Tree to feed and protect its Roots against cold or frost is a good idea. Fleece can also be recommended for Banana Trees or Palm Trees rooted straight to the ground. It will wrap around the Tree to ensure that a blanket preserves its leaves which in Winter should be bundled up together. For my Lemon Trees I do use either slates or stones to give some protection to their roots all year round. But I keep the Trees potted in order to bring them indoors during harsh weather.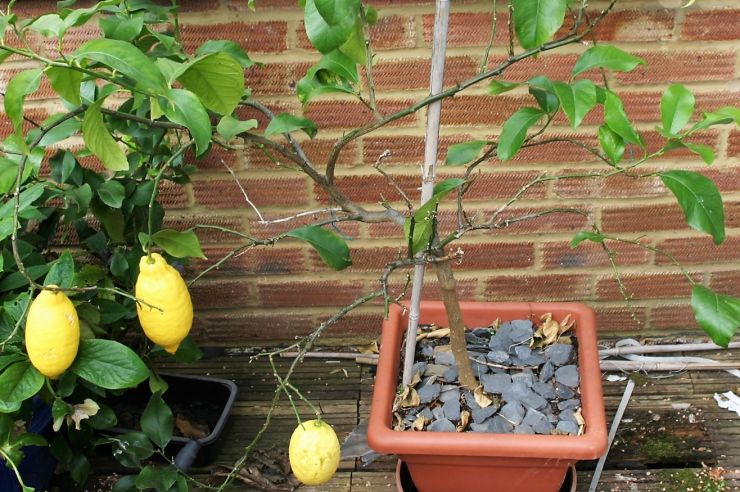 Potted a Tree can stay with you if you have to move house but also it can allow you to find its perfect spot in your Garden or/and protect them indoors against harsher weather conditions.
I have nothing against tree surgeons but sometimes the trimming goes too far. One must think about nature and the environment: a Tree can be a council flat for Birds therefore even a dead branch can be important for the Wildlife. It is a matter of give or take. For us, we do let the Pine Trees in our Garden go large without prunning them in order to give plenty of room, every Spring, for the Birds to nest. It does work for our Bird population is varied and so interesting that we did become Bird Watchers. Another aspect of the 'Let it be' is that it gives us privacy in the Garden to let a Tree grow to its full natural way.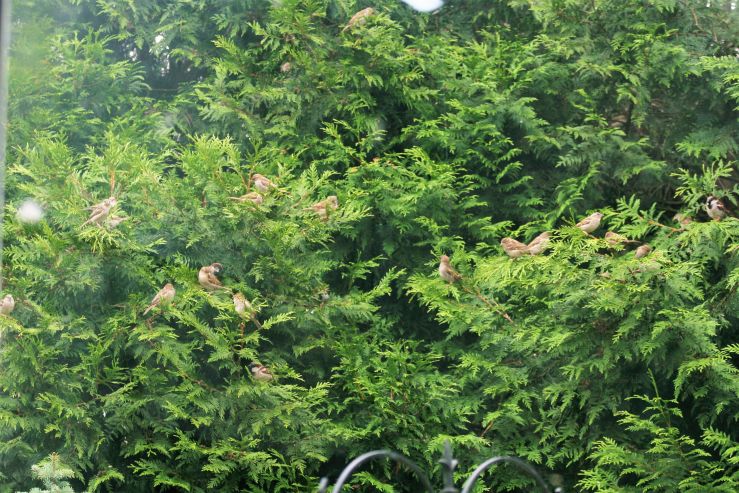 If the Sparrows population is in decline in the UK, it is not in our Bushey Garden. Just try to count the Sparrows in our Trees in that picture.
Confession for confession, our collection of Trees grew throughout the years. After the Lemon Tree, we did get a Lime Tree. But this one was already grown and bought from a Plant nursery. However it did struggle throughout a Winter. It is still there but just about. Citrus Trees in cold climate are hard to keep but it can be done. The benefit are their Fruits. Either Lemons or Limes, they are a delight to cook with or use.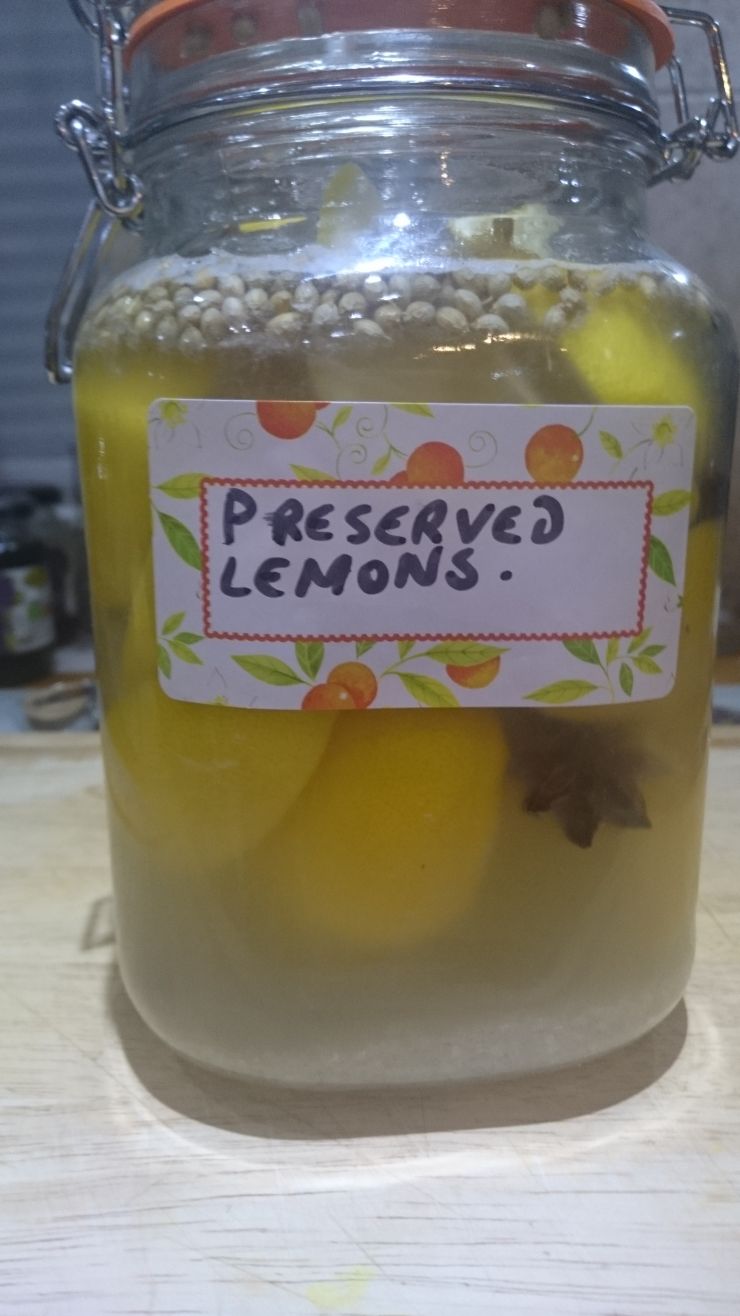 The Produce of your Trees can always be used in many ways.
One of our incentive is to grow Hazelnut Trees (2) and an Oak one. They are doing fine in the Garden. They are potted rather than grounded, hence we can protect them from stormy weather. The advantage we do have is that all of them have Truffle spores to grow by their roots. To be honest with you it is just a venture, if it does work, it works, if it doesn't, we still have the Trees to enjoy. I do love Hazelnuts... Especially with Chocolate. On the plus side it will give more habitat for our Birds. As for the Truffles, it will be good if we have some but we are only just crossing fingers about it. However as I said the most important thing are the fact that the Trees are very young as I speak. Hence they will need a good level of care.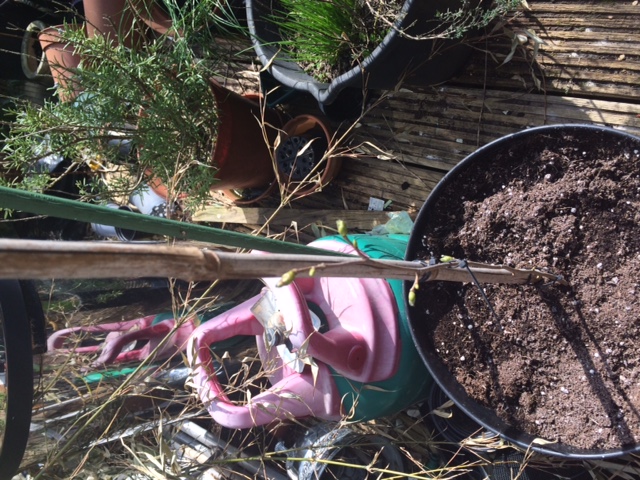 The Hazelnut Trees are starting to show signs of budding/growing. This is a new venture for us which I find rather exciting. The base will be protected by pebbles which will trickle down the Water on their smooth surfaces but also protect the root system from our lovely Squirrels who do love Hazelnuts.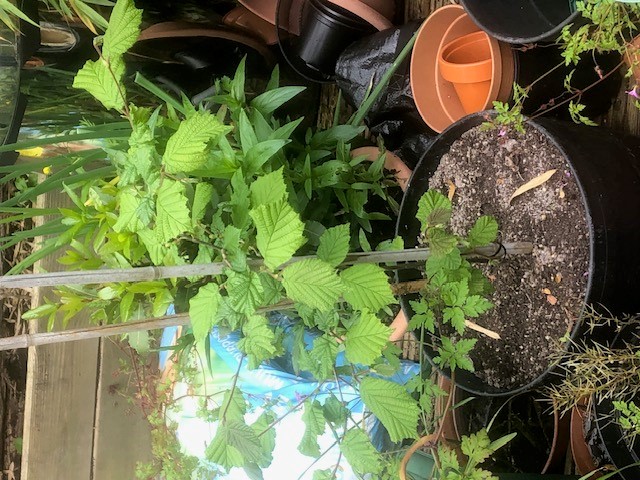 A few weeks later, the Hazelnut Trees are keeping going strong.
Our latest Trees were a Valentine gift from my Partner to me. They are a Cherry Tree and a Plum Tree. The Cherry Tree is of a mini kind, but will have very nice flowers as well as Cherries later. It is doing fine as it is flowering already (May 2023). It is a very young Tree of about a metre and a half tall. I do not know if I will have Cherries from it yet but I can tell you that I am already thinking of recipes using Cherries and my favourite one is the Clafoutis... It is so yummy.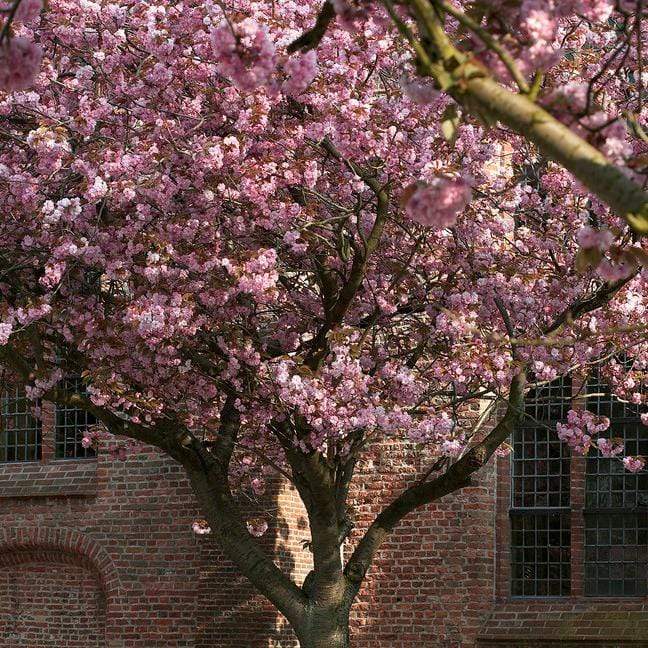 By my bedroom window as a kid, there was a massive Pink Blossomed Cherry Tree. It was so nice to see it flowering every Spring. It looked like the one above on the picture. (This Picture above doesn't belong to me but I paid to use it). My Cherry Tree will not grow that tall, as it is a mini one but also the Flowers of it are white.
For the Plum Tree, it was slower to start before picking up and flowering. However, it did. When a Plum Tree is well established it will give you a lot of Plums. I have a good memory of a Plum Tree in a garden of a house I used to live. It was mature and beautiful. I made Jams and Chutneys with its Plums.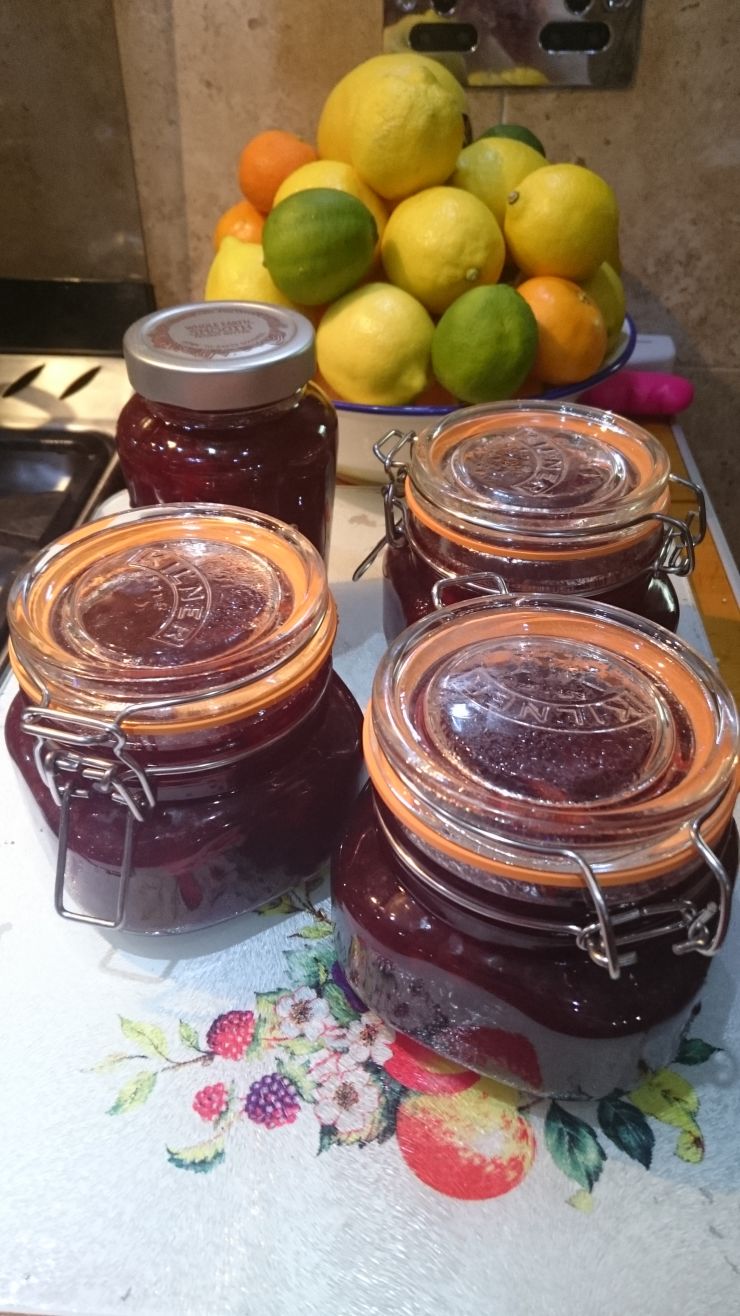 Plum and Cinnamon Jam, home made: a delight in the Autumn.
So I am expecting a lot from my own Plum Tree throughout the years. It is fairly exciting to have a Fruit Tree in a Garden. With it comes the great expectation of picking any Fruits. Choosing a Fruit Tree really depends on what you love the most as a Fruit to eat. Although I do like Mangoes I would not try to grow a Mango Tree especially because of the weather we do have. My excuse would be just that. But despite it we do like a challenge every now and then. It is just about pushing the boundaries a little.
Mangoes are revered in the East like are Apple Trees in the West. If I had the right condition in my Garden I would give the Mango a go for it is a pleasure to eat.
Pineapple is one of our future plans to grow as a Tree for exemple. It would be quite an adventure to do so but a very satisfying one if it works. During the regency period, Pineapples were a garment of the well off upon their tables, a show, a statement because it was hard to obtain or even grow in Great Britain. Nowadays, Pineapple is rather a common place commodity but it is still hard to grow. However from the top of a Pineapple cut off you can get a new plant to grow. A sunny position is best to improve the growth which then can preferrably stay indoors within conservatory conditions.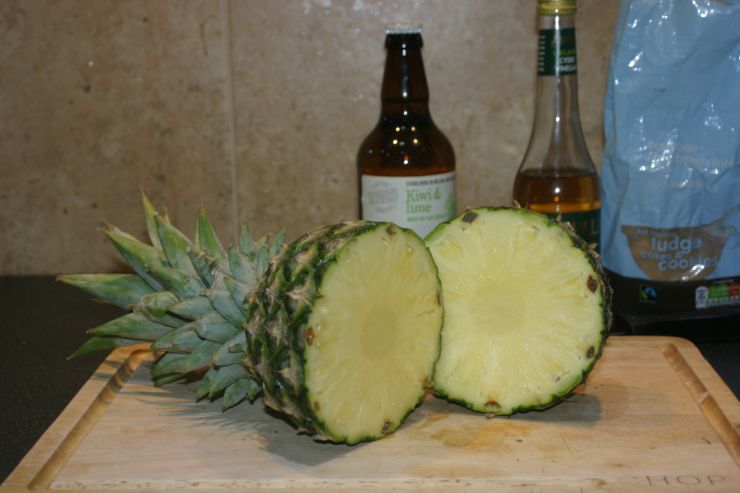 It is always a good idea to keep loose ends, pips, seeds, in order to grow them if you have the space or the will to do so. You can be surprised by the results you could get. They can put a smile on your face.
A long time ago, more than a decade, I acquired an Olive Tree. It was discounted as a past by date Mother's day present from M&S. It didn't bother me. The small Tree was about 30 to 40 Cm tall but it was looking in good shape but needed some TLC. Which I hope I gave therefore the Olive Tree grew taller every year. I kept it at home, by the window, so it would have warmth and as much sunlight as possible. After all Olive Trees are most frequent in the Mediterranean areas: so hot and sun will make them thrive. However after five years, groing strong, the Olive Tree wasn't giving any Olives whatsoever. I wondered only to discover that to molly cuddle that Tree was not the right thing to do. It needed to feel Winter then it will bring the Fruits in the Summer. Left outdoor to feel all the seasons, it did work. Olives finally did appear upon my Tree. Mistakes or assumptions are easily done regarding Trees. Therefore to read about species you acquire is I would say a must. But also watching gardenning programs like Gardener's World can help for advice and tips.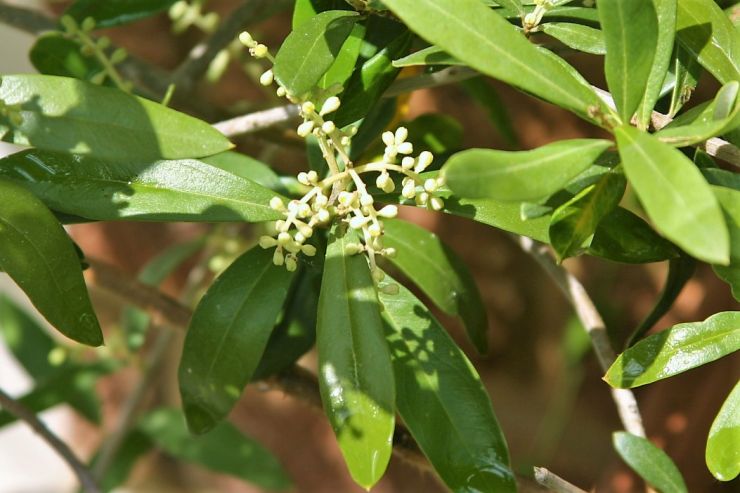 My Olive Tree in 2019 finally showing signs of growing Olives. It felt like a winning moment.
However I will say that growing a Tree during your lifetime is a beneficial thing to do. It can bring you satisfaction if you started it from a pip like my Lemon Tree but a Tree is beneficial to the air that we breathe. I repeat, a Tree is beneficial. If you want to leave a legacy to humanity, grow a Tree. It is also or can be also a very emotional thing to do if you do it in the memory of someone or a certain event you don't want to be forgotten. A tree can be the embodiement of a memorial place for a person, a pet, an event. It has that special feeling.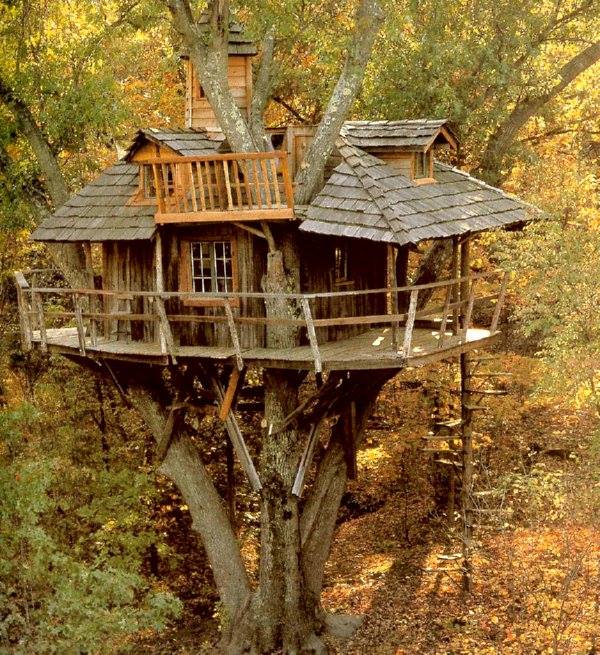 Let us not forget that a Tree can also become a place of meditation or some sort of refuge. Why do we have Tree Houses for? They are places to reconnect with nature but also to gather pace on your own life at a moment in time. In Tarot we call it being on the Hermit mode or phase.
As a young girl I remember climbing a specific pine tree with large old branches, just to be alone and read a book. It just felt like a safe sanctuary or as we say nowadays: your 'me' time. It was a switch off zone. It was being away from all demands or doing your homeworks in a much quieter environement when only the Birds could sing song by you rather than a brother loosing a very special Lego brick that looked like a computer which was so important to him or a sister who tangled her hair locks in a Babyliss... A tree can be that peaceful haven. Then I could learn the Poems of Jean de La Fontaine by heart, my favourite being 'Le Corbeau et le Renard', which is interesting because up in the tree you are rather safe until you let someone talk to you to release what you have by flattery. Anyhow that tree unfortunately was brought down during the Storm of December 1989. It didn't survive. If it did survive the hurrican in 1987, it didn't for the other one. It was sad.
Me at Kew Garden upon a tree that did survive the storm of 1987.
This is the thing, you do get attached to Trees because they can be so meaningful to yourself or so many but also wildlife. I remember the fall of a mature Beech Tree during Spring in my neighbourghood. I was in tears, shouting so much over the fence that the job was finished before being over. But the damage was done. The habitat for the Birds was gone right in their nesting time. It felt like they were all evicted from their long time home. Because of my threats of reporting what was happening the workers gave up and packed up, leaving a large stump in a garden which was eventually replaced by a trampoline. The irony of it all, the cull of that beautiful tree was to enjoy life destroying others' ones. No considerations were taken.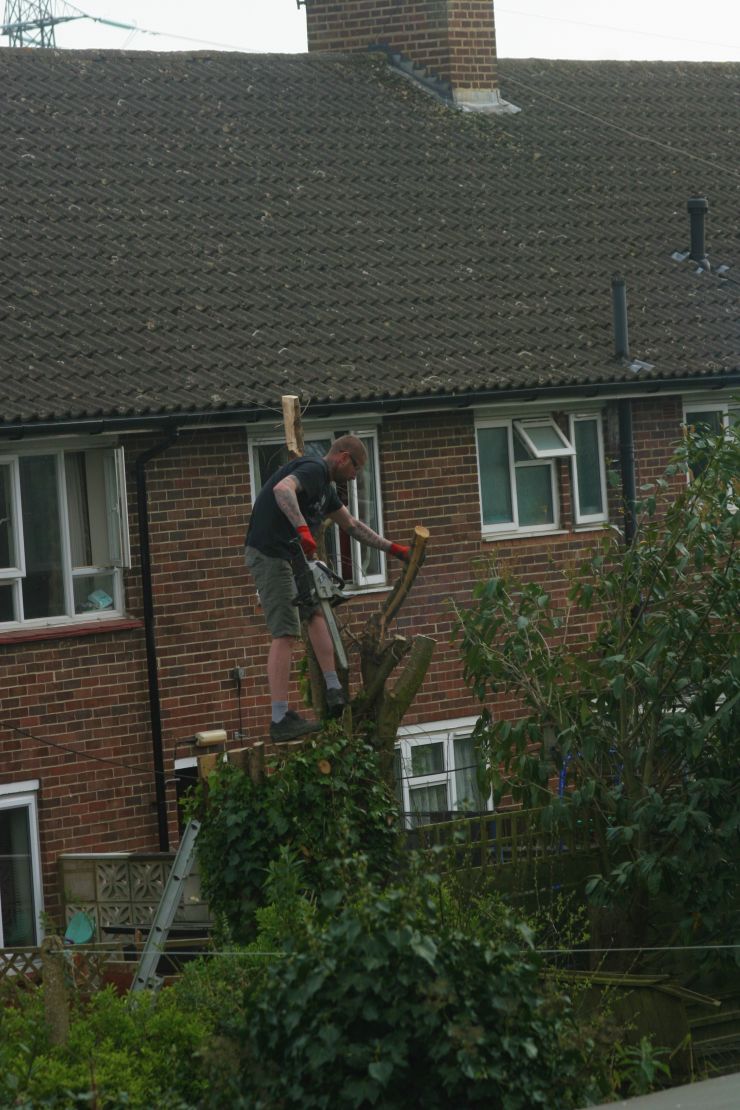 The sad death of a mature Tree in Spring. I took the picture to report it to the Council. The man stopped what he was doing but as I said it was too late. The damage to nature was done.
We can all go Gretta Thumberg on that one, which my partner told me off when I shouted for the Tree to be saved. It was heartbreaking to see it happen. It is a matter of, as I said, consideration. It is as simple as that. Let's change the subject.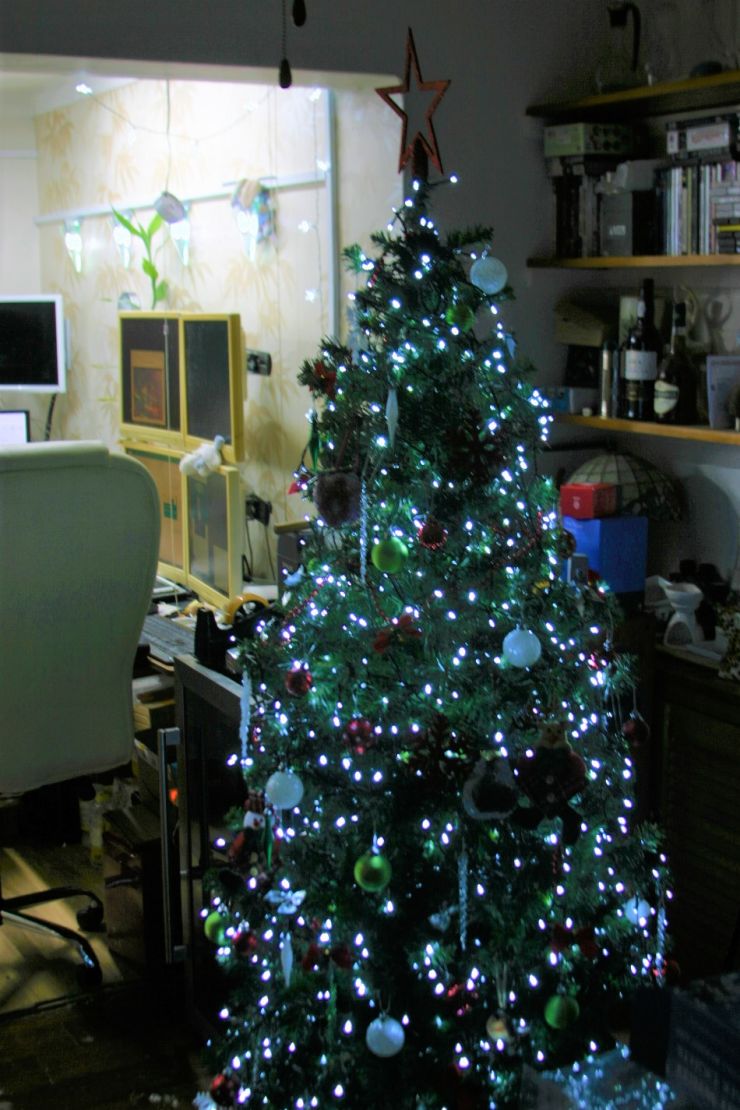 The 2017 Christmas Tree is up. We always use our good old fake Tree for the occasion. It does last and survive over the years. Last year 2022 we did get a white 80's/90's kitch one. It give us a switch of choice of colour. But back in the days my Partner did get a real Tree which was duly planted after Christmas and is still alive now for the joy of the Birds.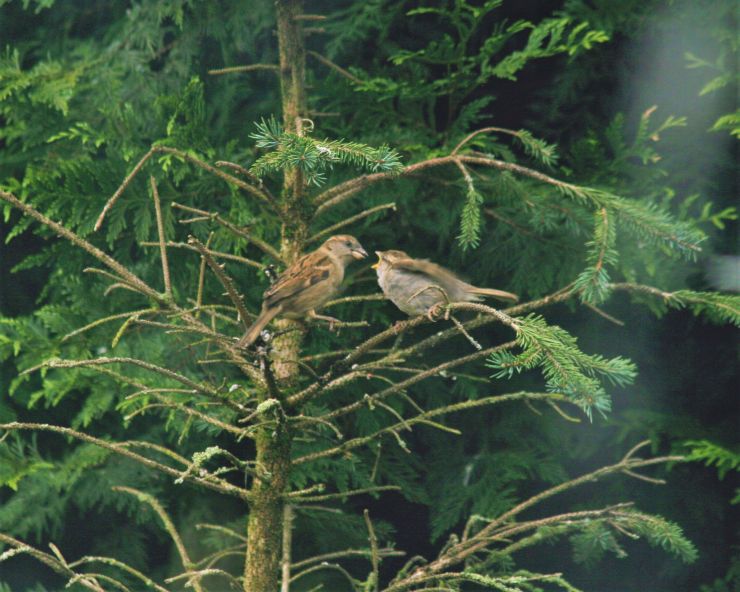 Baby Sparrow being fed on the very old Christmas Tree of years gone by. The Tree dates back from 2010 rougthly. It does serve as a Sparrow Nursery now ever since.
To grow a Tree should be in the bucket list of everyone upon Earth. I am not dreaming of Unicorns saying that. When you have the chance to come across a Seed or a Pip, just plant it and see what is coming from it. If you live in a flat, appartement, room, no garden, but still have a window sill just make that break. Contribute to the wellfare of the planet. My neighbours and I exchange plants and seeds on occasion. When we did fail to grow Avocadoes, Stan managed to do so. We gave him all our tips to grow Leeks and Ginger in return for the plant he gave us. The Spring Onions, Leeks and Ginger we gave him are doing really well. It is the Tree of Life, helping one another.
Collecting Pips, Seeds, Stones, Roots and Cuttings is a good way to start growing green Life around your place and life. Most of the time there is no need to go to a Garden Centre, although I always enjoy going there at least once a year in Spring. But you can get most of what you are aiming for to grow in Market, Supermarket or Shops. A lot of time the variety of the plant you are going to try your hand on is mentionned on the packet but also the origin of the Veg or Fruit you are about to eat and enjoy. For exemple I have a new trial under way which is to grow Apricot Trees after keeping all their Stones of a packet of Apricots I enjoyed to eat. Their Variety is called Colorado, which is rather small, I would say the size of a Plum, but are very tasty and the provenance of them is from Spain. This will be a very interesting venture.
There is something I must say it is about the choice of the Tree to grow. My preference is for Trees which do have Fruits. This kind of means to me a double whammy. A Fruitful Tree in the Garden is not only a joy to watch growing but also to enjoy the results afterwards. We are always looking forward for a nice fruity load to be neatly packed in a basket. This Fruit Harvest in turn can become projects for the Kitchen. From a Key Lime Pie to a Plum Jam passing by a Marmalade, a Fruit collection can be a little incentive of its own.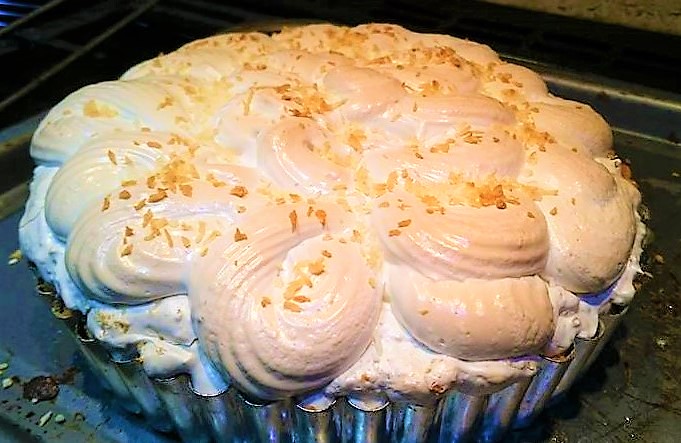 My Key Lime Pie with a Coconut flavoured Meringue top. With my Man being a sweet tooth, that Pie never last very long...
Then there are the Nut Trees Family. I always remember the Walnut Tree in my Grand Parents's Garden. It always felt like a blessing. At School there was a lovely and large Chestnut Tree. Then of course foraging with my Dad, Brother and the family Dog Suzy every Autumn we were looking for Hazelnuts and Chestnuts. I will say that it was happy memories. The scent of grilled or roasted Chestnuts were such a simple pleasure to have during the days becoming colder. I would love to acquire a Chestnut Tree and a Walnut one to add to my two Hazelnut ones. But also on my Bucket list is to try to grow from scratch one of the famous Kentish Cobnut Tree. I don't know to do so as of yet but we always learn by trials and errors. This is one of my many Mantras.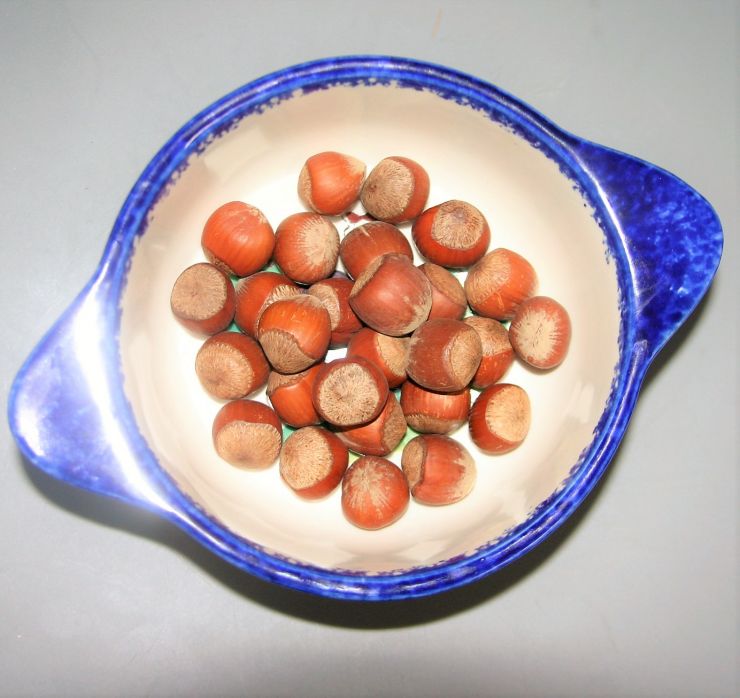 A lot of Nuts are used regurlaly in my Cooking, usually Baking for Hazelnuts (pictured above). As for Walnuts, they usually end up in my Salads to give an element of texture.
I would love to mention Trees which are more bush like in shape: A Holly Tree for exemple or a Bay Leaf one. Sometimes much smaller than the others, they can be nonetheless very resistant to temperatures going too low or too high and the weather conditions. Above I mentionned my Olive Tree which could survive Winter with temperature up until minus ten degrees Celcius. A Holly Tree for exemple is a good investment to do for an all year round evergreen Tree for a Garden. It is resistant. But it also can add joy to the end of the year Festivities to decorate a wreath, a table, a garland...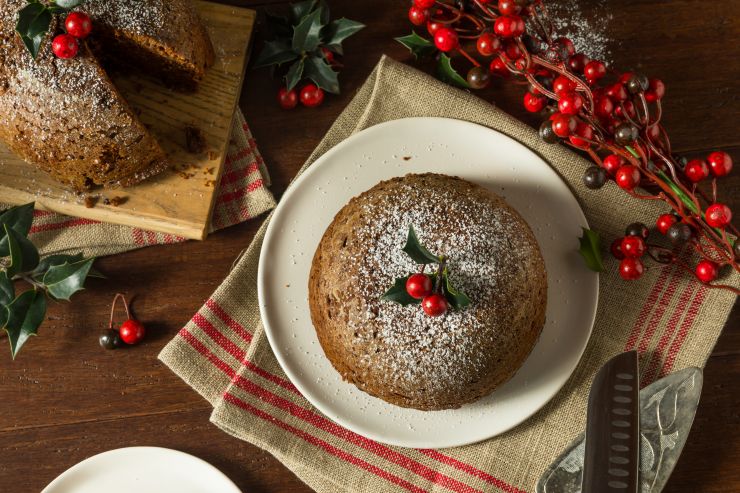 Or a Pudding in this instance.
In my Garden I have a Bay Leaf Tree. It is a rather small one that we did acquire some years ago. The purpose for it was mainly culinary but also for esthetic reasons. When choosing a tree, it is necessary in my point of view that it does serve a purpose in the grand scheme of things. Out of necessity a Tree which is not only for decoration would always be my first choice. There is also the keep on going factor which is essential. It is that year on year you can keep getting more and more out of your Tree. It is some sort of blessing from the Earth itself.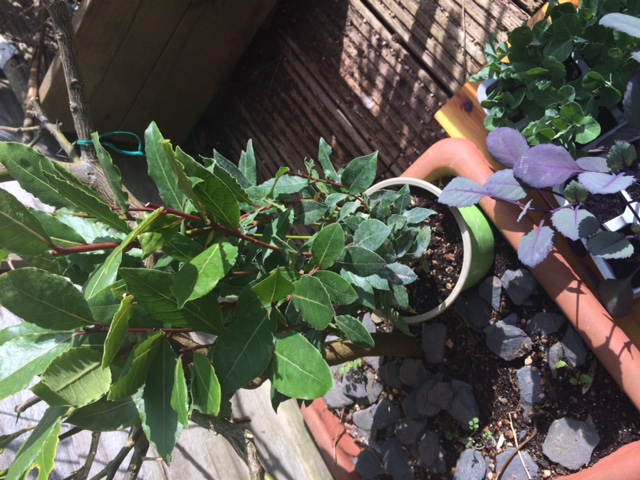 The arrival of my Bay Leaf Tree, a baby one as per say, which I did get from a Garden Centre about five years ago, just before the Covid spell that did fall upon us all restricting our movements. As an evergreen this Tree is being a joy to have it in the Garden. To flavour Stews and Stocks Bay Leaves in my belief are essential.
But as I mentionned before, injuries can happen to Trees with weather conditions, which could also includes Humans. A falling Tree as we all know can injure or severe a Life. But it can happen in many ways, the Hurricane of 1987 did such damages to the Trees at Kew Garden which is in itself a safe keep for historical and different Trees, that the people working there just saw their hard work of maintening the place almost being destroyed overnight. But despite the despair, Life must go on, therefore with sheer graft Kew Garden however the loss it had, survived to be enjoyed today.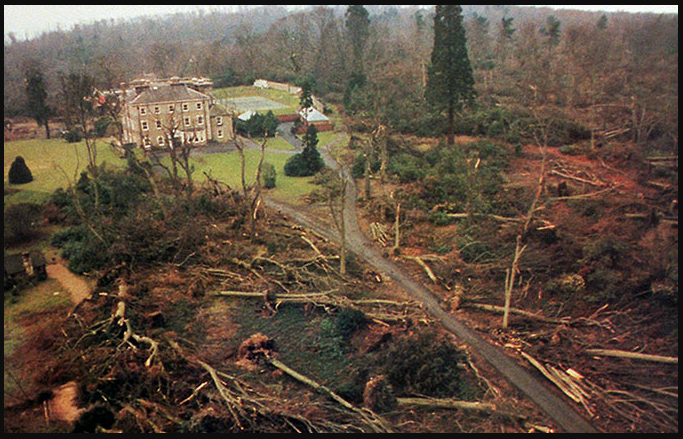 Wakehurst Estate owned by Kew Garden lost about 20000 trees overnight in 1987.
However everyone should like a Tree in his or her life whenever it is possible. In this case I will mention space. A park, a public Garden, a walk in the Woods, foraging in a Forest give us the sense of the majesty of a Tree in a grand scale. But one must consider that this sheer experience can not be for everyone at one point or another in their life or for all of their lives. Being mobility challenged now for about five years, I miss the great outdoor, the walks, the ability to move about (After 30 to 40 minutes, I have teary eyes from sheer pain in my legs and I may just fall at any moment's notice even with a walking stick.) It has been a very trying period to adjust that factor into my life. For me it is a matter of adapting to the changes in my body and that depressing sense of loss. However, in my favour, I am lucky enough to have a Garden. I can not attend to it all the time, but I can watch it from my windows most of the time. To leave that space slightly untamed made it bring nature coming back at your own doorsteps. This is a joy to watch but also a lesson to learn about Trees being habitat for the Birds but also other species like Squirrels.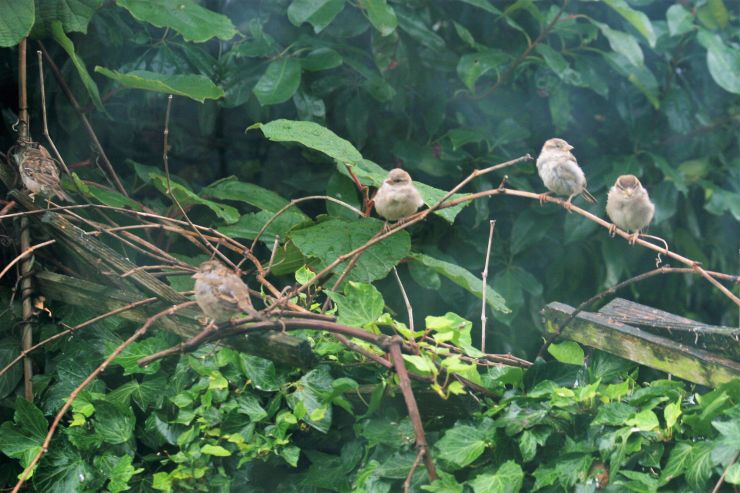 Four Baby Sparrows on an old twig of my Raspberry bush. If I had been able to tend carefully to that bush, prune it back that is, I would never seen that those bare twigs could be just the right thing for Baby Birds to land when they just come out of the nest. Because a Garden is more than that, it is an Ecosystem. By the way the Raspberry bush is still giving its Raspberries every Summer.
So yes, I did review slightly my perspective on everything those past few years while adapting with my mobility issues. If I can't go to nature to breathe proper fresh air, I am letting nature come closer to me. I am not going to cut my Trees in a square shape to be fashionable like some of my neighbours did: No way. As I mentionned before, it became for me, the song of Paul Mc Cartney, 'Let it be'. There is peace here. The Vixen Roxane makes her cubs almost every year under our Trees, knowing that she will be safe here but also that she will be fed. The amount of different species of Birds is quite staggering to witness day in and out. It is just life, full screen and it is beautiful.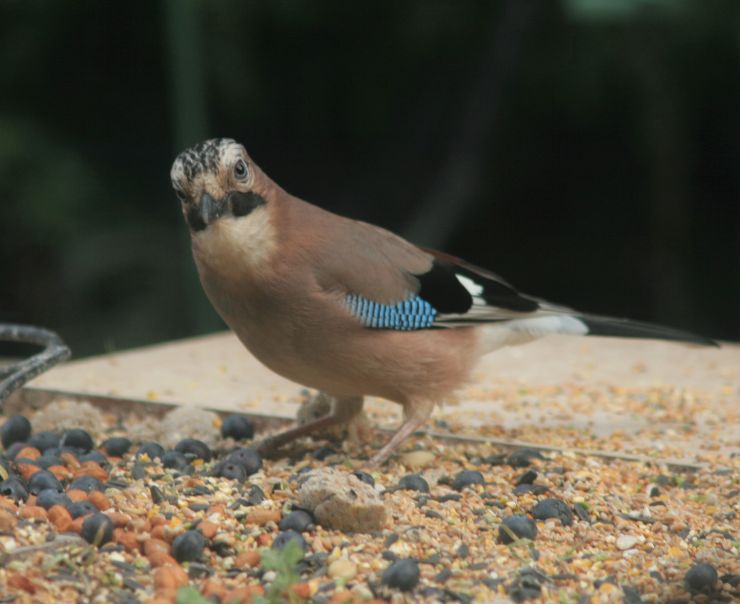 Our Blue Jay, a couple made a nest in our Trees. I remember my Father giving me a feather of a Blue Jay back in the days when I was a little girl. He explained to me what the Bird was looking like but at that time, I never seen one in real life. All I had was the strippy blue feather to imagine what that Bird could look like. Nowadays, I have them in my Garden everyday. Beggar's Belief, there is no more imagination to be have on that account. Though I do feed my Birds well whenever I can and my Garden did become almost a Birds nursery which I am proud about.
To return to the lack of space your home can become the home for a Tree. I will mention here that every little space can count. A Bonsai Tree can enhance an area of a room dramatically in quite a showy fashion since there is quite an art to grow them from scratch or to keep them alive. The technique is very specific but also creatively artistic. The result is hardworking enjoyment. But I will confess that my own Bonsai Tree died because of tiny bugs. This was heartbreaking. However I will recommand to anyone to get a guide to deal with Bonsai. Another advice will be to try your hand with Elm varieties first. After that let your creativity speak for itself.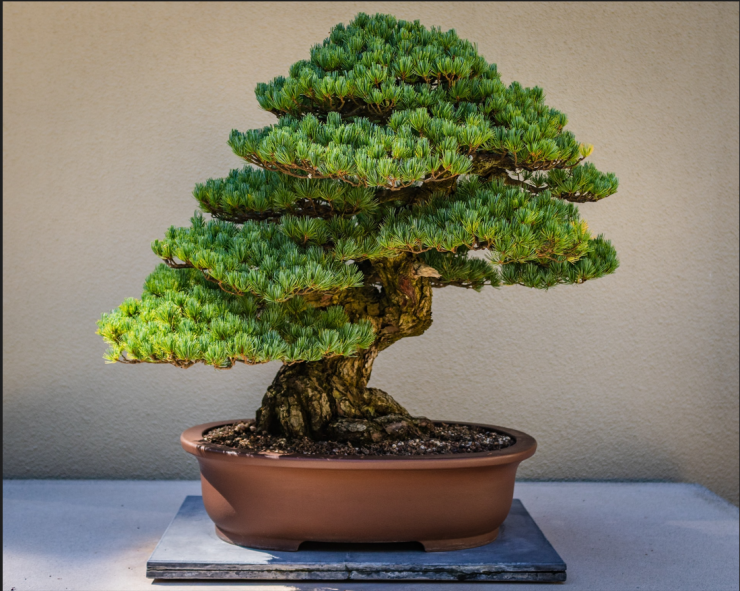 Bonsai are fairly complicated to grow, however as an art in itself they are so fulfilling to try to do so.
Other Trees are also very decorative with a size which is convenient for small spaces. There I am thinking of Japanese Acer Trees which have a huge selection of small spreading Trees with beautiful Leaves, and a huge choice of colours to them. As well as a Bonsai, those Trees can easily be the star of the show wherever you place them. There is a natural distinction about them. Not only that they have been quite fashionable for the past thirty years.
Then you have different types of Palm Trees which you can enjoy the sight of in your Home. For myself, I always like having a Parlour Palm wherever I live. They are also called Chamaedorea Elegans. However as I sometimes give names to my Plants, almost like a Baptism, my new one which is about 15 cm tall has been named 'Stanley the Elegant'. He is decorating my writing office desk at the moment (2023). Now this type of Palm can grow very tall. If the tallest one I ever grew reached a metre high, (It now belongs to a former Landlord as a wedding present for his wife and their new Home), I have seen one which was about two metres and a half tall which was almost reaching the ceiling of a living room. It was very much a statement PalmTree at that stage and was really a WOW factor in that space. It did belong to a Writer and Musician who was in effect my mentor to encourage me in my writing path, however he is sadly a star in the firmament now (RIP Martin Simpkin).
There are a lot of Palm Trees available which make perfect House Tree Plants. I own two types of Dracaena. One of which dates from 2004 and is still doing very well. But it mutated strangely during the years. It still have variegated leaves from the original stem however the other growth from its other stems became of a befetching dark emerald green. It is a Dracaenena Fragans Massangeana which have multiple stems. This Palm House Tree is fairly large but not that high, just over one metre but is rather dashing in the corner of the office.
My other Dracaena Palm is also a multi stems one but with much thiner leaves. It is called a Marginata red edged Dragon Tree. It is rather elegant standing upon the file cabinet in my office. I only got it this year 2023, again after a Mother's day sale, but online this time around. But I was not disappointed with its delivery. This is to say that even in a small space you can enjoy the sight of a Tree. I will recommand House Palm Trees in that matter. The fact that they are evergreen is a plus.
So whatever the space you have you can enjoy a Tree in your life. In time you can count on it to last long and maybe to follow your journey through life. Of course the care on your part must be there, therefore I will highly recommand to either research on the internet the species you did acquire or are starting to grow from scratch. Or get reading upon the matter the good old way, you can also get Gardening Magazines which can cover what you need to know and try the tips given. There are also plenty of TV programs that you can catch up upon to learn some valuable knowledge. This is how I did get the tip for my Olive Tree which was not giving any Olives for years. It was just because I was mother cuddling it too much. But I will add one thing: You can always try one thing to grow a tree in your own way, keep a diary of the experiments then see for yourself what is working best in your environment. Make a record of what went wrong or what went well. This can become your well informed Encyclopedia to how to grow a Tree.