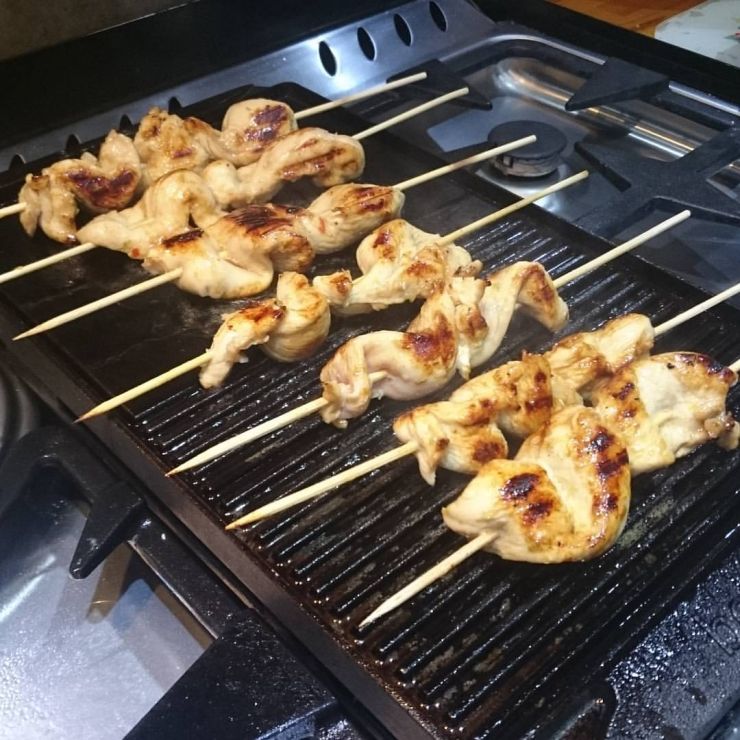 Sticky Glazed Chicken Skewers.
BBQ and Grill symbolise so much the warm and hot weather days of the year. It is when we are pining to go outside and eat after the cold grey days, windy, wet and sometimes with burst of snow and frost. This is the time for Skewers, grilled Fish, Vegetables and Meat: Happy Time.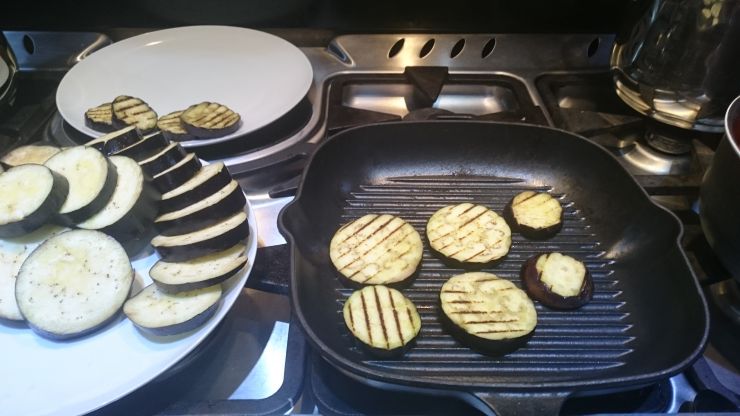 Gridlling slices of Aubergines.
I have good memories of a fair few BBQs. Ones I will always remember with fondness are the ones that my Father used to do. They were very simple and Camping style but delicious. He barbecued Mackerel to perfection. Sweetcorn cobs straight of the Barbecue or en papillote with Garlic and Parsley Butter. May I say it was simplicity at its best.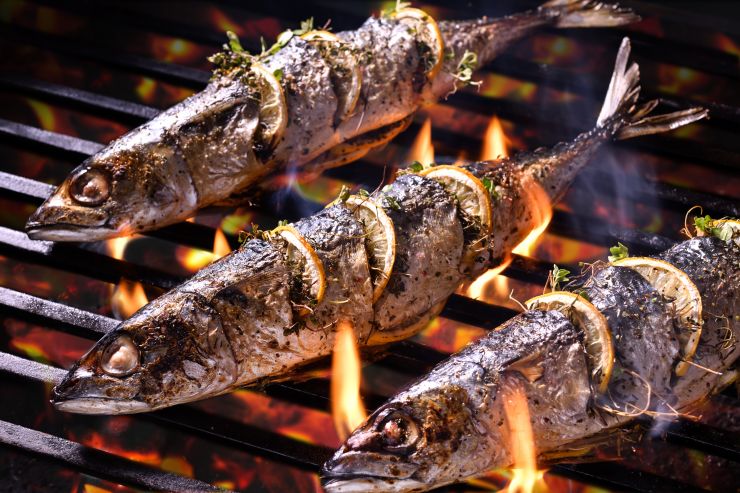 Barbecuing Mackerel, slashed accross the flanks in order to put slices of Lemons and a little Thyme.
If Grilling, Griddling and Barbecuing Fish work well, it is the same for Vegetables and even some Fruits like the Pineapple, Melon, Watermelon, etc. Already in Fish and Meat Skewers, it is common to alternate the Fish or the Meat with an array of different Veg, Cheese and Herbs like Basil. It is always nice to have a few ideas of Skewers to accomodate your Veggie Friends during a BBQ Party. But you will notice that Meat eaters and Pescatarians will also go for those just as well very much so.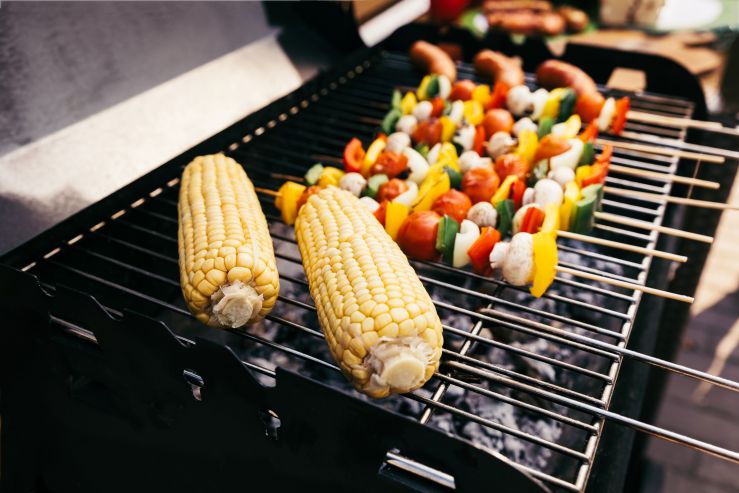 Vegetables Skewers and Corn Cobs hitting the Barbecue.
My favourite Grilled, Barbecued or en Pappillote Vegetable has to be the Sweetcorn, with Smoked Paprika, Chilli, Spring Onions, Salted Butter within the foil parcel, it is a delight. You can cut the Cob into three or four as well which can be more manageable for some Guests to eat during a Summer evening Dinner Party.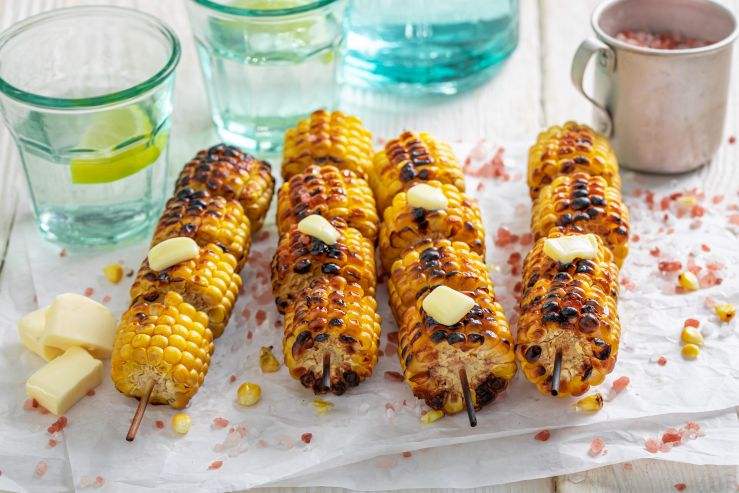 Barbecued Sweetcorn Cobettes. Serve hot so the Salted Butter will melt upon the Cobettes.
Other Veg which are great Grilled, Charred or Barbecued are Sweet Bell Peppers, Pointed Peppers, Chillies, Aubergines, Asparagus, Onions, Courgettes, Marrows, Okras, Cauliflowers, Romesco... Grilled Asparagus is a famous one because when it is in season around late March to June, it reminds us that this is it Spring is upon us.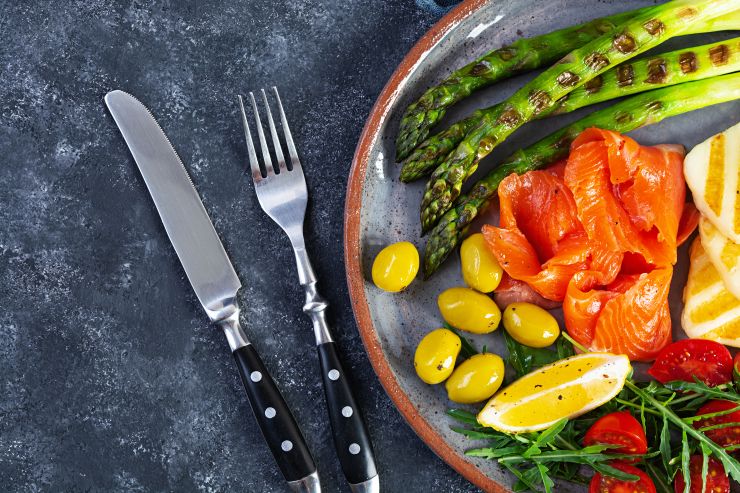 Salad of Grilled Asparagus with Grilled Halloumi Cheese, Smoked Trout, Baby Plum Tomatoes and Baby Rocket Leaves, garnished with Green Olives and Lemons.
The Skewers also sometimes called Kebabs are varied, so varied that someone could probably write a culinary book called around the World in 80 skewers which I may very well do so. Pork, Chicken, Lamb and Beef are the main Meat used to do Skewers either under the Grill or upon a BBQ. I remember a Pork Skewer that my Dad used to do. It was not overly complicated but it simply gave the flavours of the Summer and the colours of it. The diced Pork (Loin), was alternated with Green Sweet Bell Pepper, Red Onions, Red Tomatoes and back to a cube of Pork. Sprinkled with Thyme and Oregano we enjoyed very much those Skewers.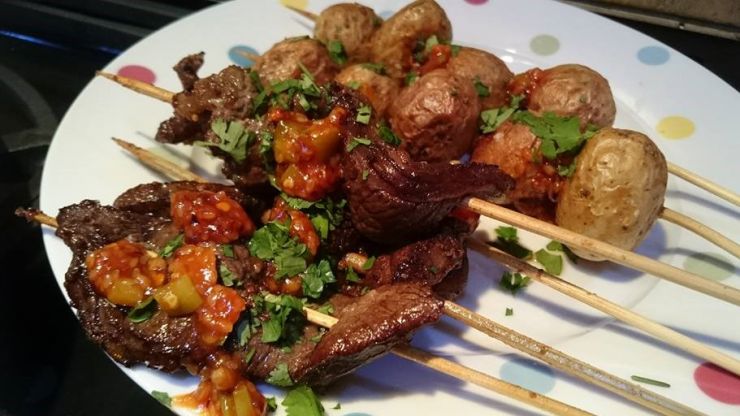 Spicy marinated Beef Skewers with Baby New Potatoes Skewers.
Learning how to cook I did experiment a lot by doing Skewers because I did find them easy to do but also enjoyable to present to Guests. However trying different styles is always a good thing to do to broaden the repertoire as per say. Trying different Meats, like Duck, or marinating previously prior to cooking, or trying different combinations for the Ingredients. A Tom Kerridge Recipe, I tried, was inspirational on that account.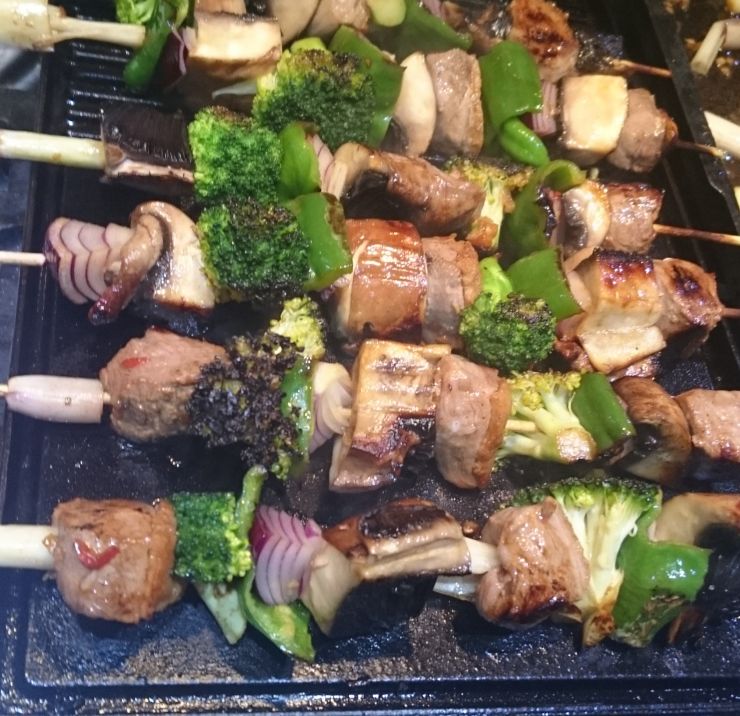 Trying to replicate Tom Kerridge Duck Skewers. They were unusual and fantastic.