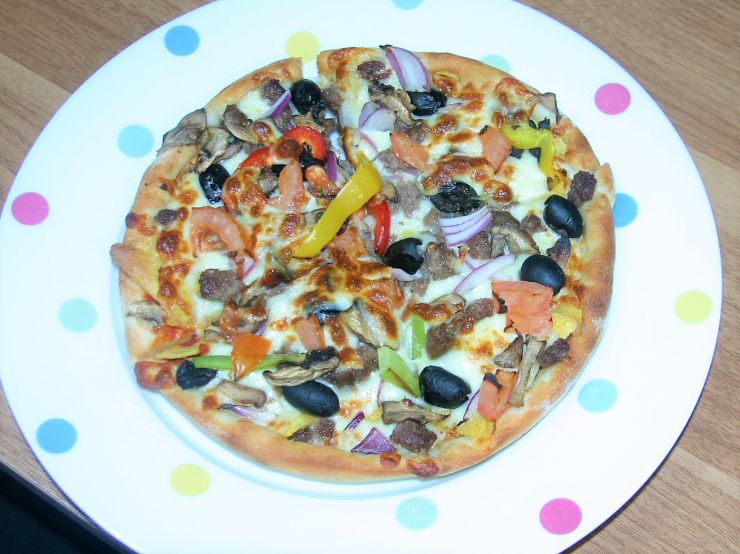 Home Made Pizza.
'When the moon hits your eyes like a big Pizza Pie that's Amore!'. Strangely enough Pizzas played an important part in my life. The main reason is that working at Pizza Hut when I was young paid partly for my University fees (University of East London). Surrey Quays Pizza Hut was a hub where I made Friends for life. However I lost one to death Barry which was ever so sad.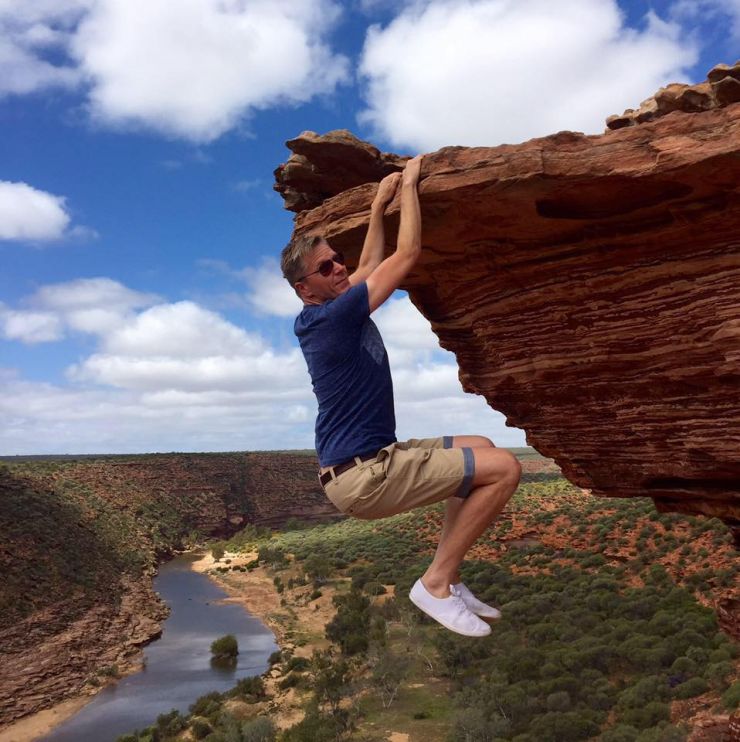 Barry C was ever so get going and live your life to the full. We were in our twenties during the Millenium years and I can't tell you how many clubs and parties we went with all of our Friends. The night of New Year's Eve 1999 going to 2000 we were watching the fireworks by Tower Bridge on the North Bank with Zoe, April, little Helen, Jessica, Ted, Sy, and my Bro, and we had such a night that it really did feel like we were entering a new Century. Barry was a big part of it.
I remember all my jobs interviews and the one for that work particularly. They were surprised that I applied to be a Pizza maker rather than a Waitress. However I was trained and given my chance on the 'Making Table', on two hardest nights a Friday and a Saturday. Passing the test with flying colours, I was given the job and spent four years in the industry while doing my studies. It gave me another opportunity which was trying different combinations for my own lunch/break Pizzas.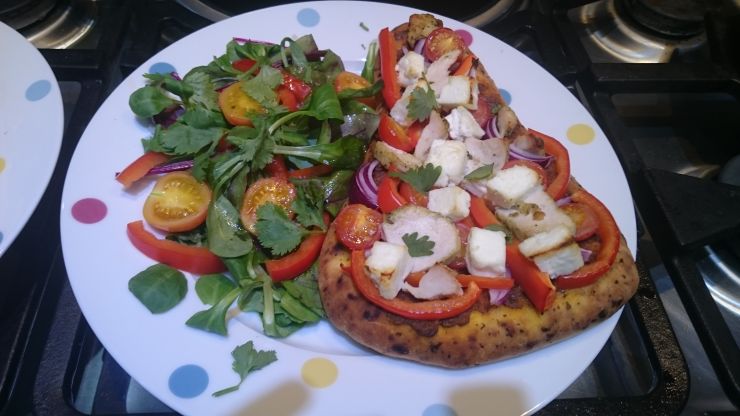 At home nowadays, a couple of decades later, I still experiment with unusual Pizzas. This was a Pizza Naan. However it was an Indian meet the Med type of dish or vice versa. It was delicious.
If I try to remember my very first Pizza, it would be a deep pan one, with just Tomato Sauce and Cheese when I was about five or six. I got the chance later on to try a thin crust Pizza in an Italian restaurant, I was about 10 or 12 then. It was a Florentine Pizza with Spinach and Eggs and I loved it. Another Pizza I loved was the 'à La Reine' with Mushrooms and Ham. Then as I grew up, my palate did, as per say, developped, however I still don't like the Pepperoni Pizza.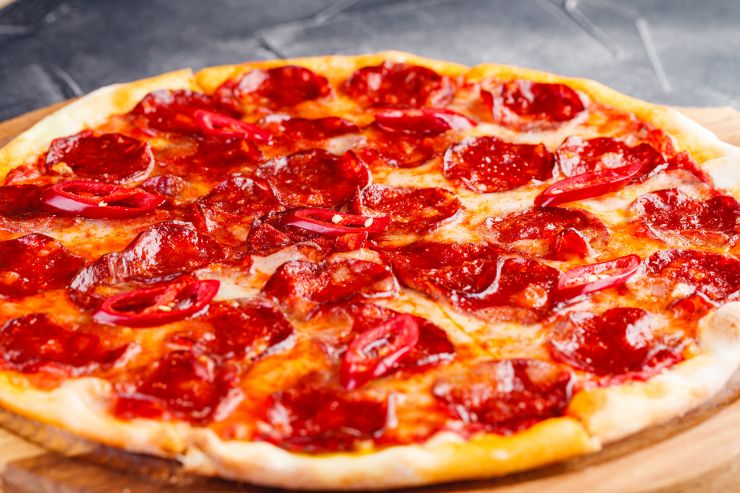 Pepperoni Pizza. The favourite one of my Man.
Below you will find some recipes about Pizzas. But I am very humble about them. If you do try them, I hope you will enjoy them.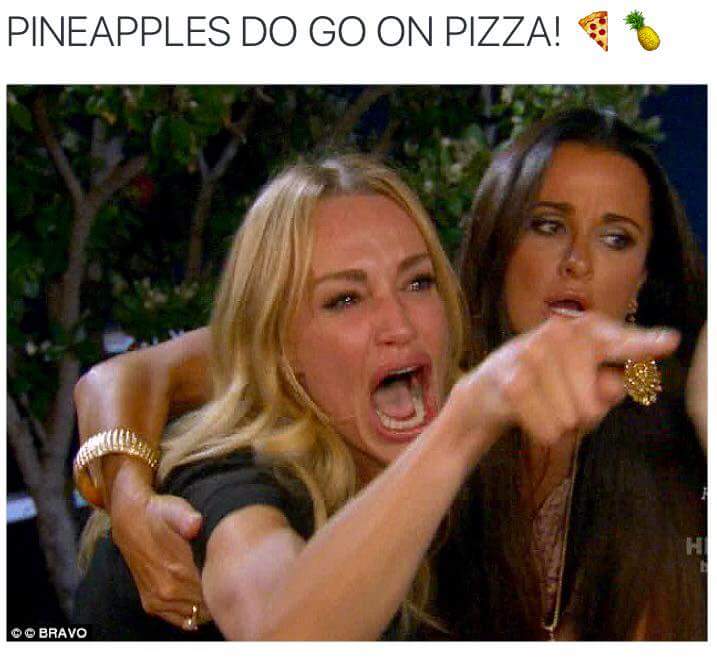 And I do believe that as well, a Hawaiian Pizza is enjoyable.
To confide something else when I was giving French tuitions to Alma and Nathan, one of my pleasures or let us say treat was either to have a late Lunch in Pizza Express when I was early or a proper Dinner in an Italian Restaurant in Fulham after the tution. The decoration within that Restaurant was a wall painting of Venice full scale but also of grapes in nearly every nook and crany they could be painted upon. For me, it was a be of a 'Me' time. Just a little time on my own to sit, breath and eat before catching up with all I had to do. In terms of Pizza of course the Fiorentina remained a ferm favourite. Quattro Fromaggi and the Veneziana were my other choices.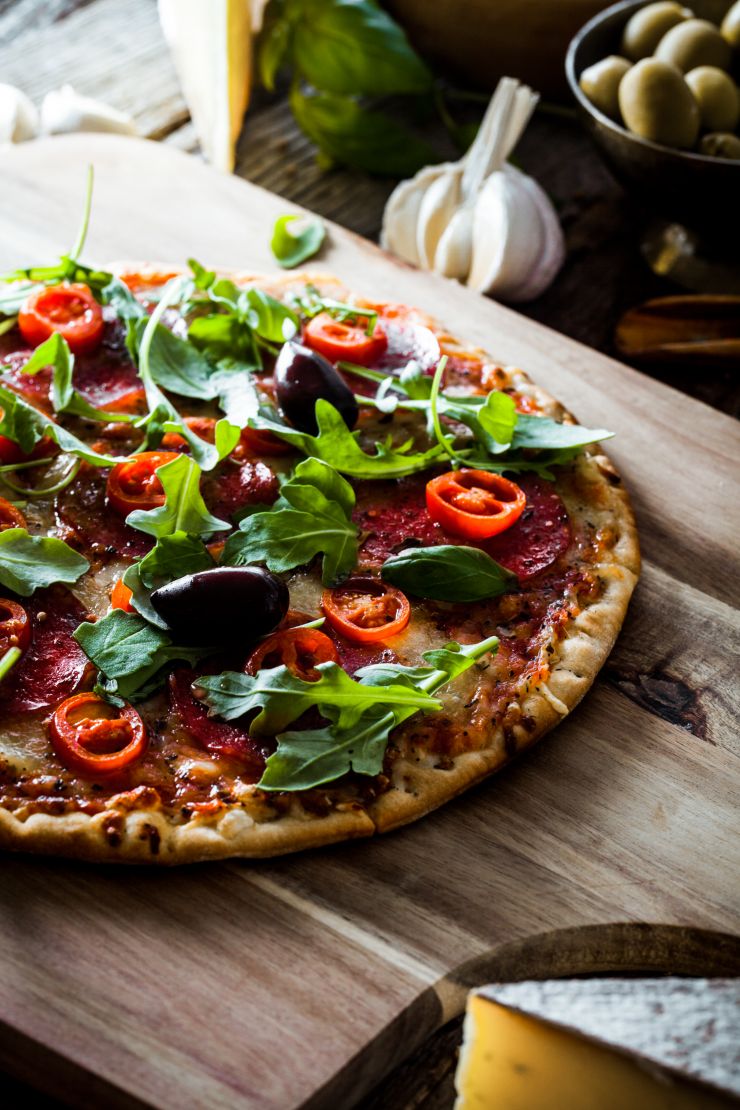 In terms of topping I do like a wide range of them but I do tend to stick to my preferences. I do like Tomatoes most certainly, Mozzarella and Anchovies and Olives...
Anyhow one of my small but proud moment was to be the runner up in an internal UK competition of all the Pizza Hut restaurants. It made me the second best Pizza maker of the UK for that year. My flaw and the point which made me loose the top title was only my love of Cheese. I was too generous with it. For being a Normandy girl I would say tough, this is the way I love my 'Za, cheesy. But hey, I was not expecting to be so close to the top, so it wasn't bad after all.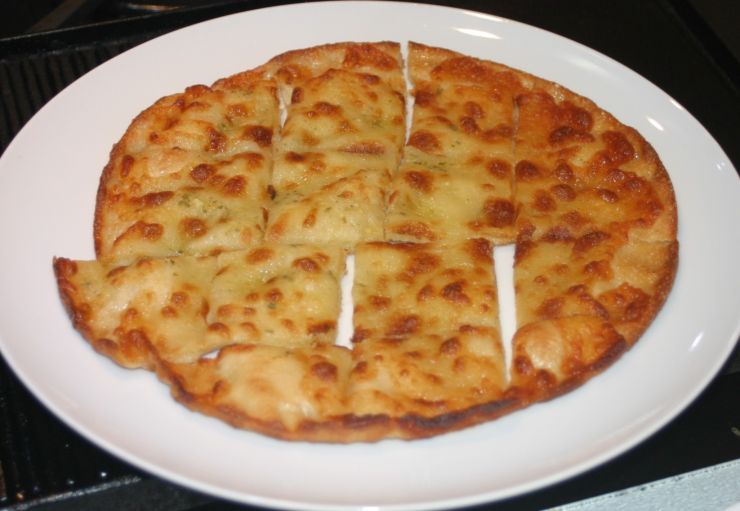 Simple Cheese Pizza with Garlic and Herbs within the base.
There is a lot to say about Pizza from the making of the dough to the proofing of it at the correct temperature and time. Then comes the fun: forming your Pizza. To be honest I have never been very flamboyant about it, flicking the dough to the ceiling and catching it almost on the floor is not my style. I do rather stretch my dough with care because we do want a result in the end and not a big blob to pick up on the ground.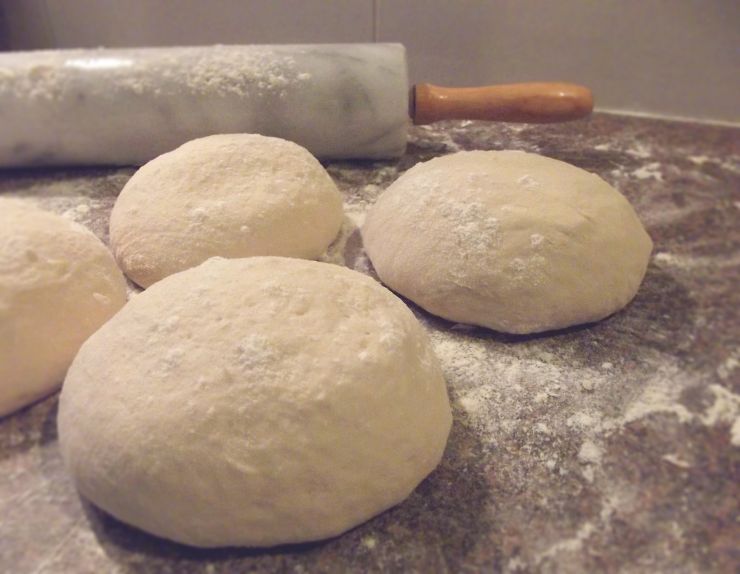 Pizza Dough.
Working on a good Base is part of the pleasure, creating a good Sauce to nap that Base is another one. It doesn't have to be automatically a Tomato Sauce or Paste or Purée. You can be adventurous in that aspect. Think of the Pizza Bianca. BBQ Sauce is also regurlaly used for Pizzas. I like using Pesto on occasion: the Sundried Tomato one is very nice, so is Basil Pesto.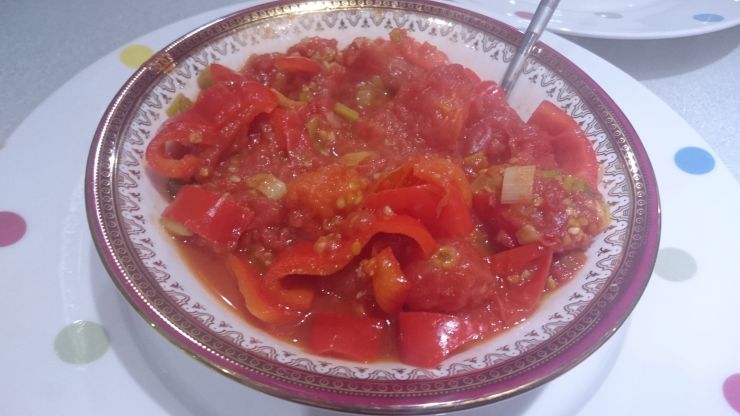 Texture can play a role as well like in this rustic home made Tomato, roasted Red Peppers, chopped Shallots, chopped Garlic and chopped red Chilli Sauce. Smooth or not blitz to death the Ingredients within a Pizza Sauce are part of the magic of a Pizza.
Then of course there are the wonderful choice of the wonder world of toppings. This the time to complete your Pizza and pick your flavours. One time I add that Pizza fancy which I couldn't get enough off. It consisted just of shredded Tuna on Tomato Sauce, gratted Mozzarella, Green or Black Olives, Cherry Tomatoes, Green, Yellow or Red Sweet Bell Pepper, Capers, Red Onion or Spring Onions and sometimes Anchovies. I loved it.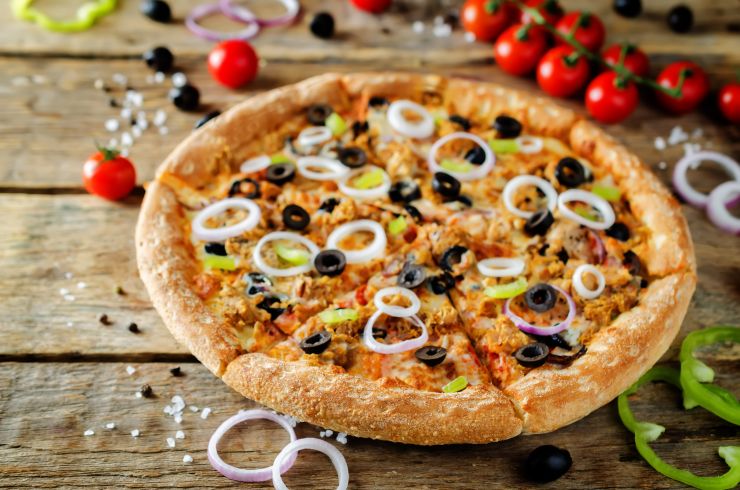 Tuna Pizza with Green Pepper, Black Olives and Red Onions.
I became acquainted to the Tartiflette in London, Islington, Upper Street when 'Tartuffe' Restaurant opened its doors. That restaurant which lasted only for about three to five years not only gave a cosy eating experience but also absolutly lovely dishes. There is many interpretation of a Tartiflette for like Pizza you can play with the dish at the end of the day and create your own. A Tartiflette is a bit like a Pizza Bianca meets a Truffade...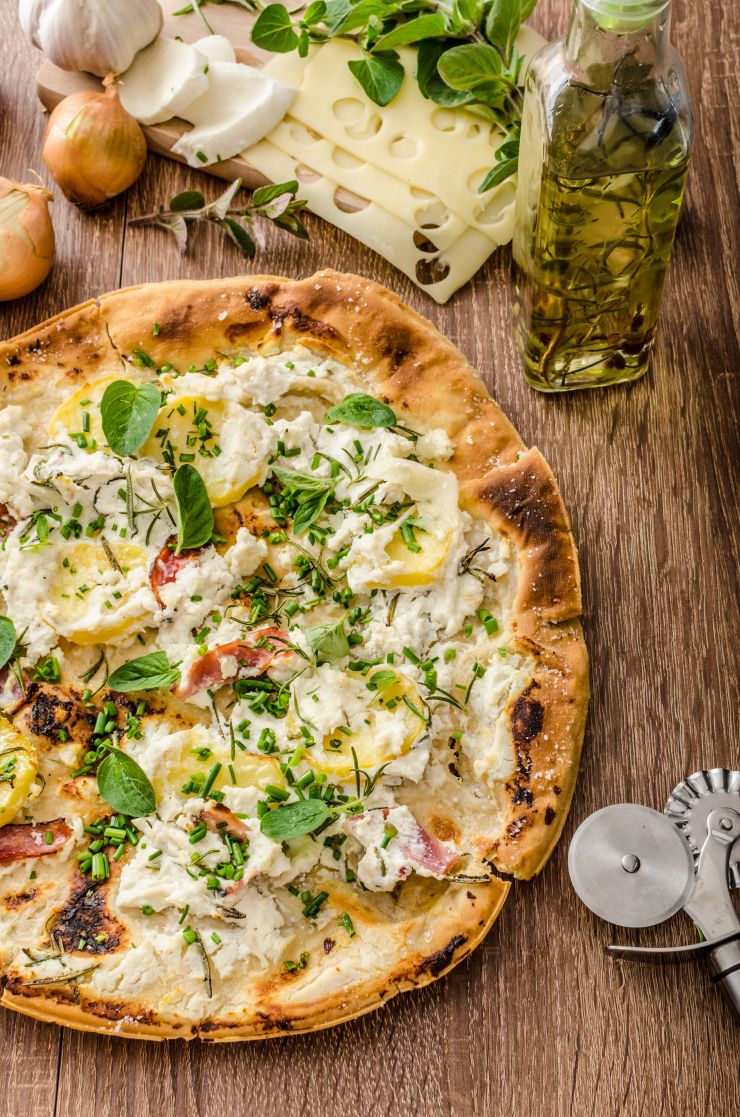 Pizza Bianca with Ricotta Cheese, chopped Chives, Oregano, Rosemary, Parma Ham, sliced Yellow Courgette and grated Emmental Cheese.
For the Truffade it is a sort of Pancake made out of layers of thin slices Potatoes joined together by Tome Fraiche. It does originate from the Mountains of Auvergne in France. The Truffade can also include Lardons within it as well as Parsley. It is often served with a Salad.