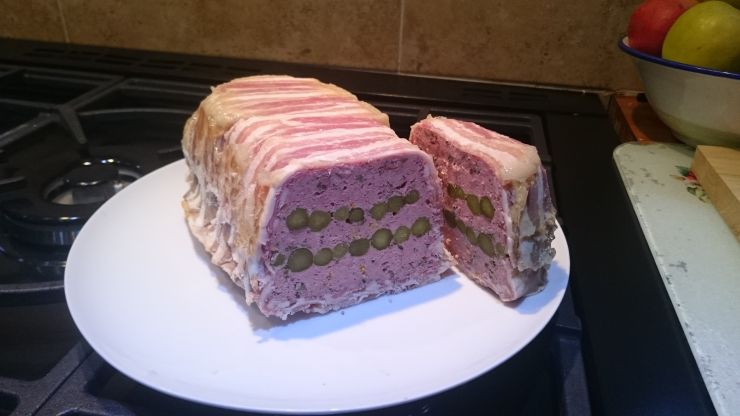 Pork, Pistachios, Apricots and Gherkins Terrine.
Terrines and Patés are a way to eat which can be extremelly convenient, leisurely but also lavish. My memory of my first Paté was the one of a Paté des Ardennes during a Picnic. It was peppery and smothered upon my slice of Bread. It was simple yet filling the belly so good.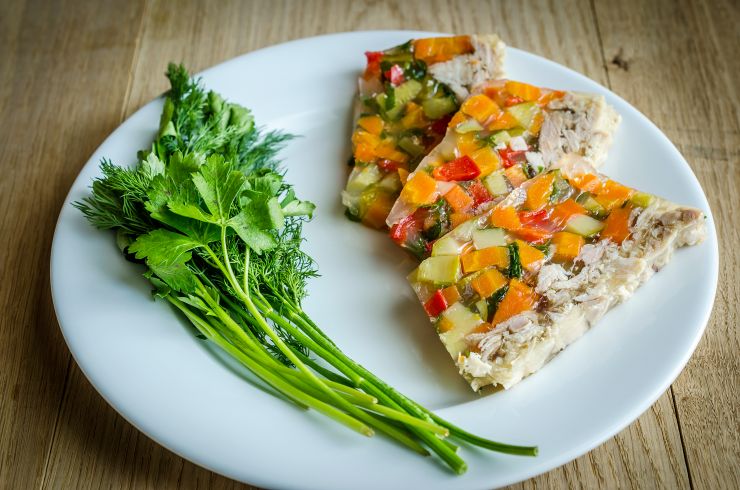 Chicken and Vegetables Terrine.
My Mother never made a Terrine or a Paté herself. It was always getting one from the Charcuterie or the Butcher. It was ever so nice. The one I do remember the most was one called the 'Galantine' because my Father prefered it the most. It can be made of Chicken or Fish but also Rabbit. It is rather delicate and jellied. The interpretation of a 'Galantine' is rather wide. Aspic can be considered within the range but also the Gala Pie. They are so many variable, but it is so hard to get your head around, that the optimistic view, is when a Gala Pie, an Aspic or Galantine does reach your plate, and it does taste lovely then it is an elegant Paté.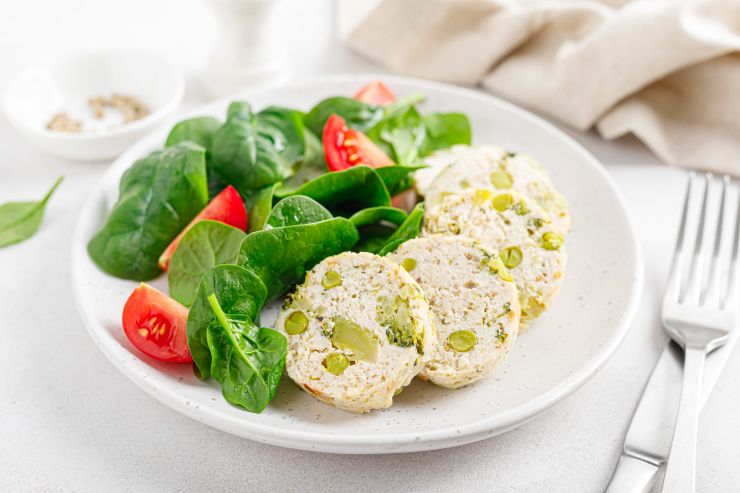 Chicken Galantine.
To distinguish between a Paté, and aTerrine, I will say that the Paté is more rustic than a Terrine but also that in terms of consistency a Terrine is more similar to a Mousse. In England during my years when I was studying at University, I did find it convenient to buy a Paté or a Terrine once a week. When you are too tired to cook you can get your proteins sorted nonetheless with a slice of Bread and a Paté. My go to were a Chicken Liver and Mushroom Paté, a Venison, Cranberry and Port one, and a Duck and Orange Terrine. Nowadays I still do buy Patés especially when I am too ill to stand up and cook.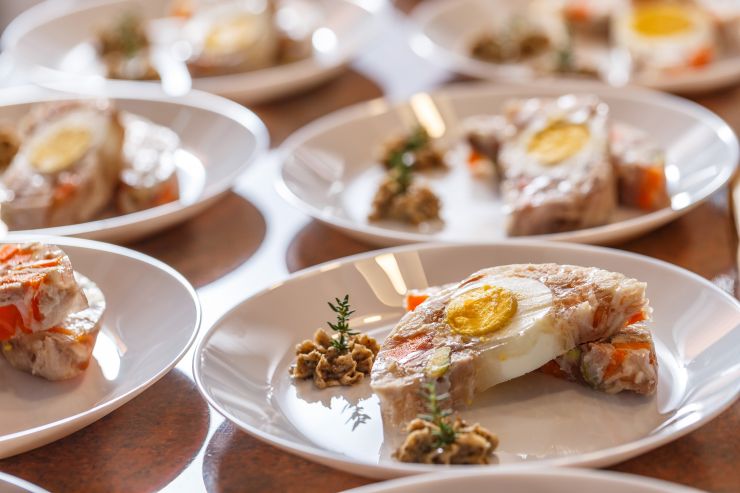 Rabbit Home Made Gala Pie. Not mine. But a good Gala Pie is ever so satisfying to eat and make. The first time I did a Gala Pie was actually to learn how to place the Eggs in the centre of it.
For my own self I do make very basic Patés to put upon a Toast, slice of Bread or Bruschetta. One Paté, I do a lot is a Mackerel one. However the way I do it varies for I do like experimenting. Tin Mackerel is perfectly suitable, my favourite being the French ones preserved in White Wine with Aromates: Tasty, full of flavour. Already cooked smoked Mackerel blent in a mixer with Lemon Juice and maybe a dollop of creamed Horseradish makes a decent Paté full of taste. Another one is to marinate your fresh fillet of Mackerel overnight with sliced Carrots and to make a Paté with them the following day with the addition of pickled silverskin Onion. It is fairly zingy.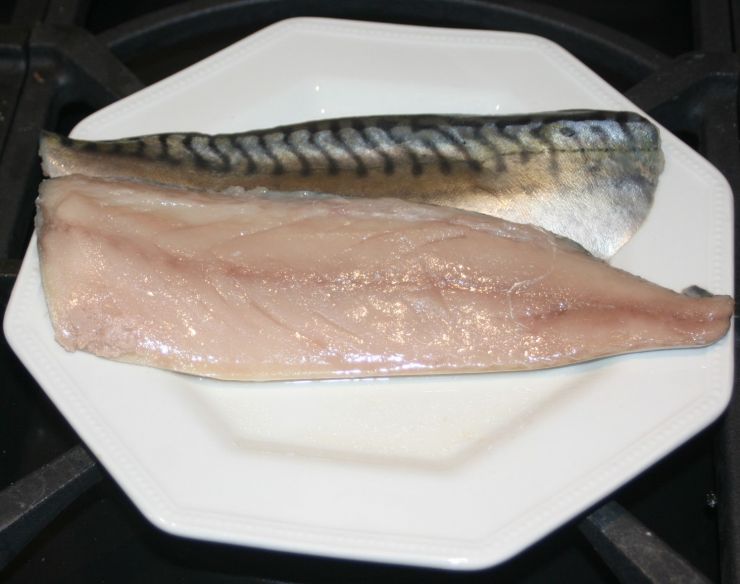 Mackerel is a very nice Fish to make a Paté. It is pack full of Omega 3.
The other Paté I like to do is one of crushed tinned Sardines preserved in Olive Oil. I just add some Lemon Juice and chopped Parsley to it. Sometimes if I have some either Capers or Anchovies or both to make it quirky. This Sardine Paté is rather simple and rustic for I do not render it perfectly smooth.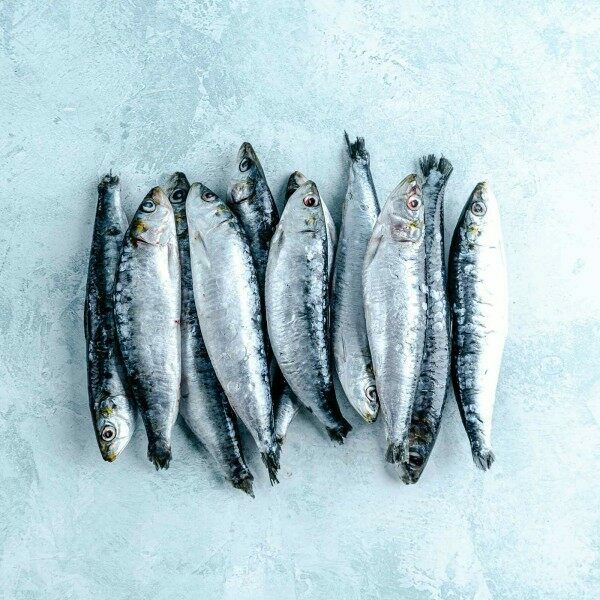 Like Mackerel, a Sardine is an Oily Fish full of goodness.
Another of my quick Paté is one made with Mushrooms. The same is happening here, I do vary the recipe almost constantly, most of the time depending on the Mushrooms I have at hand. For a quicky fix up Paté, you can use two drained tins of Button Mushrooms, Cream Cheese like Philadelphia flavoured with Garlic and Chive (the amount to your liking and the consistency you are looking for), blend together, season, spread upon the Toast and enjoy. This is a snack. For a better Mushroom Paté, use fresh Mushrooms and fresh chopped Chives.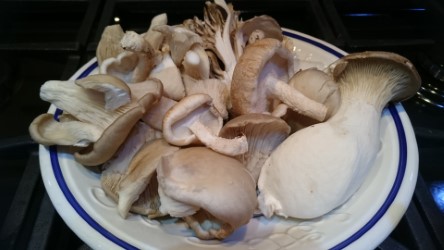 There is a Meatiness in the Mushroom which makes it perfect to create a Paté with.
Now Terrines and Patés can be made on a big scale not to indulge just one person but many. They also can be show stoppers in their own right. On Boxing day, I usually make them so much so that it is almost a tradition in the house. I also make a point of bringing one when there is a help yourself banquet for a Charity event, just a little contribution. The smoked Salmon Terrine always go done a storm.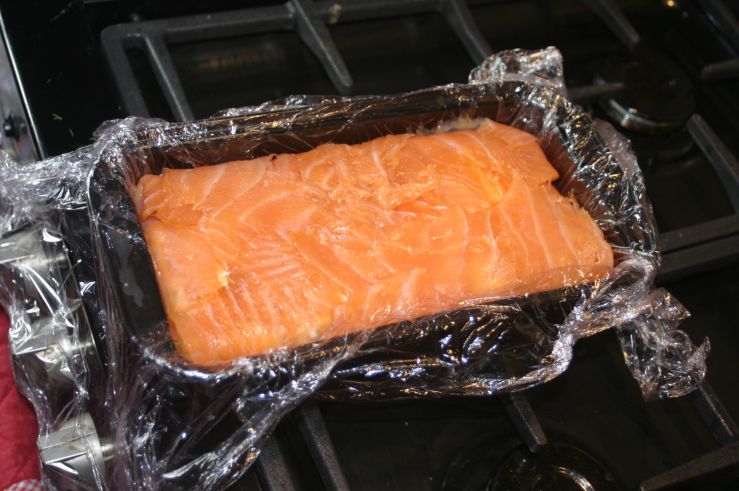 Salmon Terrine ready to be brought to the berievement day at the Spectrum Charity Centre.
My favourite Boxing Day Terrine is a Pork, Pistachio and Apricot one. If I don't make one, I do a large Ham or Gammon instead. But there is something nice when you know that you can create or make a Paté which everyone can enjoy. It is a pleasure to see everyone cutting a slice to like your efforts and to be fed.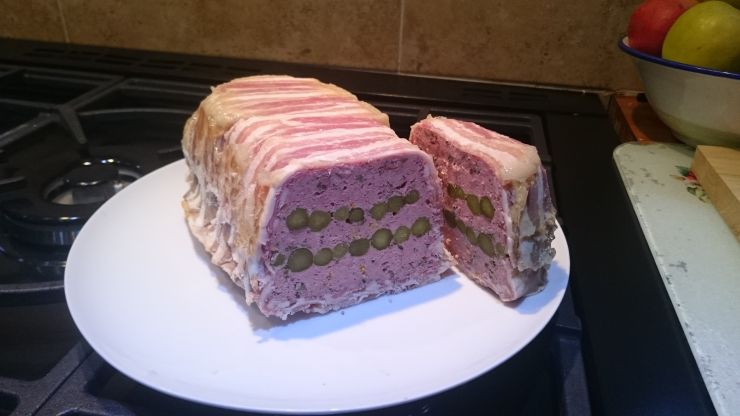 My traditional Boxing day Terrine. The favourite of my Partner.
I will add one thing Patés and Terrines are not all about Meat. They can indead be Vegetarian, Vegan or Pescetarian. As I said I do enjoy Mackerel, Sardine and Salmon Patés and Terrines, but also solely Mushroom ones. You can have Vegetarian show stoppers for a Dinner Party. Make it colourful using tasty Beetroot.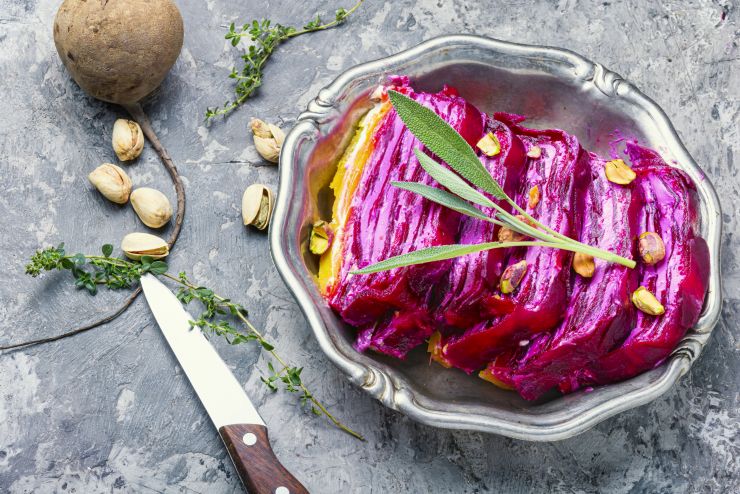 Beetroot Terrine.