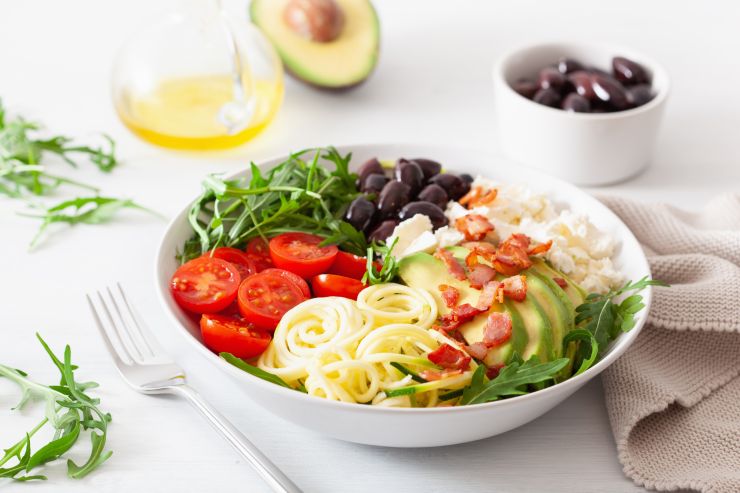 Snacks.
The beauty of Snacks is that they can require cooking or absolutely not, it can be an assemble of beautiful Ingredients upon a plate to just please the Palate and being just eaten with the hand, a toothpick or a fork, or a spoon or drank in a glass in the case of the Verrine.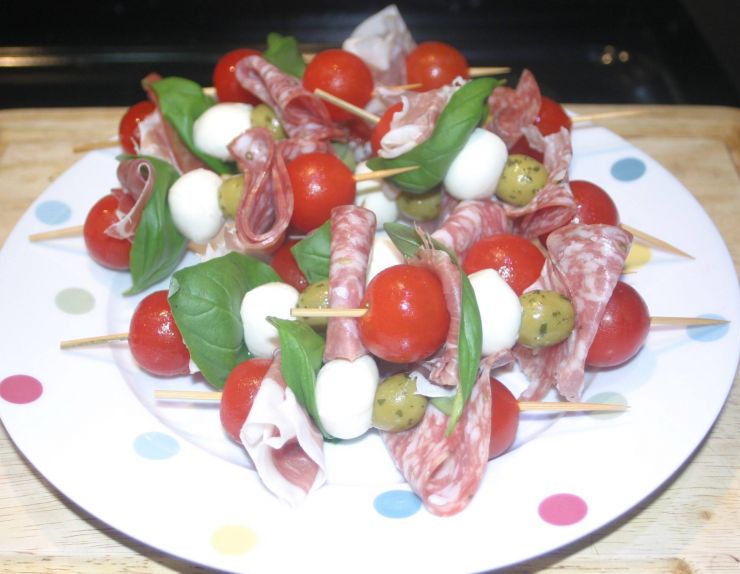 Skewers are very attractive Snacks upon a plate which usually do not last very long there.
In terms of Skewers or Toothpicks everyone remembers the seventies-eighties classic of Pineapple and cubed Cheese upon a stick which were actually quite nice, I am saying this with a giggle because I did like them... Easy to do, Skewers Snacks, can be enjoyable as well as tasty and colourful and they do go very fast. A Snack needs that contrast of flavours but also of texture to hit the right notes. One Skewer I like to do, is one consisting of Cherry Tomatoes, a cured meat like Salami, Parma Ham or Serrano Ham, Olives (either Green or Black), a Cheese, (Mozzarella, Halloumi, Feta...) and finally a little something that binds everything together like Basil Leaves.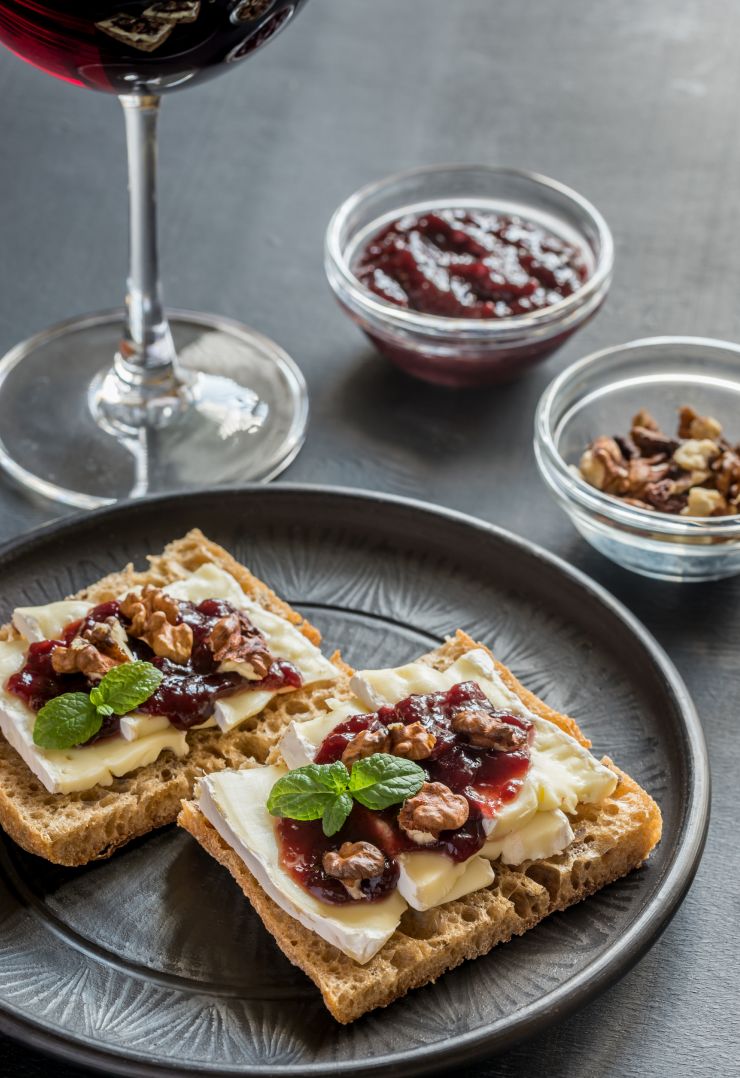 A Brie and Redcurrant Jam Bread Slice, with Walnut Pieces and Mint.
Snacks can be indulged like a guilty pleasure throughout the day. They can be prepared in advance like Muffins, Flapjacks, Brownies or made out of what you have at hand in cupboards and fridges. For myself, I will say that I do not have that many urges for Snacks, however as I tend to write at night from midnight to 6 am, I do like having a midnight Snack before my shift and a morning one before going to bed.
Then there is the matter of those delicious little bites, which can be light or indulgent called Canapés for the sake of a party or event. A Canapé or, in this case, many Canapés are made to be shared and enjoyed. Creating Canapés for a dinner party can be a very layed back affair but can also be time consuming. It depends on the number of guests, of course, and the one that is more famish than the others, and the uninvited that could appear which you are welcoming, and your partner that keeps checking on how you are doing to get a chance to nick more snacks for the gob on the way...
If Canapés sounds more posh than Snacks, then we can call them Bites, to reach a just middle ground. However most of them are little delights for the palate, or meant to be most of the time, appetizers to wait for something more substantial later. Canapé is the French for Sofa, so when you have a Canapé, it is the time to relax and socialise with the person next to you. A Canapé can be a talking point, a breaking the ice moment. Like I said, it was about sharing, just even with a simple enquiry: Do you like the capers on that Canapé? And so on... A Canapé can make someone talk a little and participate in a conversation.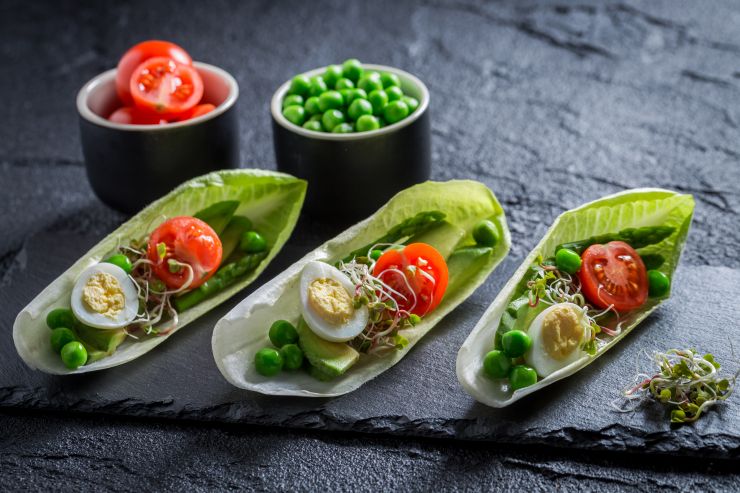 Chicory leaves veg boat Snacks/Canapés.
Canapés were thought to be a layer or two of something like Smoked Salmon and Salmon Roe for example upon a Blini or a piece of toasted Rye Bread. But the freedom is all yours to make it your own to please everyone and your own self. This is the beauty of Canapés. They are just meant to be enjoyed and crowd pleasers.