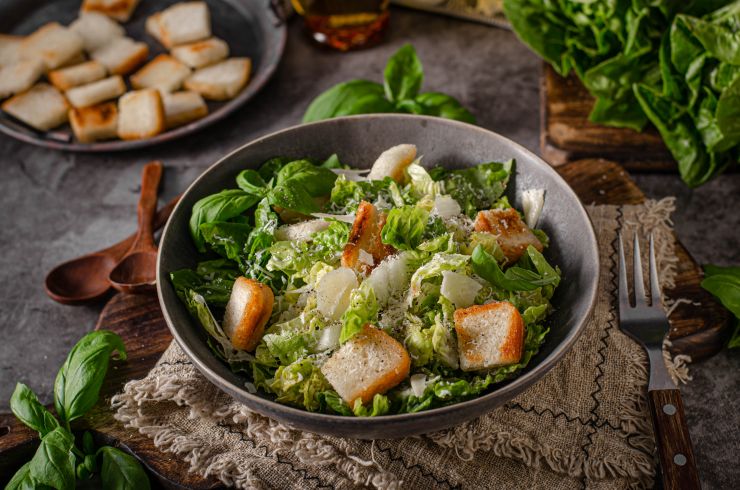 Ceasar Salad.
Salad is a word a little reminiscent of taking a day outdoors. It whispers to your ears words of wisdom that you do not have to struggle by the Stove to present a decent Supper. Bring the great Outdoors inside says the Green Cabbage. The Dairy sings as well: Green Pastures is within our Blue Blood, our Veins, for I am the Stilton, dice me as you wish and think of the Daisies in the Fields for they forged me to what I am.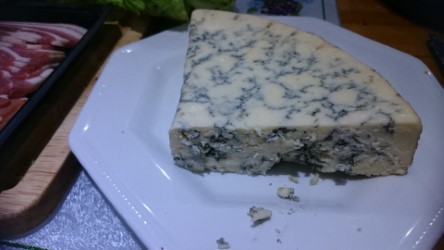 The Stilton. An awesome Blue Veined Cheese which can make a Cheese Board sing as much as a Salad.
The Golden Wheat wakes up in its magnificent Vessel that is called magistically Bread. Brewing in its corner, it wants to be part of the Feast because there is no Feast to be had without him on Board. It can show you the mesmerising Fields of Gold where he came from, the waves of the crests of Wheat following the Wind. But there he is adorning your table every day with his Golden Humble Might.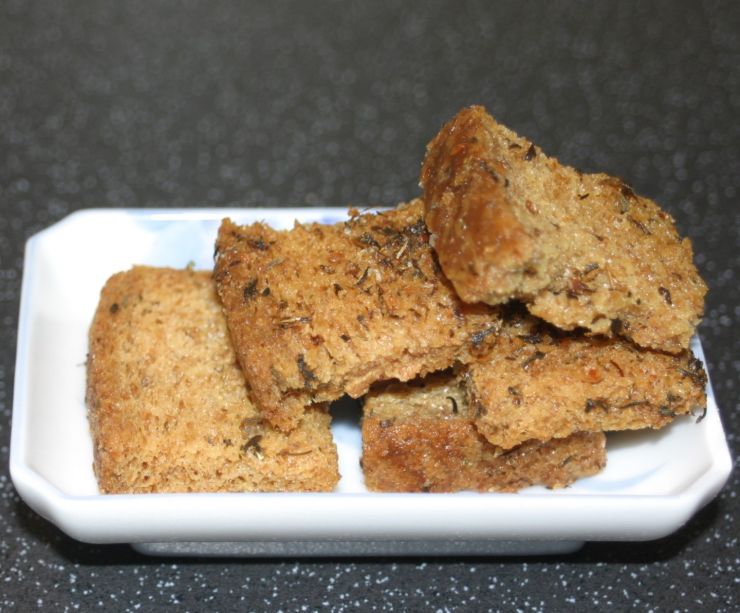 Home Made Croutons, ever so easy to make and ever so handy to Jazz up a Salad. Try different Breads and different Seasonings. My favourite ones are Croutons made of Wholemeal Bread, drenched in Olive Oil, seasoned with Sea Salt and Crushed Black Pepper, chopped Thyme and the Zest of a Lemon. Give them the Golden Glow under the Grill, and you will have glorious Croutons upon your Salad.
But then you have the Chorus of Rocket and Raddichio Leaves racketing that they are being left out. Peppery and Bitter they are about it. It is better to make them Rock and Roll, and add to the Swing of things. You have your Textures sorted out, you do need the Rockettes for more Flavours.
The Rockettes. Jazzing everything up.
From the Fruit Bowl the Grapes started to sing as well and it was swell! Grab, I want you to Grab, Grab Me, Grab Me... Grab Me! They saw the Vineyard and the rolling slopes downhill. They saw dawn and dusk. Dare I say they were ripe and ready to make the Salad and go down to the Gob.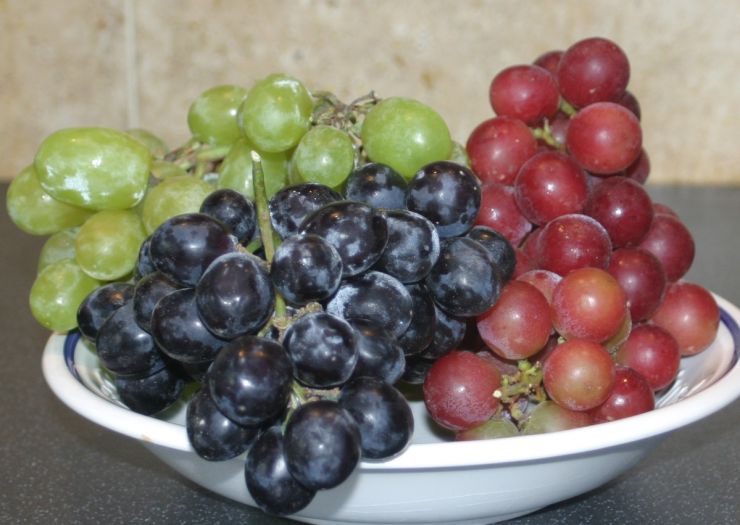 Grapes or, Raisins in their dried forms, are most of the times a welcomed addition to a Salad. They are a burst of fruitiness.
In the spiralling wind round and round came the Nuts. Crunchy they were, Nutty they were just as well, but Mellow like a sweet Melody below the Canopy of rusty Golden Leaves. Still dreaming of the Sky when they have landed back to Earth. They look above yet also down below. They have stories to tell, about the Spring, the Summer, the Autumn when everything start to fall apart, and then the Winter when a chilling Blanket covers their cold Corpses.
Pecan Nuts, a perfect addition to an Autumn to Winter Salad. It is all about the crunch.
Then there is the consideration to cloathe everybody with a Dressing Do because everybody needs somebody to love. For that Salad above I will go for an Ancient Grain Mustard Dressing made with Rapeseed Oil, a little chopped Chives, and a handfull of chopped Parsley.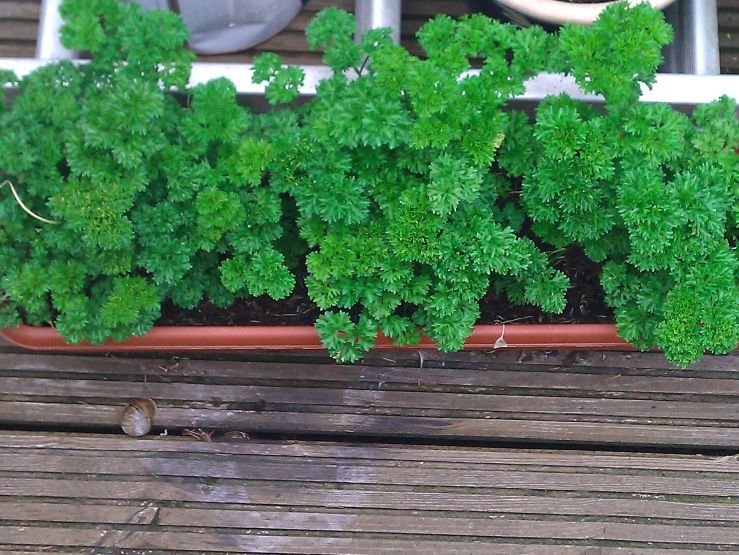 Curly Parsley grown on my old Patio.
And make sure you enjoy the LOVE that a little Salad can give.