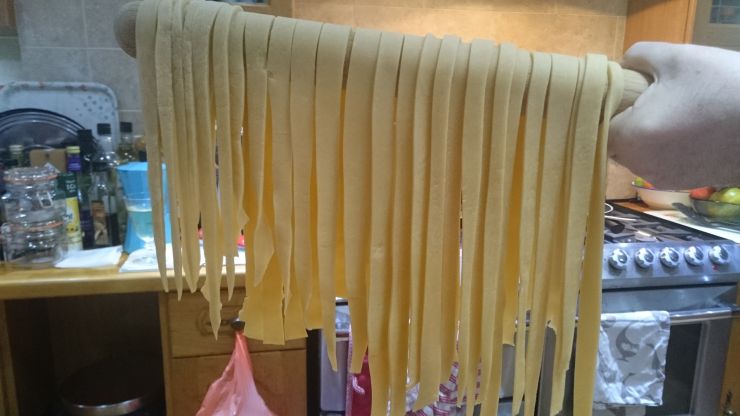 What can I say about Pasta dishes and Noodles ones apart that I absolutely love them and could eat them every day of the year without being bored for one minute.
As a young student I was a pretty boring cook: I could only do four things apart from opening a yoghurt and opening a jar of pickled gherkins. If we grade my skills at that time of my life, it would be frying an egg which is not negligible especially since I knew how to season it a bit (Smile). Then I knew how to do pancakes, not fanciful ones, just plain with sugar to eat them, that was all. A Normandy Apple Pie with a little dash of Cinnamon was in my small repertoire, a recipe I learnt from watching and helping my Mum when I was a kid. Last but not least I was living on Coquillette (Lustucru) Pasta with Tomato Purée and grated Cheese. This was my staple diet of the time.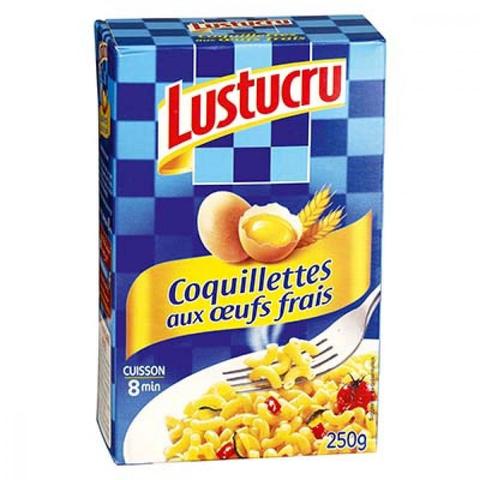 Les Coquillettes made with fresh eggs of Lustucru. Gosh did I love them.
However as life goes on you do learn about more Pasta shapes and manners of cooking them and also making them. Without joking, you probably can write a bible about Pasta or an encyclopedia if it hasn't been written already. Just to cover all the different shapes will be a feat in itself.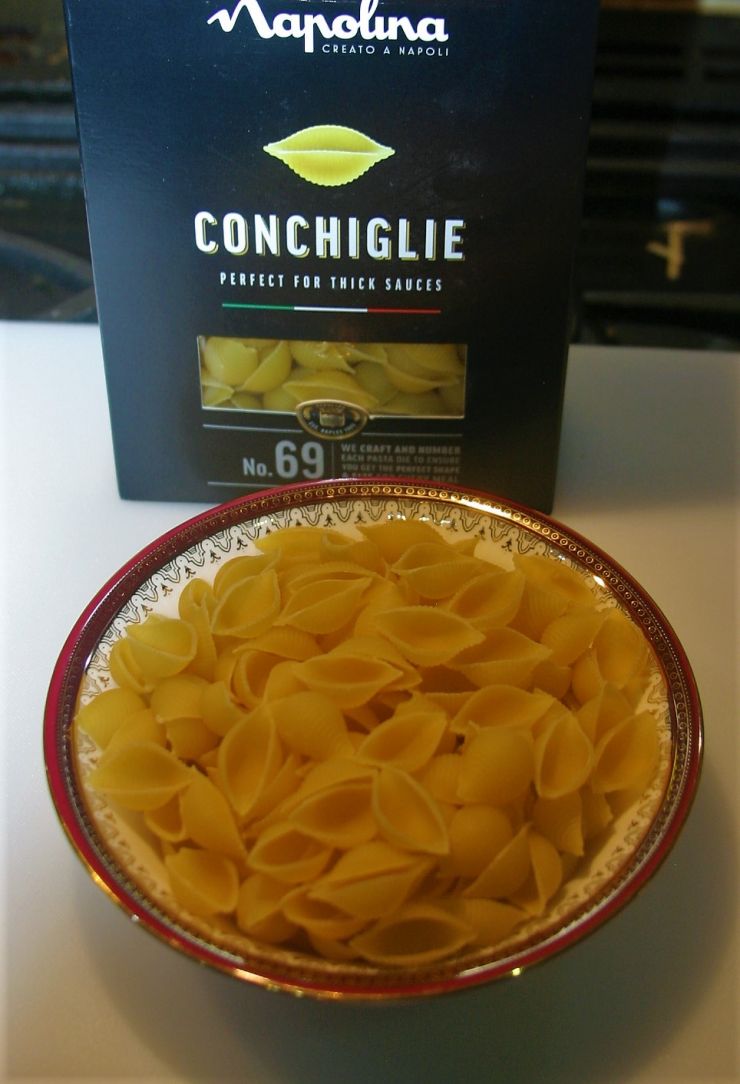 Conchiglie Pasta which are perfect for thick Sauce or a Ragu.
If I mention my first three favourite Pasta shapes I will struggle, it would have to be a top ten in no particular order:
Macaroni: I enjoy a good old Mac&Cheese, even if I twist it with other ingredients.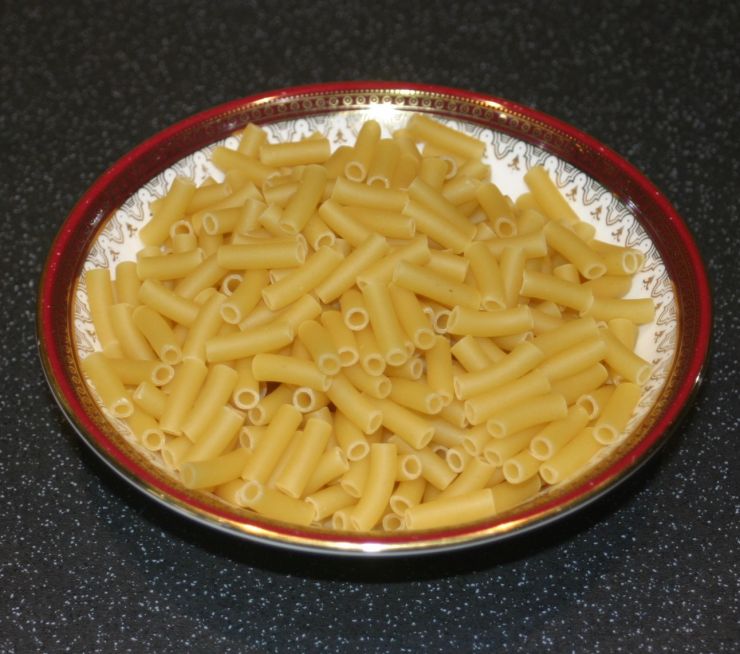 Macaroni, I must confess are always in my cupboards and I never run out them.
Tortellini: That little parcel full of goodness. Bought fresh it is fast to cook. Made from scratch it gives you room for inspiration for the filling.
Cannelloni: This is a rather large tubular Pasta which you can fill with the content you would like to have. It usually makes a rather comforting dish.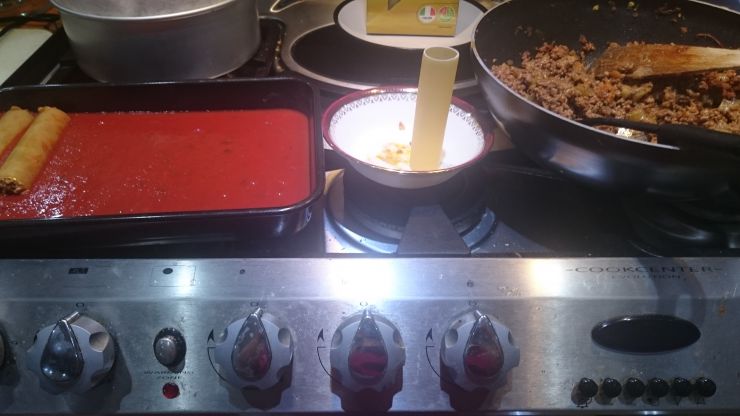 Preparation for a Beef Cannelloni dish.
Farfalle: It is the little Butterfly shaped Pasta which is enjoyable to look as much as eating. I will say it is an all rounder as per say it can go with almost anything, but if I am part Italian, I have never been to Italy and the culinary knowledge of the Italians I have to learn from books.
Spaghetti: Thin long cylindrical, Spaghetti are perhaps the most popular Pasta around the world. 'The Spag' Bowl' is almost an iconic expression if I may say. Of course you have the delicate Spaghetti a la Vongole, the controversial Spaghetti a la Bolognese and my favourite Spaghetti Carbonara.
Parpaddelle: Very flat, large and long Pasta Ribbon. Great with a good Ragu.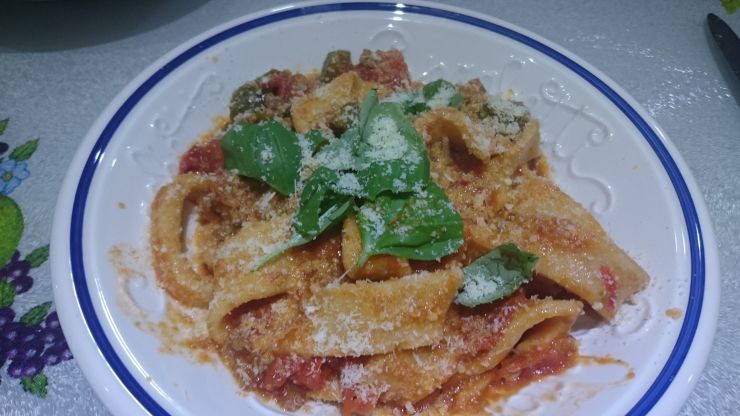 Parpadelle with a Beef Ragu and Basil.
Fusilli: That Pasta with the Twisty and Curly shape which is a joy to see in a bowl.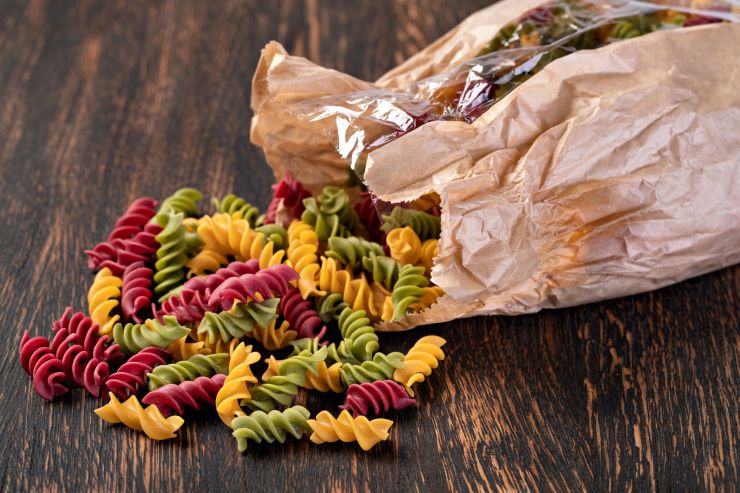 Tricolore Fusilli Pasta.
Penne: Cylindrical pasta cut at an angle. Like the Fusilli they are very versatile
Rigatoni: Cylindrical as well sometimes with a slight curve but always ridges.
Alphabet Pasta: There is a child in me when mentioning them, just remembering my Mum teaching us to spell our names on the edge of a bowl of Pasta Soup. A way to learn our Alphabet...
There is another Pasta which is a Soup Pasta and is a go to when I am unwell and this is the Vermicelli. I always have a bag in my cupboard just for the in case time I am so sick I can only eat a thin clear soup made of Chicken stock with them inside. And if I really push myself, I would add diced Carrots and Peas into the Soup.
So to resume from the Pasta Bake to the Spag Bowl passing by the Lasagne, Pasta are a world and a word which means Comfort Food to me.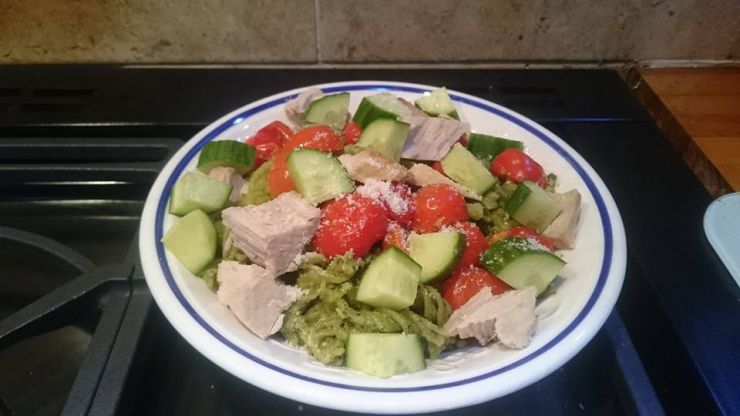 Green Spinach Fusilli bowl with Tuna, Cucumber and Cherry Tomatoes: Pasta for the Summer.
Then there was the Noodles or maybe beforehand but it is all very contested and a big controversy: What came first the Noodles or the Pasta? But I do believe than when hunter gatherers became Agricultors and Farmers after the Ice Age they developped almost simultaneously a not very dissimilar way of cooking with either Rice or Wheat. One must also know that the way to the East for Spices and Silk, Ornamented Textiles has been going on for a very very long time and vice versa, the way to the West allowed barter, trade but also wealth to go from one side to the other and vice versa. One can question the motives of Alexander the Great reaching the door of India before his demise due to sickness or poisoning.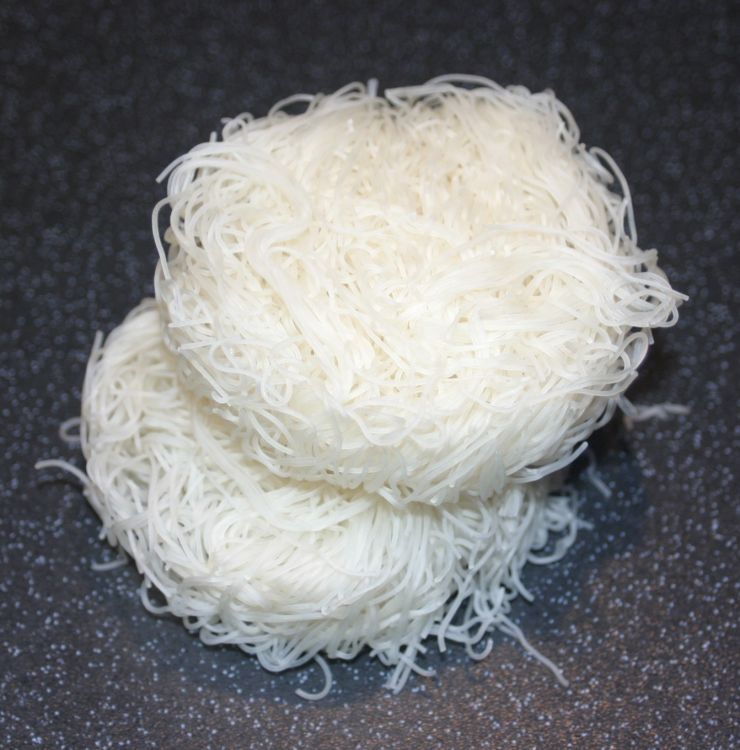 Rice Noodles Nest.
Speaking of a Noodle dish I am absolutely fond of, it is Duck Chow Mein. This comes from my local Chinese Take Away. But I do cook with Noodles. I tend to use Rice Noodles as I do for Vermicelli, in a Broth, Spicier I must admit and with a combination of different flavours which are more Asiatic.
I pride myself to do a good Stir Fry once every two weeks. So in my cupboards or fridges, you will find different Noodles from the Soba Noodles to Fresh Egg Noodles passing by the Udon Noodles.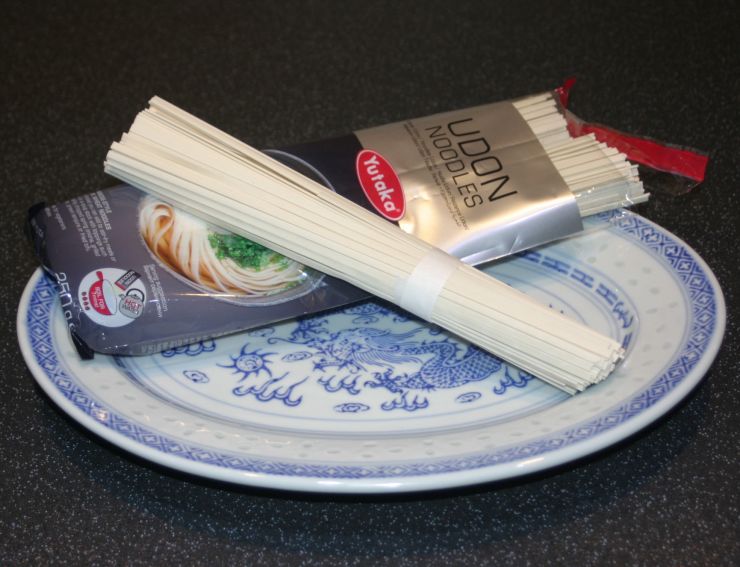 Yutaka Udon Noodles.
Enjoying Stir Frying makes you have a proper dish full of flavours and Veg within minutes. I confess to have another cupboard at home full of Soya Sauces Light and Dark, Teryiaki Sauce, Rice Wine, Rice Wine Vinegar and so on, Nori Sheets, Black Sesame Seeds etc, etc...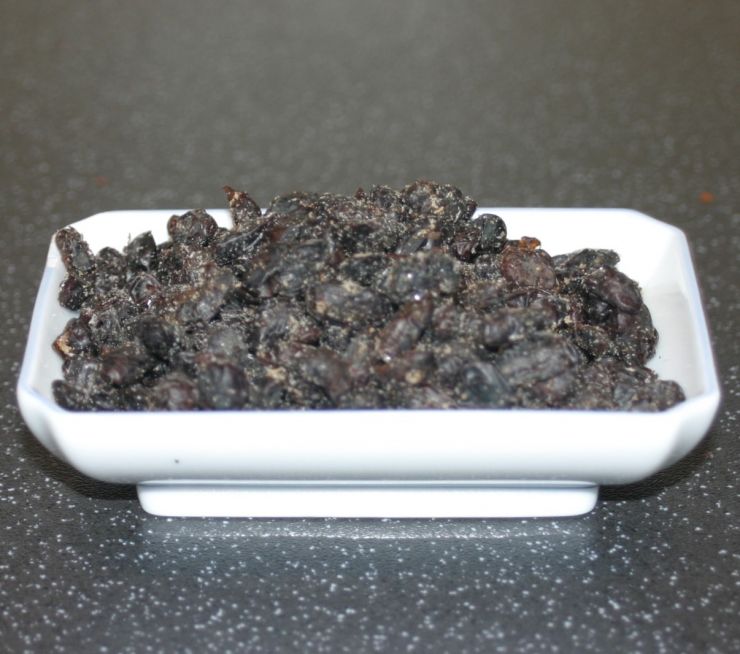 Salted Black Soya Beans.
A simple dish is to do Fresh Eggs Noodles with Purple Tenderstem Broccoli, Bamboo Shoots, Ginger shredded, in a Stir Fry way, with toasted Sesame Seeds, a chopped Red Chilli, Soft Boiled Eggs and a little Sesame Oil. A Drizzle of light Soy Sauce to finish everything and you will have a little bowl on your laps of Asian flavours to enjoy while watching a Bruce Lee Movie.