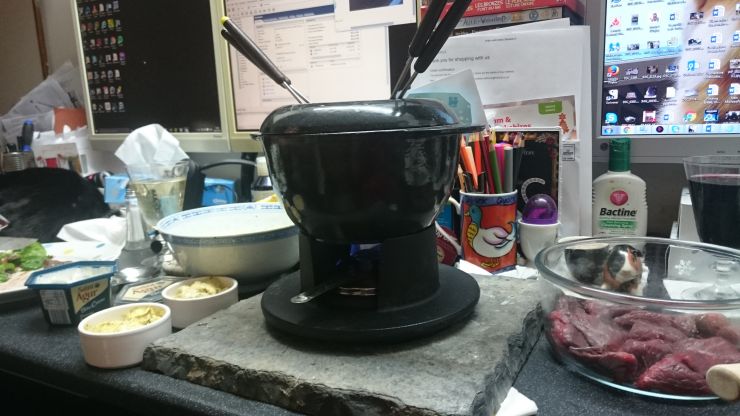 The Fondue is a very sociable and convivial dish. We are sharing it around a table with friends or guests who could become friends. Of course it has to be mentionned that the Swiss Cheese Fondue is the national dish of Switzerland a country who has three main languages: French, German and Italian. There are more as well. The point there is to be happy we have to be a melting pot because we are all humans with hearts.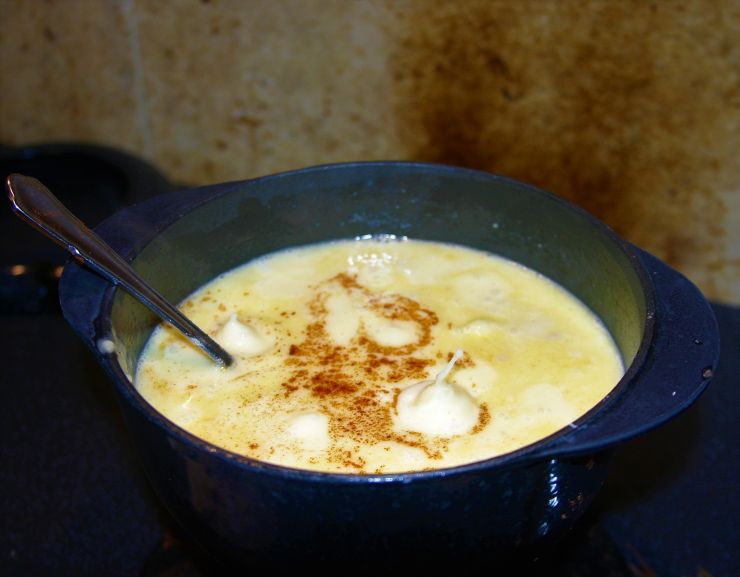 Cheese Fondue in the making with a dash of Paprika.
The heart warming cheese fondue can be created with many types of cheese. To just quote some: Gruyére, Emmental, Vacherin, Appenzeller, Comté, Beaufort, Reblochon, Saint Nectaire, Fourme d'Ambert, Fontina can all be used. However to stay and to get the full taste of a particular cheese, my rule of thumb would be no more than three kind of cheeses or are some could call it the perfect Tango à Trois.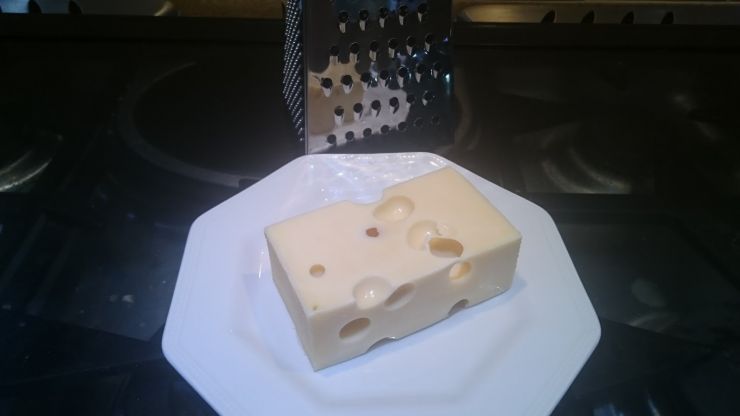 Emmental Cheese Block.
Gruyére Cheese, one of my favourite Cheeses.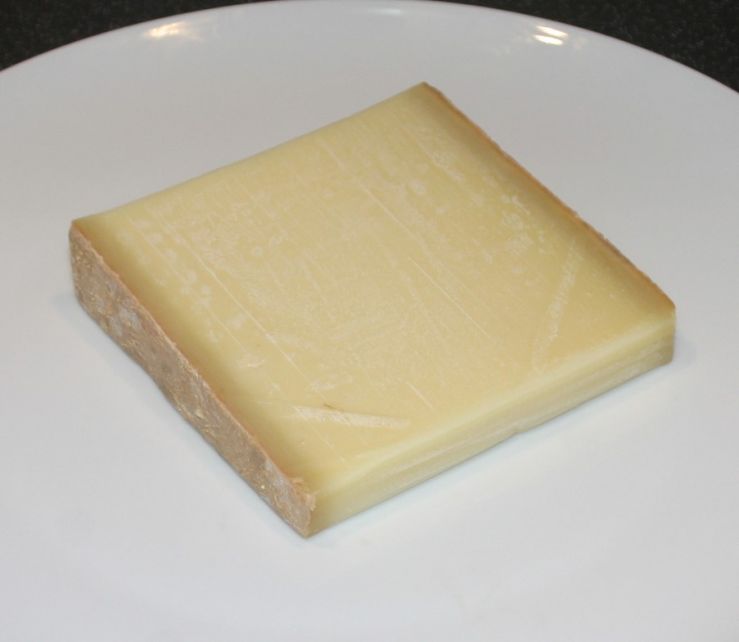 Comté Cheese Slab.
There are many recipes of fondues out there and you should feel free to adapt any to your own taste buds or readapt it to the friends you invite at your table. Liberty, and Fraternity is the meaning of that dish. It is all about acceptance and a joyous moment around a table. Now some will tell you that they are some etiquette to maintain around that dish but also some fun to have just as well. There is usually a small challenge or penalty for whoever lost his or her cube to dip in the Fondue. It is just a blame game upon the clumsiness of someone at that moment in time which can turn very amusing.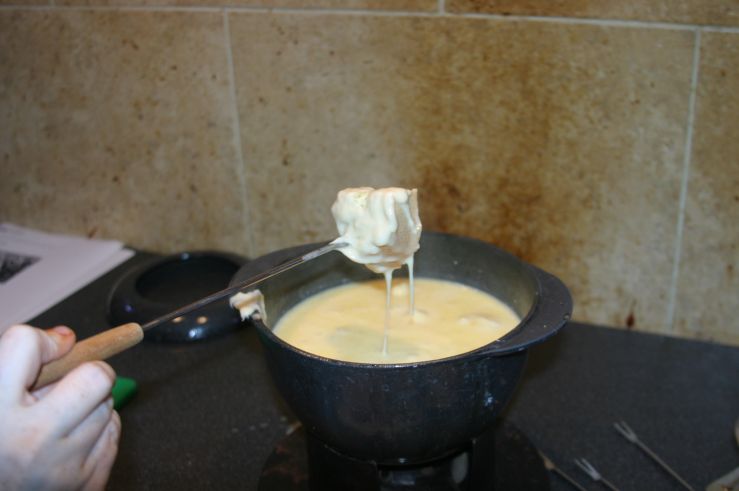 A Fondue is about taking the Dip in Deep Amusement.
A Fondue is easy to prepare but you must be prepared to accomodate everyone. It is usual to rub the Caquelon with some garlic prior to do the Fondue but if one of your guests is intolerant to garlic don't do it. Enquire, talk, chat and know before you prepare anything. The same goes for white wine or the use of beer or kirsch in a Fondue ask any guests if they are against alcohol for any reason. It is just being kind and not awkward.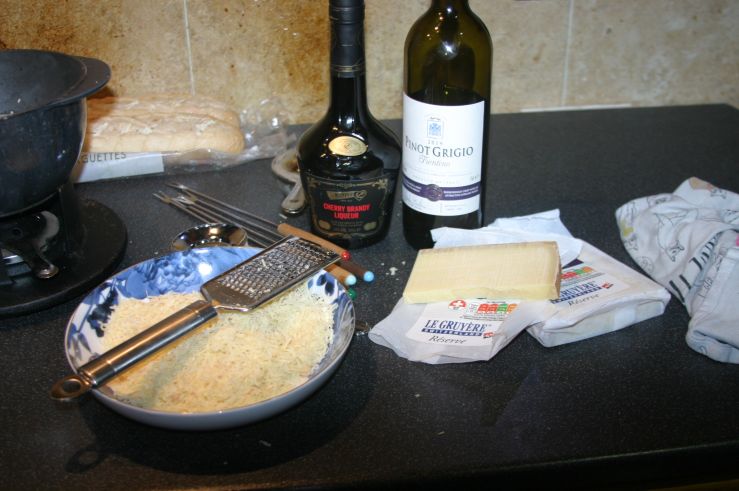 Some of the ingredients for a Cheese Fondue in my house.
I do like a Cheese Fondue of course, but my tendency is to rub the caquelon with garlic when I can, only use three types of cheese at most (Gruyére, Emmental and Comté), my three fav. I do like using a white wine, Picpoul de Pinet but a little White Pinot gives a softer touch. Then of course come a little seasoning. I go simple: salt and pepper with a little of chopped chives. I do like to add a small pinch of paprika which was never critcised. Don't forget a little cornflour.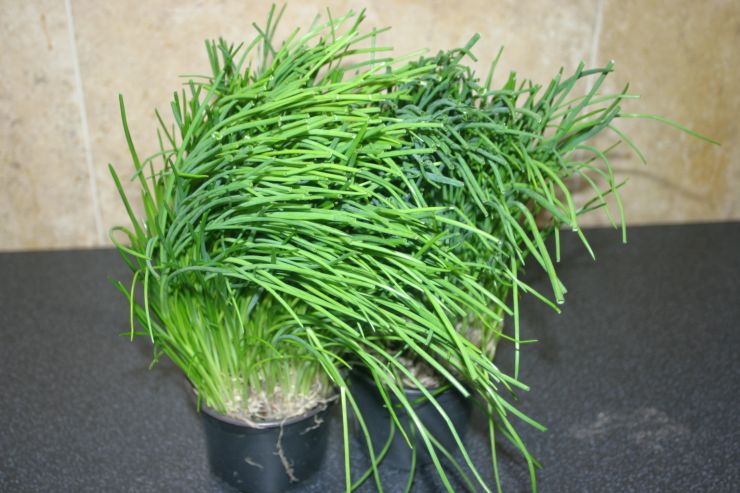 Chives, it gives a lovely subbtle onion flavour to either a Cheese Fondue or a Bourguignonne one.
However we must talk about the bread to dip into the Cheese Fondue. This is up to you and after trials and experiences you will find what work best for you. For me I absolutely love a garlic crusty baguette to dip in the Fondue. It holds still, it gets properly coated with the cheese and then in your gob it is a little cube of joy. However I will never rate down ciabatta or focaccia but I think a little tip is to put them in the oven a little bit beforehand to get the best result.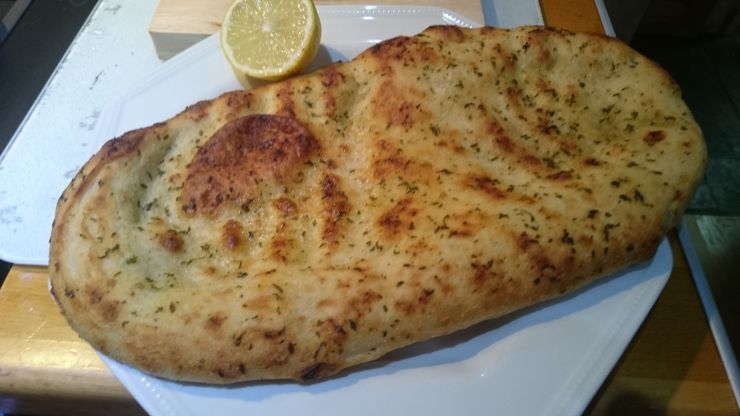 Garlic and Herbs Flat Bread, a nice partner for a Cheese Fondue.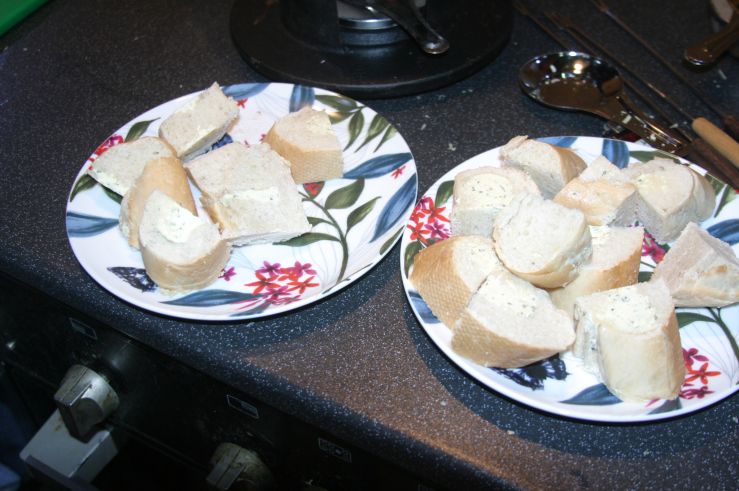 Diced Garlic Baguettes. You will find that one is enough for two people or two Baguettes are enough for about four persons give or take.
My favourite Fondue is the Bourguignonne one. Yes, I was born in France and I can not deny it. This one is made with hot oil in the caquelon. Choose the most excellent Beef that you can get and cube it gently. Rump steaks, Tenderloin ones... Whatever take your fancy. Confession for confession, I always choose the rump. The choice of your oil is really up to you. I tend to go for rapeseed oil myself.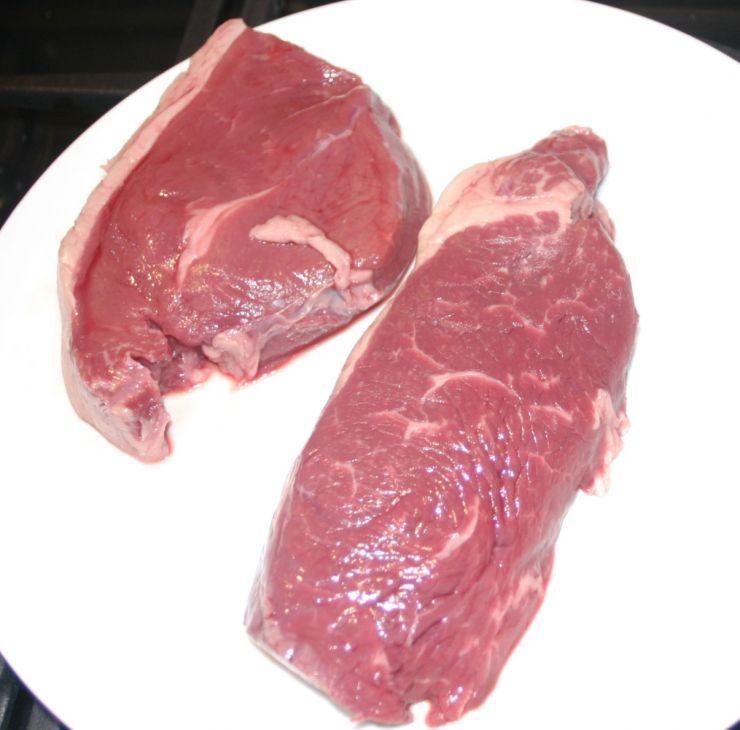 Beef Rump Steaks, Diced in decent cubes are perfect for a Fondue Bourguignonne.
The rubbing of the caquelon with garlic applies as well here. But you can also leave the crushed skinned garlic in the pot as well. For more flavours the addition of bay leaves, thyme and parsley play their roles. Another important thing apart from flavour is how you want your beef : rare, medium, or totally dry as hell. So you need to learn and judge for your own self how long does it take for the cube of beef to be cooked to your own taste. This comes with practice and experience and despite not wanting to sound like my mum, I kind of do.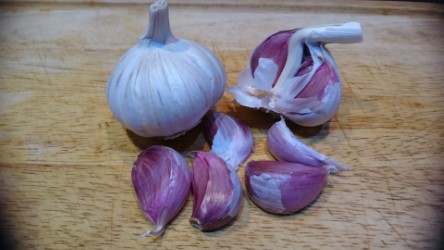 Garlic impart flavour, yes, but always be conscious of any guest food allergy. It is a must.
The Fondue Bourguignonne involving meat is fairly filling and rich so it is usually served with a range of dipping sauces, and a salad. To be honest with you I will stick with that sort of concept during summertime however in autumn I do add little baby potatoes which can be fried just as well. Part boil them for 5 minutes and you have a very comforting dish when the weather is changing... Cut them in half, but no peeling needed, however a good pinch of salt, crushed pepper and chopped parsley enhance the taste of the dish.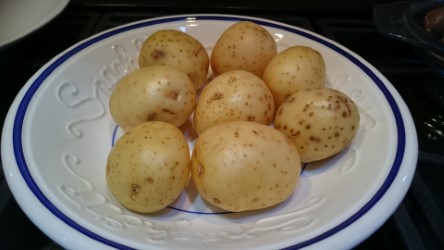 Baby New Potatoes, quartered or halved are a perfect side for a Cheese fondue or a Bourguignonne one.
The range of sauces is huge on that one, buy them or do them youself. Tartare sauce is my favourite one. However a usual crowd pleaser is the good old Mayonnaise. You always can twick it and twist to accomodate all the guests. The plain one, the Aioli one (with garlic), the one with a little shallots and white wine, a sauce including paprika, an andalouse sauce, a sauce Aurore... It is a play with your palate with this dish.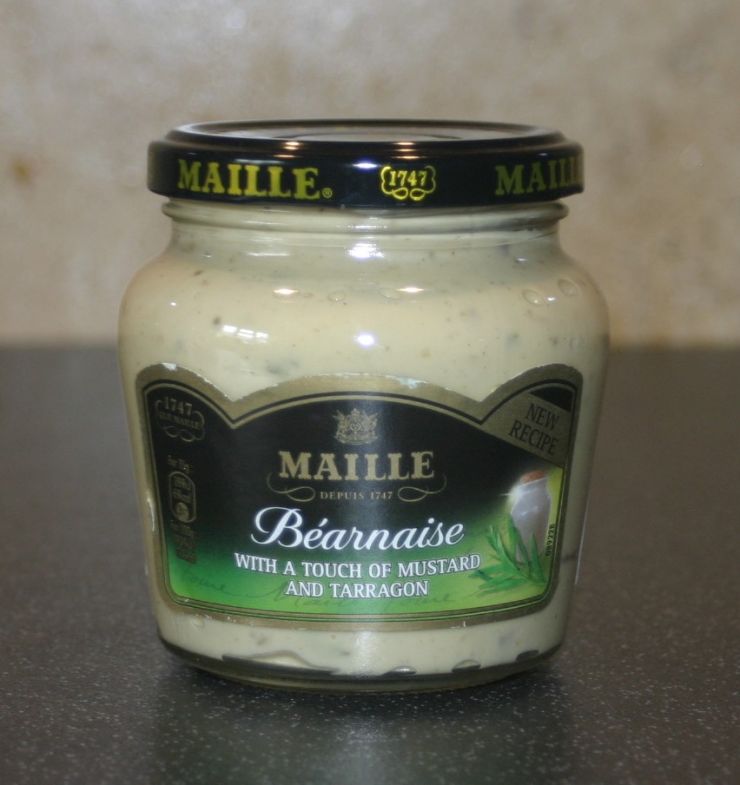 Sauces are the little joy on the side of any Fondue. Be Bold, Be you, Make them yourself or buy them. Then go to the dip-deep heaven, with your steak cubes, 'tatoes, bread or salad. Just enjoy your meal.
As for the salad it is the same. My usual game is a peppery type like Rocket leaves as mainly a side to the Meat. You can enhance it as you want: Add some Blue cheese within that side Salad or/and halved Cherry little plum Tomatoes and why not bits of Walnuts. But Beef does go well with Blue Cheese and Blue Cheese tends to marry very well with Walnuts. It is not Rocket science, it is just trying what can work for you.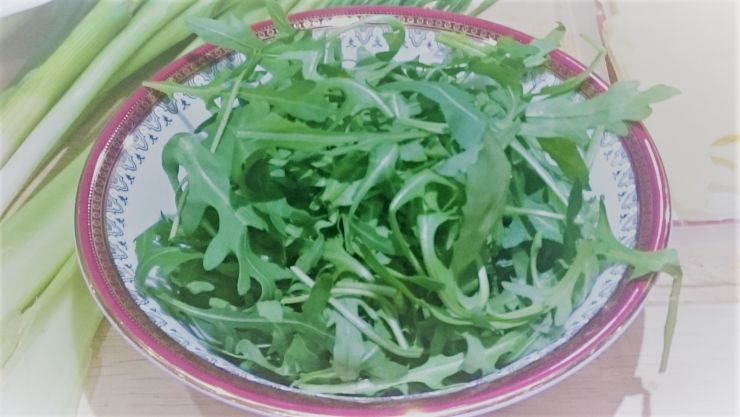 Rocket Salad Leaves. Perfect to Jazz up some Diced Beef.
With some Salad Leaves you can cook in the oil for a little: Raddichio or Endive (Chicory). I like the bitterness it can apply or add to the dish. Call me whatever you want, I do like rings of onions which you can fry in the caquelon to add to my salad and in summer tomatoes are a must, either cubed or sliced but always fresh and never getting to the frying part of it all.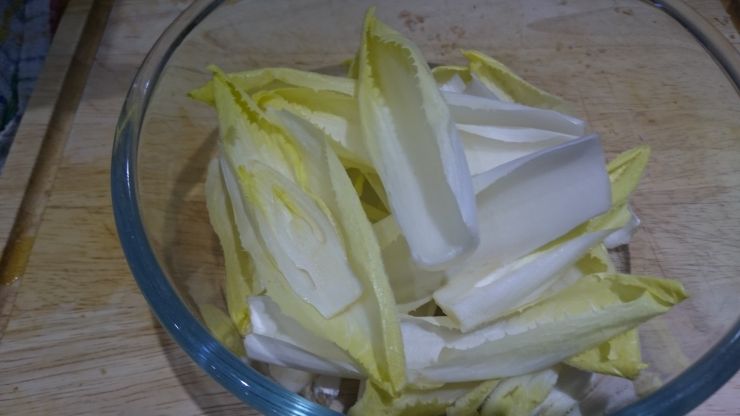 Chicory leaves, also called Endives are slightly bitter however they are perfect to use like a little boat/ barge to carry a cube of bread oozing with cheese, or a cube of meat with a nice sauce of your choice.
As I said this Fondue Party is always a party which you must enjoy. There is not just one sort of Fondue, there are plenty out there and one you can create yourself.
Imagine the joy of your child on his or her birthday melting marshmallows in a chocolate Fondue with all his or her little friends. I will repeat myself, a Fondue is a Melting Pot of Hearts sharing Friendship.
I must add a few things. First, yes, the Fondue is the best part of the show. However like the main actor or actress on any stage or film, it needs to have company to give them the lines to repart to. The Universal Extra Bit to bring it up to the next level of entertainment.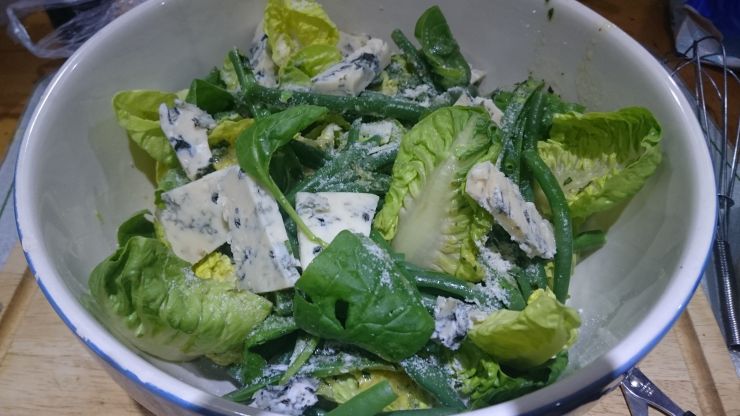 A little Gem Lettuce, Spinach and Gorgonzola Salad to go with the Fondue Bourguignone.
Therefore it is essential to think and find those great sides to your main act: The marriage made in heaven and what is working together perfectly well. It is all about enhancing the action and the pleasure of it. Along the lines, be considerate about the seasons when you are doing a Fondue... Will a good leafy Salad be perfect for Summer as a side? Or will a home bread and Potatoes be perfect for Winter to go along your Fondue. Seasonality is key as much as the Fondue you did decide to do.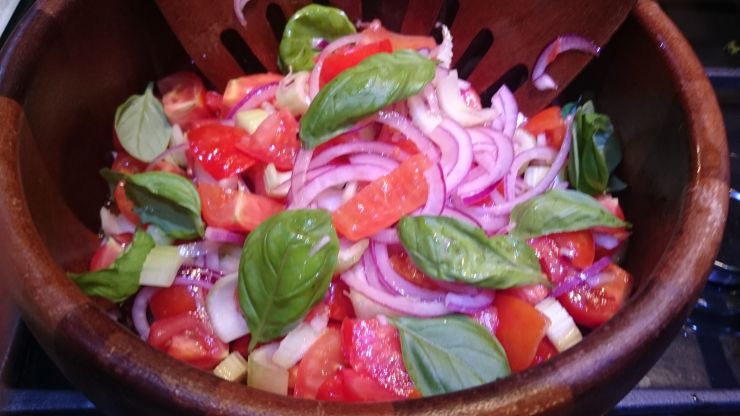 A little Tomatoes, Red Peppers, Red Onions and Basil Summery Salad which goes well with an oil Fondue using Diced Lamb.
For any Meat or Fish Fondues, find the best match and choices for Dips and Sauces. A Tartare sauce rarely disappoints with a Meaty Fish like the tail of a Monkfish. A Mary Rose sauce can give a swing to a fried Prawn or Langoustine. Sauce time prep is Swinging time, think it through, so it will sing in your palate. That's important.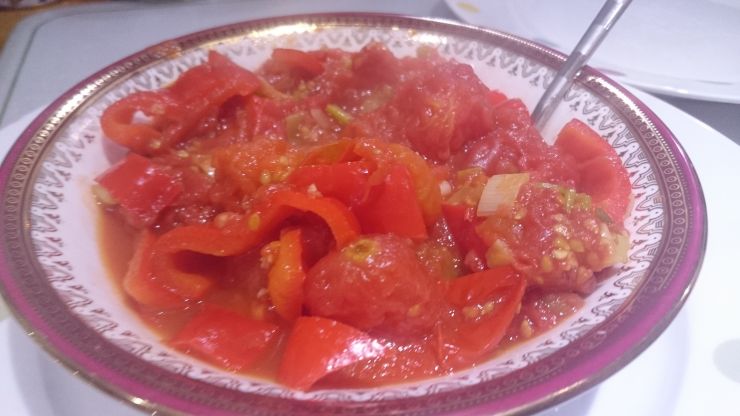 Simple Tomatoes, Roasted Red Pepper and Spring onions dip which goes well with a Fish Fondue.
We must never forget our Veg. I got that tip from Alice, a Land Lady from WW2. Just add some as a side of your Fondue or within it. My Favourite are the fried little baby potatoes any time of the year... I do find that root Vegetables hold well in an oil based Fondue. However they could be dipped in a Cheese Fondue with great pleasure.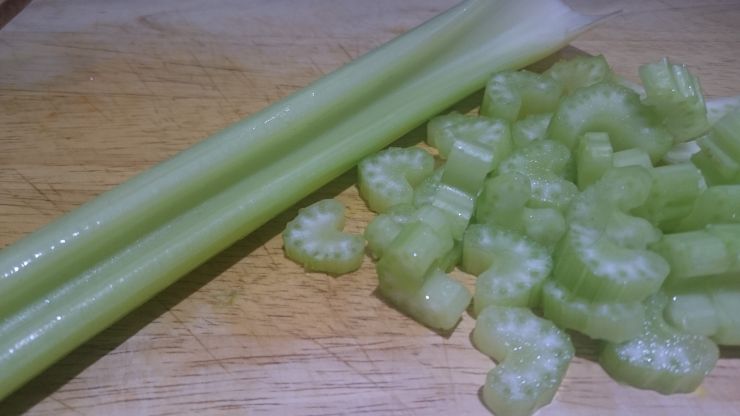 Celery is very nice to dip in a Cheese Fondue.
Last but not least, a tip from the heart, do use your leftovers, make the effort. There are plenty of ways to do so. I will only take an example, at the end of a cheese Fondue, you can be left with melted cheese and a crust at the bottom of the caquelon. Do not loose any of it. Use ramequins and save it for the next day. You can do Welsh Rarebit with the leftover cheese. Cling film everything and put that in the fridge. Keep it for later: A lunch or a Brunch or a Cheese dip for Celery sticks or Carrot batons. Make the party last by keeping your health, energy in your body and calcium intake. It is important.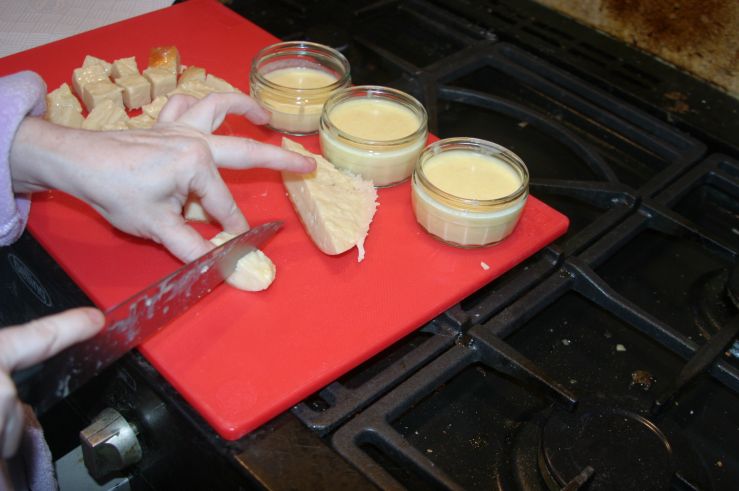 Using the Leftovers of a Cheese Fondue.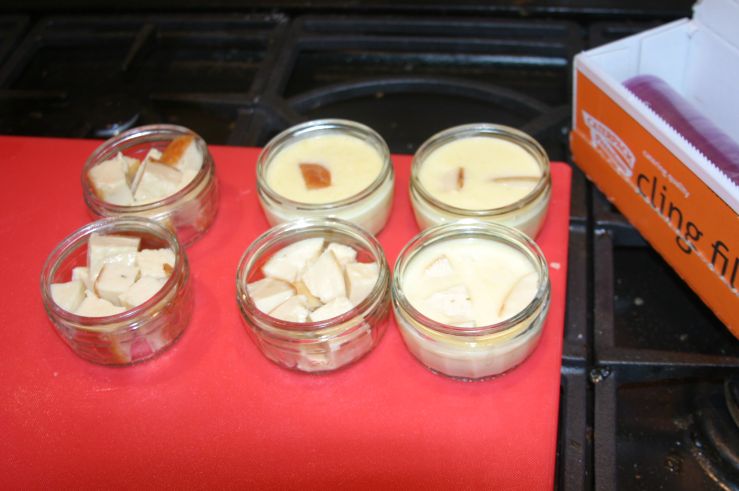 Keep the little Ramequins in the fridge all cling filmed for later.