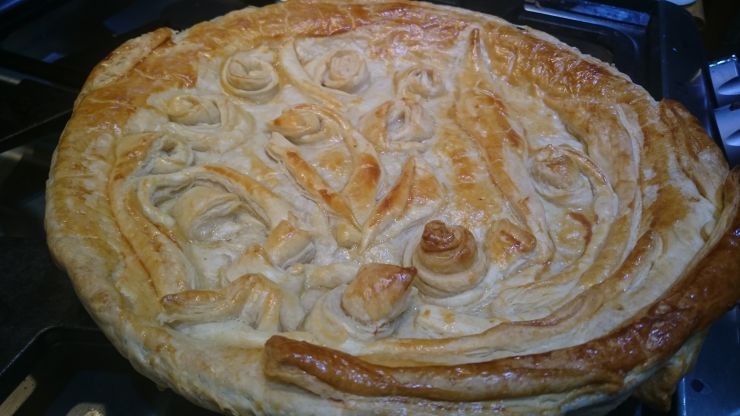 This Pie is rich and creamy, although it is made from humble ingredients such as Ham-Hock and Potatoes. The luscious cream, full of herbs, seasoned and spiced with nutmeg, laces the layered Pie giving it a French feel of luxury. Simple yet delicious, it can be the star of the show as a main for a nice middle of the week supper, served with a nice rocket and watercress salad. You can also do the Pie without the Ham, and serve it as a side, like an impressive alternative to Dauphinoise Potatoes for a dinner party.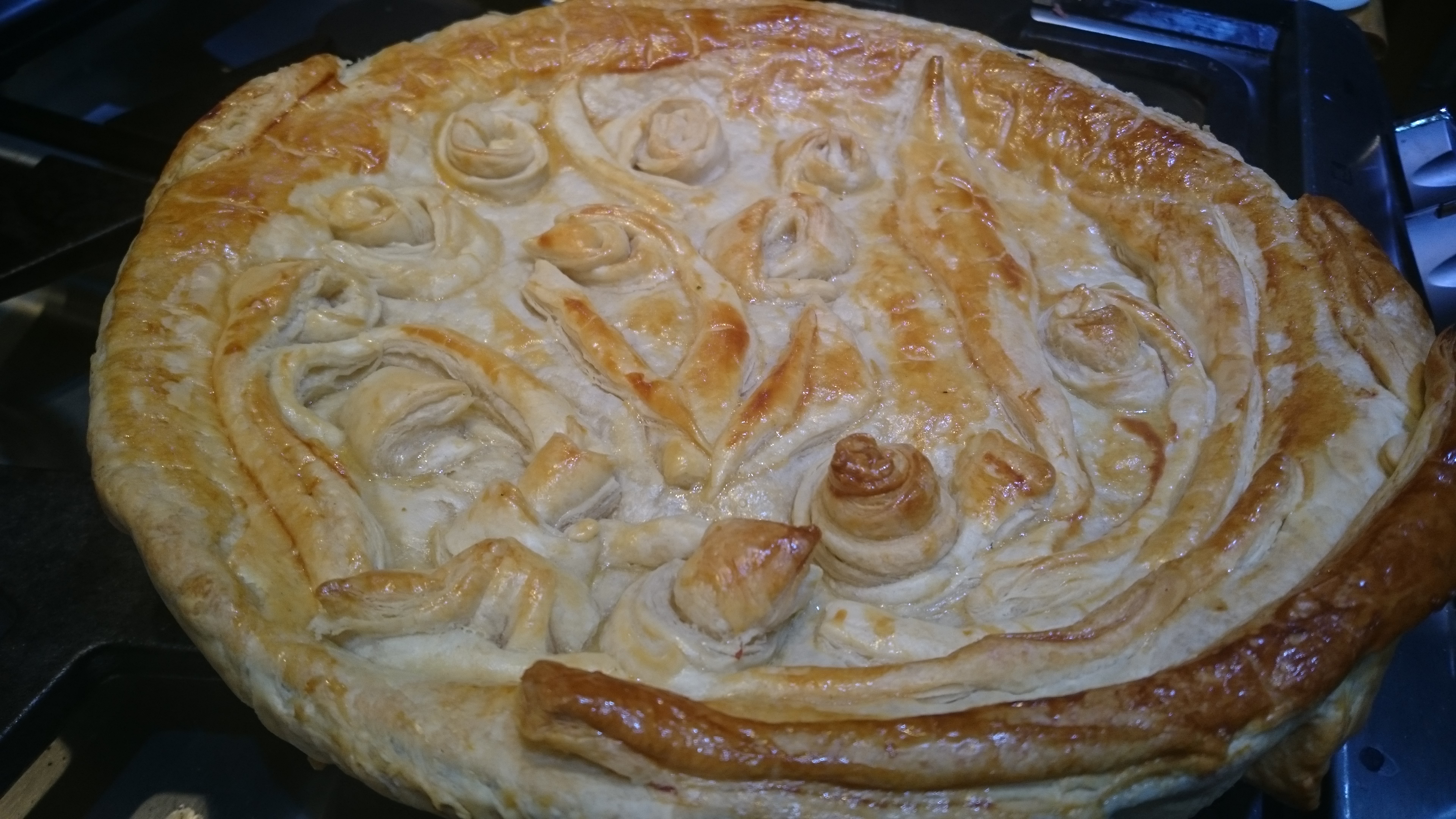 Preptime: 30 minutes
Cooktime: 30 to 40 minutes
Servings: 2-4 portions
One shredded Ham Hock.
One pot and a half of Double Cream or Sour Cream.
250ml of Milk.
A slab of Puff Pastry (Shop bought).
750g of Charlotte Potatoes.
A bunch of chopped Tarragon.
A Bunch of chopped Parsley.
One or two Cloves of Garlic finely chopped.
A handful of Peas.
A handful of Button Mushrooms.
One banana Shallot finely chopped.
Seasoning: Sea Salt and crushed Black Peppercorn.
A grinded dash of Nutmeg.
One sliced Leek.
One Egg.
200g of Gruyére.
300g of Watercress and Rocket leaves.
A Vinaigrette made with Grain Mustard and Rapeseed Oil. Choose a White Wine Vinegar to do it or a Cider one.
The Ham Hock has to be roasted first. Gas mark 5 for about an hour depending on its size.
Peel your Potatoes meanwhile and put pan of water (with a pinch of salt) to the boil.
Slice finely your Potatoes. Then put them in the boiling water for five to ten minutes to part-boil them.
Prepare the dish to make your Dauphinoise Potatoes. Grease it with Butter then rub a clove of Garlic inside it. Chopped your Garlic Clove very finely and put it aside.
Drain your sliced Potatoes. Tap them with a kitchen towel to dry them up. Then place them in a layered manner, seasoning as you go with a little Nutmeg and Parsley between the layers. (Thyme Leaves can also be a welcome addition).
Cover the Potatoes with a mix of Cream and Milk which you can top with grated Cheese. Then put the dish in the oven.
Once this is done focus on your other Vegetables: Leeks, Mushrooms and clean them, peel them and slice them up then put aside.
Take your Meat out of the oven. Let it cool and rest.
Prepare a deep Pie Dish by buttering it and then rub a clove of Garlic at its inside base. This will infuse the taste of Garlic to the dish.
Put your chopped Vegetables: Leeks and Mushrooms into the Pie dish, followed by chopped Tarragon and the rest of your chopped Parsley then your chopped Garlic Clove. Add a handfull of Peas to the mix.
Prepare a Cream and Milk mixture which will need to be well seasoned. Pour into the dish.
Carefully shred your cooled Ham Hock and add the Ham pieces into the Pie Dish mixture in an evenly fashion.
Roll on a floured surface your Puff Pastry, and place it on top of your Pie dish. With any leftover Pastry when you trim it to fit your dish, you can make decorations like leaves, roses etc to place on top of your Pie.
Break an Egg in a little ramequin, whisk it with a fork briefly, then brush the Egg carefully upon the Ham Pie Pastry lid. It will give it a shiny glaze.
Put your Ham Pie in the oven.
While it is cooking, prepare your Grained Mustard Vinaigrette using Cider Vinegar is best but White Wine Vinegar does work just as well, it still goes with the other flavour of the overall Ingredients of the Meal you are preparing.
Make your Salad of Watercress and Rocket Leaves which will give some peppery notes to the Dish. The Salad is simple and doesn't have to be over complicated but it is contributing to enhance your plate with healthy Greens. It will also balance the entire creaminess of the Meal.
Dress the Salad, dress the table and 'et voilà.'
When your Ham and Tarragon Pie is ready and your Gratin of Potatoes as well it is time to serve. The Pie is pretty and can be brought to the table to be served. The Gratin of Potatoes is as well. You place you dressed Salad upon the table for everyone to help each other or for you to distribute the portions for everyone like in the old days. It is truly making up for the final plate look which is not picture perfect but at the end of the day it is heart warming comfort Food which will fill up the belly.