A simple yet very comforting little pudding, ideal for chilly winter nights. The addition of Grand Marnier makes it a grown up pud with a festive feeling.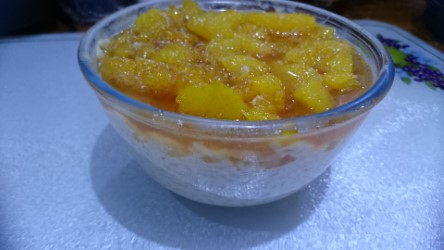 Cinnamon and Vanilla Rice Pudding with Grand Marnier and Honey Oranges
Preptime: 30 mins
Cooktime: 30-45 mins
Servings: 2
For the Rice Pudding:
150g of Pudding Rice or Risotto Rice
200ml of milk but add more as required until the Rice has reach the perfect consistancy during cooking a little bit at a time.
150ml of Double Cream
2 tbsp of Golden Caster Sugar
1 Vanilla Pod
1 tsp of Ground Cinnamon
zest of one Orange to be used
For the Grand Marnier and Honey Oranges:
2 Oranges, peeled and segmented
2 tbsp of clear honey, I used Mexican Orange Blossom Honey
1 tsp of Ground Cinnamon
2 tbsp of Grand Marnier
1. To make the Rice Pudding, pour the rice, milk, cream, sugar, cinnamon, zest and vanilla pod into a non stick saucepan. Sitr the ingredients together then cook gently. Feed the rice with more milk if needs be, a little at a time. When the rice has softened to the perfect consistency for you then your Rice Pudding is ready to be put in a bowl.
2. Meanwhile for the Oranges, place the segmented oranges into a frying pan along with the honey, cinnamon and Grand Marnier. Cook until just about caramelisation then pour the mixture on top of the Rice Pudding bowl. The oranges add a lovely layer of fruitiness, while the juices (honey and Grand Marnier) penetrate the Rice Pudding giving it a lovely dimension.
3. Just serve the way you want it with a little sprinkle of cinnamon and added orange zest.