Delicious Crêpes recipe stuffed with sautéed mushrooms, lardons and spinach, with luscious melted blue cheese, tipped with a poached duck egg. This little number is perfect for a lazy weekend Brunch and can easily be adapted to suit a vegetarian palate.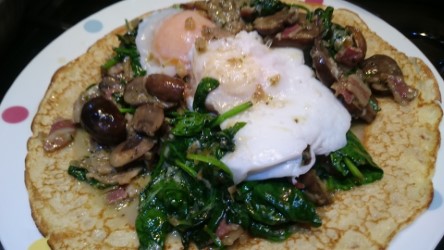 Crêpes with Sautéed Mushrooms, Spinach and Poached Duck Eggs.
Preptime: 30 mins
Cooktime: 20 mins
Servings: 2
For the Crêpes:
250g of Plain Flour
3 free range Eggs
500 ml of Milk
2 tbsp of Oil
pinch of Salt
2 tbsp of Rum
For the Filling:
4 Duck Eggs
400g of Spinach
30g of Butter
400g of Chestnut Mushrooms, roughly sliced
3 Garlic Cloves, chopped finely
4 Eschallion Shallots, chopped finely
200g of Lardons
. The first step here is to make the batter for the Crepes. Then to let it rest for at least half an hour.
. Second is to prepare the Mushroom, clean if needs be and chop them.
. Chop the peeled Shallot and the Garlic.
. Sauter the Mushrooms, Shallots and Garlic together in salted Butter. Add Herbs and seasoning.
. Prepare the Pan to poached the Duck Egg and the frying Pan for the Pancakes.
. While you are doing the Pancakes, prepare the Spinach which only takes minutes to steam in a little Water (you can flavour the Water with Veg Stock). Add a little pinch of Nutmeg to the Spinach.
.Then it is just a building up upon the plates: Pancake first then the filling, Mushrooms, Spinach (drained), and Egg. To add Lardons is optional but if you do so cook them with the Mushrooms initially.