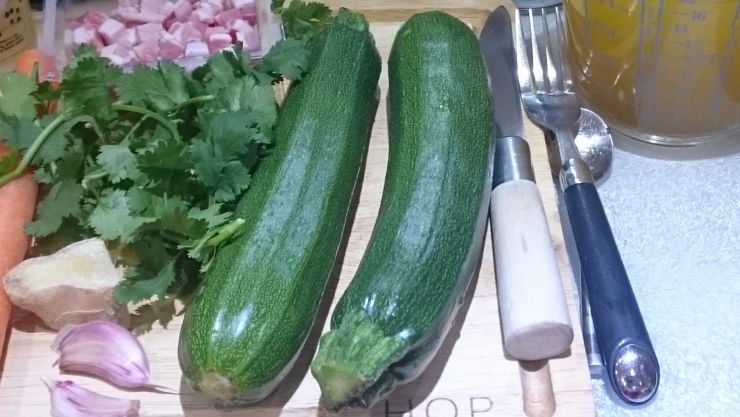 The Courgette is a Vegetable that doesn't overwhelme any plate of Food by any mean. However it is a Vegetable which is a vector or a factor, by that I mean that it can bring a dish forward. It can be the green gold missing on a plate when you want to feel a little Mediterranean; for example when you want to have a good Ratatouille.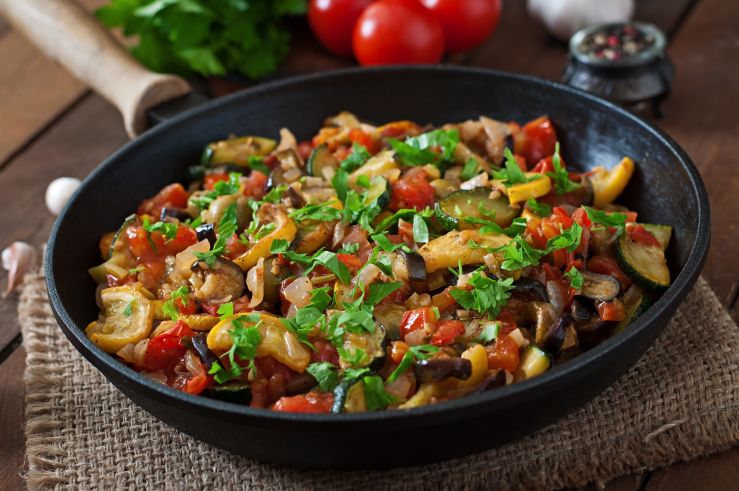 The Ratatouille.
Personally being someone who has difficulty to eat I do find Courgettes as an option to have some intake of Vegetables. I do like them Al Dente but I also do appreciate them very soft. Courgettes do partner very well with many ingredients. They are very versatile.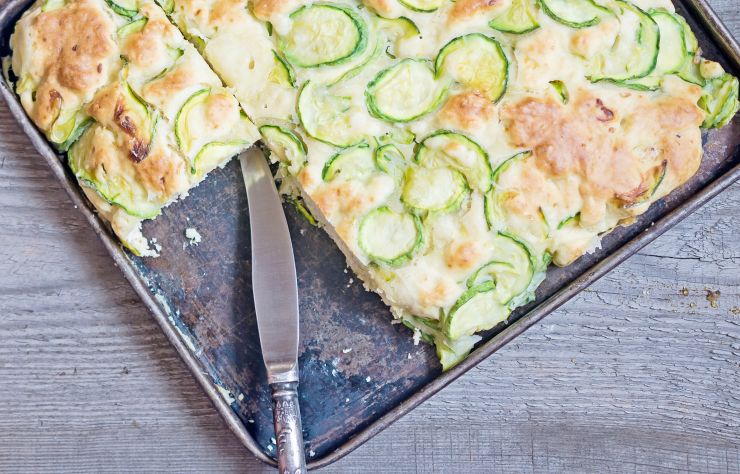 Sliced or diced Courgettes mixed with Potatoes, Eggs and shredded Ham can make very nice Frittatas, baked or gently pan fried.
Like many Vegetables: Aubergines, Marrows, Tomatoes, Peppers, a Courgette can also be stuffed. Just imagine a simple Starter of baked, but not overly baked, of a lightly hollowed Courgette with Shrimps or Prawns inside, chopped Tomatoes for a little acidity and chopped Black Olives and Capers for saltiness. It would be decorated by Oregano and a little Basil and finished off with a Lemon and Olive Oil Dressing. A little gratting of Parmesan if needs be. This is a Summery Lunch.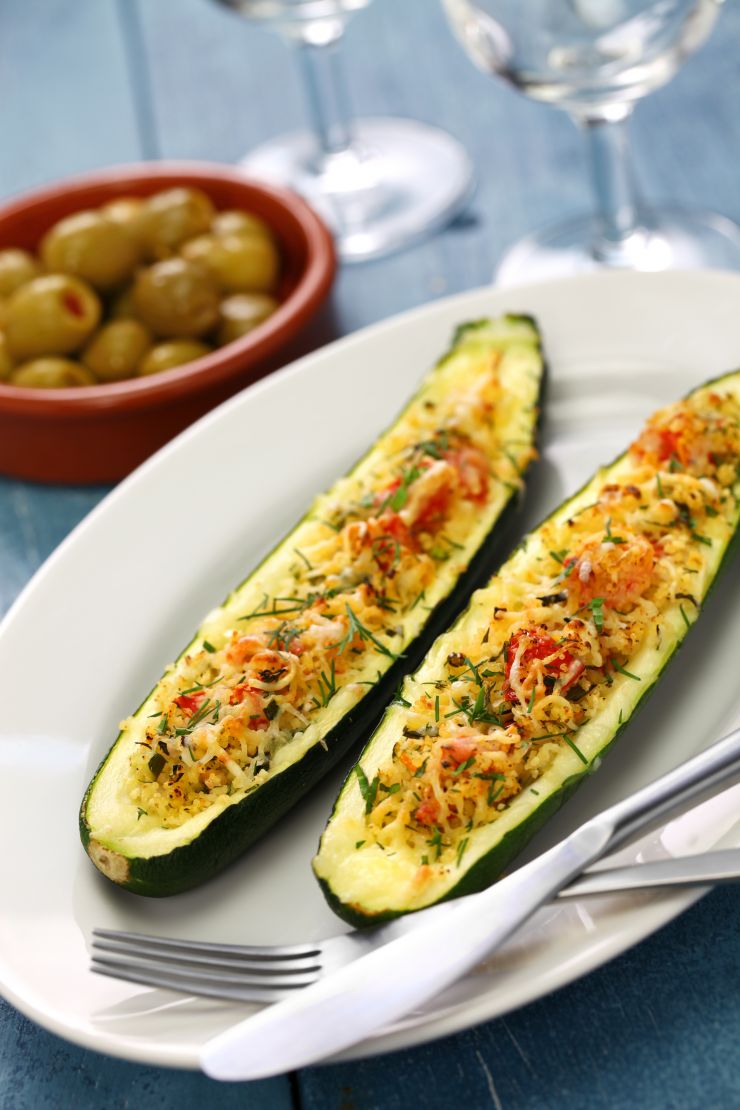 Baked/Stuffed Courgettes are also called Courgettes Boats.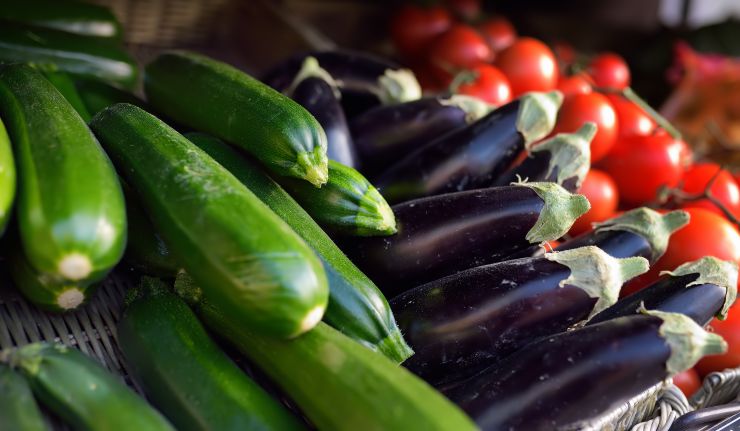 Courgettes, Aubergines and Tomatoes. They are essential Summer Vegs.
A Brunch or a light Supper could be a Courgette and Potato Rosti. One essential thing to do is to remove the excess moisture of the grated Vegetables. Pan Frying the Rosti which could become the bed for a luscious Poached Duck Egg, or Roasted Cherry Tomatoes, or slices of Grilled Aubergines, or a Grilled or Torched Fillet of Mackerel. The option are very varied for that Rosti. But remember that one thing is key and this is the Seasoning of it: Cracked Black Peppercorn or even a little Cayenne Pepper but also a Pinch of Crushed Sea Salt.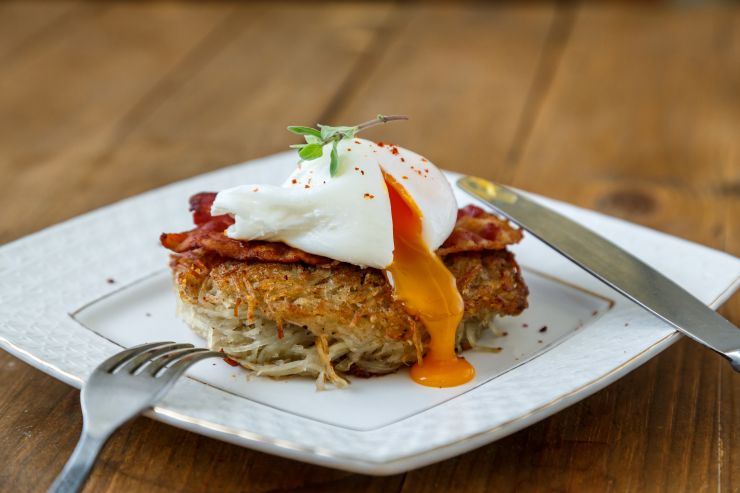 A Rosti is a good base for a rather rich Brunch.
Growing Courgettes teaches you that you can have the rather famous among gardeners: the 'Glut of Courgettes'. Therefore at some point you have to deal with it, growing some, I know about it. So it is important to be somewhat imaginative with the cooking of your Courgettes as a gardener because you don't want to waste all of your efforts. Giving Courgettes to the next door neighbours is a good idea but it is a little bit like passing the buck.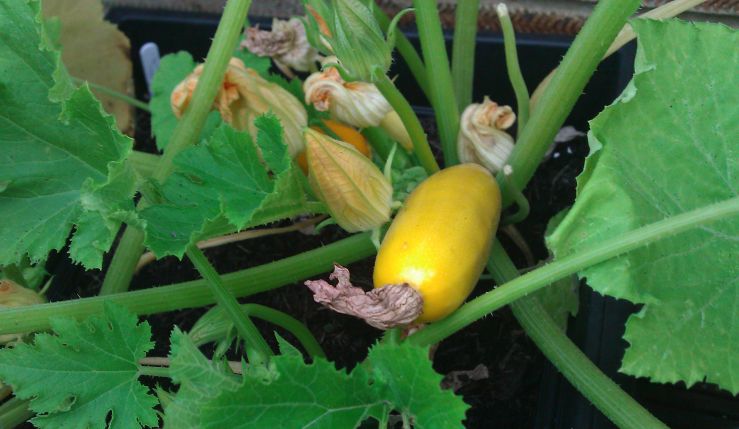 Our Yellow Courgettes in the Garden. I love changing the varieties I do grow every couple of years,
To be honest, one of my favourite ways to eat Courgettes are simply either raw or griddled. Raw, it lands itself in a Salad which doesn't have to be overly complicated: Chopped Radicchio Leaves, Frisée Lettuce, chopped Courgettes (Green and Yellow if possible), quartered Tomatoes ( similarly of different colours would be better), Sweet Bell Peppers deseeded, chopped, Red and Yellow, sliced Spring Onions finished by a Balsamic and Olive Oil Dressing. Optional for the simple Salad could be the addition of a sliced Espelette Chilli to add some gentle spicy kick to it. The Salad goes well with griddled Squid or griddled Chicken Breasts, served within the Salad or as a side.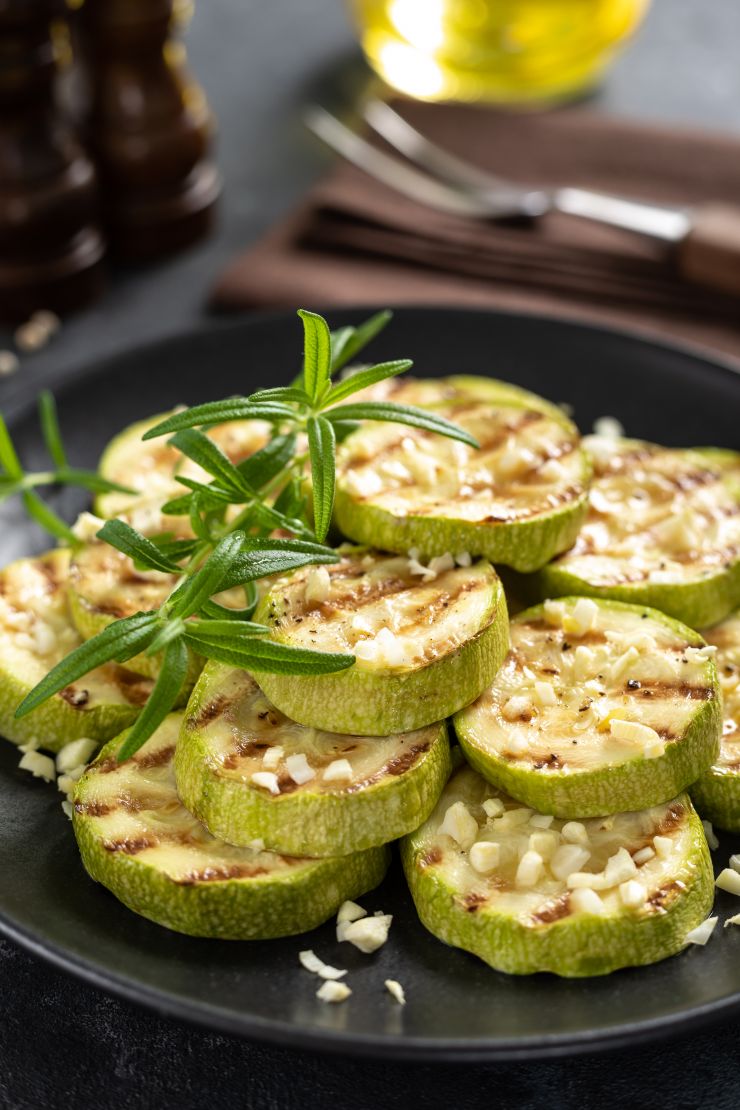 Griddled Coougettes and a little chopped Garlic.
Grilling or griddling Courgettes is very simple to do. On their own with a little extra Virgin Olive Oil and some chopped and sautéed Garlic they can make an excellent Side dish which goes very well with Fish, White Meat or even Lamb. But as always do not forget the Seasoning.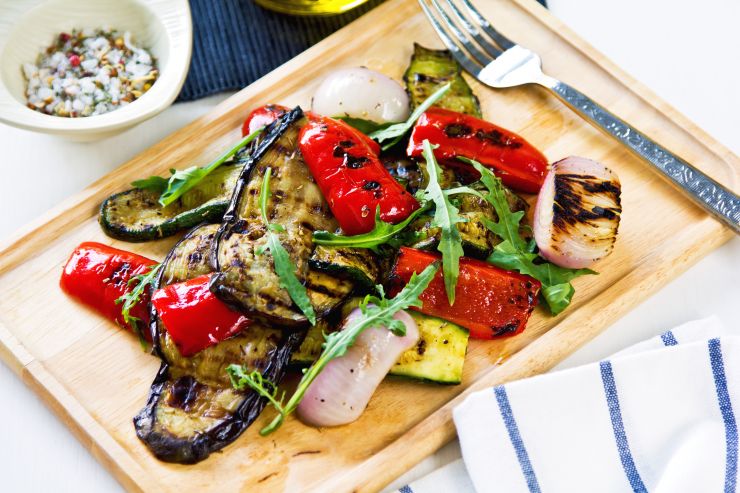 Grilled Vegetables: Courgettes, Peppers, Aubergines, Onions. It is with the addition of some Rocket Leaves. It can be a nice Summer Starter or a nice Side to have during a BBQ. Simply tasty. It can also be served with grilled Halloumi Cheese.
There is a Provencal dish called a Tian. It is relatively free to interpretation. However it does consist mainly of Mediterranean Vegetables being sliced then roasted for around twenty minutes to half an hour give or take. The slices are placed in layers or in a decorative fashion. For the Vegetables, we are talking of Courgettes, Aubergines, Tomatoes, Sweet Bell Peppers. It needs to be a colourful feast to the eyes. But it will also needs to taste lovely which is easy to be done with some great Vegetables. A Basil and Tomato Sauce with Oregano and Marjoram and Seasoning to surround the sliced Vegetables in delicious goodness is essential.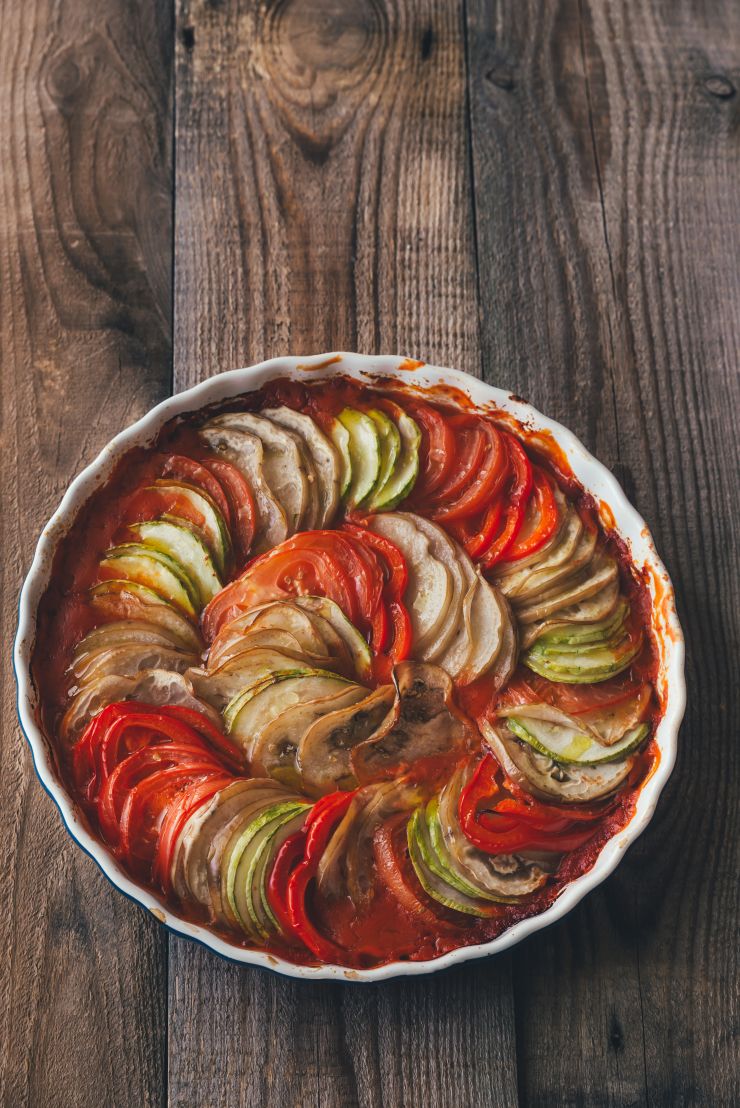 Tian of Summer Vegetables. It can be topped with Parmesan or Mozzarella.
We also must not forget that Courgettes have flowers which are edible. They are great to stuff, batter and fry. I will say also that Courgette flowers are very pretty. To see them blossoming feels like a yellow blessing in one's Garden.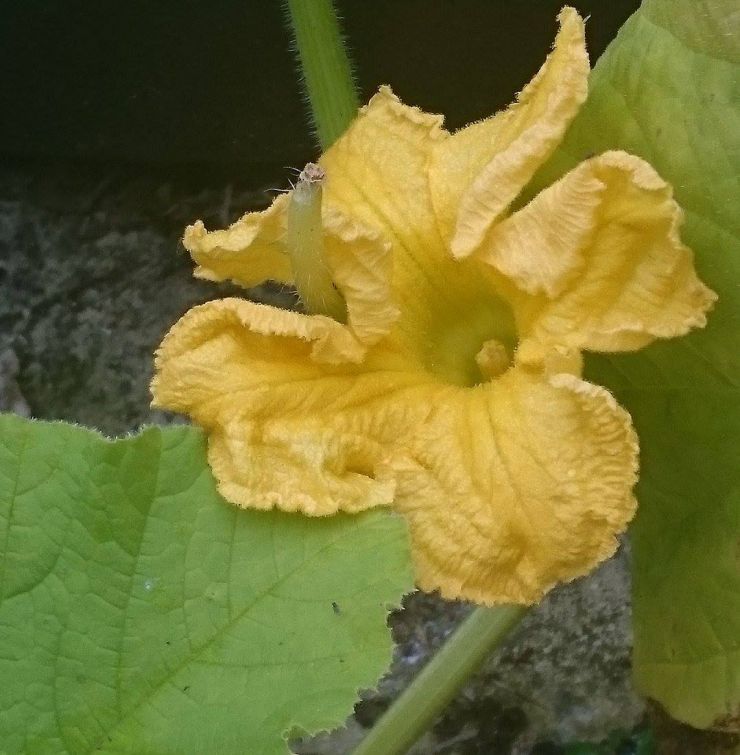 One of my Squash flowers. They are a burst of sunshine.