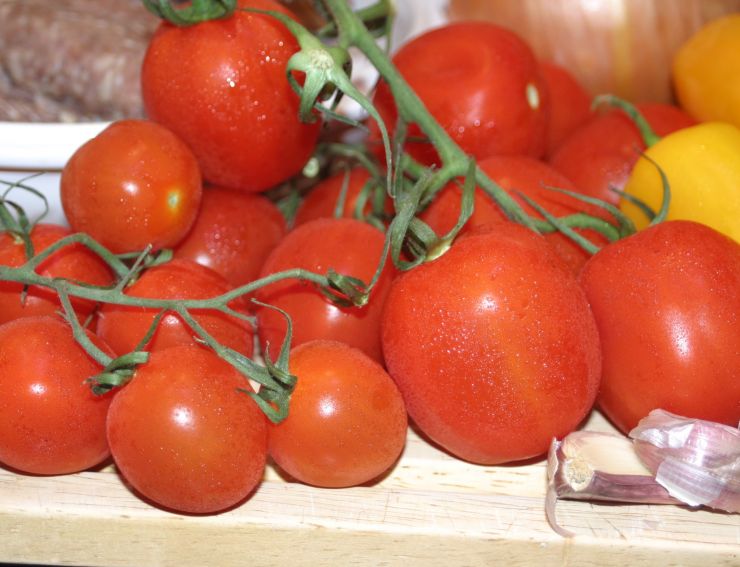 What can I say about Tomatoes apart that I do love them. Like I said before I was such a fussy Child Food wise however give me a Tomato just like that I will eat it entirely without a problem. At my Parents home I was renown by the amount of Tomato Purée I used to put upon my Pasta bowl which was lets just say a very fair amount. Nowadays if open my Fridge, you will always find Tomato Purée. It is an Ingredient I really can not go without: Simple, colourful and tasty.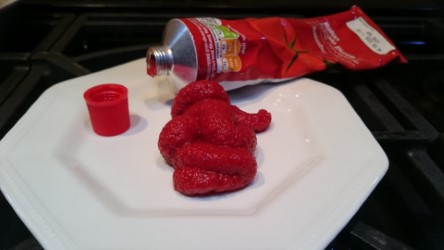 Call it Tomato Paste or Purée I just enjoy it so much. It does give flavour and body to so many dishes.
To return to fresh Tomatoes, we were eating them like that, in half with a bit of Salt and it was something nutritious but also quenching our thirsts during a hot Summer. Another use was sliced or chopped Tomatoes to use within a Salad, again for the taste but also for their refreshing juicy consistency.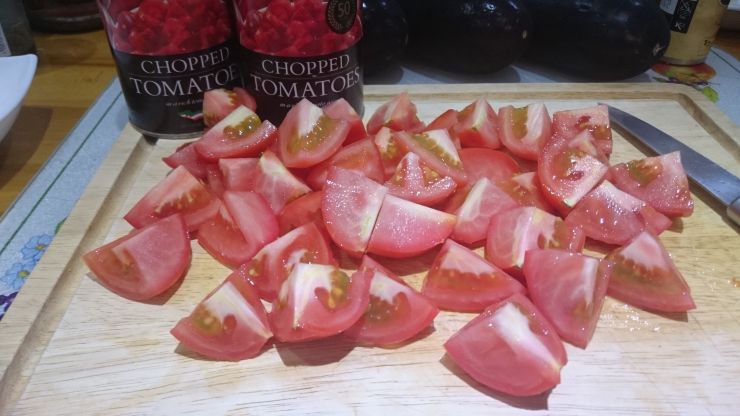 Chopped Tomatoes, fresh or in tin with Tomato Juice.
The fact is fresh chopped or sliced Tomatoes are great for Salads raw. However tinned Tomatoes are better used in hot Meals. But I do like to mix fresh Tomatoes and tinned Tomatoes when I cook. Blend them both gently by stiring which give a nice consistency especially within a Ragu.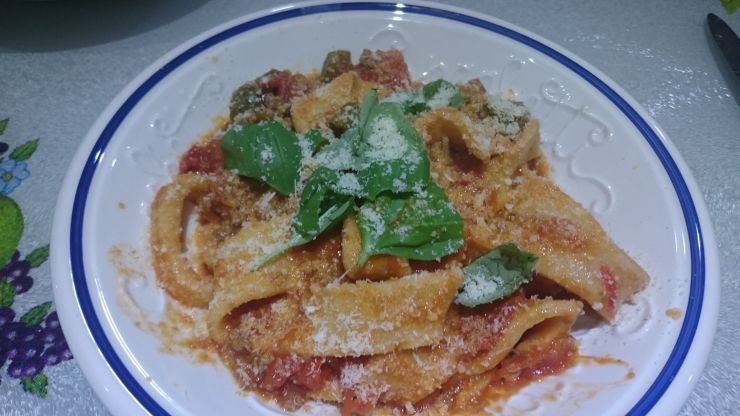 Home Made Beef Ragu Parpadelle with Parmesan and Basil.
Speaking of Tomato Sauce or Paste of course there is the Sundried Tomato Pesto. When I am not doing it in a Home Made fashion I love to use the Pesto manufactured by Sacla. I find its taste very nice. It also does preserve very well.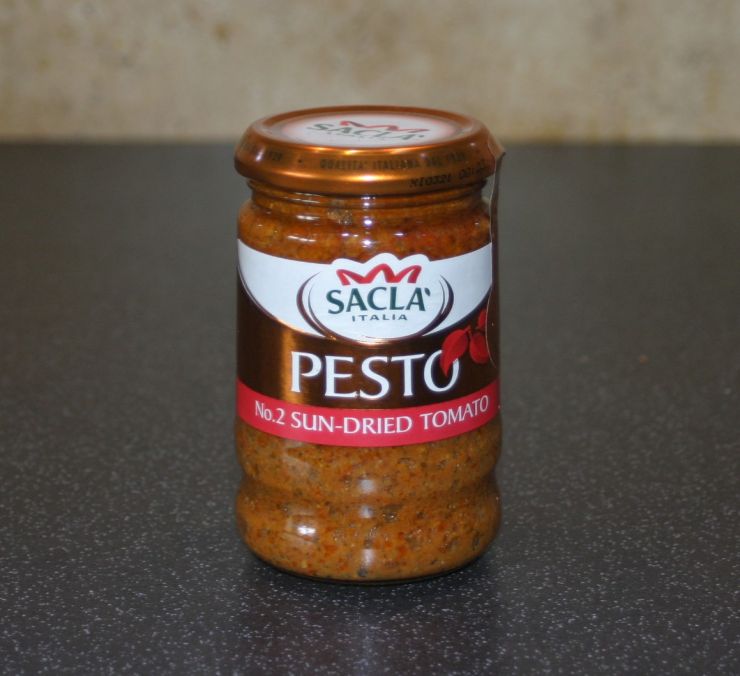 Sundried Tomato Pesto by Sacla.
Pesto is more like thick Paste rather than a Sauce. However Tomatoes and Sauces almost goes hand in hand together. Tomatoes serve as a base and other Ingredients compliment them. I would say for pairing Ingredients that go well with Tomatoes but also rather staying on the well trodden path that they are: Garlic, Basil, Oregano, Marjoram, Mushrooms, Sweet Peppers, Chillies, Olives, Cappers, Anchovies and I am sure I am missing some like Pine Nuts and Onions.
I do like to make a rather chunky Home Made Tomato Sauce/Salsa which I would qualify as Rustic rather than refined. It does consist of sweating chopped White Onions or Shallots, a chooed Garlic clove, chopped Garden Tomatoes (usually the medium size Moneymaker variety), chopped red Sweet Pepper and one red Chilli. Without forgetting a little Seasoning of course: Cracked Black or White Peppercorns and a pinch of Sea Salt.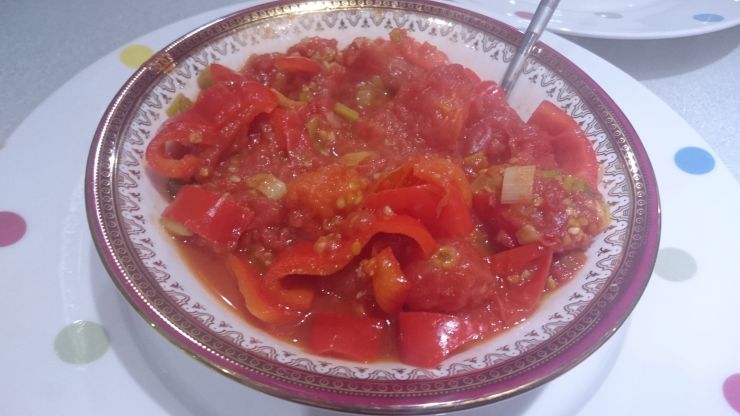 Home Made Rustic Tomato Sauce/Salsa.
A Spicy Tomato Salsa is also great for a Mexican themed night watching an old Western like 'The Good, the Bad and the Ugly' and eating Tacos. It can be part of the filling of the Taco or a Dip along with other Dips like Guacamole and a Zesty Sour Dip one.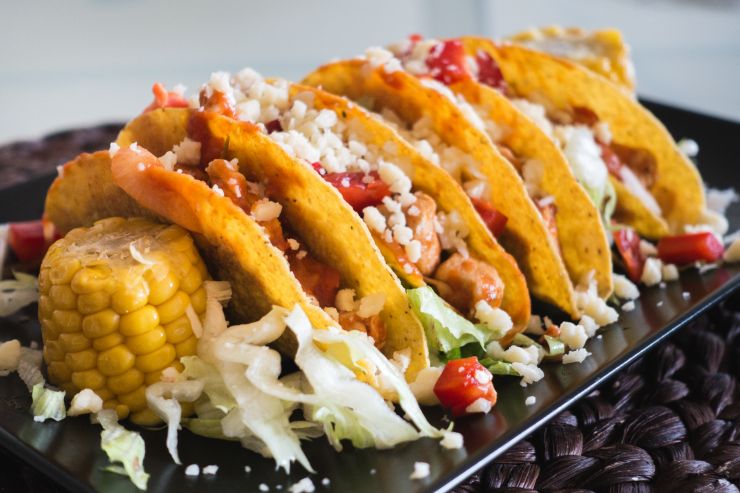 Tacos with grilled Chicken and Tomato Salsa.
Now from our Garden there are also the Tomatoes that didn't achieve the Ripe stage. Those are used in the Home Made Green Tomato Chutney. Chutneys are excellent with cold Meat and Cheese. I would say that a Tomato based one is very nice with Pastrami.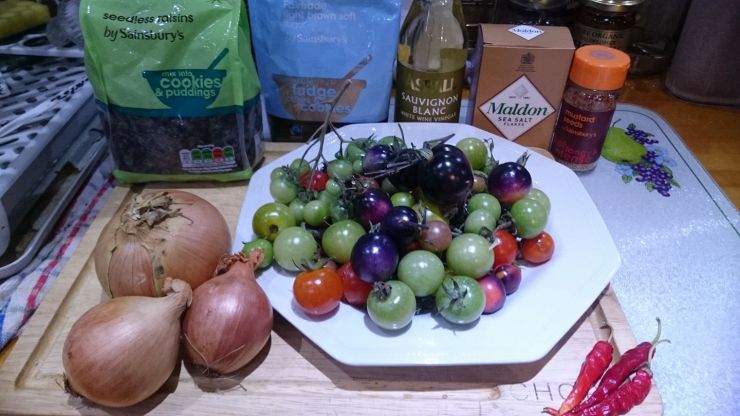 Green Tomato Chutney Ingredients.
From chunky to smooth Tomatoes are the Kings and Queens of the Passata. They are essential to a Ragu which I mentioned with Minced Meat and chopped Shallots, a little Garlic all rendered slowly and gently to a comforting Food experience. A Ragu can be used upon Pasta, Mash Potatoes, Rice to great effect. It gives the Home Sweet Home feel. And we must not forget it can be use to make a yummy Lasagne.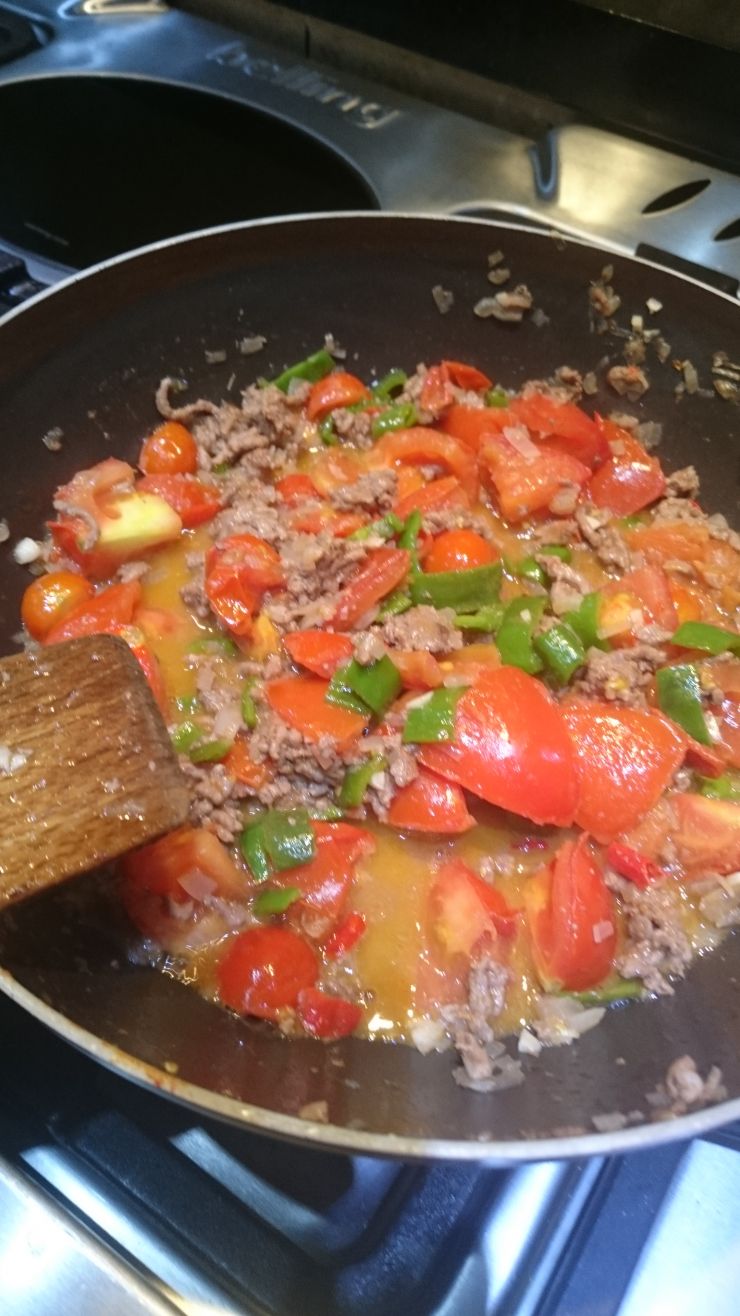 Building up a Beef and Tomato Ragu. The longer it simmers the better to absorb all the flavours. It gives the Ragu its body.
When we are speaking of smoothness, we must not forget the Soups. A Tomato and Basil one is superb but also makes a very nice Supper. As I have difficulty eating and/or swallowing, I find Soups are a good way to gather my intake of Vegetable or Proteins. Home Made Soups are definetely a go to when I can stand on my two legs for a while to prepare one, otherwise I have to go for tin Soups or CupaSoup on bad days. Tomatoes make wonderful and rather summery Soups. Another Soup worth a big mention is the cold Soup: the Gazpacho. Slightly spicy this Soup is really great to have during hot Summer days.
Home Made simple Tomato and Basil Soup.
There is even the lighter Consomé of Tomato and the Essence of Tomato. They are liquid transluscent goodness delivering the condensed taste of Tomatoes at every spoonful. Those are not Soups they are elevated clear Consomé and pure Essence of Tomato wonder.
Dare I mention another liquid for Tomatoes which I enjoy during Parties: The Bloody Mary... One Cocktail that did pass the test of time, or shall we say taste in that instance. But of course we mustn't forget the good old Tomato Juice. I like having it in the morning, or at Brunch or Lunch. It does give a nice change from the classical Orange to have a Veg Juice instead. However a Tomato is wrongly classified as a Veg for it is a Fruit.