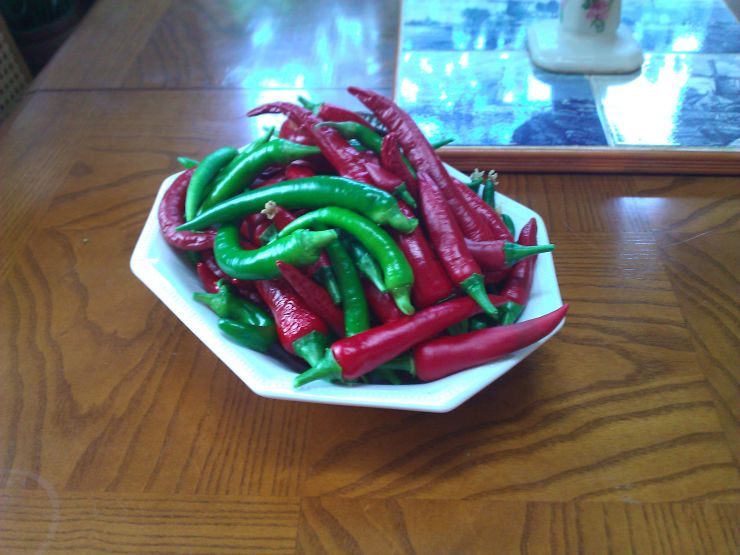 One thing to know or enquire about whenever you plan to cook or eat a Chilli raw is the level of the Chillies heat. For you do want to enjoy the Chilli, and its heat along with its flavour and spiciness but you mustn't fall into the trap to prove that you are so strong that you can eat any Chilli whatever their Heat under the sky. The warning is this one: you can die of a heart attack if you do eat a Chilli too hot for your body. It did happen and there are many cases reported. So caution here is key. Do not overdo it. Be sensible.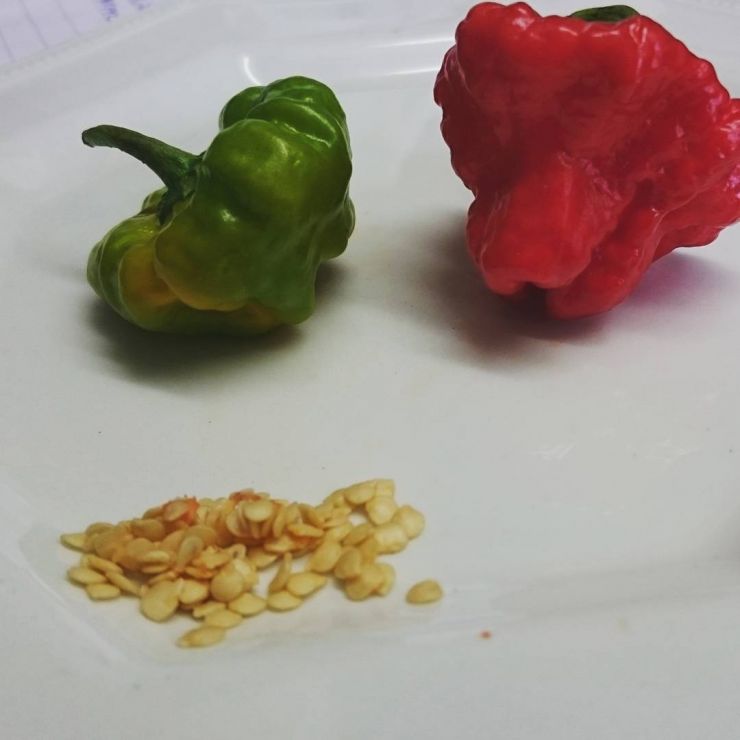 Scotch Bonnet Chilli is one of the hottest Chillies but not one to push your boundaries too much upon. The world hottest Chilli is the Carolina Reaper, the next one is the Trinidad Scorpion Chilli. Despite growing Chillies, I will stay clear of those last two. However We did grew some Bhot Jolokia (also called Ghost Chilli) and some Habanero succesfully but they are extremely hot and one has to be extremely cautious when using them for less is more.
To get acquainted with the heat of any Chilli the best is to know or use the Scoville Scale which grades Chillies from the hottest to the mildest passing by the medium ones. It is extremmy practical and useful when you do grow Chillies but also when you do intend to cook with a certain variety. For culinary purposes it gives you a sense of measure to deal with any Chilli. A quick exemple is if you are planning to do a Mac and Cheese for the family you can spice it up a little but choose a mild Chilli, take away the Seeds, add some chopped Sweet Pepper within the Dish and top with slightly but not too much spiced Breadcrumbs.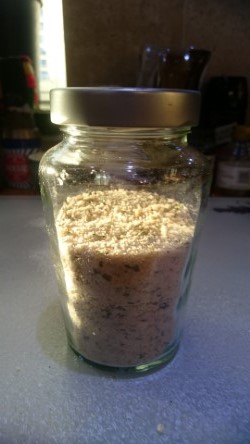 Home Made Breadcrumbs with a little very thinly chopped dried Padron Chilli Pepper, with Smoked Sea Salt, chopped Parsley and Thyme Leaves. Those Crumbs have an Iberico influence.
As an Ingredient Chilli can be presented in a lot of ways: fresh and/or cooked, dried, seeded or deseeded, Chilli flakes, Chilli powder, Chilli Oil, chopped or sliced, boiled or simmered to infuse a Casserole, Soup or Stew, roasted or baked like when Chilli is used within a Chocolate Cake, stuffed or marinated, pickled... The list is long. So one can venture that Chilli is a versatile Ingredient to spice things up within a Kitchen.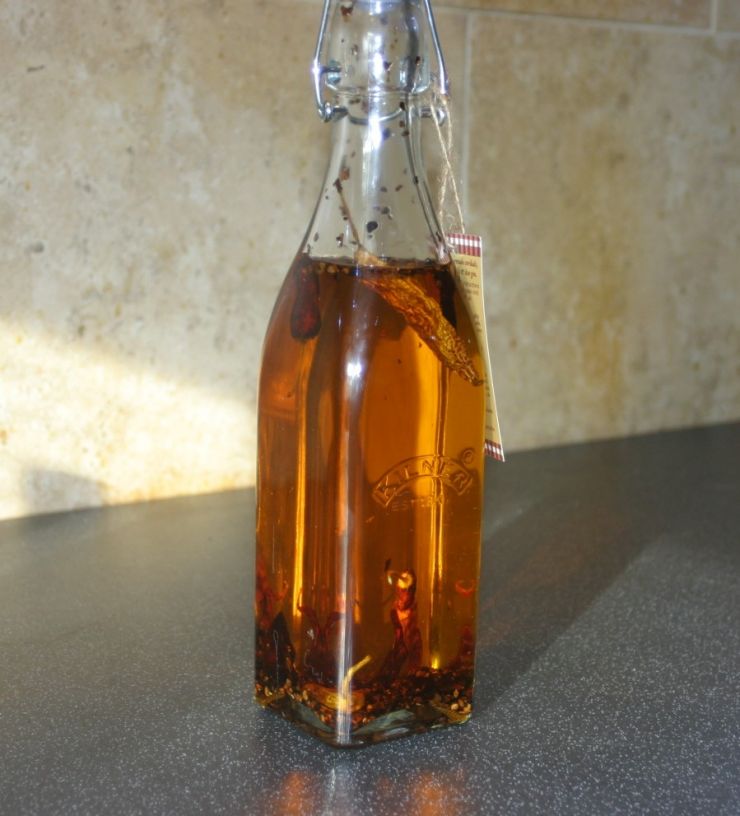 Home Made Chilli Oil with dried Cayenne Pepper. It is nice to just drizzle a little upon a Pizza or a Salad.
It would be hard for me to pinpoint my favourite Dishes using Chilli, if I stick to 3, it will probably be Chicken Korma, Chilli Con Carne and Pasta al'Arrabbiata. However I love adding Chilli to Saag Paneer, spicy Tomato Salsa, and Oriental dishes like a Ramen and adding Chilli to a good Stir Fry.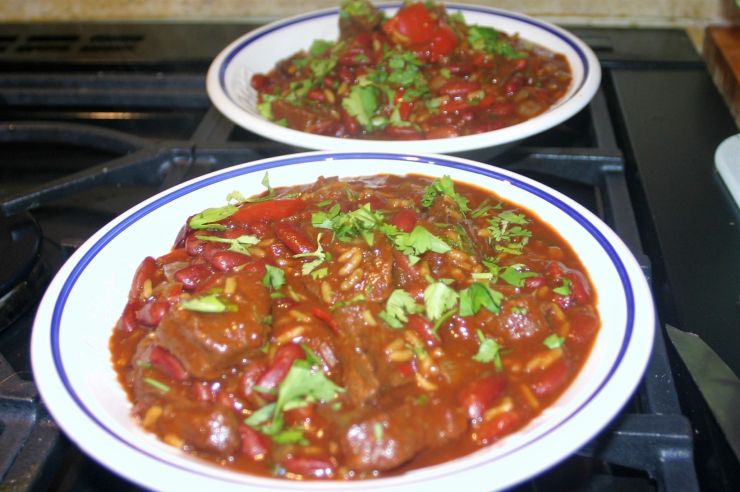 Home Made Chilli Con Carne, made with Cayenne Peppers from the Garden. This one was made with diced Beef, Kidney Beans and Rice. We also do other versions, using Minced Beef, Black Eye Beans and Diced Potatoes with Jalapeno Chillies.
There is another thing or two or three to mention about Chillies as Ingredients. The taste of Chillies have some spice and heat, yes, of course but it shouldn't hide the fruitiness aspect of some Chillies but also their taste.
Then another aspect is how colourful Chillies can be, from White to Chocolate Browns to Black, Green, Red, Yellow, Purple, Orange... Chillies can be very dashing upon a plate or a bowl. This aspect is not negligeable.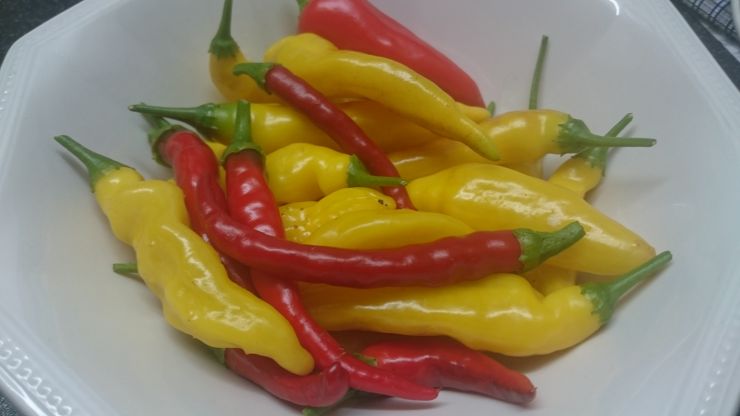 Our Red Cayenne Pepper Chillies and Peruvian Lemon Drop Chillies from the Garden. Colourful burst of Spice to bring to a Dish.
Last I will mention that the heat of a Chilli is not on accordance with everyone's palate so always do mention the use of it to anyone but also if they are mild, of medium heat or hot. This warning is always appreciated and essential. Then it is always a good advice to have a cooling factor at hand just for any in case scenario, Yogurt, Milk, Cream Cheese are all advisable to have nearby. It could be a Cucumber Milkshake, a minted Yogurt Dip or some Cream Cheese stuffing within a Cherry Bomb Chilli or Padron ones... Think forward. Ice Cream with Mint does also work after a spicy hot Meal to reestablish the balance out of a burning palate.
Food for Thought: Chilli or not Chilli, this is the question... But being chilly can be cool just as well as being hot.