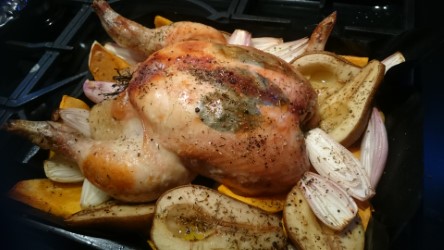 Of course when we think of Poultry we mainly think of Chicken, but there are a lot of Birds that we do eat across the world perhaps they are as many feathers upon a bird.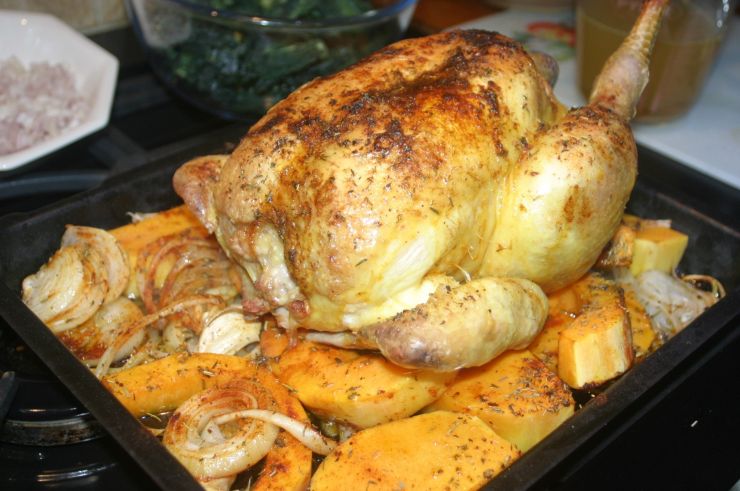 Autumnal Chicken with roasted Butternut Squash, Onions, Thyme, Paprika and a little Cider with the Chicken Juice.
To be honest I must say that we often have a Roast on Sunday in this House. When it is not Beef or Pork, the Roast will be either Chicken or Duck. The beauty of it all for Poultry is that you can do so much with a whole Bird after the Roast. Of course the Roasted Meat in itself is ever so nice but you can do plenty with the leftovers: Sandwiches, Stock, Pasta, Rice, Soup...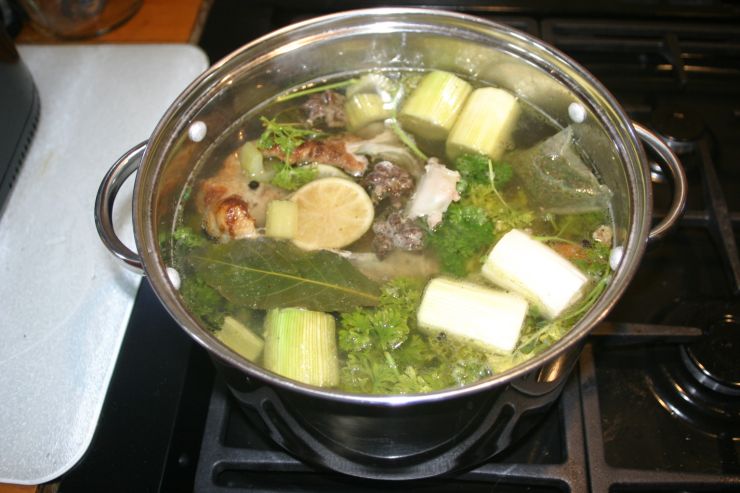 Making a Duck Stock.
Loving Duck I do get an entire one when I can. The Meat is darker than Chicken but also rich and succulent. In supermarkets it is however easier to find Duck Breasts and Duck Legs rather than an entire Duck. But you can also find Duck Fat in jars which is nice to give more flavour to Roast Potatoes.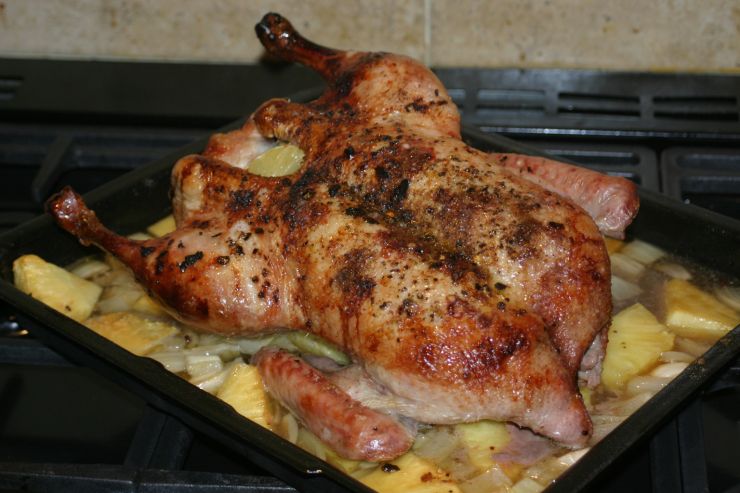 Tropical Roasted Duck with Pineapple, Spanish Onion, Seven Spices and a little dash of Grand Marnier.
Unfortunately my Man doesn't like Duck as much as I do. He tends to be stuck in a rut in terms of Duck= Crispy Duck Pancake (giggle), let's order a Chinese Take Away... However I can say that he does now try Duck cooked in different manners.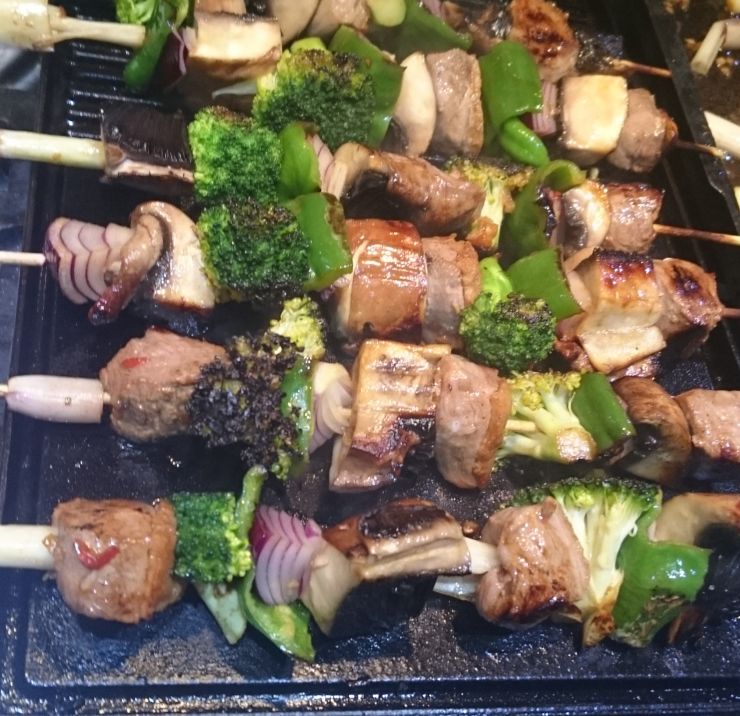 Duck Kebabs inspired by Tom Kerridge's recipe. They were delicious.
When we are talking about Poultry it is hard to miss the big fat Bird which does end up on our Christmas table most of the time... The Turkey symbolises Christmas as much as Santa Claus, Rudolph the Reindeer, Snow, the Christmas Tree... Turkey does represent Festivities. It is larger than a Chicken for a start, hence it does mark an occasion. Chicken does it for Sundays, Turkey does it for Christmas.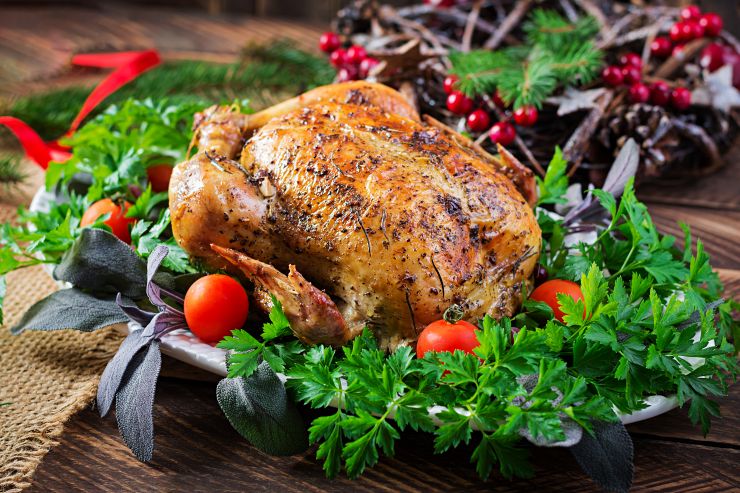 Roast Christmas Turkey.
Strangely enough in other parts of the year Turkey is relatively very inexpensive. I remember one of my Birthdays when I was a student when I counted all my pennies in a pot and reached the blessed ten pounds. This meant I could eat and celebrate my Birthday... It was only a few days away before pay day but I was broke up until (Student life). In the supermarket I managed to get a large bag of Potatoes, a frozen bag of Peas, a packet of Rice and one of Pasta, a tin of chopped Tomatoes, a Courgette and a Prossecco bottle (one has to have something bubbly for his/her Birthday). Coming out of the shop I felt happy but that something was missing to mark the day, and it was just Meat. Then came the mind buggers 'you should have bought some proteins instead of the fizzy drink'. But what was done was done. However in the car park, I found a packet on the floor. It was Meat. Probably some food which dropped from someone loading a car with the shopping. It was just a single leg of Turkey. I did put the leg in my bag, I did cook it and I had a Birthday Feast by pure luck/chance. But also upon the packet was the price of the leg which was not much at all. I learnt that day as well, which was a gift in itself for a student, that I could feed myself very well for less.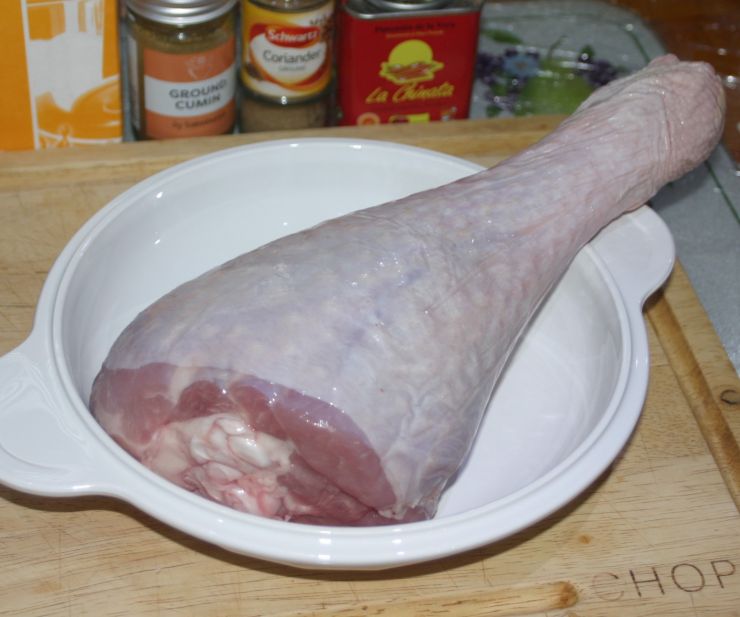 A Turkey Drumstick is large but also inexpensive, spice it up and you will get the best out of it. That cut of Meat back in the days made my Birthday feel like Christmas. I never forgotten about it and I do buy it still nowadays. You can call it nostalgia.