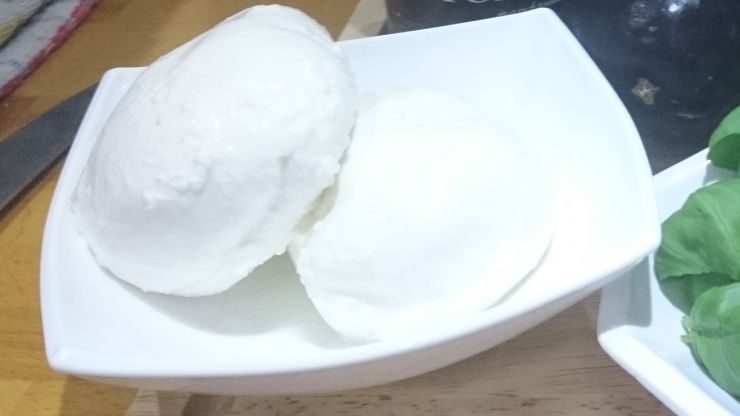 Fresh Cheeses have that texture which render them not only easy to eat but also to be used as an addition or as an integral part of a Dish. Everyone knows I could eat Pasta every day so when a Tortellini is filled with Ricotta Cheese and Spinach, it will definitely go into my gob.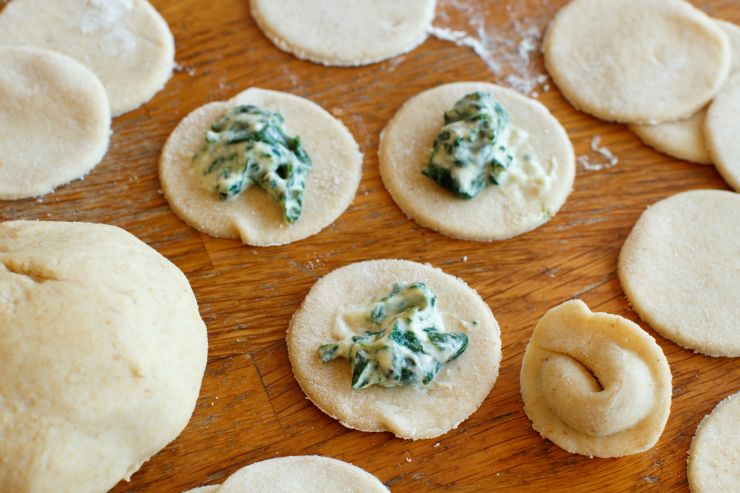 Ricotta and Spinach Tortellini being made.
The same goes with Pasta made with Sundried Tomatoes and Mozzarella. Speaking of another fresh Cheese the Mozzarella, I never go a week without it. From the mini Mozzarella balls, to the bigger ones passing by grated Mozzarella, it is always in the fridges. The fact is that I love doing Caprese Salad either as a Starter or for a Lunch in Summer. I don't stick to simplicity rules all the time on this Salad, but I mainly do so especially when you have fresh Tomatoes from the Garden.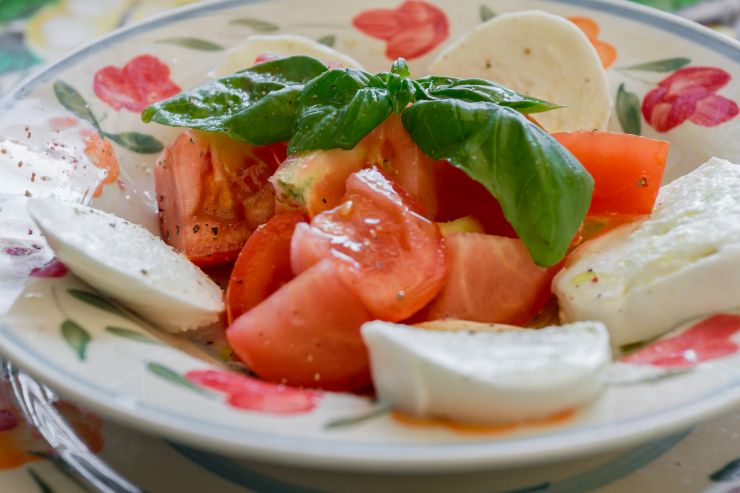 Caprese Salad.
Mozzarella, Tomatoes, Basil, Olive Oil are the essence of a Caprese Salad. Seasoning of course is there. But you can elevate that Salad by putting Rocket Leaves, adding Olives and a good dash of Balsamic Vinegar or a Basil Pesto. Then that Salad is not just for a private indulgence but can be served as a Starter in a Summer Dinner Party.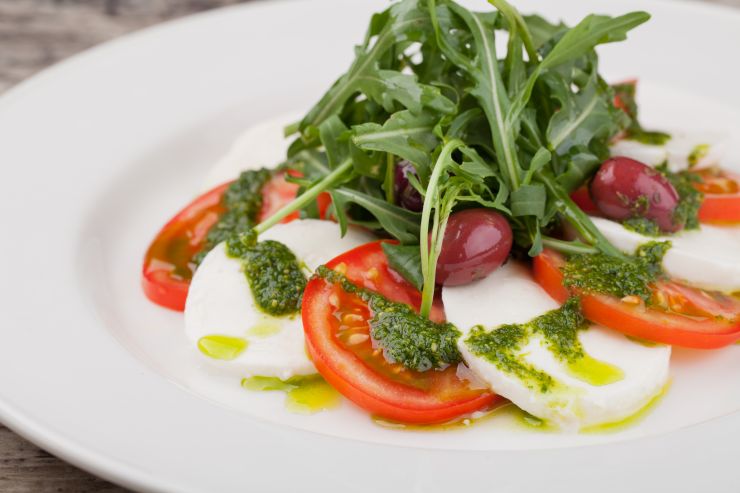 Italian Caprese Salad with a little decorum: Tomato sliced, Mozzarrela sliced, Kalamata Olives, Rocket Leaves, Virgin Olive Oil and Basil Pesto.
Mini Mozzarrela Balls can make also very convenient Snacks. More than once I mix them with Sundried Tomatoes and just a little Olive Oil, Balsamic Vinegar, Sea Salt and Black Pepper. Sometimes I also add some Anchovies and some Olives. But I like using Mozzarrella Balls upon Skewers as well.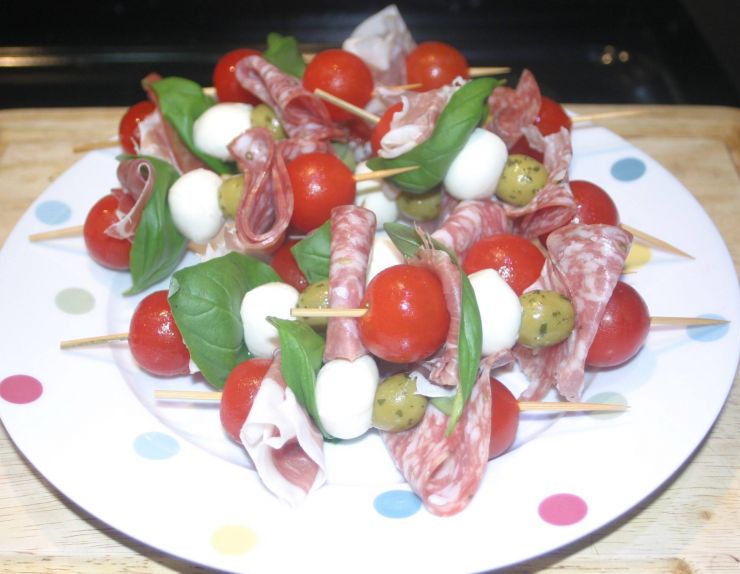 Skewers with Salami, Mozzarrella Balls, Parma Ham, Cherry Tomatoes, Green Olives and Basil Leaves.
On the Fresh Cheese list and one which looks like a Maxi Buffalo Mozzarrela is the Burrata. It is creamy to say the least. It is also massive. A Burrata can be used for Salads, Pastas, and Bruschettas. Same as Mozzarrela, it does go well with Mediterranean Ingredients like Tomatoes, Aubergines, Courgettes, Beans...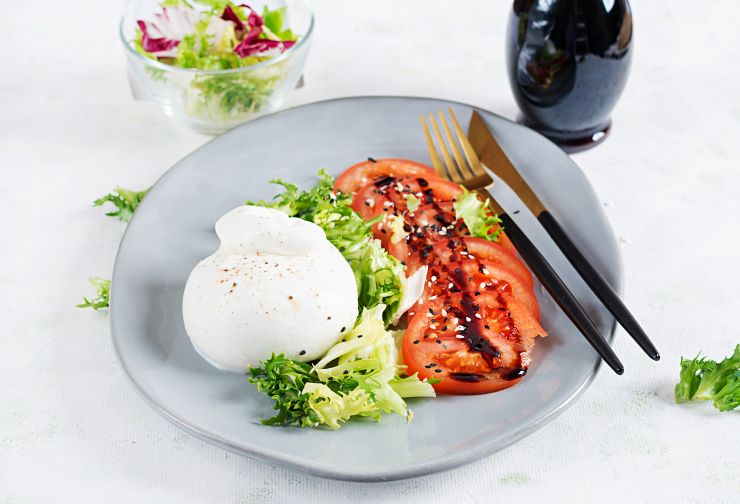 Burrata with sliced Tomatoes, Frisée Salad, Curly Parsley and Seasoning.
Another Fresh Cheese we do use a lot, is Cream Cheese. Somehow we are having it mainly in Spring and Summer, in Autumn as well if we have an Indian Summer. Cream Cheese is delicious spread in Sandwiches, Bruschetta, Crostini, Tartines... One good thing about Cream Cheese is the fact that it can be flavoured, you can whisk it with an Ingredient of your choice or/and decorate it with another one.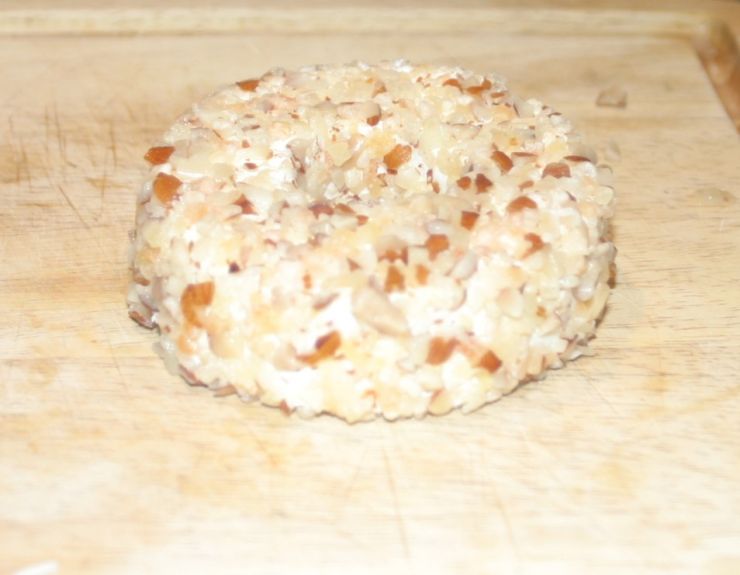 Castello Halo Cheese. They come in different flavours. This Cream Cheese is round with a hole in the middle, flavoured with Pineapple and decorated with Nuts.
A plain Cream Cheese can be transformed by the addition of other Ingredients. The one above from Castello we did enjoy although the combination of everything was unusual. It inspired me to utilise my Veg and Fruits in different ways by including them in Cream Cheese. It does just take the wonder power of a whisk. Chilli and Tomatoes, Tomatoes and Basil, Lemon Zest and Black Pepper, Clams and Nori Leaves, Ham and Gherkins, Shrimp and Chives... The combinations to try can be endless but also daring.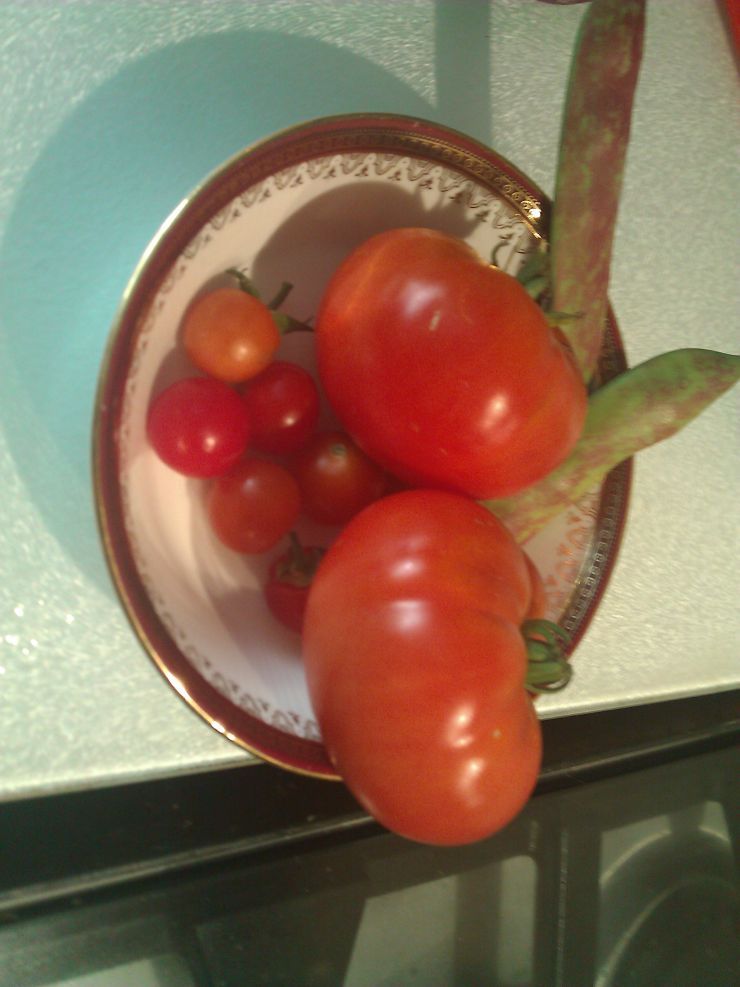 Tomatoes and Firetongue Beans can make a nice Bruschetta with Cream Cheese.
Cream Cheese can also be used with Sweet or Savoury recipes. It is versatile. The famous Cheesecake is mainly done with Cream Cheese. That Cake usually served chilled is perfect in Summer but also onctuous. My birthday falls late August therefore I did eat lots of Cheesecakes during my decades upon Earth.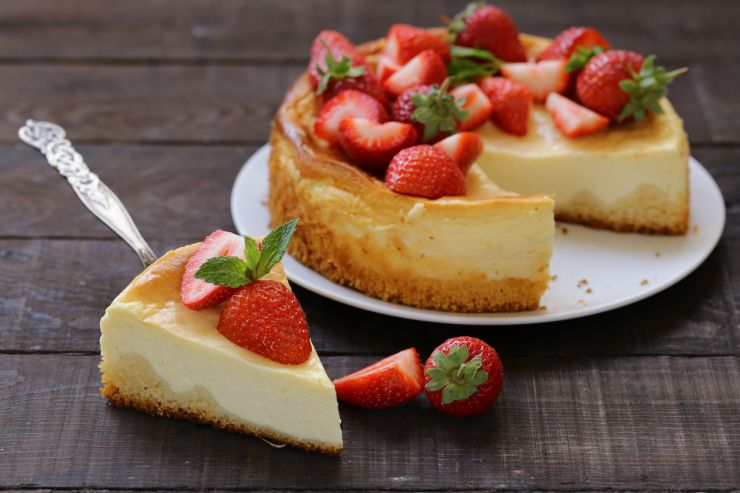 New York Cheesecake.
Cheesecake can also be made with Cottage Cheese. However Cottage Cheese is less smooth than Cream Cheese and is a little more crumbly in texture. It is a little similar to Ricotta in that respect. It also can be used in Savoury and Sweet recipes.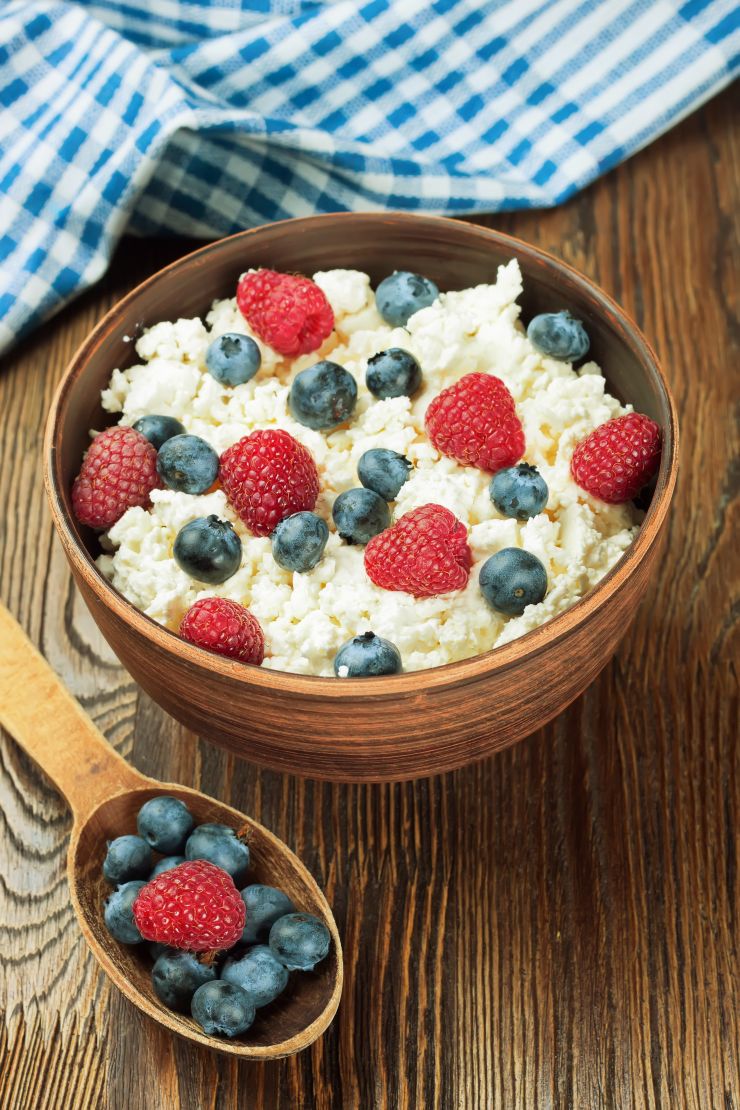 Cottage Cheese upon Granola and fresh Fruits.
Fresh Cheeses are versatile but they are also soft hence easy to eat and a good source of Calcium. Last but not least they are highly enjoyable.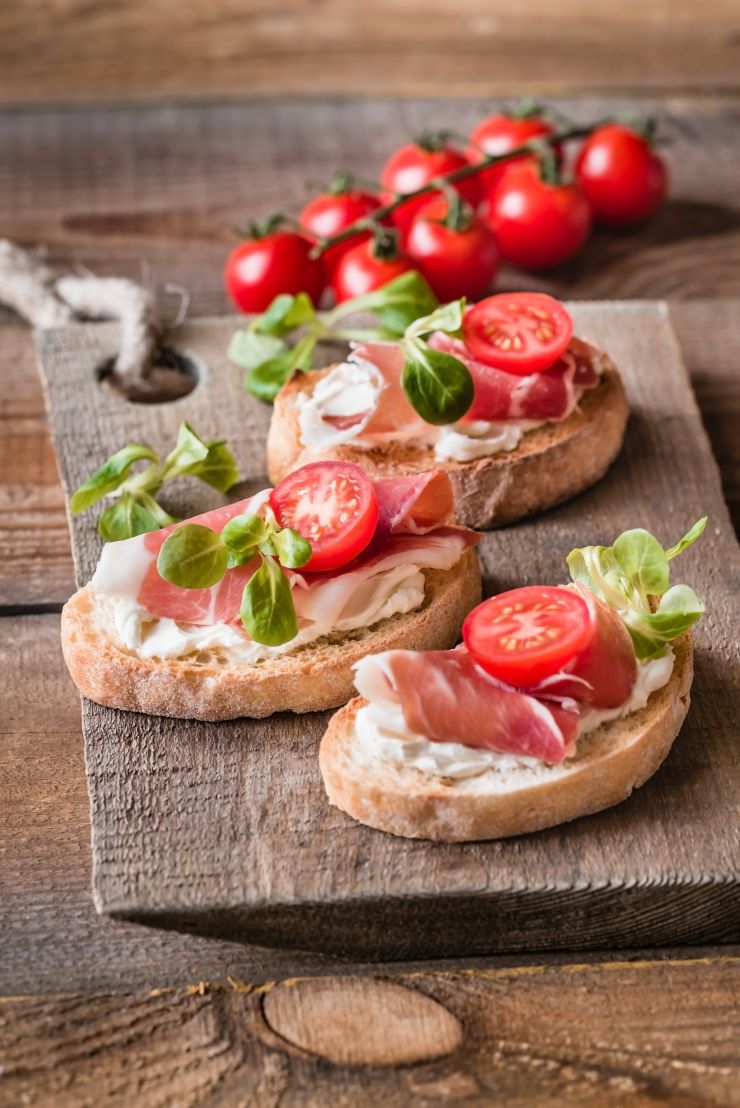 Tartine of Sourdough Bread, Cream Cheese, Serrano Ham, sliced Tomato and Lambs Lettuce.