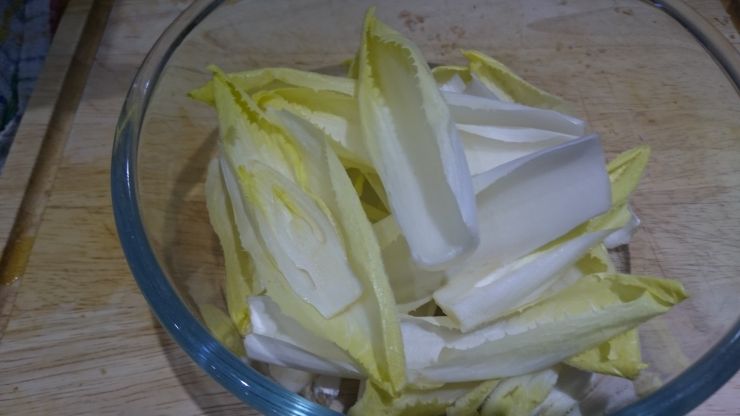 Salads make very satisfying Starters, indidual or to share. But also you can conjure up a nice Lunch or a light Supper with them. There are used as sides to great effect: you can imagine a Salad with a Medditerranean twist served with Grilled fillets of Mackerel, yummy for the Summer time. Last but not least they can make very decent canapés for a Cocktail party. Endive leaves for example make excelent little boat/cup recipient for any filling you desire, Raddichio leaves and Baby Gem Lettuce just as well.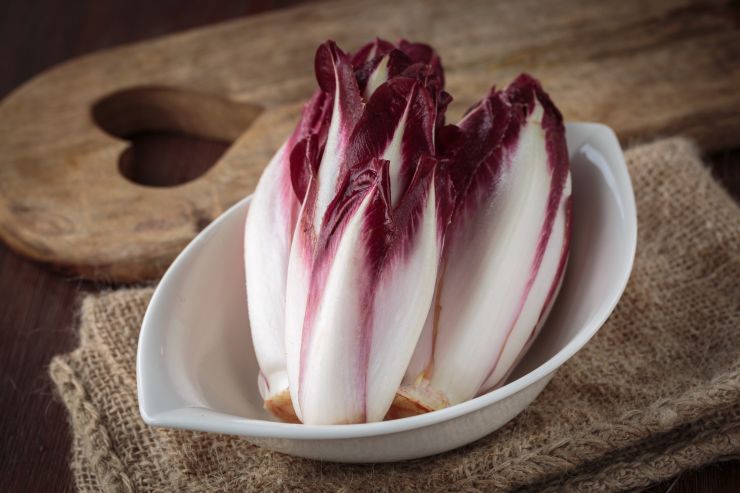 Fresh Red Endives leaves. Execellent and Colourful to be used as Canapés.
Some Salad can be used as main in itself like again the Chicory, and mainy more Salad leaves. This is not discarding the individual Salad leaves which could be used in a Burger for example. The Iceberg Lettuce is quite favoured for that purpose for its crunchyness but also the Baby Gem Lettuce.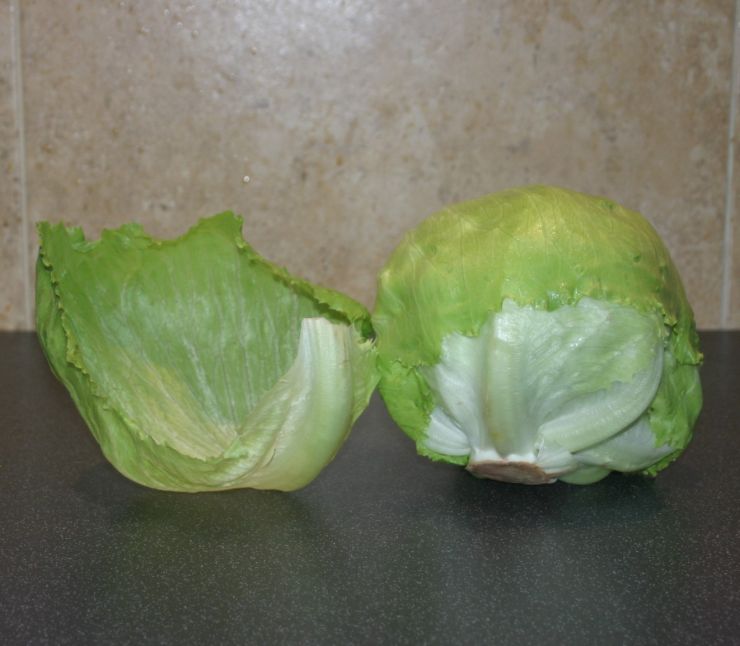 Iceberg Lettuce, Most appreciated for its crunchy leaves.
A Salad is versile as a vegetable but also as a dish to compose with an assotiation of many other ingredients. I am thinking of the famous Tuna and Potato Salad, the Salad Nicoise, The Ceasar Salad, the Tabbouleh, The Waldorf Salad, the Greek Salad for examples. You can follow the rules of a recipe for all of them or you can also be creative, do the Twist of an ingredient for another or many to make it your own or to your own particular taste. Someone may not like Capers or Anchovies or Black Olives.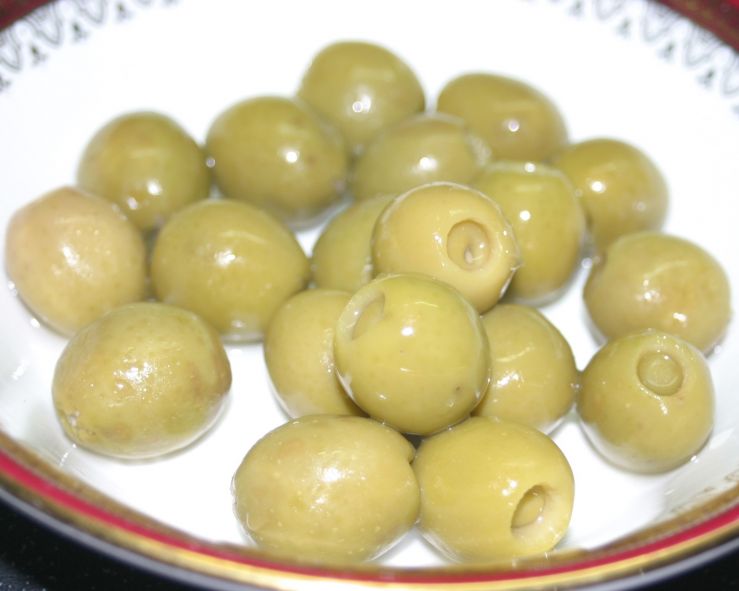 Green Olives Stuffed with Anchovies are not to everyone taste. It is more an acquired one.
So we established that a Salad can be done with your own Flair, knowing which ingredients pair well with one another, but also with your entire sense of creativity. How do you think that the Salads we do enjoy were created in the first place? The story for the Waldorf Salad and the one for the Ceasar Salad are rather compelling for that matter.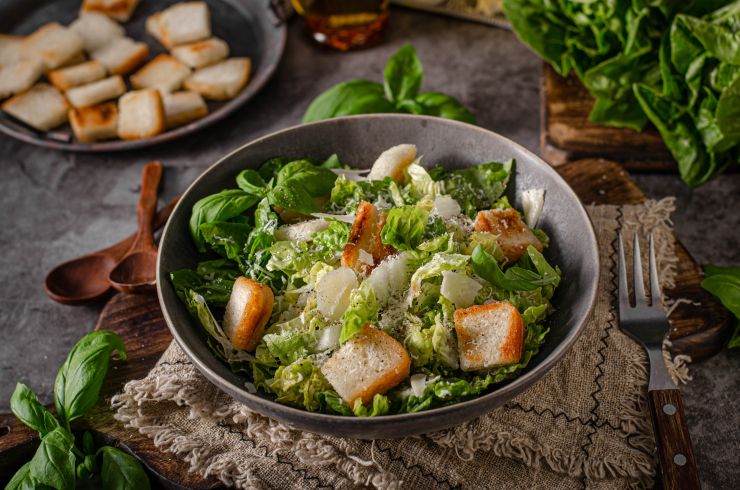 Delicious and Simple Ceasar Salad, a favourite throughout the World. It was created by Ceasar Cardini in 1924, by an Immigrant Italian, who had a restaurant in Tijuana, Mexico.
I will tell you a little anecdote, we were in our Twenties my brother and I sharing a flat in Whitechapel. One night coming back from our respective shift, him at a Pub by the Thames, me at Pizza Hut to pay for my University Studies at UEL, I opened the fridge with a very pale face discovering one Egg, a couple of Tomatoes, and a quater of Parmesan Cheese left. I told my brother that we had nothing to eat that evening. Taking all the ingredients we had left from the fridge, he pointed at my head and scolded: 'Use your imagination, I will cook the Dinner tonight.' He started by Boiling an egg, then went to the cupboard and found two tins: one of Tuna and one of cannelini Beans. He brought the olive oil and the White Wine Vinegar: we ended up with a nice Tuna Salad of Cannelini Beans, mixed with chopped Tomatoes, chopped boiled Egg, a nice dressing to compliment everything and a grating of Parmesan on top. It was delicious, simple yet very satifying. My little Brother became a Cook then a Chef in many Pubs and restaurants, but also worked to feed the poors to the Charitable Company Emmaeus for a few years.
My lesson that night was that with whatever you have at hand with a little creativity you can do wonders.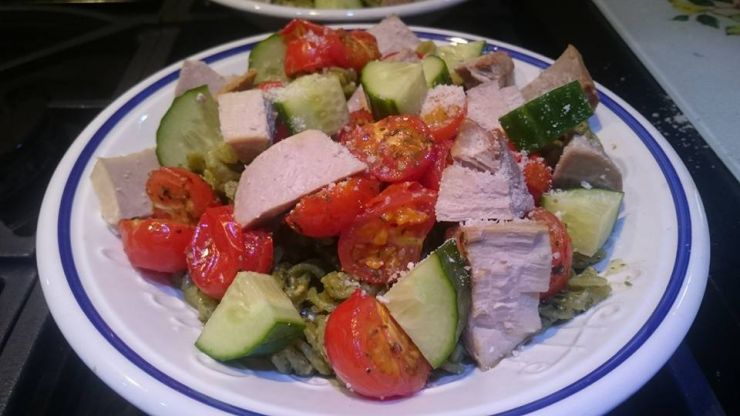 Nowadays I always remember that think on feet attitude and creativity. My little number above is a Pasta Salad made of Green Pea Pasta, Tuna, chopped Cucumber, roasted Cherry Tomatoes cut in quarters with a Green Pesto Dressing.
One thing to remember is a Salad is not made only of leaves of a Green Salad, it can be made with Potatoes, made with Rice, Beans or Pulses, Pasta, Cucumbers, Courgette, Tomatoes, Couscous, Aubergines, Sweetcorn, Herbs, etc, which can serve as a base for your Salad. It is just a matter to have a plan or to make it happen: the Three T's: Test, Try and Taste. You would be surprised by what you can conjure up.