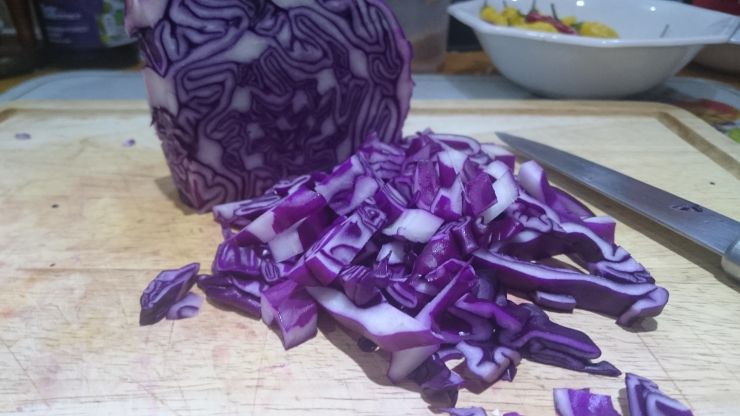 The Red Cabbage being Chopped.
This Cabbage like its name indicates is a purple-y Red. Its texture is rather dense and compact and its leaves grow layers upon layers in a circumvoluted fashion. However this method of growing render that Cabbage a joy to cut when you desire shreds of it for a Red Cabbage Coleslaw for example.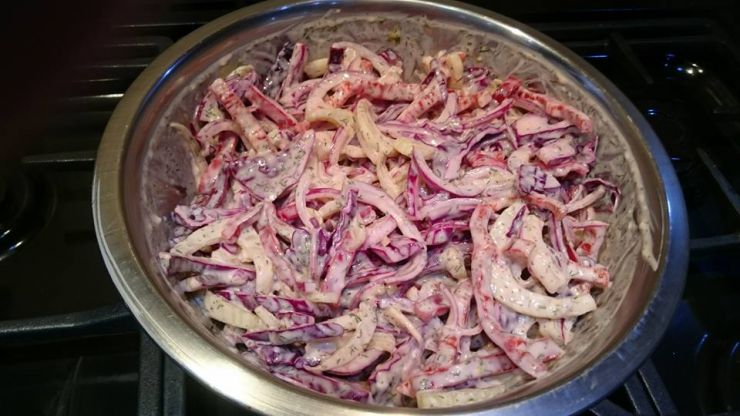 Home Made Red Cabbage Coleslaw.
Red Cabbage is mainly eaten during the festive season as one of the proposed sides. Usually it is braised. Always, I do change my way of cooking a Red Cabbage at Christmas. It is all a matter of trying different things. For that matter it is good to know which ingredients pair well with Red Cabbage then like an artist you have a palette to choose from. Fruits, like Apples, Oranges and Pears do marry well with Red Cabbage but it is better to choose only one from that list and not all of them at a time.
Braised Red Cabbage is a treat mixed with chopped Shallots and Apple, cooked partly in Chicken Stock and Apple Cider. Topped with Walnuts pieces and dried Cranberries, this side dish is nice.
Another combination for braised Red Cabbage is one with Spices, Hazelnuts, Orange (Segments, Zest and a little fresh Juice), a dash of Grand Marnier goes in the Vegetable Stock.
Braising a Red Cabbage remove some of its bitterness but also some of its crunch, which is good if it is what you are looking for.
Another way of cooking Red Cabbage is by cutting it into quarters, wedges to simply roast or into thick slices in order to create what we call a Red Cabbage Steak.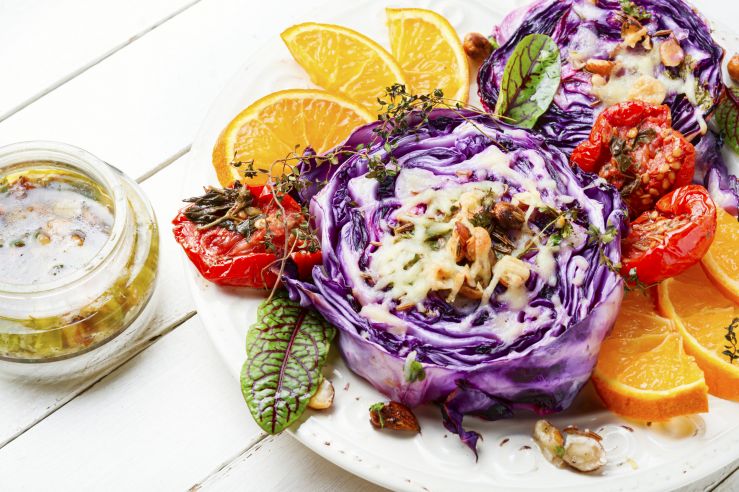 Roasted Red Cabbage. It is the same concept as making Cauliflower Steaks. They can be be pan fried, braised or roasted.