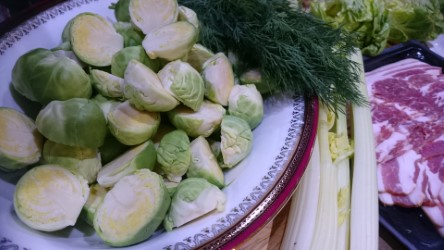 Brussels Sprouts cut in half.
Love them or hate them, Brussels Sprouts has a 'press'. That little Cabbage became almost a must upon the table of the Festive season at Christmas. But all year round it is hardly chosen as a Vegetable to eat: Bad press, Christmas time: good press (Essential).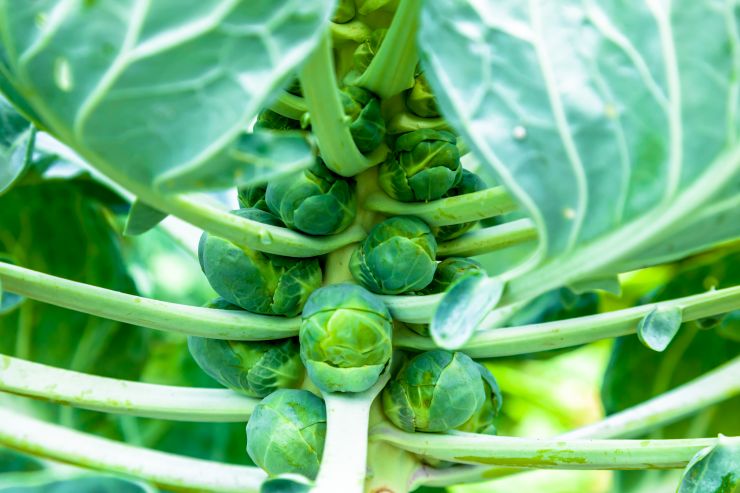 Brussels Sprouts are growing on tall strong leafy stalks.
Seen as a bitter sweet little Cabbage but readily available during Winter like most Cabbages. The Brussels Sprouts have been particurlaly liked in Belgium, however that type or similar to it of miniature Cabbage has been grown or developped since Roman time. Proper mentions of Brussels Sprouts date from 1587.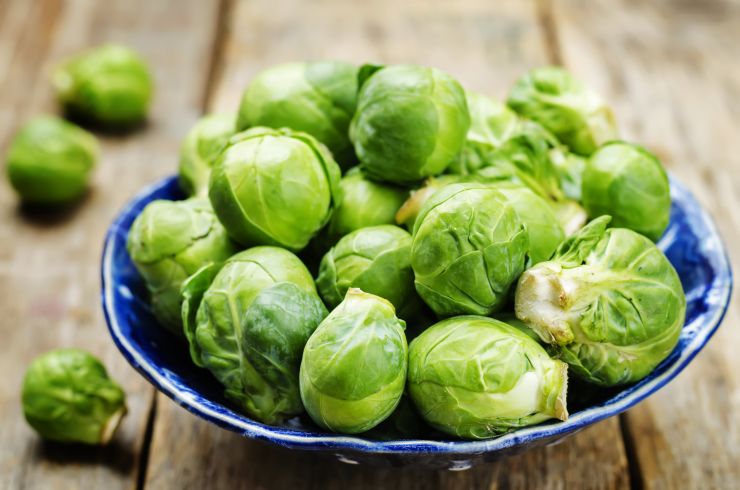 The Miniature Cabbage. The fact that Brussels Sprouts can grow at low temperature makes them a good Winter Veg.
It has been a sort of tradition to trim the bottom of the Brussels Sprouts then to make a cross with a knife upon it. It was believed to help the cooking of it thoroughly, but also there is the practice of blessing certain Ingredients by this manner. It was a way to thank having them to eat and to pray that they will come back upon the table again. The sign of the cross is mainly religious, has a rapport with Christ and the resurrection. Bread for example is similarly blessed by the sign of a cross before being sliced and shared. This practice has a lot of connotations.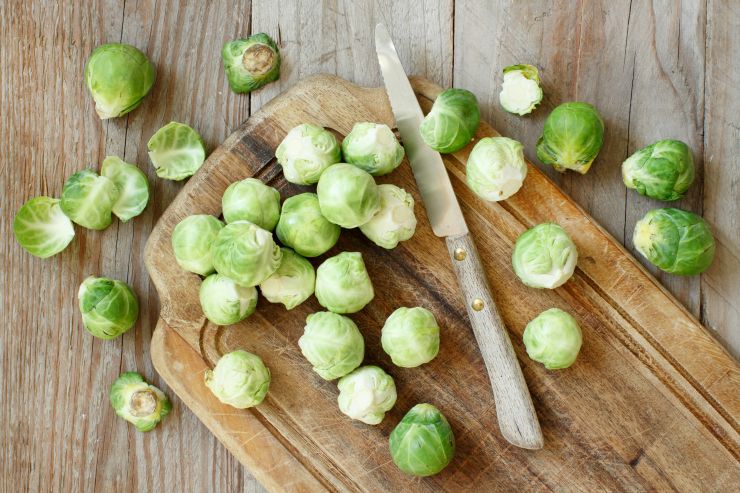 Preparing Brussels Sprouts.
Now the over boiling of Brussels Sprouts has been an issue for lots to either like them or loath them. For myself, Brussels Sprouts are not my favourite Vegetables but not right down the list as well. I had a fair few overboiled ones in my time as per say (Mum comes to mind but others as well). However the saving grace was the preparation of the Brussels Sprouts prior to them being boiled by the main woman in the house. I was there at the times which gave the opportunity of the trimming of the Brussels Sprouts, to do the cross slash and so forth, trimming the unsightly leaves and catch up, chat to the lady of the house in charge of the main meal... which would crucify the Brussels Sprouts further if I may say...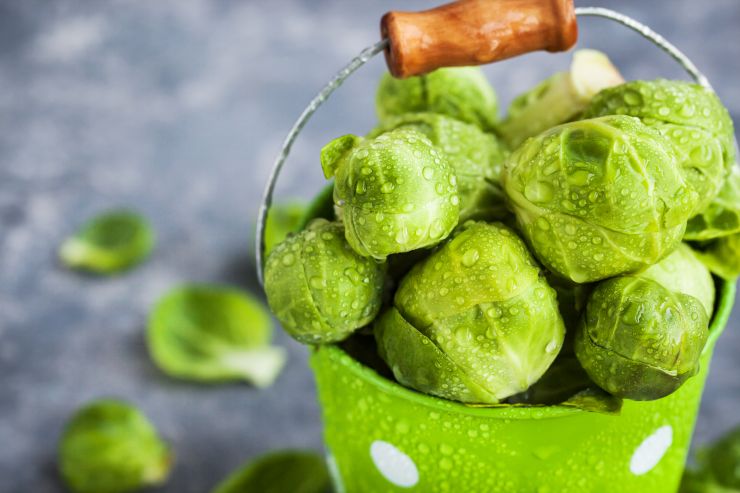 Brussels Sprouts meant for me a time to push back connection again. They are a tedious prep to do (Time consuming rather) for someone preparing a large Christmas Dinner party. So by helping someone in the kitchen by preparing the Brussels Sprouts for them, I could defuse the anxiety of the friend holding the party. It was all about chatting while preparing, sharing the tasks and a good all prep/boost up conversation for one and the other/others.
Of course there are not only one way to cook Brussels Sprouts but also not only at Christmas. In Winter or Autumn, a Cream of Brussels Sprouts Soup can warm you up. The Leaves of a Brussels Sprout can be easily added as well to a Broth to give a little extra flavour. A very simple yet decent recipe is to do a Chicken Broth within Chicken Stock or Veg Stock, add thin strips of Chicken Breasts (grilled in advance) to it. Then the Veg of your choice come into play. Myself I do like putting diced Carrots, Button Mushrooms, sliced Leeks and when it is the season Leaves of Brussels Sprouts. I finally add Vermicelli Pasta and usually one Bay Leaf along with a little Seasoning. Served with chopped Parsley. It is slightly old fashion but when you have a cold that Broth is somewhat comforting and nutritious.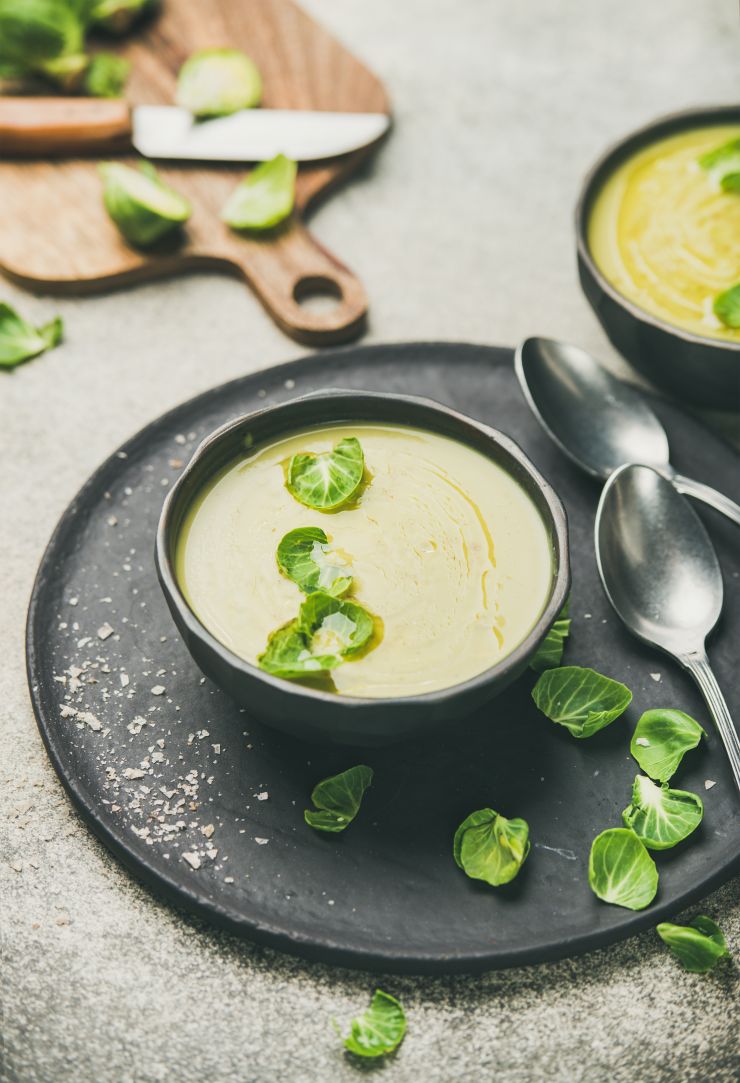 Cream of Brussels Sprouts Soup. (Not my picture but paid for usage)
The fact is that Brussels Sprouts sometimes need to be jazzed up to give them a little 'Je ne sais Quoi', le 'Va-Va-Voum'. It could be as simple as roasting, pan frying, stir frying, baking them instead of boiling them but also using other Ingredients to make them a true part of a Meal or Dish.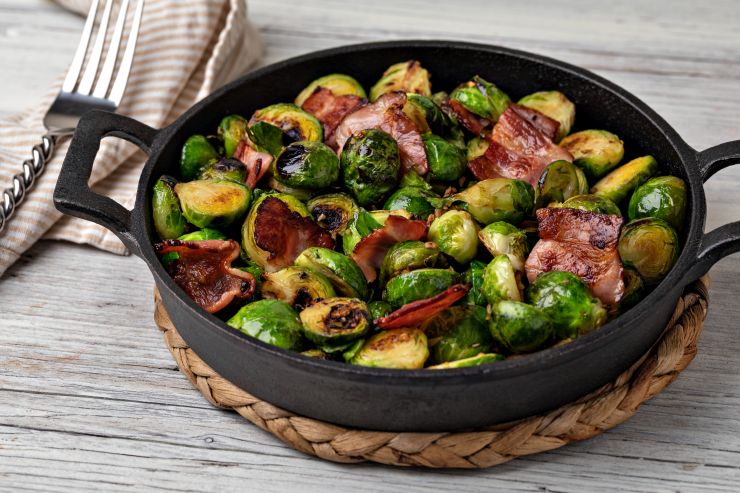 Sautéed Brussels Sprouts with Bacon. You can add Chestnuts during cooking, or Walnuts or Hazelnuts for it works well for that Dish (but be aware if you have a Nut allergy not to do so).
Speaking of something quircky to do with Brussels Sprouts is to introduce them as Canapés amongst other to Friends or Guests. You will certainly have a mixed reaction but also smiles as well as comments. You can keep it very simple with Baby Potatoes and Brussels Sprouts Skewers or add Chestnuts in the mix on the stick (part boil everything for a dozen of minutes before before assembling the Skewers and finishing the cooking under the Grill). Another idea is to simply wrap cooked Brussels Sprout in smoked Bacon or smoked Ham.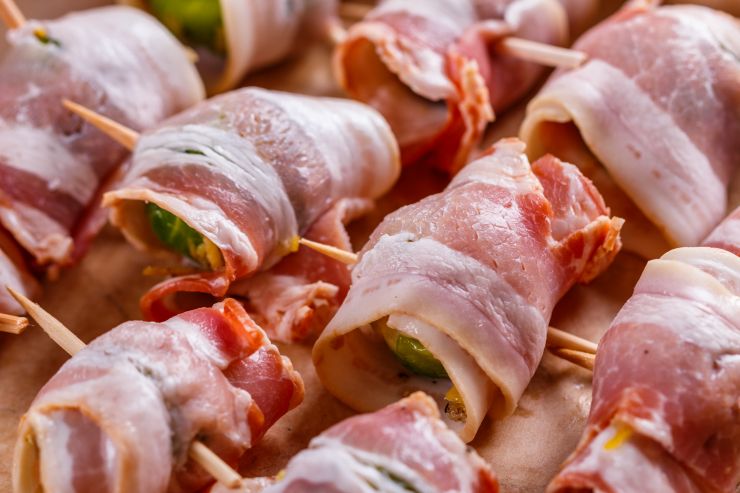 Brussels Sprouts wrapped in smoked Bacon. Toothpicks are handy to keep everything together. A little dash of Mild Mustard inside the Wraps give a nice twist.
Salads can also be made using Brussels Sprouts simply by putting the Leaves in a bowl to mix them with other Ingredients. An Autumnal Salad could be made with Brussels Sprouts, Red Chicory for the crunch and the bitterness as well as a dash of contrasting colour, lightly pickled Woodland Mushrooms, a mix of them for variety, some Walnuts for texture and sliced warmed Goat Cheese. A Salad is an assembling job which is very satisfying as a Starter or as a Lunch or as a light Supper.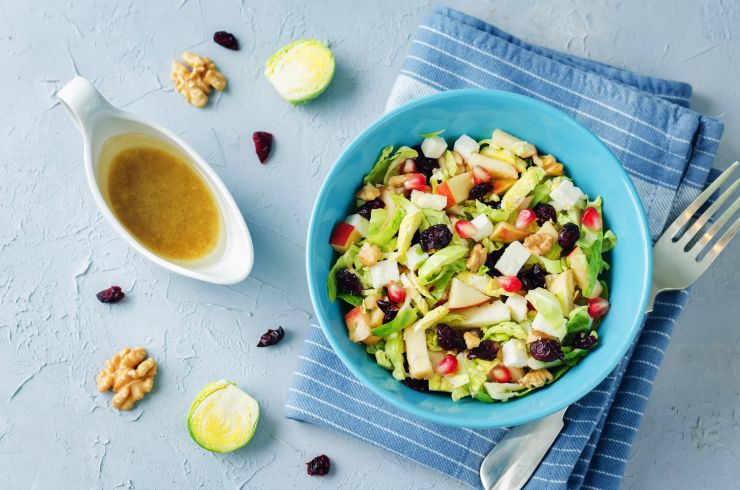 Shredded Brussels Sprouts Salad.
The other fact which is worth mentioning is that there are many varieties of Brussels Sprouts out there to rock your tastebuds, your plate and your boat. Try, Test and Taste you will never know what you will discover unless you do so.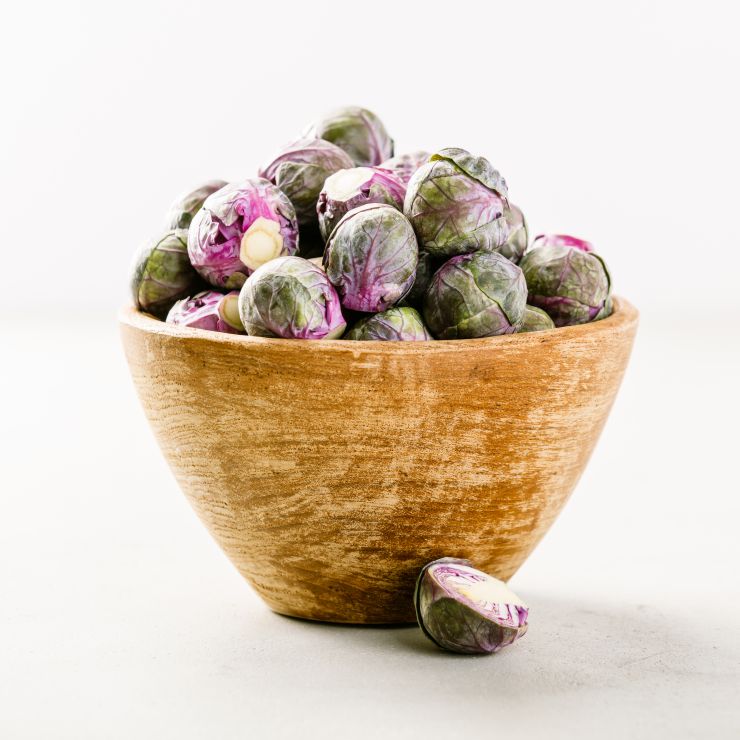 Purple Brussels Sprouts.