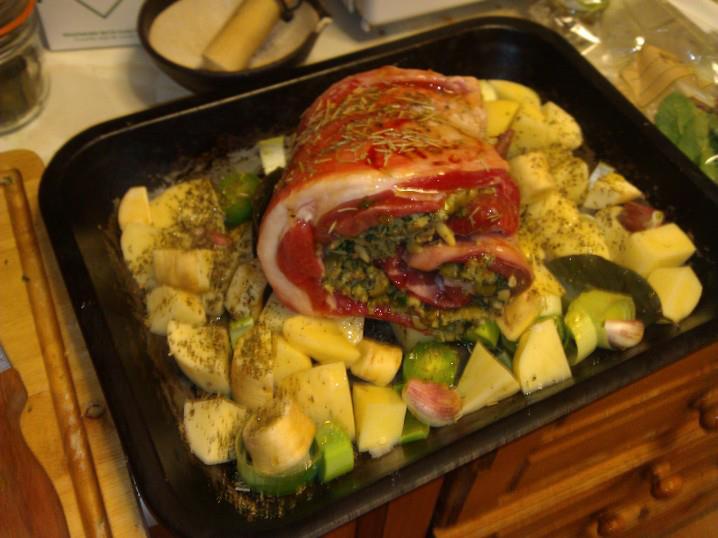 Stuffed Pork Shoulder.
As a Sunday Roast, we frequently do a Pork Shoulder, boned or de-boned, or a Pork Joint. It does make a change from Roast Chicken. We do prefer our Shoulders or Joints to have a decent layer of fat and of skin. We also always try to get a nice crackling however we tried many methods to, as per say, nail it. It almost should be called an art.
Pork Shoulder with a golden crakling. Soring the Meat is somewhat crucial in order to have good result.
A de-boned Pork Shoulder can be rolled open and stuffed. This does add to the enjoyment it does procure. Not only that the Stuffing can render the piece of Pork seasonal. For example, in Summer I like to do a fresh Green Pesto to stuff the Shoulder. The Pesto Stuffing contains Sage, Parsley, Basil, even a little Mint, grated Parmesan, Pine Nuts, and Olive Oil.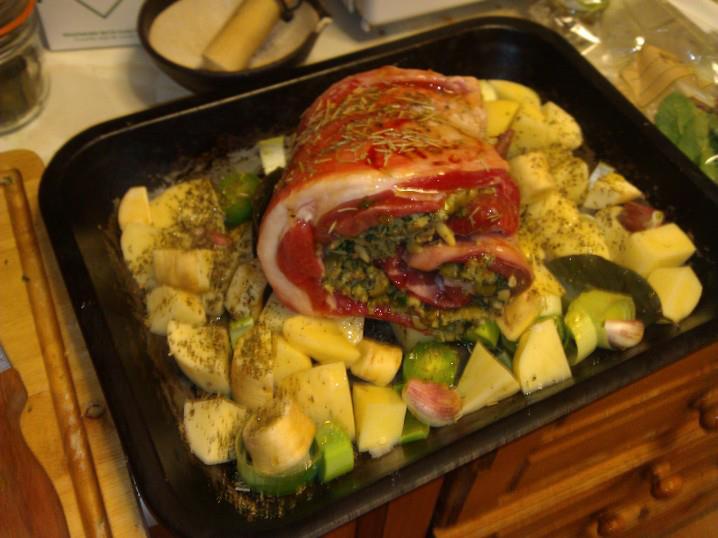 Pork Shoulder to be roasted with a Pesto Stuffing on a bed of quartered Potatoes, chopped Leeks and Garlic. It is served with a Cider Gravy.
If a Pork Shoulder can make a fulfilling Sunday Roast, it can also be used for Festivities, Birthdays and Dinner Parties. Depending on the size of your Pork Shoulder, you can feed about six to eight individuals. The serving and cutting could be done at the table for effect. You then also can know how thick the slices your Guests want. But it is also nice to have a large dish or bowl full of Vegetables and take out the Gravy Boat for the occasion.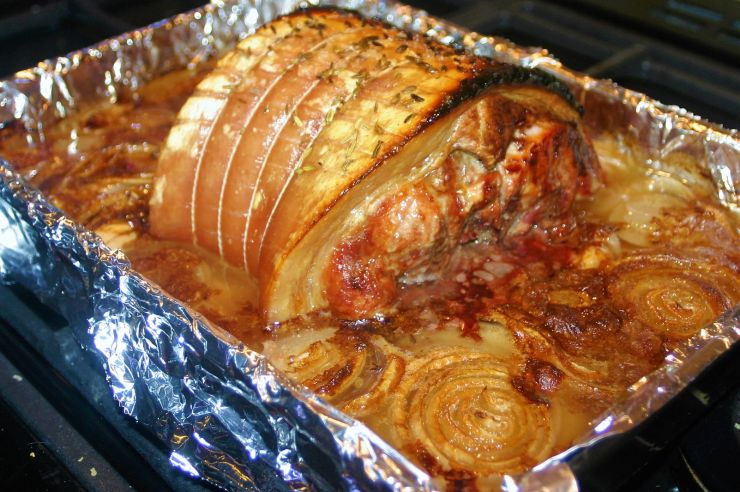 Cumin and Za'Atar Roasted Shoulder of Pork on a bed of sliced Spanish Onions kept in rings bathed within the Sherry and Stock which will make up the Gravy later. This large piece of Pork Shoulder was put upon a plate to rest a little, while we prepared the Gravy. Then it is a matter of presenting upon the best platter, dishes and the gravy boat.
Now the plates with a cut of a large Roast may not officialy look nice, pretty and fanciful. However their content is hugely comforting, filling bellies up and making up for it all by their taste. A Roast Dinner is usually most welcomed. But know the taste, Veg choice and/or religious restrictions of your Guests prior to planning a Roasted Pork Shoulder.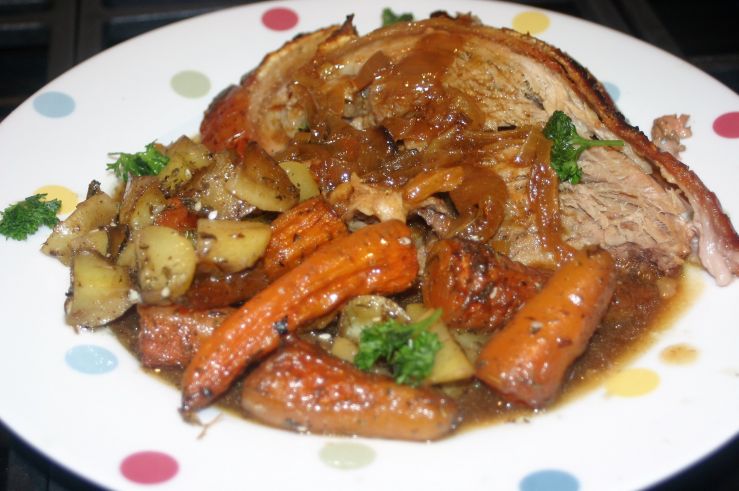 Slice of Shoulder of Pork on a plate served with Chantenay Carrots, Baby New Potatoes, Sherry and Onion Gravy, decorated with chopped Parsley.
A good thing with a Shoulder of Pork is that Pork in general goes along well with many Vegetables, Herbs and Spices. It is a very flexible, versatile Meat. Of course I do tend to go for Potatoes as a side because my Man loves them, but I do mix and vary all the time. For my part an Onion flavour in the overall Dish is essential: May it be a large Spanish Onion, a White Onion, a Brown Onion, Shallots, Leeks or Spring Onions. It can also bring about a Gravy for the Roast. Vegetables can be considered but also Fruits with Pork. This is because it is a versatile Meat.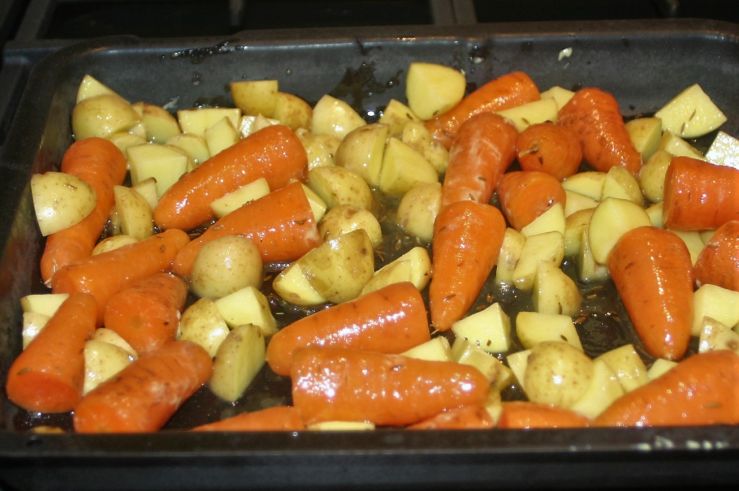 Chantenay Carrots and Baby New Potatoes ready to be seasoned and to be put in the oven to accompany the Pork Shoulder.