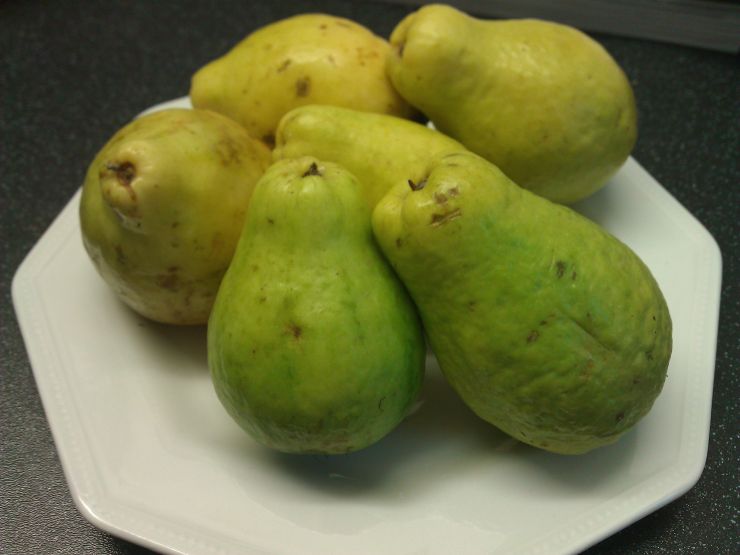 Compared to Apples I initially didn't like Pears very much when I was young. For me they were just okay. But as I grew up they kind of grown on me not like breasts but Taste wise. I would say that for me it was a little bit like finding the Pear which did it for me.
And the Pear that did it was the Conference Pear. I know there are a lot of Pears out there but this is the one which I love the most for its sweetness and softness.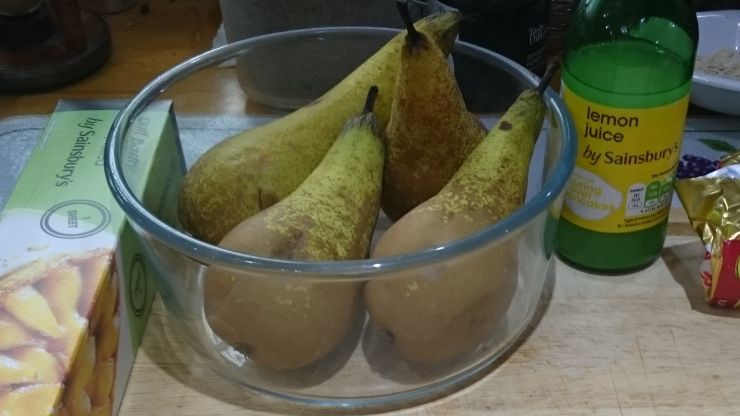 Conference Pears, their delicate Taste and softness make them perfect for Cakes, Puddings and Desserts.
Pears are also great for cooking and not just for eating on their own. Conference Pears are perfect for Cakes and Pies but also Chutneys. It is the sweet factor but also the moist, the juiciness they do bring along...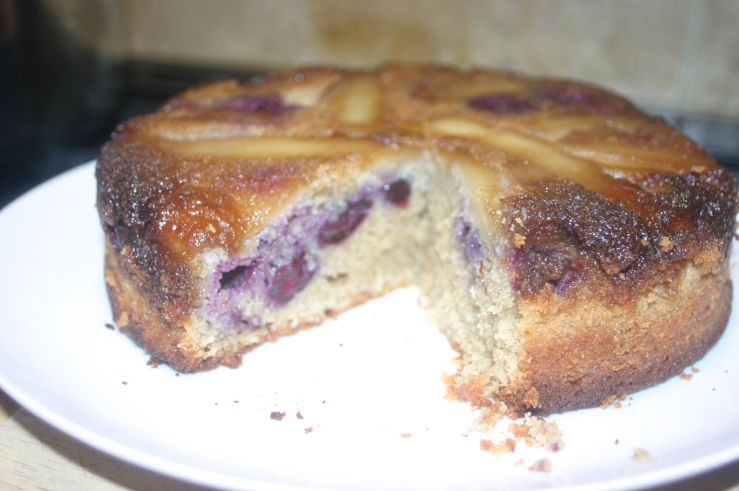 Home Made upside down Blueberry and Pear Sponge Cake. If the Blueberries do the marbling inside the Cake, outside the Pears are providing the caramelised and juicy decoration.
Firmer Pears are perfect for poaching. I will say that the poaching Liqueur is as important as the Pears because it infuses them with more flavour but also the nappage of a Pear with a sauce make a poached Pear a decadent Dessert as per say but also a light and delicate one to finish of a four courses or seven courses Dinner.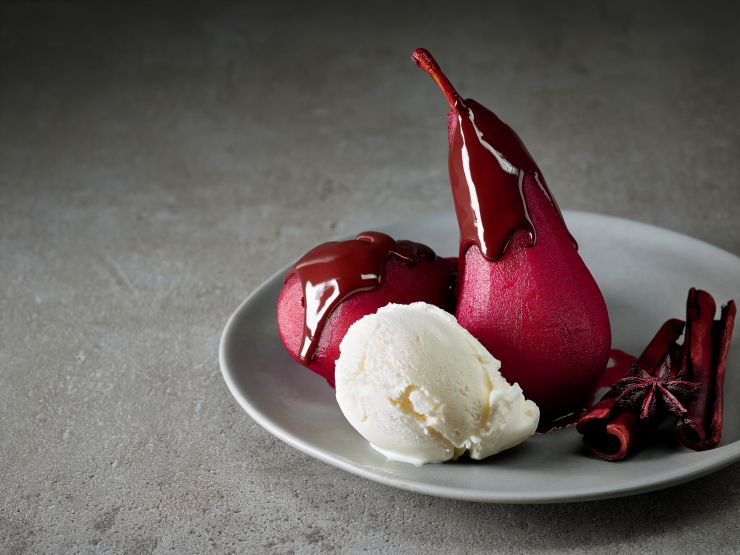 Pears poached in Red Wine.
In the morning, I would say especially in Autumn, Pears can play a part in a healthy Breakfast. Home made Granola with the addition of a chopped Pear Williams or two, a handful of Blueberries and a few Almonds, drenched with Jersey Milk makes a good start of the day if I may say. Alternatively instead of being within a bowl and with Milk. The Granola can be presented in a glass and layers for the spoon to dig into. The bottom layer can be Greek Yoghurt followed by chopped Almonds then the Ganola mixed with Blueberries, on the top will be the chopped Pear, and to finish with a drizzle of Honey.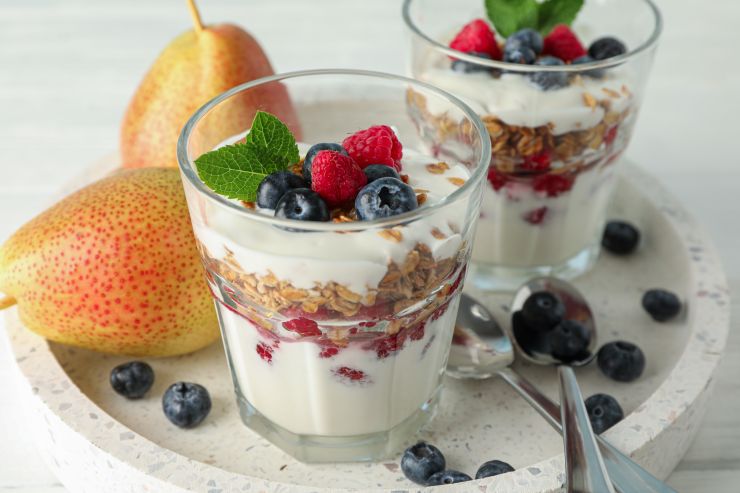 A Breakfast Yoghurt Pot.
Preparing a batch ( a Dozen) of Brunch Muffins for the week is always a good idea. It will go well with the Coffee or Tea Break and the urge to eat before the Lunch. Pears are not very often used in a Muffin but they do work well in little pieces within them or even grated. Comice Pears are perfect for baking so it is a Pear of choice for the Muffins. As those are Brunch Muffins they do contain as well as Pears, some little Cubetti di Pancetta within them and also Ricotta Cheese. They are topped with chopped Hazelnuts.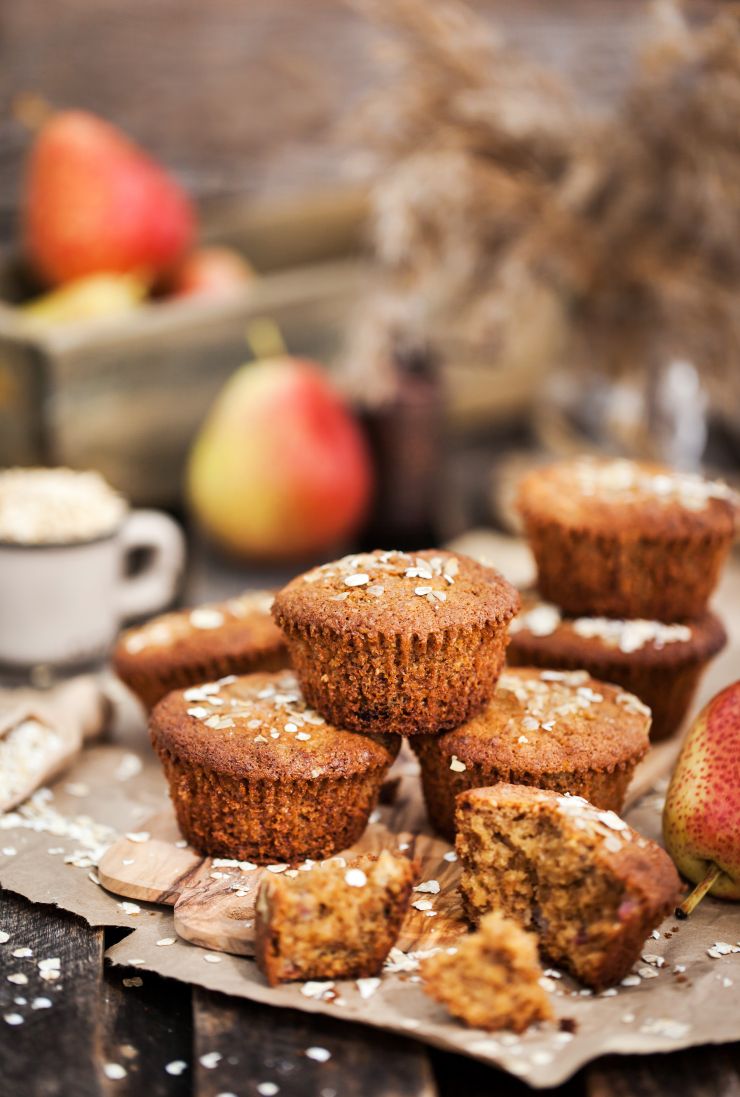 Wholemeal Pear Muffins.
A Lunch can also be made with Pears within it. As it stands Pears as a Fruit do marry well with Cheese especially Blue Cheese. A very decent Lunch can consist of a Salad made with Red Butterhead Lettuce, White Endive/Chicory, Rocket Leaves, a Bosc Pear or two cut into quarters, chunks of Blue Cheese like Gorgonzola, Dolcelatte, Roquefort, Bleu d'Auvergne or Stilton, the choice is yours. A Bosc Pear needs strong flavours around it. Gorgonzola is usually my choice of Cheese to go with Pears. For texture Walnuts are perfect, either chopped , halved or whole. Lardons are delicious but optional to complete this delish Salad which needs to be dressed with a Grain Mustard and Walnut Oil Vinaigrette. It is an Autumnal Salad.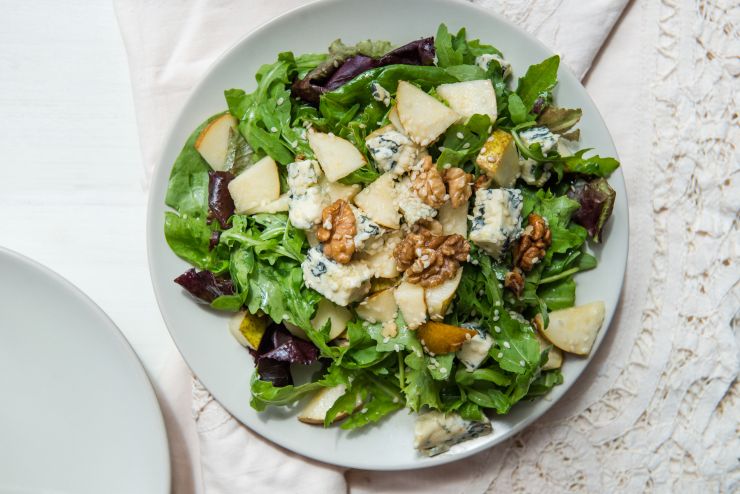 Pear and Blue Cheese Salad with Walnuts.
If we think about Tea Time, Pears can come to join the party within a lovely Pear Tart Tatin. Apples are not the only Fruits to deliver a good Tart Tatin. The recipe which originally was a mistake did grow not only in fame, but also with people daring to realise the same concept with other Fruits. Pears did pass the test Taste successfully.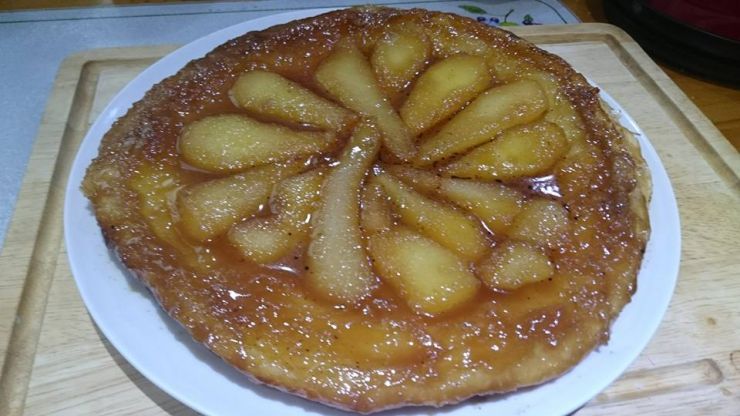 Home Made Pear Tart Tatin.
Pears being an Autumn Fruit do go well with autumnal dishes such as Soups which are comforting during colder days. Pears do bring a very welcomed sweetness and fruity notes to a Soup. The fact is that Pears do marry well with many Vegetables, like Squashes, and from the Brassica family, and the earthy roots ones like Potatoes and Parsnips. A Cauliflower, Broccoli and Pear Soup can boost you up for a nice little Supper. Add a little Curry powder, a pinch of Turmeric, chopped Coriander to make everything sing with your Vegetable Stock.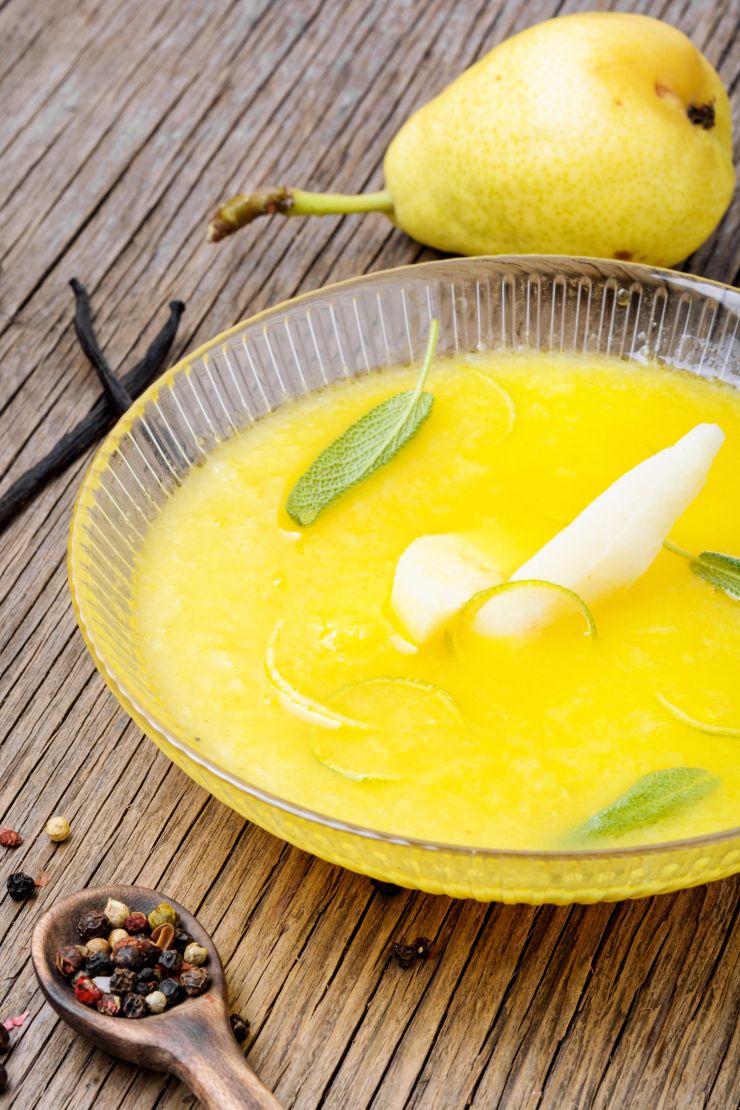 Velouté of Pears, Leeks, Double Cream with a dash of Lemon Juice. Multicoloured grinded Peppercorns and Sage to decorate. It is a creamy and silky Soup. A little Vegetable Stock helps to render the Velouté smooth and of course the blender.
If we think of Pears as a Starter, it would seem difficult from the get go, however it is not. Because there is a simple Dish which can be done. It is baked Pears. The principe is to cut in half the Pear lengthway and to remove its core to render its centre with a hole to fill. The filling can consist of chopped Hazelnuts, Raisins, and toasted Breadcrumbs.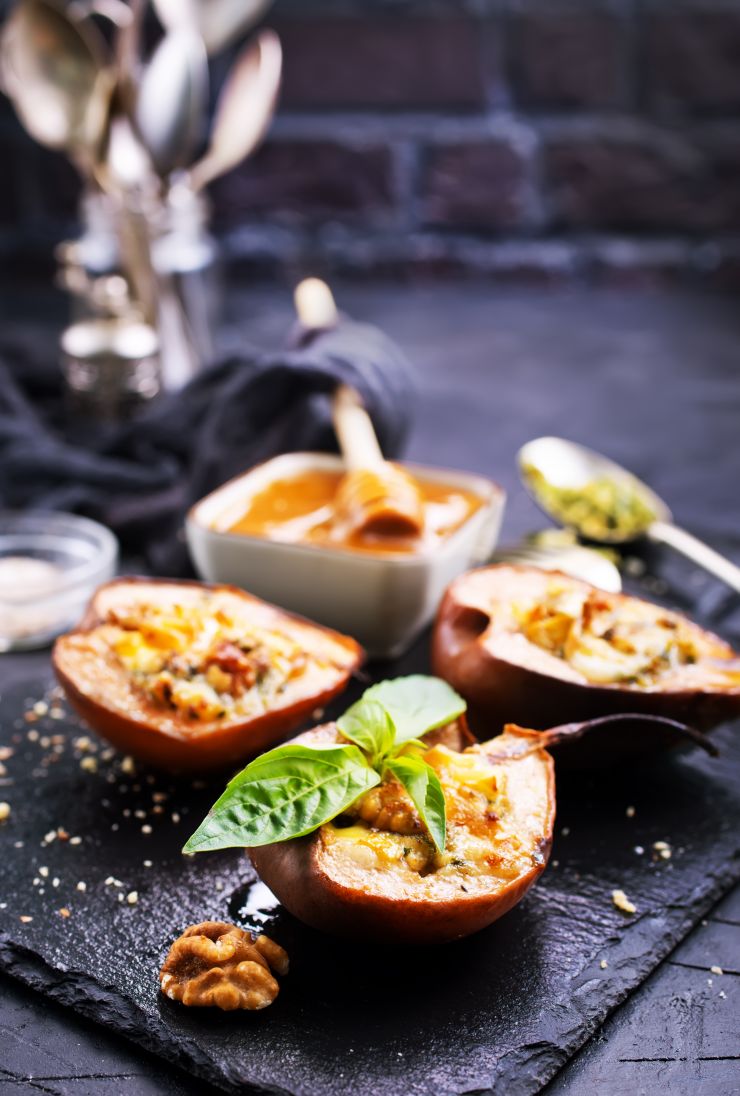 Baked Pears.
The delicate flavour of Pears can work well with the soft and Sweet Scallops for an elegant Fish course. On a bed of Purple Frisée Lettuce Leaves, place the seared Scallops, the diced and peeled Pear. Add a few Pecan Nuts for texture. Drizzle with a Vinaigrette made with Perry, then decorate with fresh chopped Tarragon and Chives.
Seared Scallops. Their sweetness mustn't be overpowered by too strong a flavour by another ingredient.
With the connotation of Autumn of the Pear as a Fruit associated to that Season in particular, Pears make a good accompaniement to Venison and Wild Birds such as Phaesants, Quails, Partridges, Guineafowls. Pears can adorn the Main Course as caramelised quarters, or poached in Perry quarters. Another way to use Pears for a Main course is in the form of a Pear Chutney. Those Chutneys are delicious to accompny Meat, there I am thinking of rather large Festive Meat like a piece of Gammon or Ham.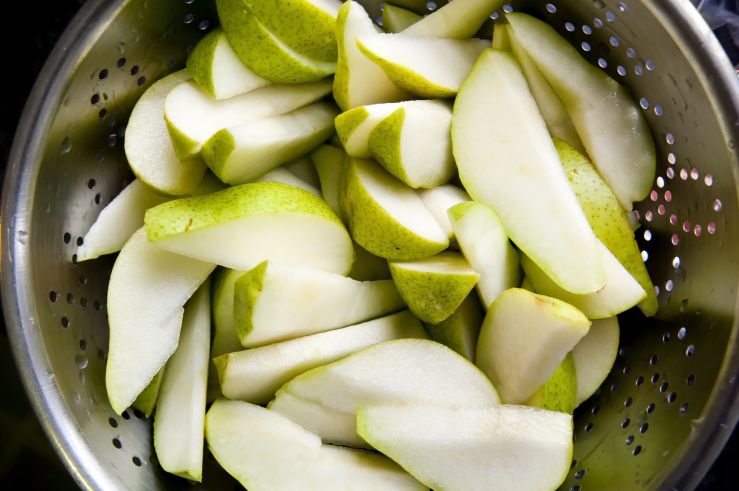 Quartered Pears.
A palate cleanser after a Main Course could be a simple Pear and Elderflower Sorbet decorated with little Mint Leaves. It will be refreshing and prepare everyone for the Dessert.
Pear Ice Cream.
Pears for Dessert is almost iconic but very reminiscent of decades where poached Pears were the best thing to present at the of a Dinner Party to your Guests. I remember being very proud of succeeding my first attempt at the 'Poire Belle Hélène' in my twenties. It was expected of me because I am French: Pressure upon an assumption (not all French people knows how to cook or has a will to cook, but practice makes perfect). Red Wine Poached Pears if we stay with the classic nostalgia were added to my little repertoire of things I must learn to do. The fact is that after a long Dinner something light is rather welcomed than something heavy therefore the humble Pear gives you that opportunity to do so.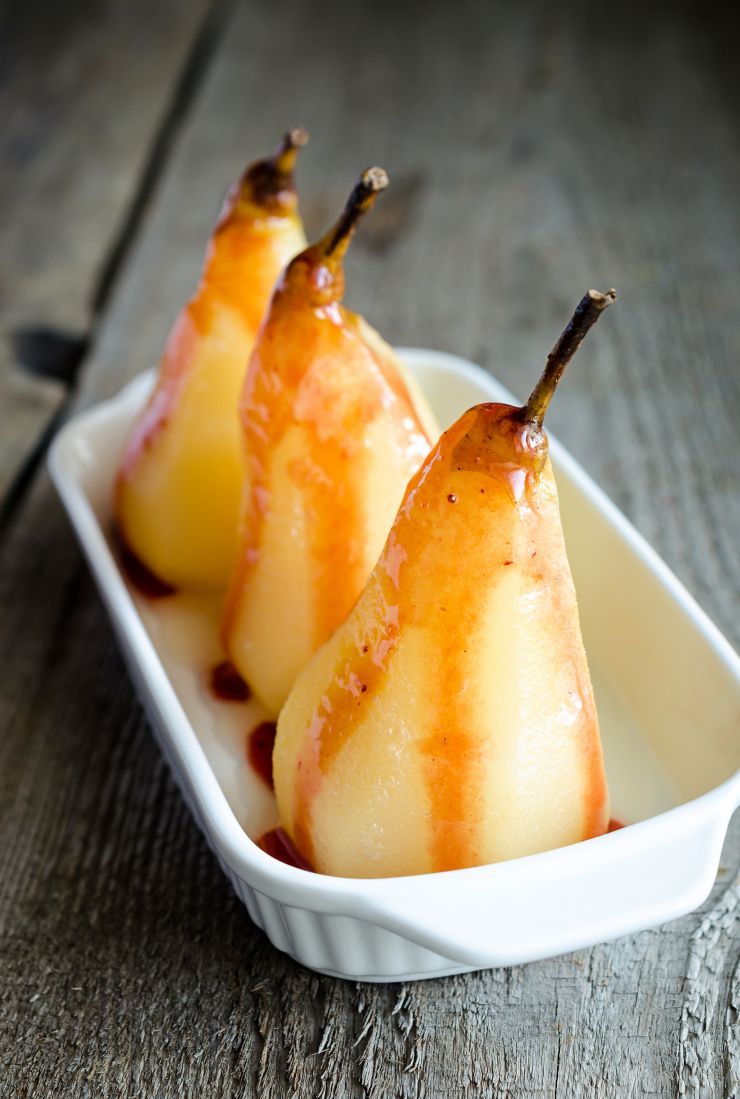 Poached Pears.
Another Dessert which is so comforting but more of a Sunday Dinner Autumn Dessert is the Pear, Apple and Blackberry Crumble. The Crumbs are done with chopped Cobnuts, Hazelnuts, Walnuts and Pain de Campagne Breadcrumbs, Butter, and a drizzle of Pine or Heather Honey. A little gratted Ginger will bring some warmth to the Crumble, a pinch of Cinnamon would not go amiss either. A little Perry within the Fruits will give it a boozy little note.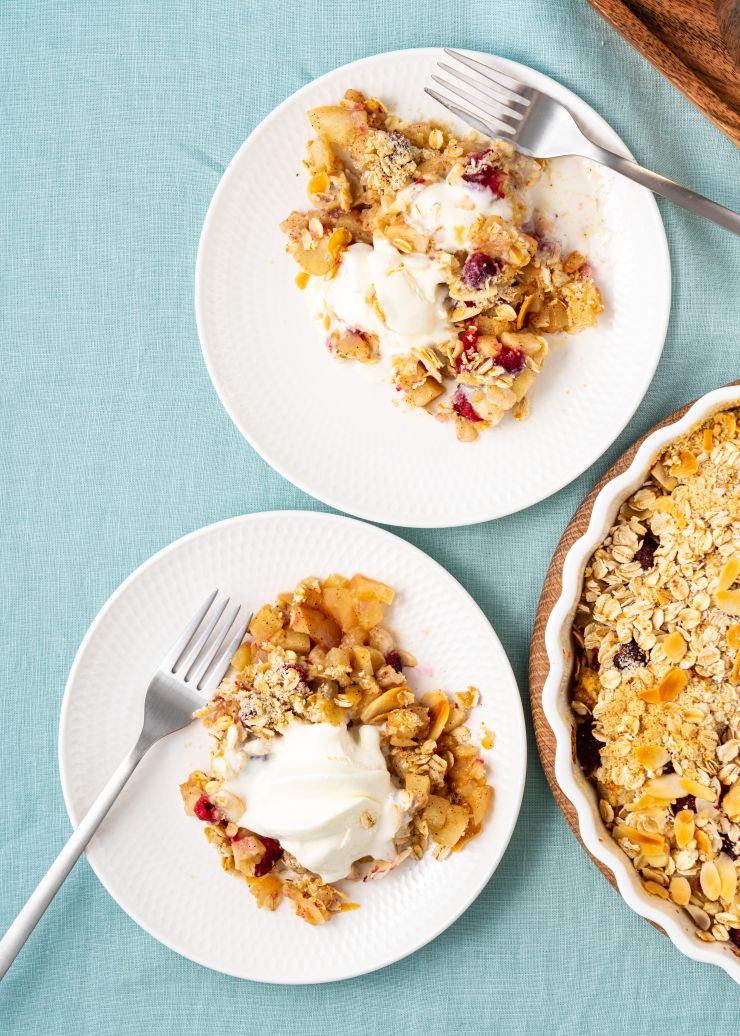 Pear, Apple and Blackberry Crumble served with whipped Creme Fraiche.
To finish a Dinner Party in style, it is nice to build a Cheese Platter. There fresh Pears or Pear Chutney are welcomed along with Grapes, Apples and a glass of Wine or fortified Wine like Port. Pears, Grapes and Apples have a sweet acidity which cut through the unctuous richness of Cheese.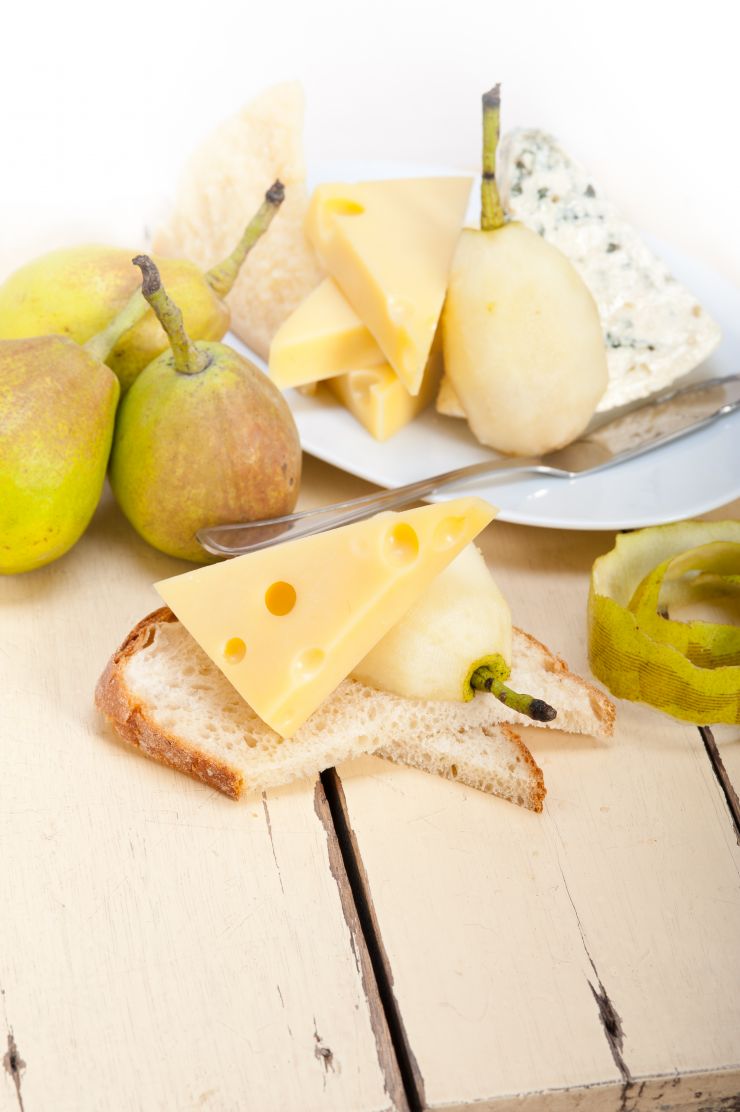 Cheese and Pears goes hand in hand together.
From stylish to more common, we do get sometimes those Midnight urges to eat but we don't know usually what and we do just become Fridge, Cupboards, and Fruit Bowls Raiders... A little night snack can be half healthy and half naughty but ever so simple. It is a take on a Poire Belle Hélène but in a raw and rough way. You just take a Pear from the Fruit Bowl, don't peel it just wash it. Cut the Pear in quarters and dip the Pear quarters in a Jar of Chocolate Spread like Nutella. Then enjoy the Midnight Snack. Nutty spreads like Almonds or Hazelnuts do work just as well to quirb that urgent need to eat.
There is the late Summer Bank Holiday where everyone usually choose to go away for the long Weekend, somewhere, anywhere before the start of September and returning back to work. It has almost become a way of life to mark the last Summer days in that way. Throwing a last BBQ Party or an outside Cocktail one brings a sense of closure to the leisure days of the Summer or the glorious light of the Sun which was brighter for at least a few months when we are lucky.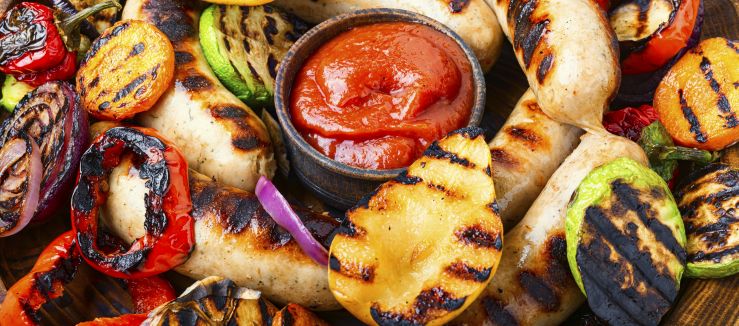 Grilled Sausages with Pears and Vegetables.
Now a firm Pear put 'en Pappillote' (Within a wrapping like Foil) can be put to be cooked over a BBQ. Peeled, removing the stalk and cored is better to avoid any inconvenience. In the little Foil Parcel put just a little Butter, some flaked or whole blanched Almonds, a drizzle of Honey, a twig or Leaves of Lemon Thyme. It is simple but ever so pleasing.
As for a Cocktail Party with Canapés, a little one with diced Pears is Red Chicory Leaves being used as little boat for the Pears but also for crumbled Roquefort (or Bleu d'Auvergne) but also chopped Walnuts. It is delish: Bitter, sweet, crunchy and creamy. And don't forget a Perry Cocktail...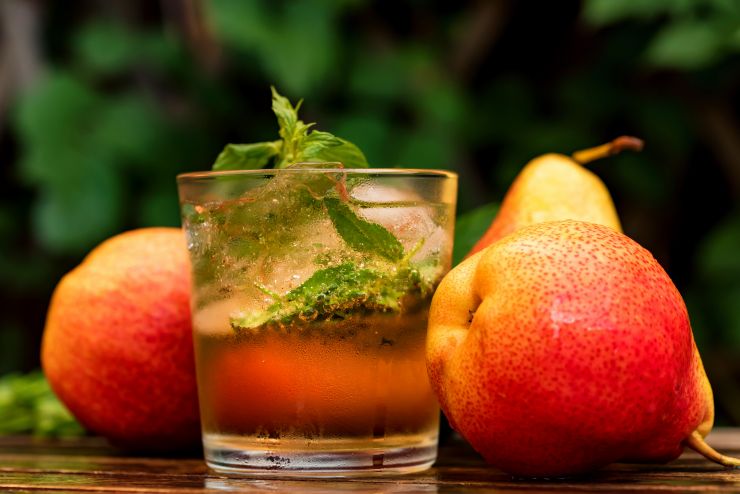 Perry Cocktail.