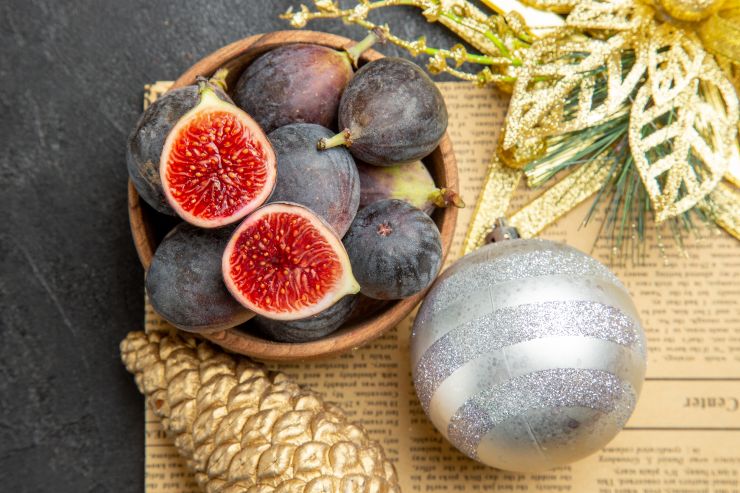 Fresh Figs for Christmas.
Figs is a fruit which is a bit like Marmite some love it, others hate it and there is the just middle of people who appreciate Fig but to eat not very often. I am falling in the first category. My partner falls in the second category. My Sister and Brother are in the middle, let us just say that they will eat Figs but it will not be their favourite Fruit.
Back in the days on our way to school there was that Fig Tree overhanging one private garden's wall. When the Figs were there we, me more than the others would grab a Fig and eat it. For me who was a fussy eater, it was something. Another enjoyable memory was Fig Biscuits/Fig Rolls. They simply were delicious with their thick crunchy but moist in the same time Biscuit layers and sandwich between them the Fig Jam. It was yum.
Fossils of Figs have been found in Czech republic dating from the Miocene. From antiquity to nowadays Figs have been widely consumed mainly from the Middle East, Europe, and North America with the climate in California which ressembe the Mediterraen one being very suited to grow Fig trees. But the main producer of Figs are in North Africa.
The Fig Tree as well as being fruitful, has pretty Leaves which makes it an attractive Plant altogether of the type called Ficus.
If we return to the Fruit itself the dried Fruit is more commonly eaten than the fresh one because of course it does like longer but also because the fresh Fig doesn't transport well and perish within a couple to four days.
Anyhow if we think about it, Figs can be used in multiple ways, of course not during the same day. But it can easily be part of our meals more often. Here are a few ideas:
Breakfast: The Granola, Greek Yogurt, Figs and Honey Pot. Put some Granola (Home Made or not but one full of Nuts works well to add Texture) within a Glass Tumbler. Chop a Fig, without the stalk, in little pieces. Pour the Greek Yogurt into the Glass on top of the Granola, add the pieces of Figs and a good drizzle of Honey. Then mix within the Yogurt gently without touching the Granola base. Chop a Fig into quarters (remove the hard bit), place it on top of the Greek Yorgurt, sprinkle some chopped Hazelnuts on top of the Fig and drizzle with a little bit more Honey ( Heather or a Pine Honey gives a very nice taste). This is a rather autumnal Breakfast fit for a Saturday or a Sunday Morning.
Brunch: What about a Bagel? Choose a Bagel with Seeds like Sesame Seeds, or Oats, or Multigrain. Spread a layer of Ricotta Cheese on the Bottom and theTop, then spread all around on the bottom of the Bagel either Fig Jam or Fig Chutney. Add one Fig thinely slices upon the Chutney. Put on top some Rocket Leaves. Finish by putting the top of the Bagel. All it rest to do is to enjoy a Figgy Brunch.
Lunch: Figs do work well within a Salad. This Fig, Spinach and Avocado Salad makes a very nice Lunch indeed. To top it off it is full of goodness and texture. It can be share or just made for yourself. It consists of putting upon a bed of Spinach and roughly Chopped Red Onions some crescents of skinned Avocadoes, halves of Figs, topped with Walnuts for the texture and finished off by a good drizzle of Balsamic Vinaigrette. This Salad is perfect for late Summer and the start of the Autumn.
Tea Time: Figs are wonderful because they can work with Savoury recipes as well as Sweet ones. Spiced Chocolate, Figs and Walnuts Muffins at Tea Time is a nice treat during the colder days of the months. For a cosy Tea with a couple of Friends a Fig Loaf with Almonds, Hazelnuts, and Currants, with a little Currant Liqueur.
Canapés: Numerous delicious Canapés can be done with Figs. One of my favourites is very simple. It consists of roasting halves of Figs with a little drizzle of honey for 3 to 5 minutes. Place each half on White Chicory Leaves, which there are use as a recipient ( we also call them the little Boat). Add a dollop of Blue Cheese (Saint Agur, Roquefort, Dolcelatte or Gorgonzola). Finish with bits of Walnuts for the balace of texture. Those flavours work very well together.
Cocktail: The Fig and Orange Cocktail is a fairly festive one. When we invite Friends around for a Dinner party before everyone goes their own way to their families for Christmas and that we will not see them up until after the New Year. It is made with one puréed Fig and a half until very smooth. One tumbler of Orange Juice is added then it is topped with Dry Sparkling White Wine. Stir gently with a long Cocktail Stick. Put a sliver of an Orange and one of the Fig inside the Cocktail glass. Decorate the top with Orange Zest, and wedge the remainder of the Fig on the rim of the Glass. It works wonders for it is neither too sweet and neither too dry hence the Cocktail has the right balance.
Starter: There are endless way to use Figs for a Starter. One which is very simple is to do a Tartiflette bianco, (it is a kind of very thin Pizza like flat tart covered with Béchamel Sauce). Add to it a very thinly chopped Shallots, Seasoning, Thyme and Rosemary Leaves. Place some Prosciutto slices in some sort of rosette, and place Quartered Figs across the Tartiflette along with chopped. Grate some Gruyére over it and put in the oven for 15 minutes. This is a Winter Starter to warm you up.
Fish Course: At the end of the Summer when we do the last BBQs and outside Grills there is a simple Fig and Fish Dish to enjoy as a part of a last convivial lay out for Friends. Simply wrap some small Sardines (gutted, seasoned, deboned, placing a Lemon slice in apperture of the Fish belly) within Figs Leaves ( wet the Fig Leaves beforehand to prevent them from burning. In a foil place a Fig. Cross the top of it and open it a little enough to put a little Goat Cheese within some Thyme Leaves and Zest of a lemon on top. Close the Foil Parcel so it look like a bourse of the old days. Put the wrapped Fish and the wrapped Fig either under the Grill or upon the BBQ. It takes about 5 to 12 minutes to have a nice little Summery Fish course.
Main Course: Figs marry well with Venison and wild Birds. A recipe I came across which I mixed with another one was very nice as a result. It consisted of a Partridge, stuffed with Figs, Thyme and Prosciutto. The Partridge was glazed with Balsamic and served with sautéed and chopped Cavalo Nero with caramelised Shallots and Walnuts but also Pomme Anna. Last but not leat it was accompanied by a Red wine Sauce. It was rustic and delicious.
Dessert: A Fig Trifle is very often impressive. The Fig goes very well with multiple Ingredients from Oranges to Pistachios passing by Ginger and Honey. Therefore a Fig Trifle is relatively easy to concoct. On the Boozy side of thing Masala wine or even Port are also a match for Figs.
Supper: A very Autumnal Soup is a velvety and creamy Pumpkin Soup with for decoration Woodland Mushrooms, chopped Chives, a drizzle of Truffle Oil, and of course Quartered Figswhich add a burst of fruitiness to the Soup.
Midnight Snack: Honey Roasted Figs with chopped Hazelnuts and chopped Almonds. This is a very satisfying little Snack before bedtime.
I hope this will have given you plenty of ideas to use Figs for they are an excellent Fruit to deal with.