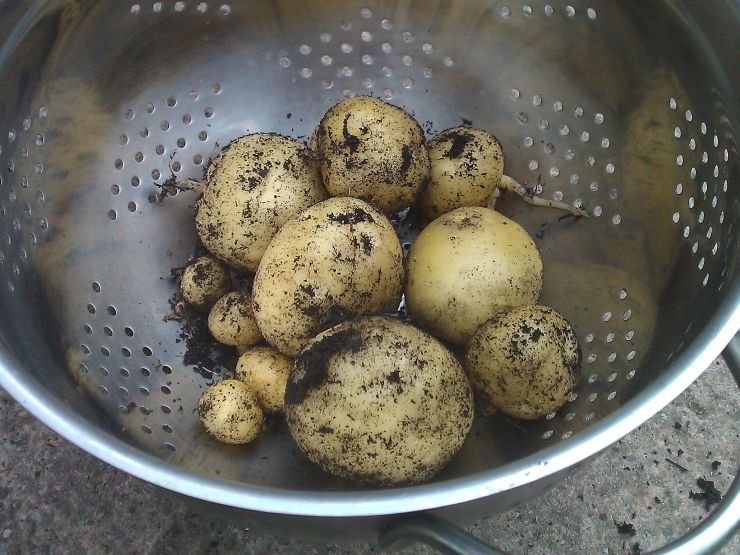 We have been growing Potatoes almost every year in our Garden. As we haven't much space, we do grow them in Potato Bag. This method is efficient for us. We do have three large Bags. This is convenient to grow Potatoes and try different varieties. However we are increasing the number of our growing Bag this year (2022) as part of lots of changes in the Garden.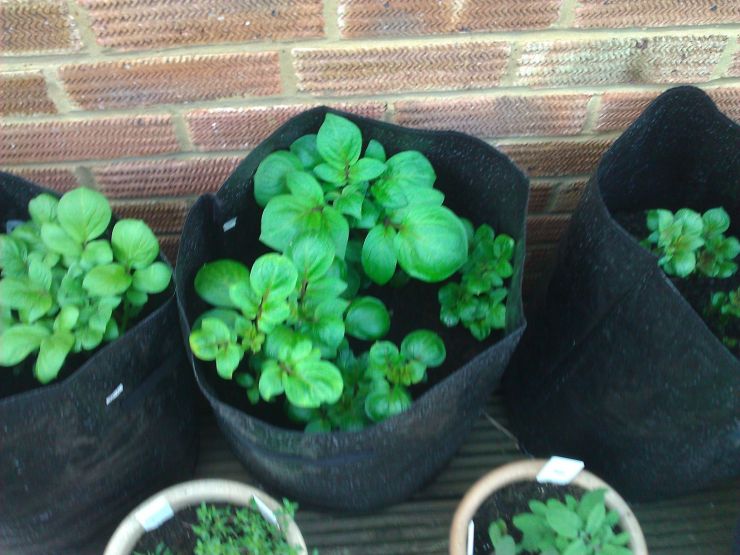 Our Potato Bags with King Edward Potatoes growing.
The choices of the Potatoes that we do grow is rather traditional: King Edward, Maris Piper, Charlotte, Baby New Potatoes, Vivaldi. I would say what we did also grow are Anya Potatoes, Jersey Potatoes but from Bushey and Apache Potatoes. I have still to grow Sweet Potatoes but my Man dislike them so I didn't do so, so far.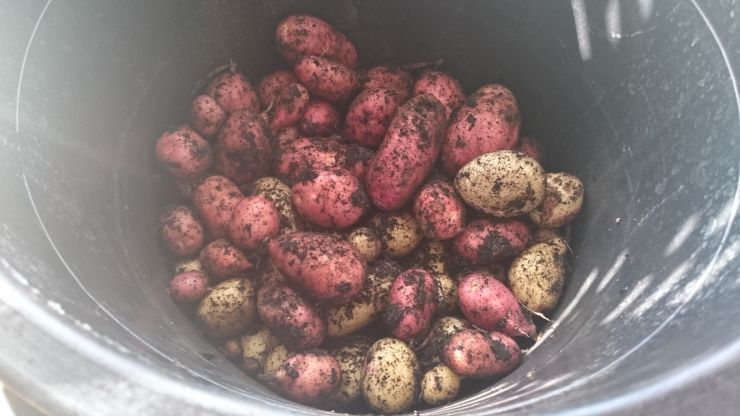 Harvest of Baby New Potatoes and Désirée Potatoes from the Garden.
I am also tempted to grow Purple Potatoes. It may be just a fad or a phase but I am more in the way of thinking of lets just see what I can grow, get and experience with in my Kitchen. It would be a try and taste. Speaking of trying, the Man who doesn't like Sweet Potatoes did like Muffins made with them.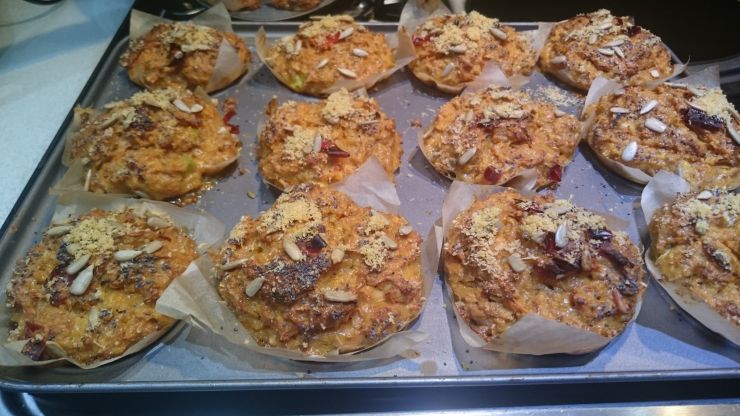 Home Made Sweet Potatoes and Chilli Muffins. They were done following a recipe from Jamie Oliver.
As an Ingredient Potatoes are so universally used that we do not have to worry about lacking of any recipe for them. But when we think about it the introduction of the Potato in Europe only date from the 1500's. So if the Peruvian knew the Potato from 8000 BC, the people from the other side of the Atlantic learnt to use them much, much later. The Irish who have a reputation which is linked to many things but also the humble Potato had the Potato introduced and cultivated in their country in 1589.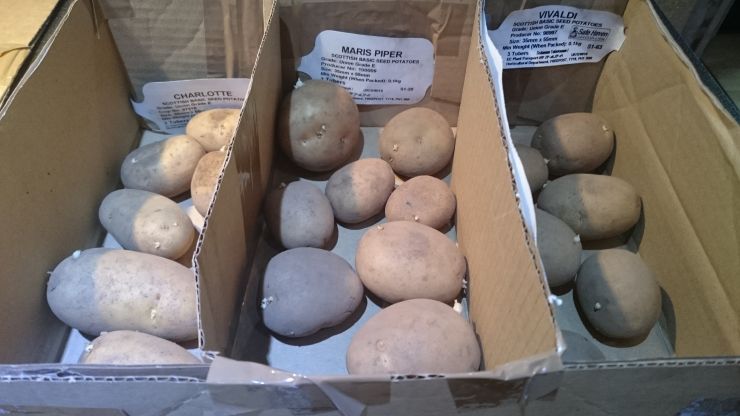 Starter Potatoes arrival. All to be planted:Charlotte, MarisPiper and Vivaldi. A nice selection for the Garden which is often our usual one.
In the Kitchen a dish is rarely without Potatoes because the Man loves his Chips and Fries. I must also confess to be partial to Sausages served upon a Cheddar Cheese and Buttery Maris Piper Mash Potatoes with a lush Cider and Onion Gravy. This is just comforting home food.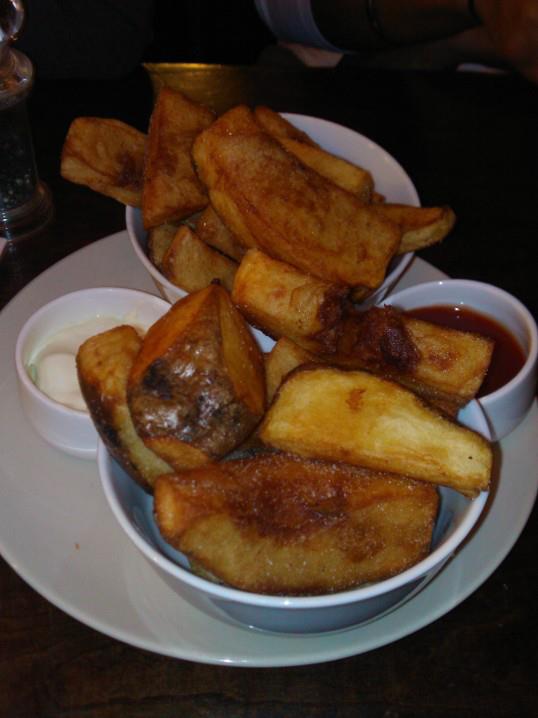 A side of Chunky Chips and Dips to go with Rump Steaks.
Of course we do enjoy Fish and Chips which is almost weekly but definitly bi-weekly. It can be made at home in one way or another. However we do also have Take Aways of two of our local Fish and Chips shops. One of them is called Ebb Tide which is quite popular in Watford. Their service in the restaurant and outside is very decent. I saw a woman arriving in her pyjama once in their shop. She was a local who was not well at all. But the staff knew her by heart and prepared her usual as soon as she did step in, whilst enquiring about her health. She left with two Fish Cakes, a massive Gherkin, a decent Salad, and a large portion of Chips seasoned with Salt and Malt Vinegar. The staff were so kind that they didn't make her pay but they asked her to pay them a visit the following day: it was to feed her in her time of sickness, check upon her because the lady leaves alone. An act of kindness, human care and generosity.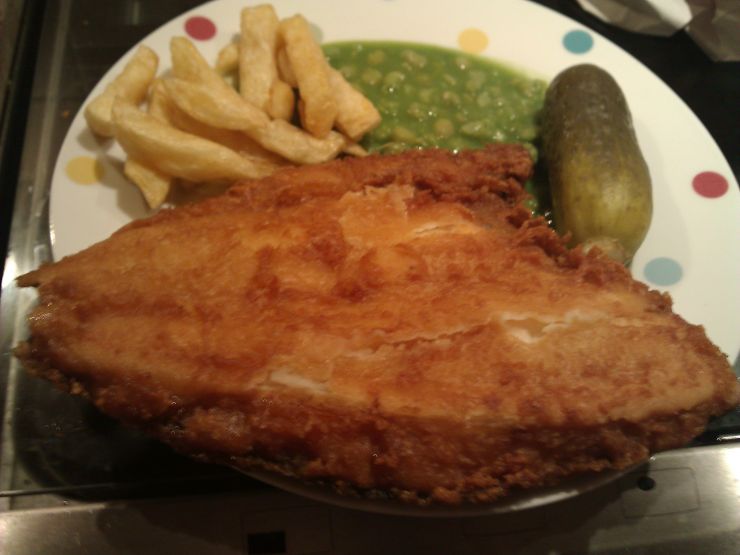 Fish and Chps from Ebb Tide, served with Mushy Peas and their traditional big Gherkin.
So Fish and it doesn't have to be just Cod, Haddock and Plaice do go well with Potatoes. I do make Sprats and Chips on occasion which is very nice and welcome change. Similarly the way to have potatoes with Fish is much more varied than just Chips.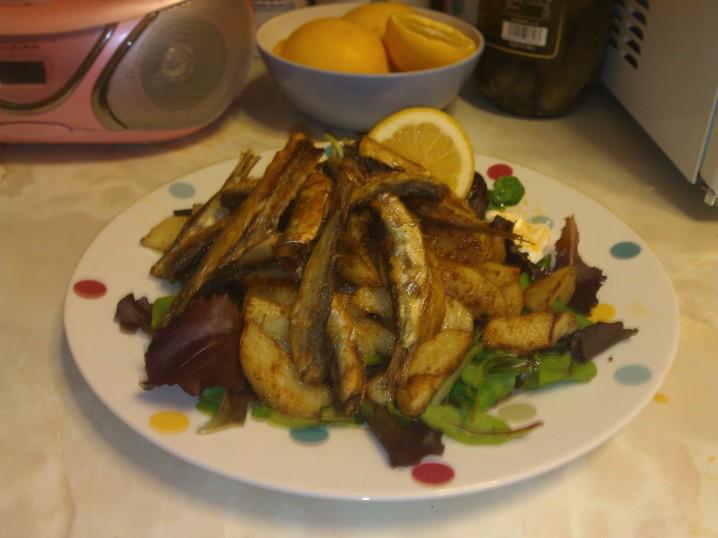 Fried Sprats and Chips on a Bistro Salad.
One way I like Potatoes with Fish is also to boil them and put a lot of salted Butter and chopped Parsley upon them. They make a nice side for the Fish that way. But I would say, I choose small varieties of Potatoes when I do that side: Baby New Potatoes, Anya Potatoes, Jersey Royal Potatoes.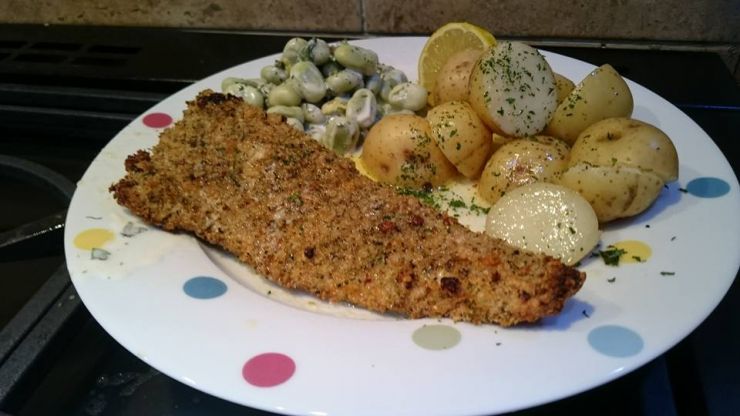 Panéed Trout with buttered Baby New Potatoes and minted Brod Beans.
Of course we mustn't forget a classic like the Fish Pie which involves Mash Potatoes. For the Mash/Purée the addition of Milk and Butter make it delicious. Don't forget the Seasoning. A little Salt goes a long way but also crushed White Peppercorns and nothing is stopping you to add a chopped Herb, like Chive, Parsley or Chervil.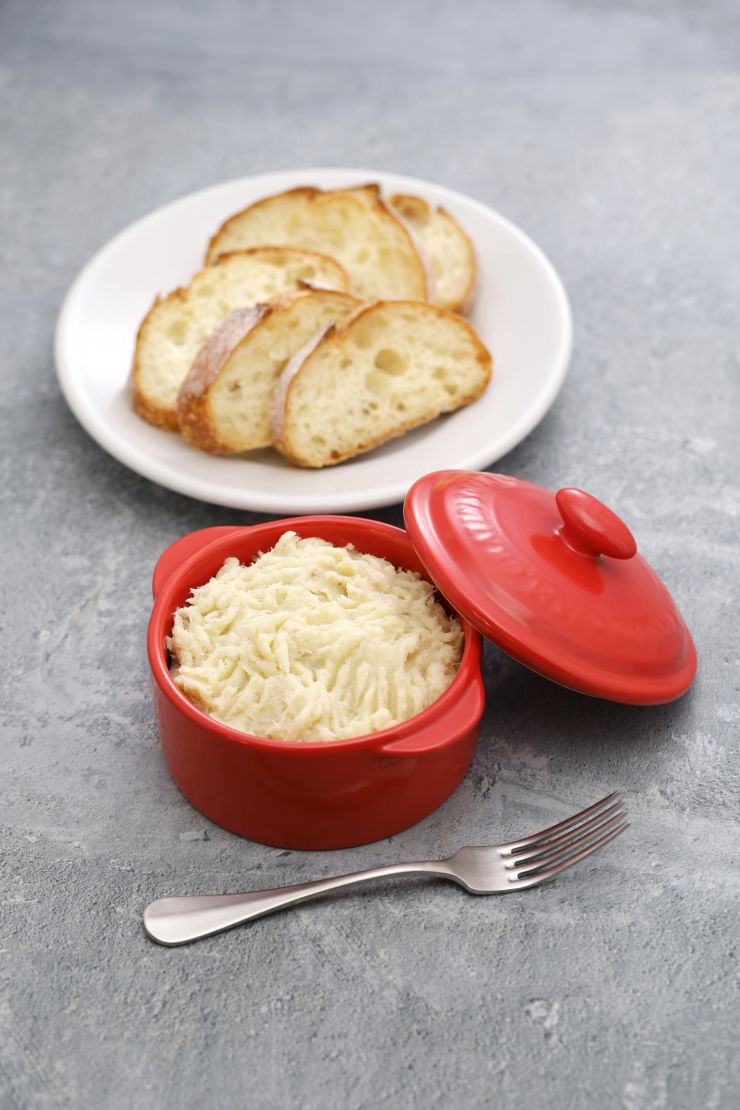 Creamy Fish Pie served with Bread topped with Mashed Potatoes. I like my Fish Pies to be with three different kind of Fish diced: one White one like Cod, one Oily one like Salmon and one Smoked Fish like a Smoked Mackerel.
In one way or another Potatoes do pair well with Fish either Mashed or Boiled then Buttered with a Herb Butter. It is just a combination which does work. No one can deny that fact.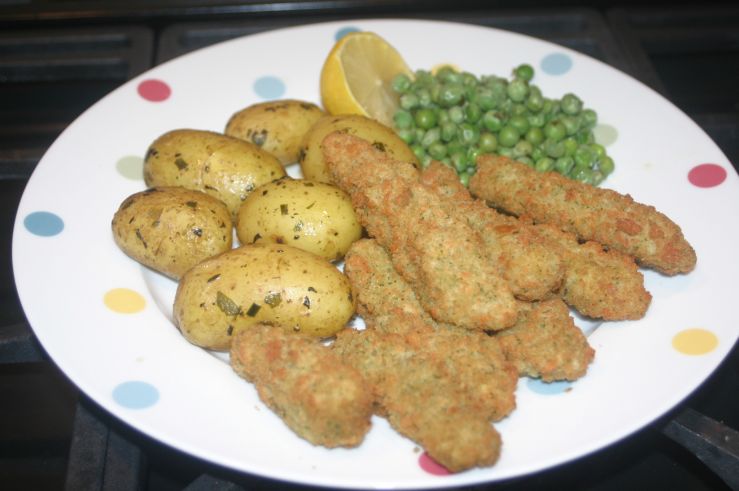 Home Made Cod Goujons, with buttered herby New Potatoes and Peas.
The Potato as an Ingredient is versatile because you can enjoy it in so many ways. If we keep with the theme of Potato going well with Fish but moving along with the different fashion we can use Potatoes, we can enter the realm of Soups: For example the Chowder...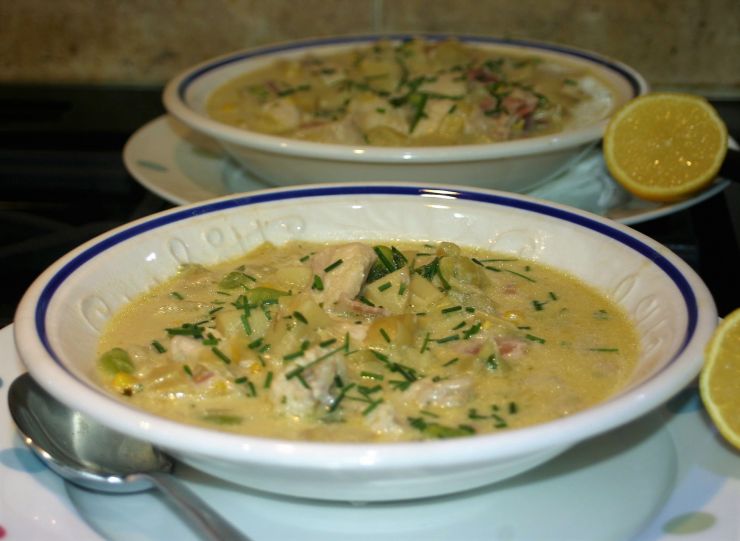 Home Made Fish and Potato Chowder, using Monk Fish, Salmon and New Potatoes. It is a fulfilling creamy goodness of a Soup finished by a handful of Sweetcorn and chopped Chives. I consider a Chowderto be more an Autumnal Soup, on which is comforting when the weather is turning cold.
In my opinion Potatoes do give body to a Soup either diced or being blend to a velvety smoothness. A Potato is a wonderful Ingredient for a Soup, not all of Soups of course but a lot of them. For example a classic Soup which can be used as a base for many other Soups is the Potato and Leek Soup. I did try a recipe from Mary Berry which is doing it with Dolcellate Cheese served with Parmesan Crisps which was gorgeous.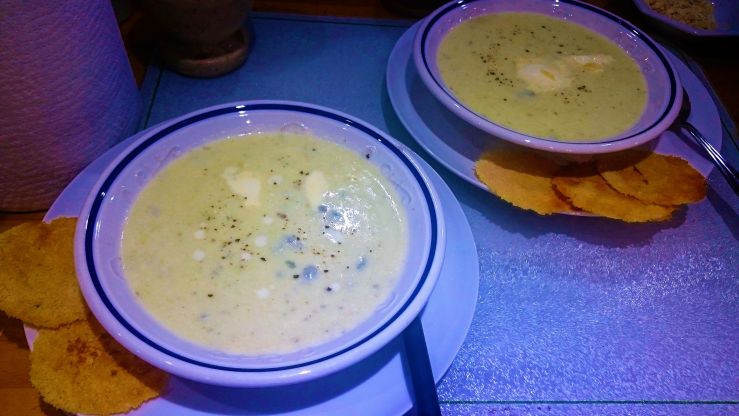 Potato and Leek Soup with Dolcellate and Parmesan Crisps to dip into it. Mary Berry's recipe is absolutly very nice. You must try it.
Of course, the Potato can also be the star of the Soup with some Milk, Stock of your choice, Butter, Cream, Seasoning (Salt, Cracked Black Peppercorns, chopped Chervil) and decorated with Croutons. Simple Soup but effective filling wise.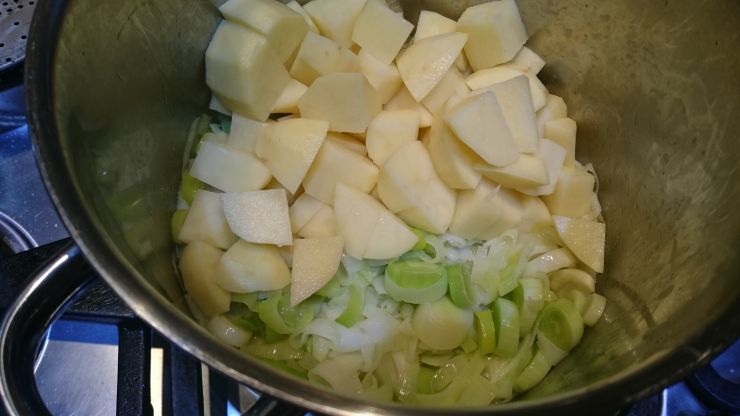 Potatoes, Leeks, Milk and Butter are a good base for a hearty Soup which I use very often.
There are two Soups which I will recommend which are a Potatoes and Watercress Soup but also the Potage à la Paysanne ( Peasant Soup). The later looks more like a Broth full of Vegetables. It needs a good and consistent Stock ( a Vegetable one or a Chicken Stock), Potatoes, Leeks, Carrots, Turnips, Cauliflower. It is enriched with Butter and decorated with Croutons, chopped Chervil and of course seasoned.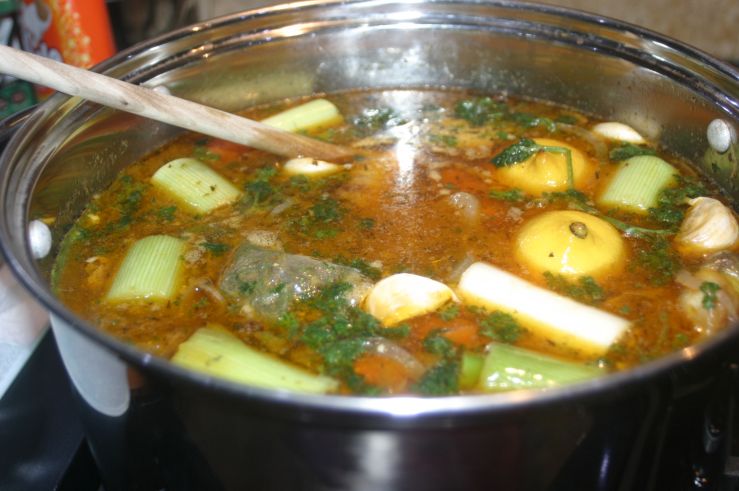 Making a good Home Made Chicken Stock.
Potatoes are also a very good Ingredient for Salads. Of course there is the traditional Salad Nicoise which makes an excellent Summer dish. Either cut in half, quarter or in slices the Potato can be used in a great range of Salads.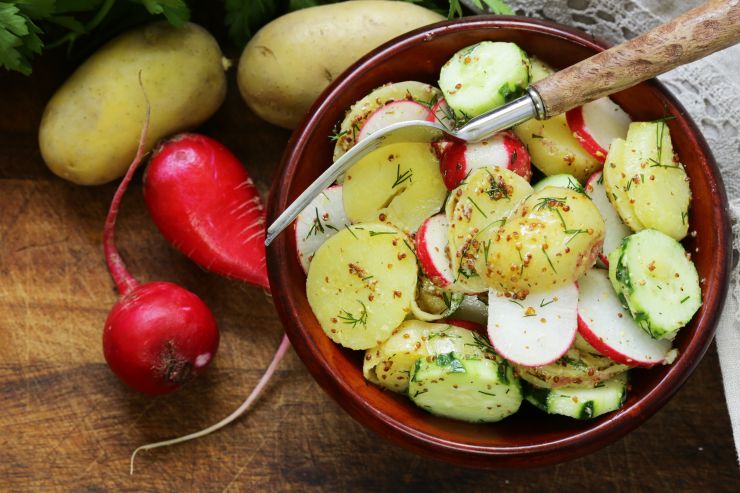 A classic French Salad with Potatoes, very easy to do, is composed of Potatoes, Radishes for the bite and pepperiness, sliced Cucmber for freshness. It is dressed with a Grain Mustard Vinaigrette and decorated with chopped Dill. This Salad is made more for the Spring and the Summer seasons.
There are two Potato Salads worth mentioning which I found in an old French recipe book of the early eighties. I tried them and found them both rather interesting. It gives a bit of nostalgia just like when we watch a Keith Floyd program from back in the days. Both are rather mid Seasons Salads: Spring and Autumn.
The first one is quirky: It does involve Beansprouts (Soya Sprouts or Germes de Soja in French). They are mixed with the Potatoes which are sliced and two large Tomatoes which are without their skins, and quartered. The Salad is decorated with boiled Eggs and chopped Coriander (or Parsley) then served with a French Dressing/Vinaigrette.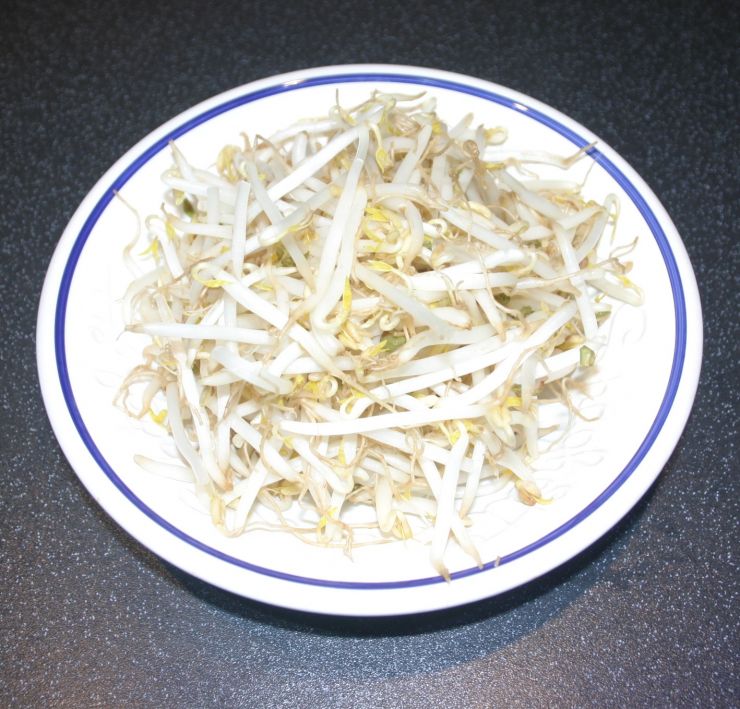 Beansprouts. I never would have thought to put Beansprouts with Potatoes let alone Tomatoes. In my mind it was a weird combo from the eighties which made me giggle but that I had to try...
The Second Salad was a tad colourful and busy. I would qualify it however as very filling but also not as a Starter but rather a Lunch, or even a Dinner. On a bed of Frisée Lettuce and Rocket leaves, arrange some sliced Potatoes and Tomatoes. Add some chopped Celery and some Sardines. For the Sardines they can be from a tin (preserved in Oil), for those are easy to swallow or to crush within the Salad or you can use fresh grilled ones but beware of the bones. Finish off with chopped Parsley and Tarragon, Garlic Croutons, then pour a White Wine Dressing/Vinaigrette. The last touch is to have quartered Lemons to serve the Salad with.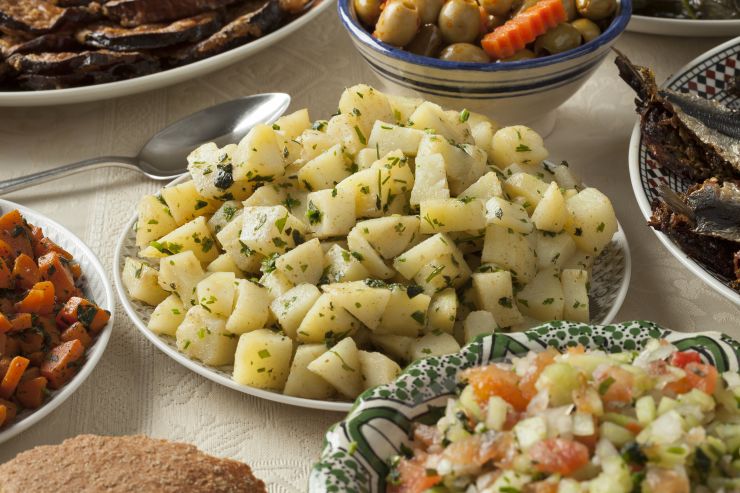 Another way to have a Potato Salad with Sardines is to present everything upon different plates, serving bowls. That way it is a share and care if you have Vegetarians, Vegans or Pescetarians for your Garden Party. It allows all the guests to happily choose what they want to put on their own plates.
One Potato Salad I enjoyed in my Childhood is the Salad Piemontaise. It consists of Potatoes, Tomatoes, diced thick Ham and Boiled Eggs mainly. But it also have the piquancy of Gherkins and the sweetness of Mayonnaise. You can add a little Sour Cream and chopped Parsley. I would say that it is an all year rounder Salad, maybe just because I like it so much.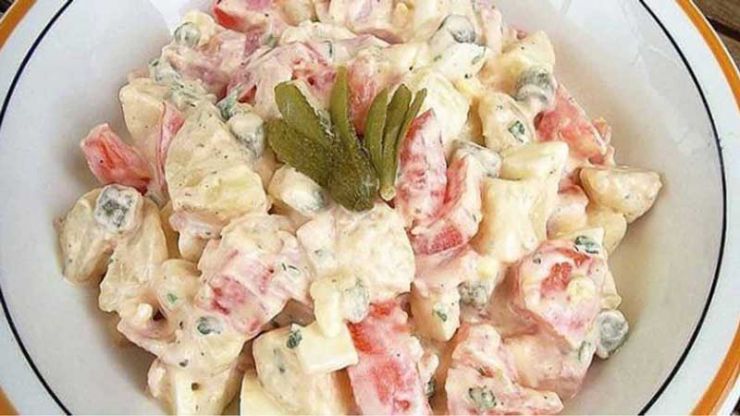 Salade Piemontaise.
Thinking of seasonality with Potato Salad, there is one which is for cold days hence Winter. It is made with sliced cooked Potatoes, sliced White Onions (either pickled or sautéed), Lardons, and Chicory Leaves for a little bitterness and crunch. It is complimented with grated Gruyére or Cantal Cheese. Chopped Chives and Parsley is a must while chopped Garlic is optional. The seasoning consists of crushed Black Peppercorns and a little Salt but also a little melted Butter, a glass of White Wine, and a table spoon of Mustard. The Salad can be put under the Grill for the Cheese to melt. It can work as a Side or a Starter. But it is filling.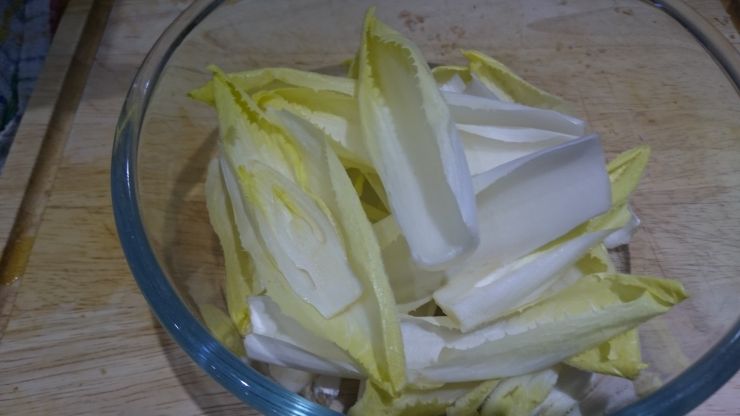 White Chicory Leaves are useful to add a bit of decorum to a Salad or a Dish but also to add a bit of bitterness to it.
Now there is a treat enjoyed by many made of Potates: Crisps. When I arrived in England, I was amazed by the varieties of flavours available for Crisps. When I was fetching the Children from school, Natalie and James, it was almost an imperative to have a packet of Crisps on our way back in the tube. Nat liked the Prawn Coctail taste ones, Jamesy the Cheese and Onion ones while I was always going for the Salt and Vinegar Crisps. Nowadays if I like trying new varieties, I mainly still go for Salt and Cyder Vinegar Crisps.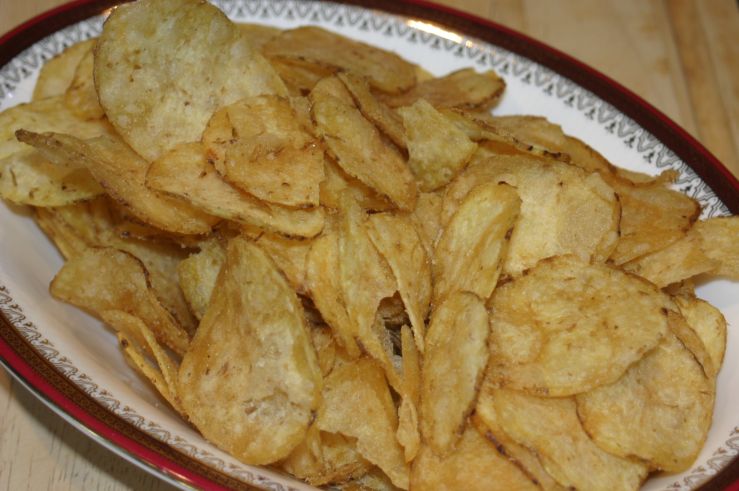 Crisps, Cyder Vinegar and Salt ones: a good snack to watch TV.
Thinking of the time of the days when we do eat and the humble Potato, it is an Ingredient which can carry you through in one way or another. For Breakfast I do enjoy Hash Browns; For a nice Brunch, a Potato Rosti with a poached Egg on top; For Lunch a very Cheddar Cheesy and oozing Butter Jacket Potato; for Tea Time a slice of Potato Bread; For Supper a Potato and Leek, Cheddar Soup with Ale and Bacon.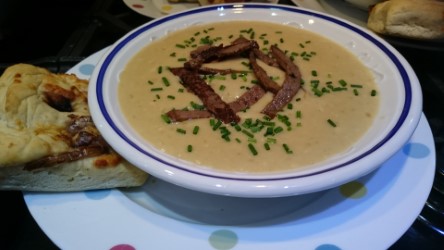 This Home Made Potato and Leek Soup is jazzed up with Cheddar and Ale. It is decorated with grilled Bacon Rashers and chopped Chives. It is served with a Caramelised Red Onions Focaccia Bread to dip and mop all the Soup in the end. I will say this is a Soup fit for the cold days of the year.
If we imagine a four courses Dinner with Potatoes, it is entirely possible. The Starter could be a Potato Soufflé, light and fluffy, with a centre oozing with a Basil and Pine Nuts Pesto to surprise everyone.
The Fish Course is a take on the Potatoes 'à la Lyonnaise'. It consists of thinly sliced Potatoes and White onions, cooked, with salted Butter, chopped Parsley and chopped Garlic. The twist is that within the dish you also do have the flakes of Smoked Trout and the ones of the flesh of fresh cooked Trout. There is a slight difference there for the Fish texture which is subtle but important for the Dish. You can make your Butter home made and add chopped Tarragon and Lemon Zest within it for a little lush boost.
Then there is the Main Course. This was based but twicked with the years, centuries, a recipe from Burgundy. The meal was given to all that picked up the grapes on the vines to make wine for the year for decades. It is hearty all my hearties! It was made to fill up the bellies of all the workers of wineyards. It does involve Belly of Pork as well as sliced Potatoes. So you do build up layer upon layer in essence. In the bottom of the buttered Dish will be placed the thick slices (2 cm thick at least) of Belly of Pork then three layers of sliced Potatoes, wit seasoning Black Pepper, Salt and chopped Garlic and a good covering of Cheese and melted Butter, then start again for the new layer, Belly of Pork slices then another three layers of Potatoes covered with seasoned Cheese. You top everything up with decent slices of thick Bacon. It is extremelly indulgent for a Main Meal. Optional is chopped Parsley, Sage or Chives between layers.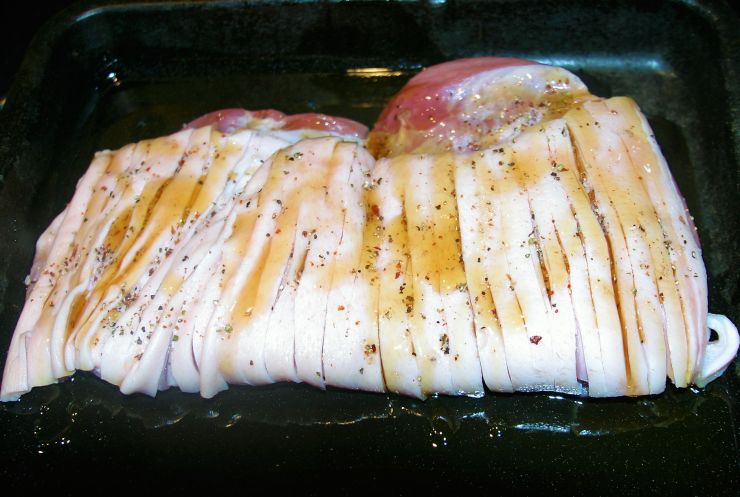 To part cook a Belly of Pork help the dish to be properly done. The same goes to part boiling the Potatoes a little before putting the dish together.
Potatoes are also most renown to be a Side of choice by many. If my Partner could swear by his Chips and Fries, I could do so with a Gratin Dauphinois likewise. When I started learning how to cook properly in my early twenties, it was the dish I trained myself to do first because I craved it the most.
Potato Gratin.
Another Side of Potatoes I enjoy to do and eat is Sautéed Potatoes. My Man loves them especially when I make them... To be honest, I do not follow a recipe, it is just purely feeling and taste along the way. But what I do is putting chopped Shallots or chopped Onions, chopped Garlic and chopped Herbs (usually Parsley but sometimes Chives, Chervil are used) gradually along with Seasoning. Depending on the Dish I am planning or the Main Ingredient that the Potatoes will accompany I can jazz the Sautéed Potatoes up accordingly: Spice them up (Paprika, sliced Chilli...), or giving a Spring feel (Peas, Asparagus, Spring Onions...), or a Winter feel (Lardons, Duck Fat, Chopped Leeks, grated Cheese...). It is a very ad hock affair but it works to make a decent Side.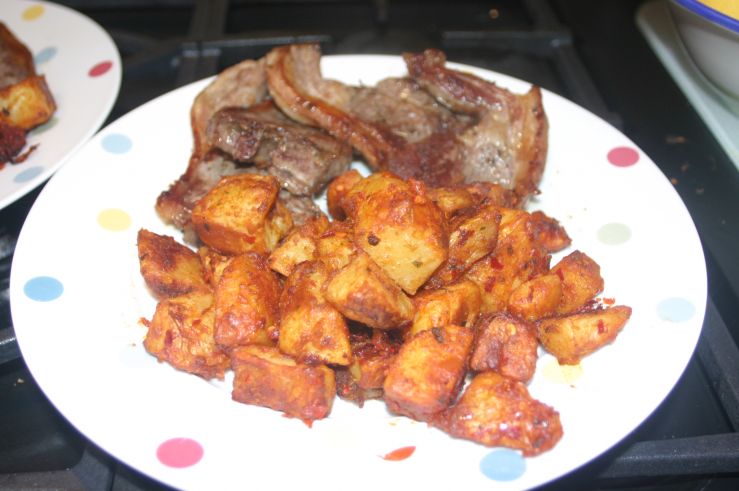 Lamb Chops served with smoked Paprika spiced Sautéed Potatoes, and a dash of Chilli seeds.
There are to say the least many Sides which use Potatoes: Pomme Anna, Pomme Duchesse, Croquettes de Pomme de Terre, Mashed Potatoes, Crushed Potatoes, Colcannon... The list is long. I will say a word for the Potato Croquettes which is that they are vehicules or can be the carrier of other Ingredients. In Spain they make delicious Tapas with Potato Croquettes. You can be creative with a Croquette: make them with a little sautéed Shallots, Mushrooms and Lardons thinly chopped enclosed within the Potato Croquette ( Forestiére Croquettes), simply delish.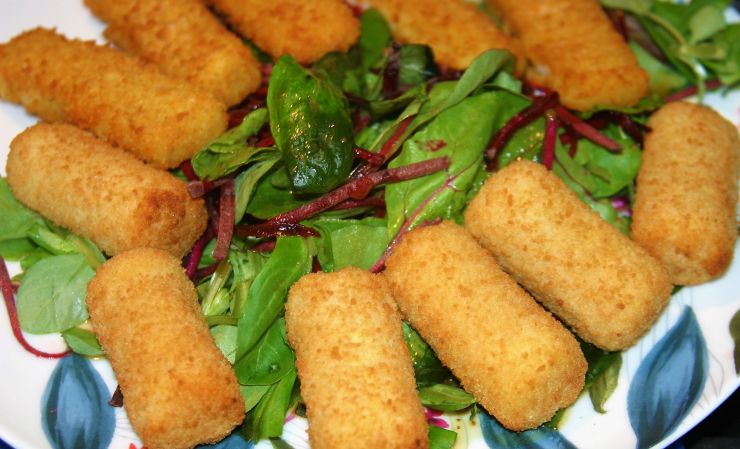 Home Made Potato Croquettes served on a Bistro Salad. If they are plain Potatoes one, you can accompany them with a Grain Mustard Vinaigrette or a French Dressing. For Croquettes with other Ingredients inside them along with Potatoes, a range of Dips could be a good idea. For example if your Potato Croquette contains a little bit of Chorizo and Chilli, then a Red Pepper dip and/ or a Tomato Salsa would be perfect to serve with the Croquettes. If it is Forestiére Croquettes, serving them with a melted Camembert to dip them in to is a pure treat.
It is very rare when I do a Roast without Potatoes. My go to is very often Boulangére Potatoes. The term Boulangére is French but the practice refers to using the Baker's oven, the village, town or local oven to bake or cook your meal. It is an ancient practice which one could say is now coined 'a traditional way of doing things' in our common language. The practice is still alive in certain part of the world where the Baker cooks Food in the oven for the locals who don't possess one.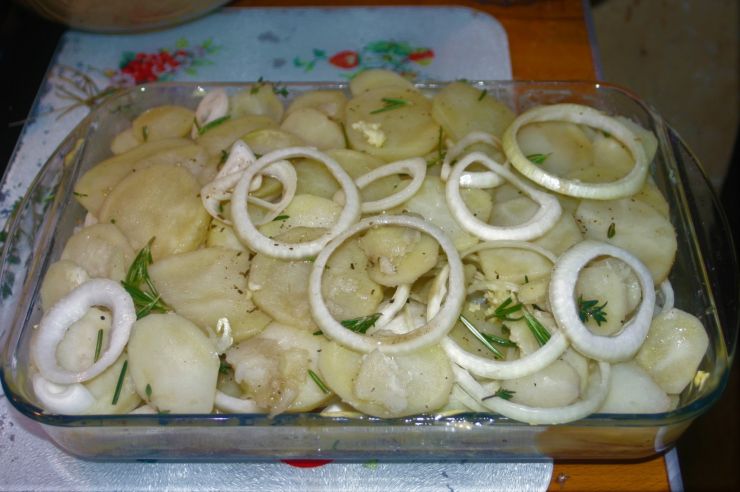 Boulangére Potatoes ready to go in the oven. Sliced thinly, mixed with sliced Onions, seasoned with Rosemary, Chive and Garlic, Black peppercorns and Salt. Half way through the cooking you can pour some stock to impart flavours to the dish or /and put a grid upon it to hold the Meat you want to roast. The juices of the Meat will flavour the Potatoes. You will also be able to make a Gravy at the end of it all which will be rich.