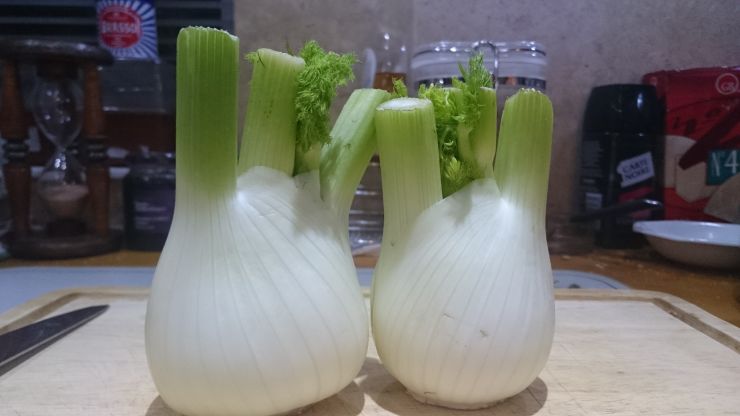 One of my favourite Vegetables is Fennel. Either cooked or cold, Fennel is versatile that way. The Fennel fronts can also be eaten and used because they are fairly decorative. Of course the Fennel Seeds have also their own use in the Kitchen for their anised taste.
Fennel is also used to make that very strong Alcohol which can rend some people blind: Absinthe.
Fennel is perfect to give some crunch to a Salad or a Slaw. There are a fair few Ingredients which marries/pair very well with Fennel like Pears, Apples, Cucumber, Endives, Raddichio, Citrus Fruits and even Beetroot (and many more).
A fresh Spring Salad can be made with chopped Fennel, Red Endive/Chicory, French Radishes (sliced), Butterhead Lettuce and a Citrus Vinaigrette. The decoration will be the front of the Fennel.
For a Summer Salad, Fennel can be used along with Rocket Leaves for pepperiness, slices of Lemon for acidity, slices or ribbons of Cucumber, quarters Pears, Smoked Salmon strips turned/curled into flower shape, decorated by Dill and Fennel Front and Poppy Seeds. Served with a creamy Dill Vinaigrette.
If we think of an Autumn Salad with Fennel it would be thinly sliced along with a Raddichio. Wedges of Apples will bring the sweetness to the Salad. Frisée Lettuce Leaves can be the base for it all. Pecan nuts are to be added for texture and crunch but also Red Grapes. Then a Blue Cheese will give a great charater to the Salad like Roquefort, Bleu d'Auvergne or Stilton. The Dressing would be a French Vinaigrette.
For Winter an unusual Salad can be made with Fennel chopped into quarters and divided into Leaves. Then add White Chicory Leaves and Chard Leaves, sliced into strips. Give a kick to the Salad with Mandarin segments, and a festive one with Pomegranate Seeds but also chopped roasted Chestnusts. One sliced Leek or some Baby Leeks will not go amiss. Little roasted Quails Breasts will give another festive note to the Salad as well as some shaved Truffle.