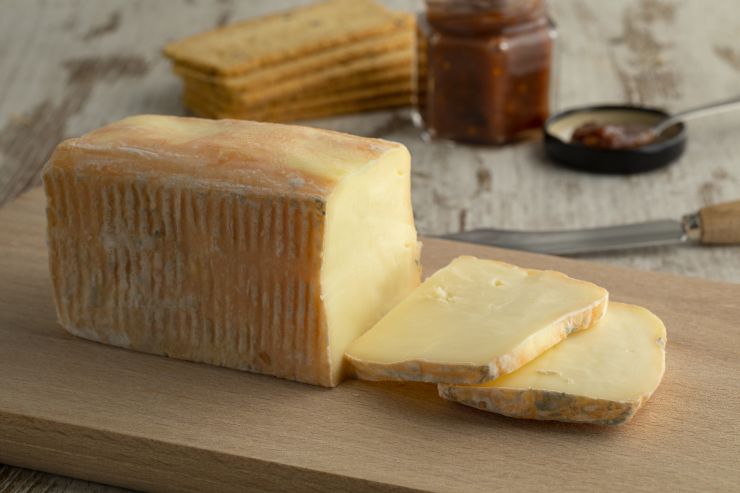 Taleggio served with Tomato and Onion Chutney.
This Semi Soft Italian has an history of about two thousands years give or take for it was already known during the Roman Era and mentioned by the like of Cicero and Plini the Elder.
The origins of this onctuous Cheese are known to be most certainly Val Taleggio, however over parts of Italy such as Lombardy are making Taleggio since the 1800's.
Myself I was only introduced to that Cheese when I dated a Sicilian called Nico. Westaid together only for a couple of weeks back in 2008 roughly. However our love of food made us share a lot culinary wise. I discovered a lot of Italian products which I didn't know about like the Taleggio, the Burrata or the difference between a Gorgonzola and a Dolcelatte.
If the Taleggio is a rather strong Cheese, it also has a delicious tangy aroma. This Cheese can be eaten like that but also as it melts very well, it can be consumed warm or hot. It also can be grated. versatile as it is we can imagine the Taleggio being part of many courses that we live throughout the day.
Breakfast: The Taleggio can be mixed with grated Potatoes with the combinaison forming small Cheesy Hashbrowns (covered by Breadcrumbs). They could be served with a Redcurrant or a Cranberry Jam.
Brunch: A Bruscetta of Taleggio, Sundried Tomatoes, and Rocket Leaves can constitute a very decent Brunch especially in Summer.
Lunch: Baked Potatoes are fabulous with the versatily that they have in terms of their fillings, therefore you can imagine one where Taleggio plays a part along with chopped Leeks and Cubetti di Pancetta. This is delish.
Tea Time: Especially for a Tea Party where we offer a certain number of selection of little triangular Sandwiches, a twick on a Cheese and Ham Sandwich is simply to use on a multiseeded Toasted Sandwich the decadent Taluggio with shavings of the equally decadent Black Truffle along with Parma Ham.
Canapés: This is a different take on the éclair for it is savoury. First of all it has to be mini éclairs which you can create like a dozen. Secondly the inside of the éclair is filled with Bacon Jam which is quirky but yummy. Top of the éclair in guise of nappage is melted Taluggio. To decorate even more add some chopped Chives which will stick upon the Taluggio. It is an ice breaker as an interesting subject of curiosity for people to talk to one another.
Supper: A simple Potato and Leek Soup can be enhanced by the inclusion of Taleggio and decorated by chopped Walnuts, Hazelnuts chopped and toasted, finished off by cracked Black Peppercorns. It is a Soup for the cold days, deeply comforting.
Starter: Pour une Entrée, a Tartiflette, that thin Bianco Tart is perfect to use Taleggio Cheese. You can create that consistant Sauce to spread sur la base by mixing Taleggio with Béchamel Sauce, and a little Nutmeg. Spinach, Woodland Mushrooms, very thinly chopped Shallots and Thyme are very nice toppings for a Tartiflette. I is a very Autumnal Vegetarian Starter.
Fish Course: Although some say that Fish and Cheese do not go together I beg to differ like many Chefs and Cooks. Here a Fish Course can be the luxurious Lobster. Cut in two with care. Remove the Meat of the Lobster and cook it gently within a Bisque. Meanwhile prepare une Béchamel mixed with Some Taleggio. Re-place the Lobster Meat into its shell with a little Bisque and chopped Baby Leeks, add Taleggio Béchamel on top and some Chilli Flakes for Decoration, then put the Lobster halves in the oven. The result is a delicious Fish Course: Lobster Gratiné which is there to impress your Guests.
Main Course: For me it is either a very convivial Raclette with Taleggio or a Cheese Fondue with Taleggio. That cheese melt deliciously and to not profit of that advantage could almost be seen as a culinary crime...
Side: As for a side we return in the realm of Gratiné. A bake with shredded Cabbage either Savoy or White Cabbage, Cauliflower and Brussels Sprouts with Taleggio is ever so rich and nice.
Dessert: Thinking of Heston Blumenthal and is Blue Cheese Ice Cream, You can do that With Taleggio, an Ice Cream contening Truffles and chopped Hazenuts. It is quirky but this Savoury Ice Cream works well as a dessert.
Here in a nutshell numerous dishes can be created with that beautiful Cheese that is the Taleggio.